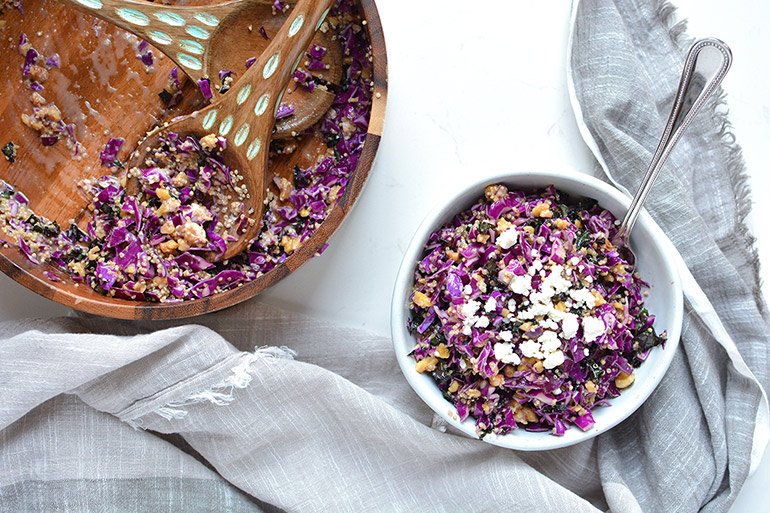 This chopped purple power salad is packed full of good-for-you ingredients like kale, red (errr... purple) cabbage, and walnuts + quinoa from Nuts.com to name a few!. It has a fabulous crunch and a delicious dressing that everyone loves!!
This salad is a family favorite.
A staple in our house, like these pancakes, and these fish tacos and this soup. 
I used to call it the miracle salad --- because Babycakes would devour an entire bowl at the age of 2. I think at first she was drawn to the pretty purple color... but then it was the taste that hooked her. And the crunch.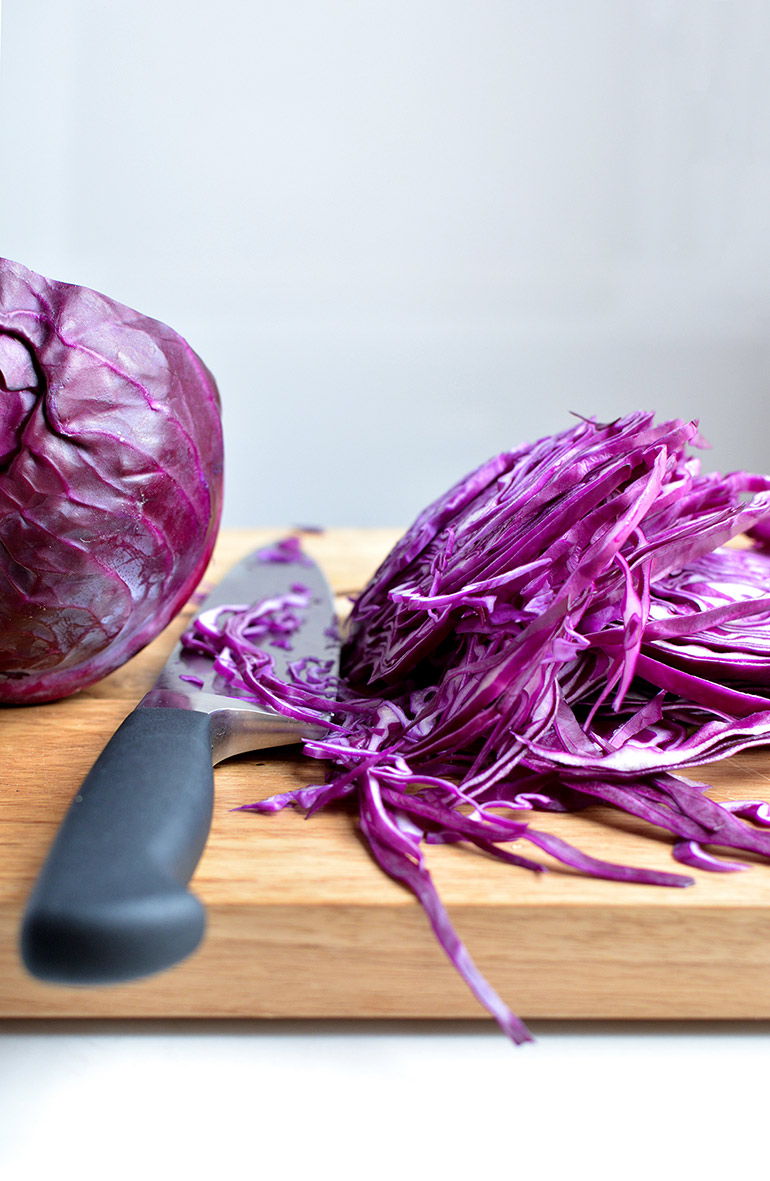 First you chop the cabbage, then it's time to massage the kale. Have you heard of "massaging kale" before? I know it might sound a little weird, but what it does is help break down the fibers of the kale leaves so that your body is able to digest it easier / better. It goes from bitter and tough to wilty and smooth. Just pour on a little oil (in this case, sesame oil!) and give those leaves a little rub. You'll feel them softening up in your hands.
Then it's time to add in the walnuts and cooked quinoa.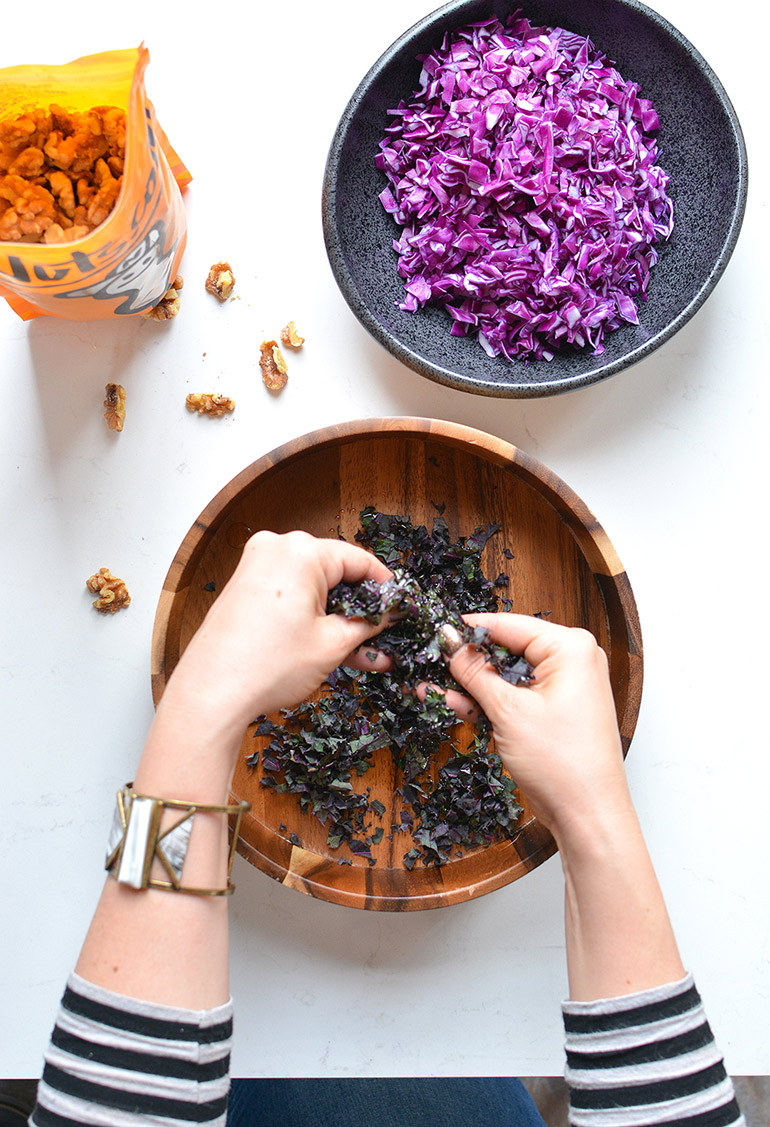 Have you shopped at Nuts.com before? They have EVERYTHING!
Nuts? The name kind of gives it away.
Grains, like quinoa and farro? 123 to be exact. 
Dried Fruit? Yesssssss. 
Coconut oil? Yep, that too. 
Coffee and Tea? Uh huh. 
Flours (gluten-free and regular)? Of course!
Snacks? Check. 
Chocolate and sweets? If that's your thing. 
See what I mean?!?!?! They have SOOOOOOOOO MANY THINGS that you love and eat.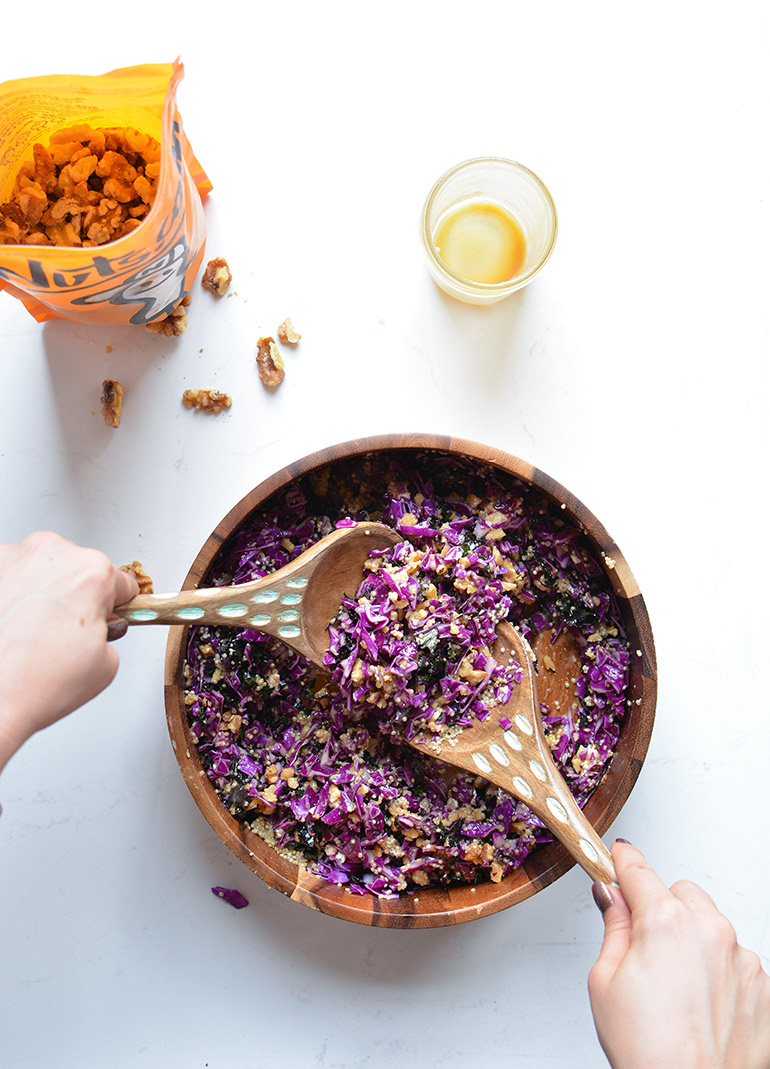 Now it's time to see how it easy to make this salad --- especially the dressing (just shake!):
And here's an adorable behind-the-scenes photo of my girl, Haley, from Brewing Happiness -- filming the purple power salad video. Sometimes it means standing on the counter to get a bird's eye perspective! And in case you didn't know, she is so lovely and talented --- and a great human. And you should totally follow her on IG.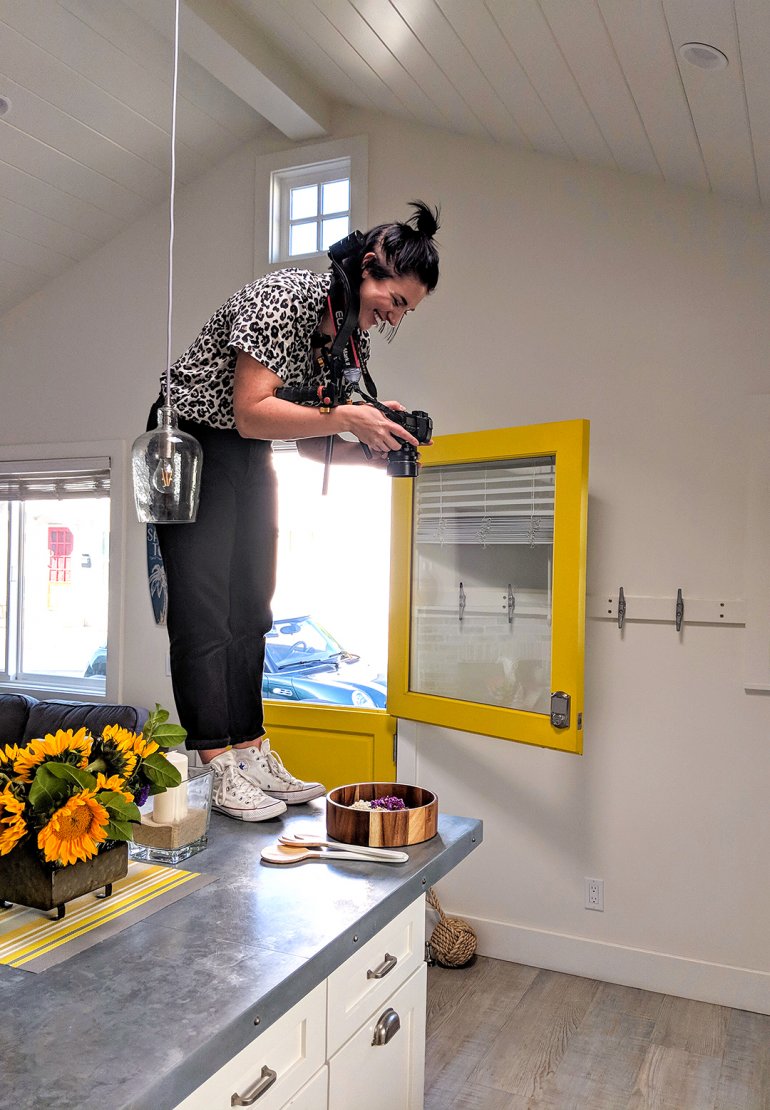 This salad is a great lunch option on its own, or you can pair it with some grilled chicken or a cup of soup.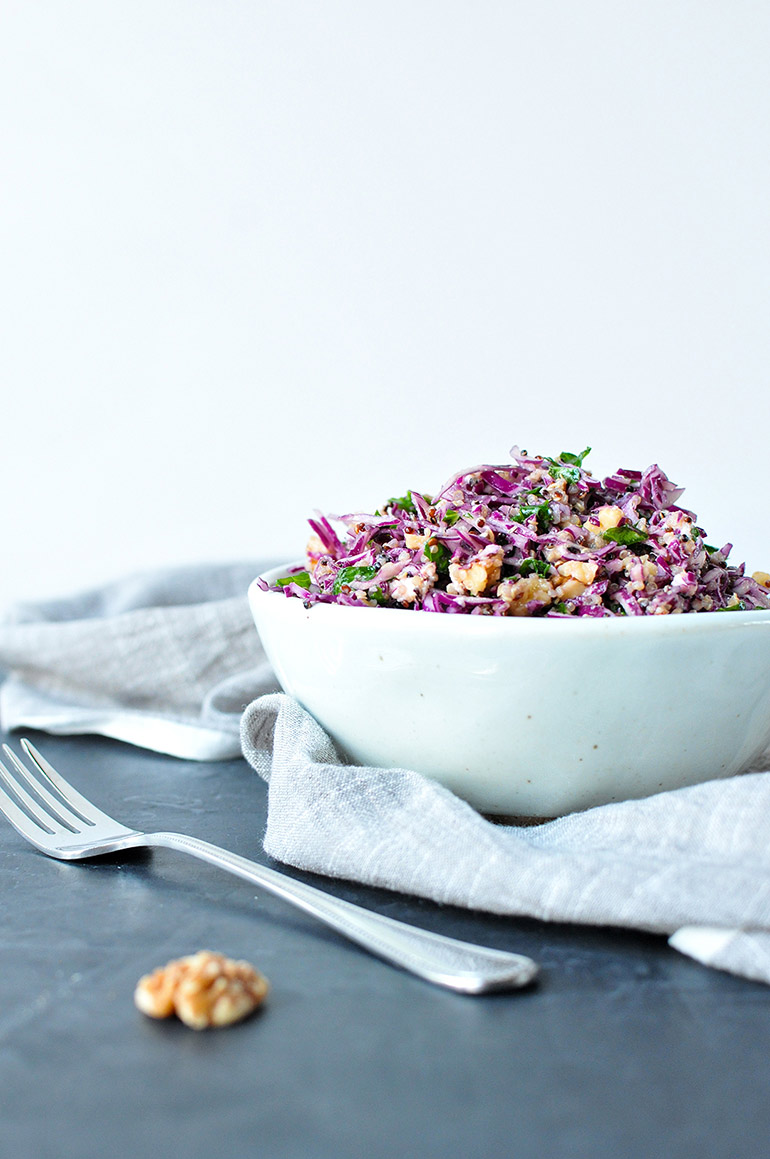 KID VERSION
You may have seen over on Instagram, I'm starting something new with the blog called #NourishedLikeMom --- basically making a kid version of each of my recipes to show you how easy it is to transform my family-friendly recipes into actual kid's lunches. I'm hoping it will help you feel empowered and give you some great ideas.
On this plate:
Purple Power Salad (my daughter has loved this since she was 2!)
Heart shaped strawberries
organic chicken apple sausage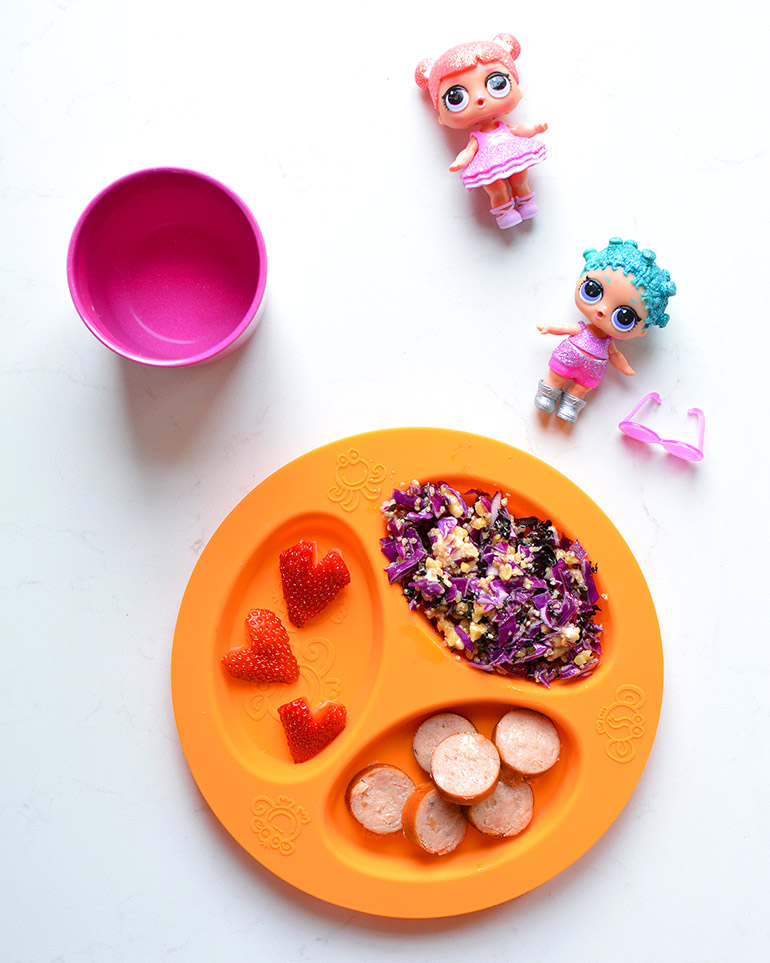 All that's left to do now is shop for the ingredients, then chop, massage, shake, and devour!
//////////////////////////////////////////////////////////////////////////////////////////////////////////////////////////////////////////////////////////////
Disclaimer: this is a sponsored post written by me on behalf of Nuts.com. The opinions, text, recipe, and beautiful photos are all mine. Thank you for supporting brands that support Nosh and Nourish!! I choose them based on what I already cook/create with and feel 100% confident in recommending to you.
Purple Power Salad
Description
Chopped Purple Power Salad | Superfood Salad
Ingredients
1 cup diced, de-stemmed kale
3 cups Diced Purple Cabbage (approximately 1/2 a head)
1 cup cooked Nuts.com quinoa
3⁄4 cups coarsely chopped Nuts.com walnuts
1⁄2 cup crumbled goat cheese
2 tablespoons Soy Sauce (for the dressing - or sub coconut aminos)
1⁄4 cup Plain greek yogurt (for the dressing)
2 tablespoons honey (for the dressing)
1 pinch Ground Black Pepper (for the dressing)
Instructions
To make the salad: Combine the sesame oil and kale in a large mixing bowl. Gently massage the oil into the kale leaves by hand for approximately 2 minutes. This helps reduce the bitterness and softens the texture of the kale. Add the cabbage, quinoa, walnuts, and goat cheese and toss gently to combine.
To make the dressing: In a small mason jar, combine all the dressing ingredients and cover with lid, then shake until smooth.
Pour the dressing over the salad and toss thoroughly to combine.
Yields 4 Servings