Hi Nosh and Nourish readers! Lexi and Beth here from Crowded Kitchen.
Every once in a while, we crave a huge, fresh plate of pasta. Since going gluten free about six years ago, we're often disappointed with the results (if you can't eat gluten, you know what we mean!). Last year, I (Lexi) went to Italy for work and we spent an entire week with an Italian pasta company, so you can imagine the torture I endured while my coworkers happily scarfed down plates of fresh ravioli, linguine, and just about every other variety of pasta out there.
This year, however, we've learned that the key to making gluten free pasta taste fantastic is to either make it homemade (we are working on a recipe on our blog!) or to dress it up with a super flavorful sauce & toppings. Kelly's carrot top pesto really transformed this recipe - we couldn't stop eating it!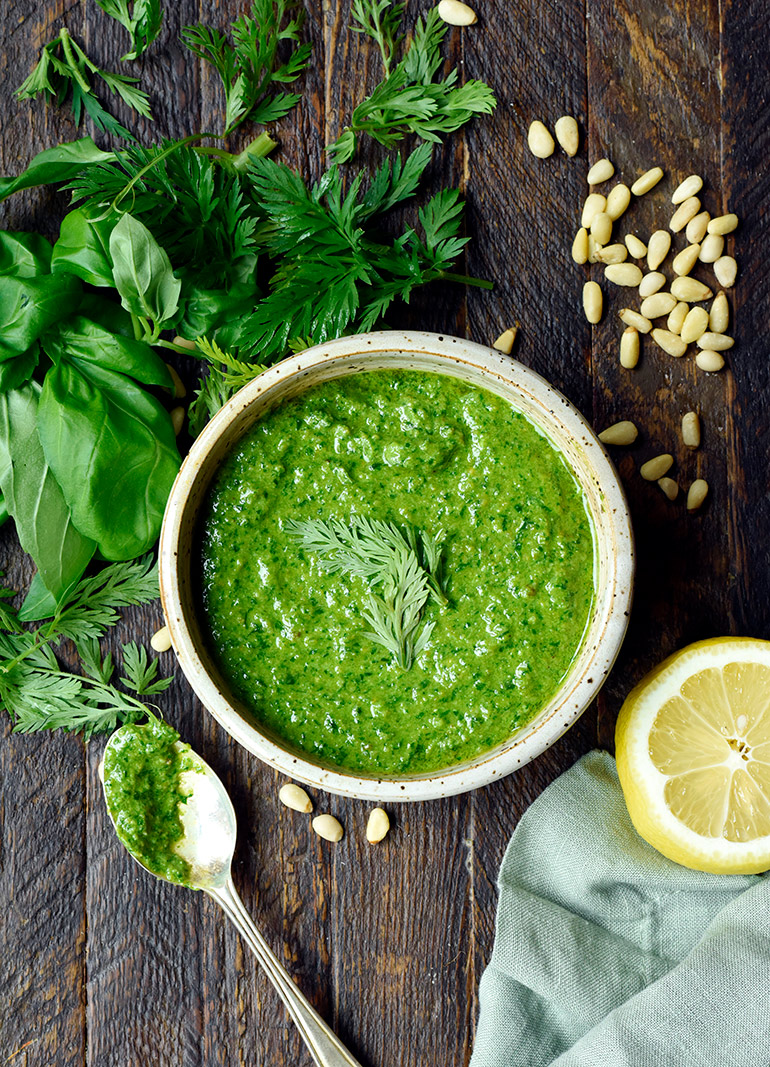 Carrot top pesto is a fantastic use of leafy carrot greens, which most of us regularly toss in the trash or compost. They're a delicious addition to any pesto recipe, and they don't have a particularly distinct flavor, so when paired with basil, they blend quite well. We love recipes that repurpose parts of produce we don't typically think to use; we're all about reducing food waste, and not just on Earth Day!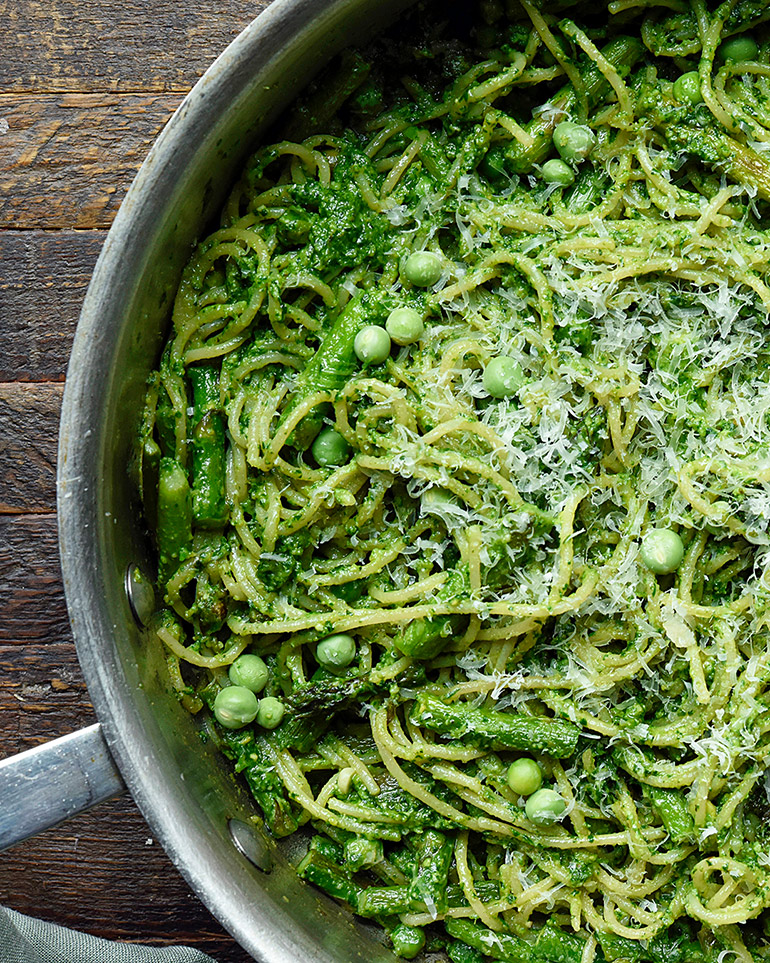 If you don't have Celiac disease or a gluten intolerance, absolutely feel free to substitute with a regular pasta of your choice (or even zoodles!). But, we highly encourage you to try making homemade pasta - it's a really fun activity that kids can get involved with, and it's surprisingly easy! You can even color your pasta with natural ingredients like:
beet for a vibrant red
spirulina for a mermaid-inspired teal
turmeric for a sunshine-y yellow
If you need some inspiration, we recommend checking out @saltyseattle on Instagram. Her pasta creations are truly works of art!
- Lexi + Beth
Asparagus, Pea, and Carrot Top Pesto Pasta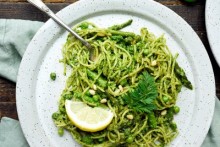 Description
Asparagus, Pea, and Carrot Top Pesto Pasta
Ingredients
16 ounces pasta of choice
1 bunch Asparagus (approximately 15 spears -- washed and trimmed)
1⁄2 cup carrot top pesto* (below)
1⁄4 cup grated Parmesan (optional)
salt and pepper (to taste)
Notes
*Carrot Top Pesto recipe --- below.
Instructions
Follow Kelly's recipe for Carrot Top Pesto (below). Store in an airtight jar in fridge if not using all at once.
Cook pasta according to directions in boiling salted water.
Wash and trim asparagus, Slice into 1-inch pieces.
Heat a large pan to medium. Drizzle with a tsp or so of olive oil and add asparagus. Saute until softened (about 5 minutes). Season with salt and pepper. Add green peas and continue to saute until tender.
Add cooked pasta to pan and toss with tongs. Remove from heat and pour pesto into pan. Continue to toss with tongs until evenly coated.
Serve with grated parmesan (optional) and a squeeze of lemon. Enjoy!
Yields 4 Servings
Carrot Top Pesto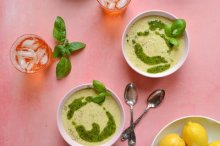 Ingredients
1 cup carrot top greenery
1 tablespoon Minced Garlic
3⁄4 cups Olive Oil (can add extra to thin out if you so choose)
1 1⁄2 teaspoon Coconut Sugar
1⁄8 teaspoon black pepper
Instructions
Prepare carrot tops, by removing largest main stem --- using only the fine / softer greenery.
Combine all ingredients in a food processor. 
Blend on high until smooth. 
Serve in soup, nn pizza, or by the spoonful!
Yields 2 Cups