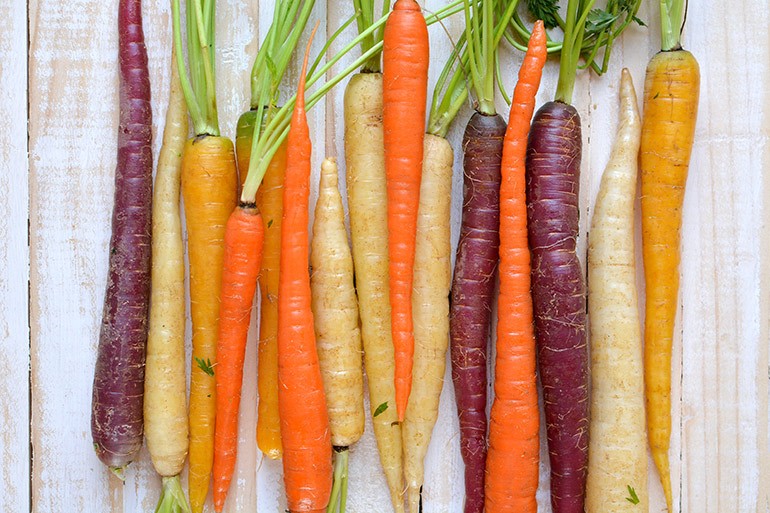 Looking for a fabulous Spring dessert to share with family and friends? Look no further --- these Vegan (and GF) carrot cake bars are sure to be a favorite! Nuts, dried fruit, carrots (of course!), oats, spices, and even chickpeas(!) are mixed together, baked, and then topped with a fabulous dairy-free cream cheese frosting!
Rainbow carrots are my favvvvv. 
They're so colorful!
And they are so versatile. I use them in tacos, in soups, in hummus, and of course, in carrot cake bars!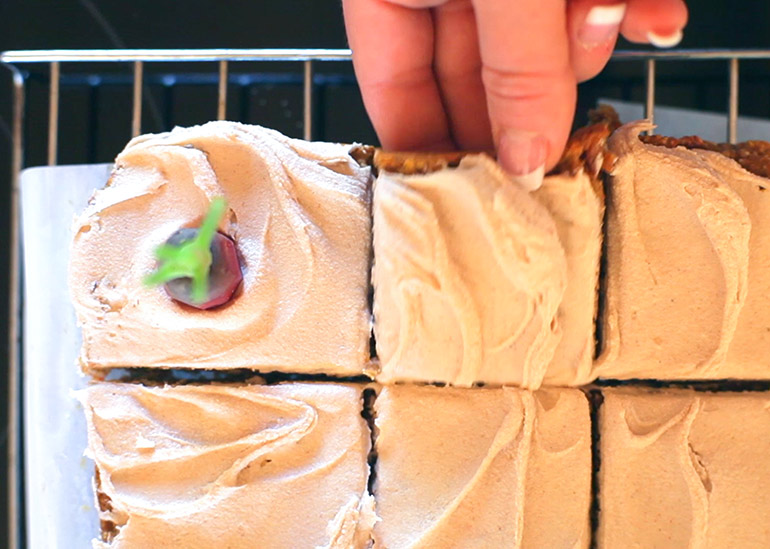 The Silk vanilla almondmilk helps bring it all together. Just throw everything into a food processor and give it a whirl! These bars have a similar consistency to a Larabar because of all the nuts and dried fruit inside.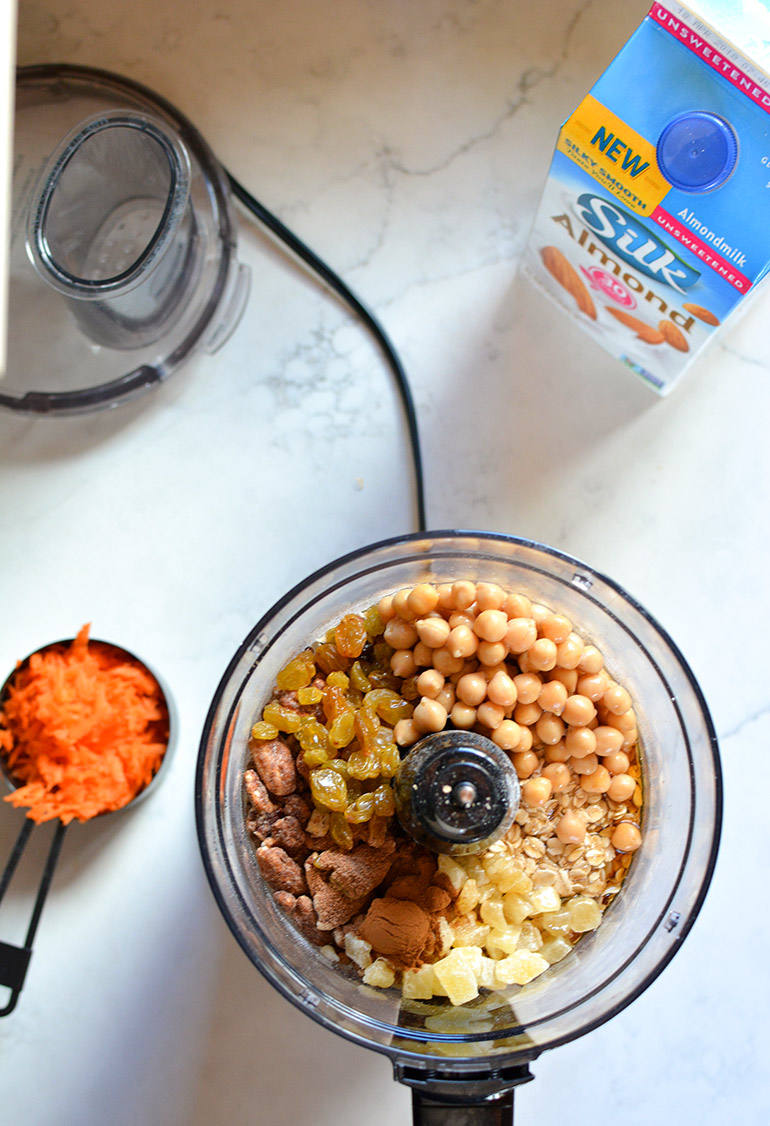 The cream cheese frosting totally takes these bars to next level awesome! You start by whipping some dairy-free cream cheese, then add in melted white chocolate, Silk vanilla almondmilk yogurt, and cinnamon + sugar.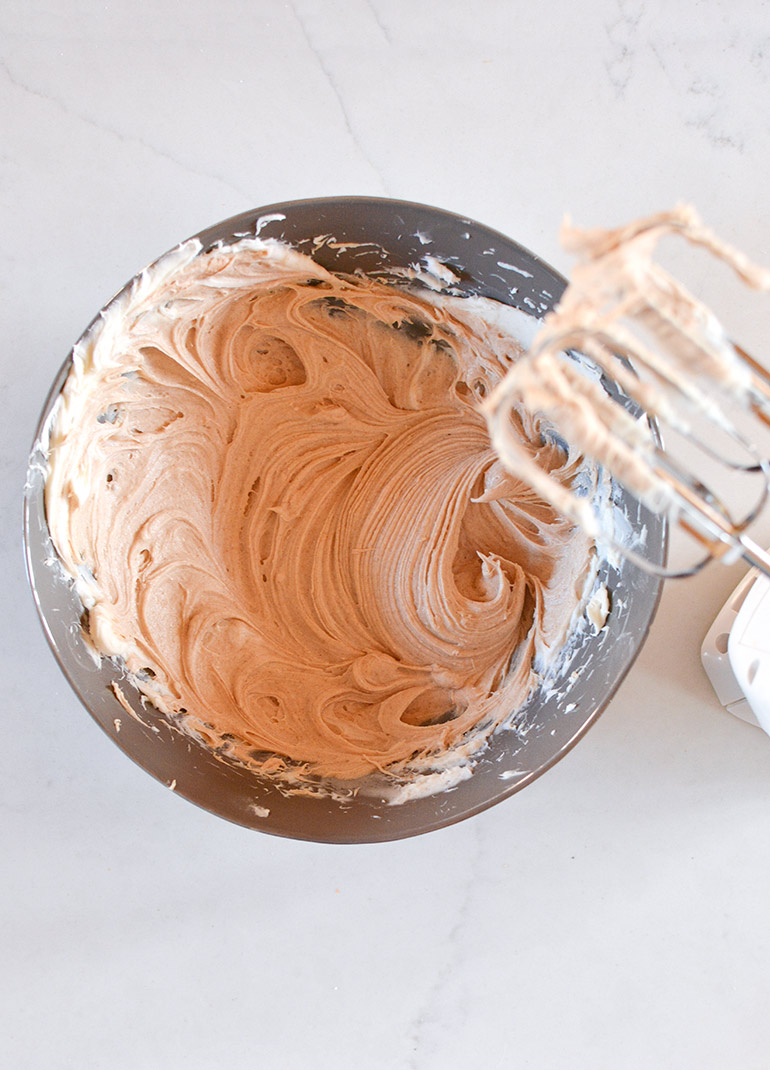 See how easy it is to make! (click play on video below):
The best news is --- they can be made ahead of time and stored in the fridge for up to 3 days, and still taste just as good as the day they were originally made! Look at all that deliciousness packed inside: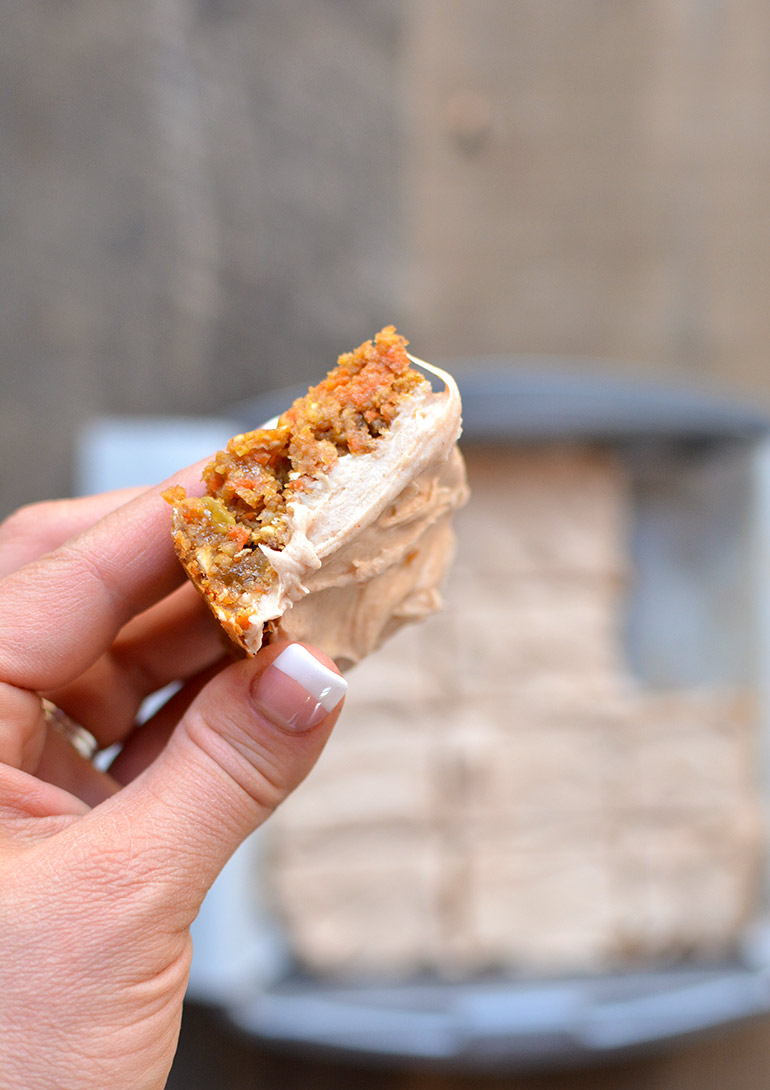 #NourishedLikeMom
Every kid loves a lil sweet treat in their lunchbox. Am I right??!?! In this OmieBox lunchbox:
pb&J sandwich
carrot cake bar
harvestsnaps
rainbow carrots
strawberries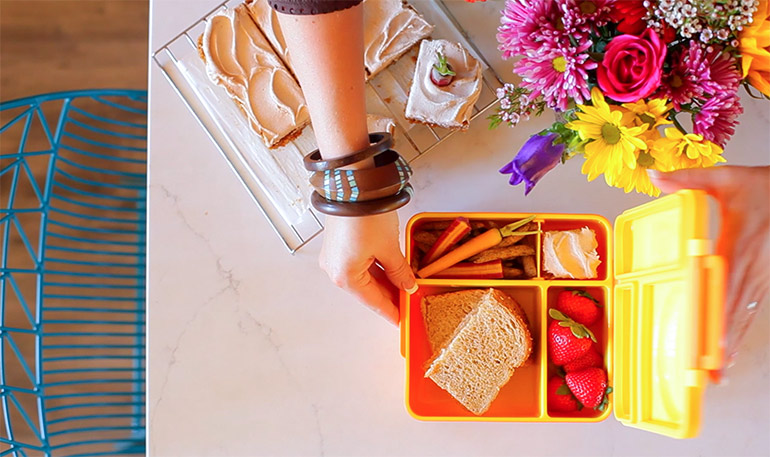 Vegan Carrot Cake Bars
Description
Vegan Carrot Cake Bars /// with dairy-free cream cheese frosting
Ingredients
1⁄4 cup Silk unsweetened vanilla almondmilk
1⁄2 cup Chickpeas (rinsed and drained)
1⁄4 cup dried pineapple pieces
2⁄3 cups Daiya - dairy-free cream cheese (for the frosting)
1 cup dairy-free white chocolate baking chips (for the frosting)
1⁄4 cup Silk vanilla almondmilk yogurt
1 teaspoon Cinnamon (for the frosting)
1 teaspoon Coconut Sugar (or powdered monkfruit - for the frosting)
Instructions
Preheat the oven to 350 degrees.
In a food processor, combine all of the bar ingredients (rolled oats through nutmeg). Puree on high for approximately 90 seconds, until all of the big chunks are broken up. It should have a uniform look, as everything is blended together. 
Line a 9" square baking pan with parchment paper. Press bar mixture into it evenly, about 1 inch tall. 
Bake for 25 minutes. 
Remove from heat and cool on wire rack (or speed up in fridge) for 20 - 30 min. 
In a large mixing bowl, wiht a hand mixer, whip the dairy-free cream cheese until smooth.
In a small stockpot, melt the dairy-free white chocolate chips. Then, stir in almondmilk yogurt and cinnamon + sugar. Pour the melted chocolate mixture into the whipped cream cheese. Use the hand mixer again to whip it into a consistent frosting. 
Once the bars have cooled, spread the cream cheese frosting on top. Slice into squares. Serve!
Yields 9 Bars