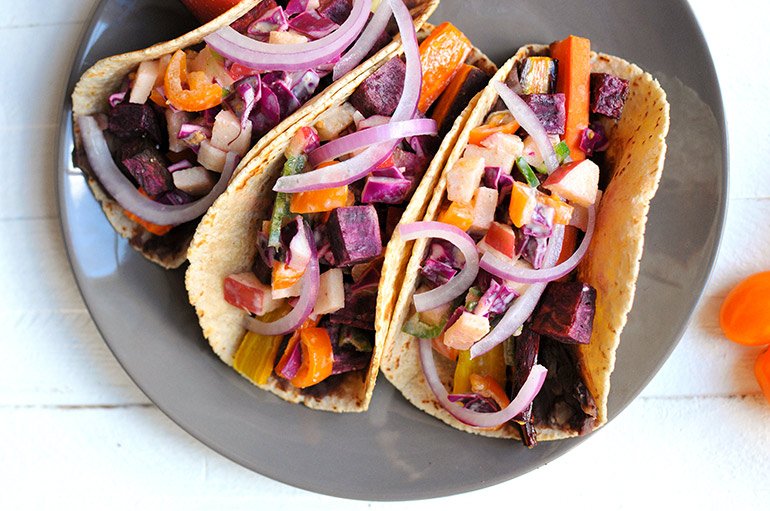 These roasted carrot and black bean tacos are a colorful, vegetarian twist on your standard taco. And that apple slaw topping is just perfect for fall!
First let's talk color. 
You know me. 
I LOVE celebrating colorful, delicious food (helllllllllllllo, tagline!). 
And sometimes it's just a matter of your choice at the grocery store. I could have just picked a regular orange sweet potato. But instead, I opted for the beautiful purple ones! I could have just picked regular orange carrots. But why do that when rainbow carrots exist?!?! See what I mean? Adding color is easy.
You know what else is coloful?
And I've just gotta tell you, IG is by far my favorite social outlet.  It's more "me." You get more over there:
More thoughts.
More recipes.
More inspiration.
More behind-the-scenes.
So I hope you'll follow me over there!! Plus there's fun giveaways for the next 2 weeks before Thanksgiving! (think cookbooks, lunchboxes, and kitchen gadgets, oh my!)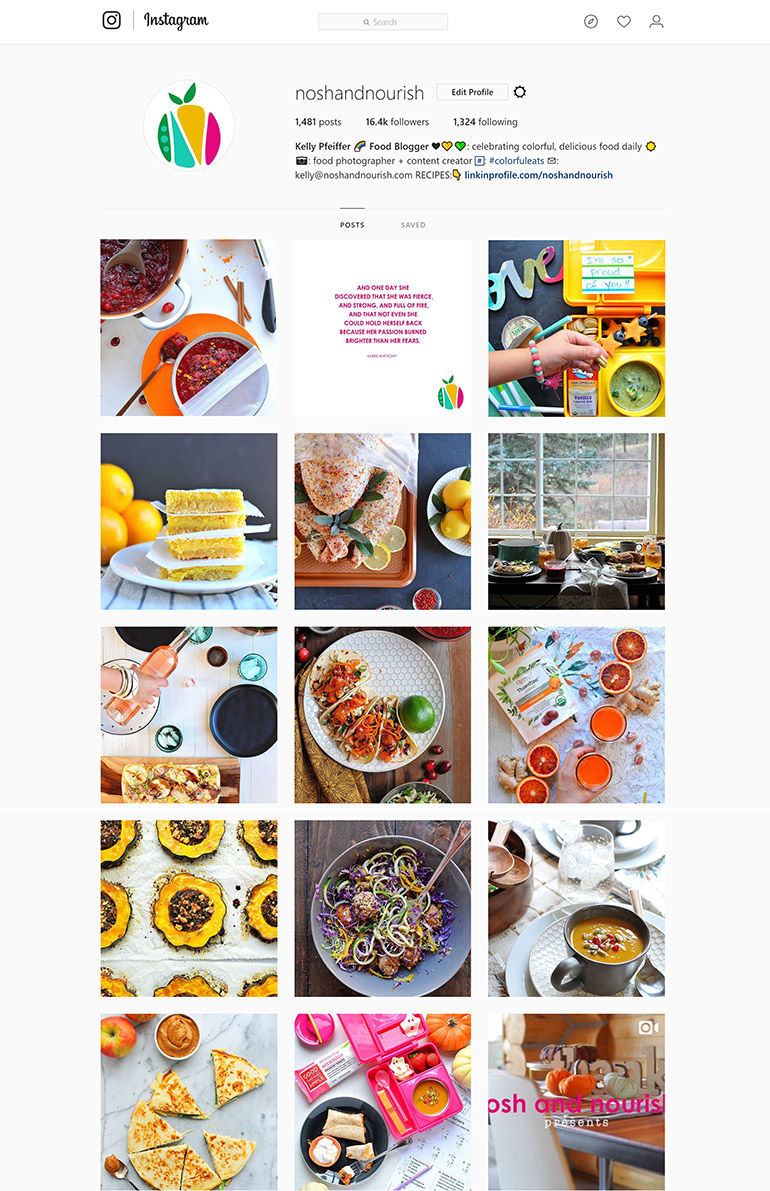 But back to these tacos... 
I just love how coloful, and nourishing, and satisfying they are! And veggie-packed.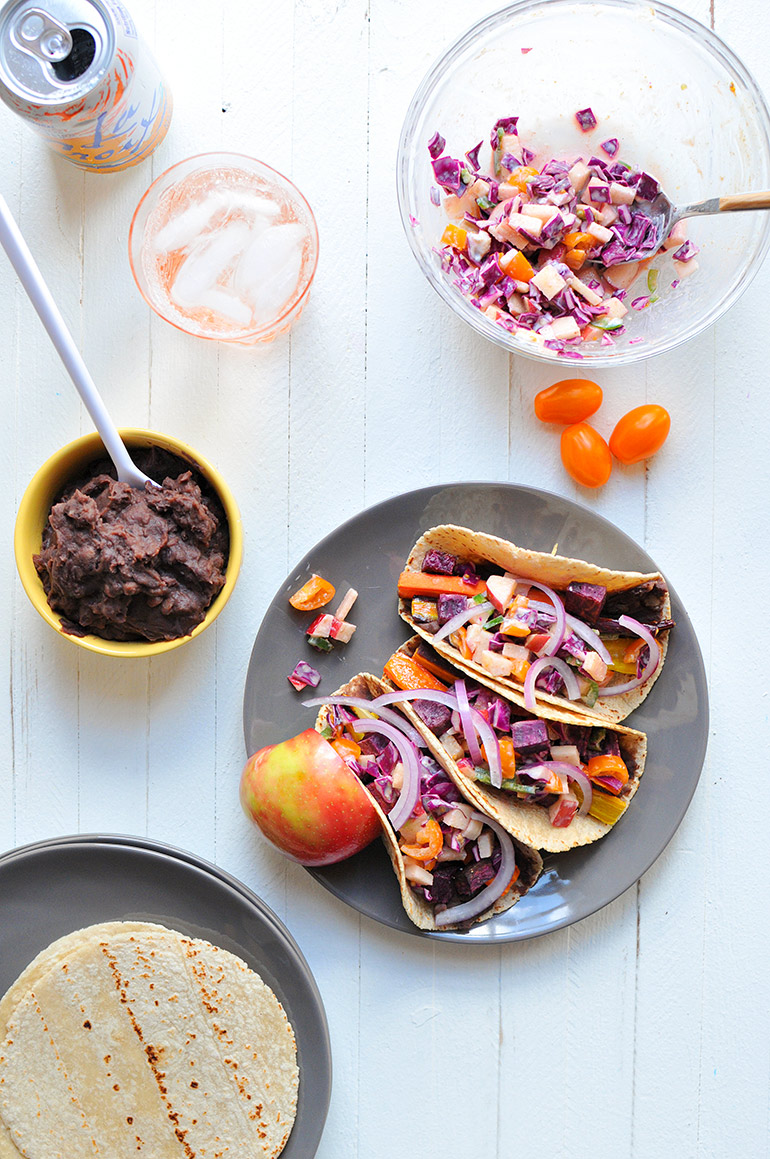 And here's a little sneak peek behind-the-scenes, of what this photoshoot looked like from afar: 
*  I set up in front of my french doors, for super great natural light. 
*  I use one of the boards from erickson woodworks (soooo excited because I just ordered 4 new ones TODAY!)
*  Sometimes I'll use white or black foamcore board to reflect or absorb light. 
*  I've just recently upgraded to my hubby's camera: the Nikon D7100. Before that, I used a Nikon D300S.
*  I'm ALWAYS drinking an apricot LaCroix during shoots (whether they're pictured or not) b/c they're my favvvv.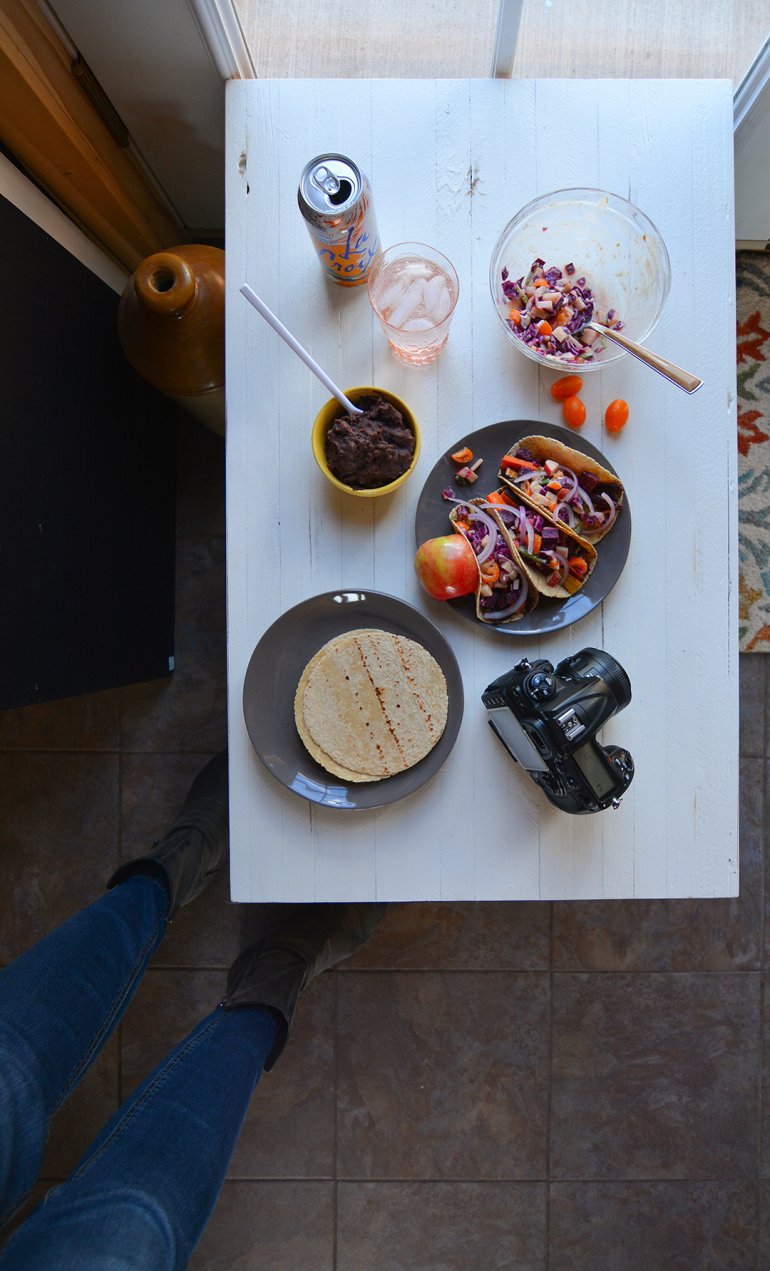 So friends... 
be sure to follow me on IG. 
make these tacos, ASAP. 
and have a great rest of your week!!!!
xoxo, Kel
Roasted Carrot and Black Bean Tacos with Apple Slaw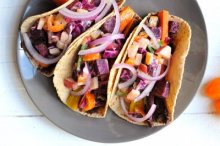 Description
Roasted Carrot Tacos with Apple Slaw
Ingredients
15 ounces can of refried black beans
5 large carrots (sliced into 3" pieces, rainbow or regular will do!)
1⁄2 a purple sweet potato (diced, or sub regular orange)
1 tablespoon Olive Oil (for roasting)
1 teaspoon coarse sea salt (for roasting)
1⁄2 cup diced apple (I love pink lady or honeycrisp for these tacos!)
1⁄2 cup diced red cabbage
2 tablespoons Plain greek yogurt
8 thin slices of fresh jalepeno (optional, for kick)
3 golden cherry tomatoes (diced , or sub regular red)
Instructions
Preheat oven to 425 degrees.
On a parchment lined (or sprayed) cookie sheet, lay out the carrots and sweet potato in a single layer. Brush on olive oil, then sprinkle with sea salt. 
Roast (bake) for 20 minutes. Then remove from oven. 
Meanwhile, combine the apple slaw ingredients in a medium bowl: diced apple, red cabbage, Greek yogurt, jalepeno, cherry tomatoes, lime juice, and cumin.
Heat up the refried black beans -- either in the microwave or on the stovetop. Either works!
Assemble your tacos: spread a generous dollop of refried black beans into the tortilla. Top with a couple pieces of roasted carrot, a few sweet potato chunks, and a spoonful of the apple slaw. 
Enjoy!
Yields 8 Tacos