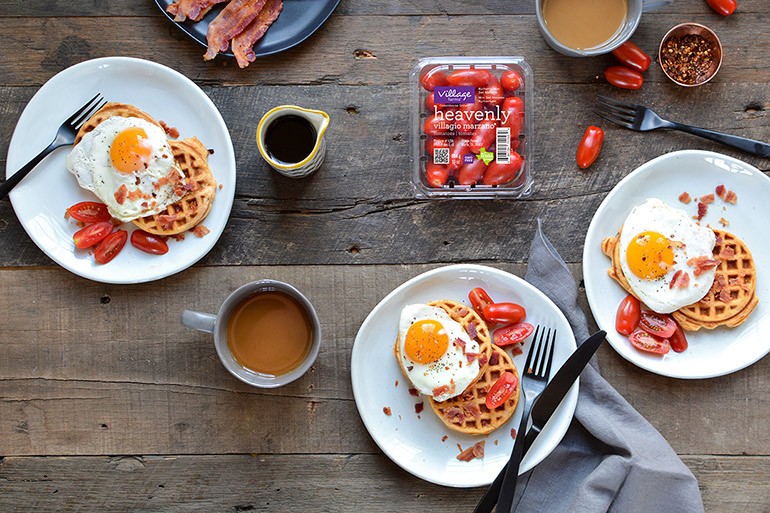 From waffles to mason jar salads, to hummus and salsa, to nachos and soup... Village Farms  tomatoes are such a versatile and healthy addition to meals throughout the day. Joy and I are excited to share a few delicious recipes you're going to want to make ASAP.
I recently shared over on IG that I'm much more of a savory person when it comes to breakfast.
Give me avo toast, or scrambled eggs, or quesadillas, or savory waffles any day ---- though my daughter would gladly devour a donut (or two). 
These roasted tomato waffles topped with a fried egg and bacon are a hit with both savory and sweet breakfast eaters alike. If you like things a little sweeter, drizzle a little syrup on top. If you like things a little more savory, skip the syrup altogether! Now what makes these waffles so special is that there are roasted tomatoes (and diced fresh ones) mixed directly in the batter.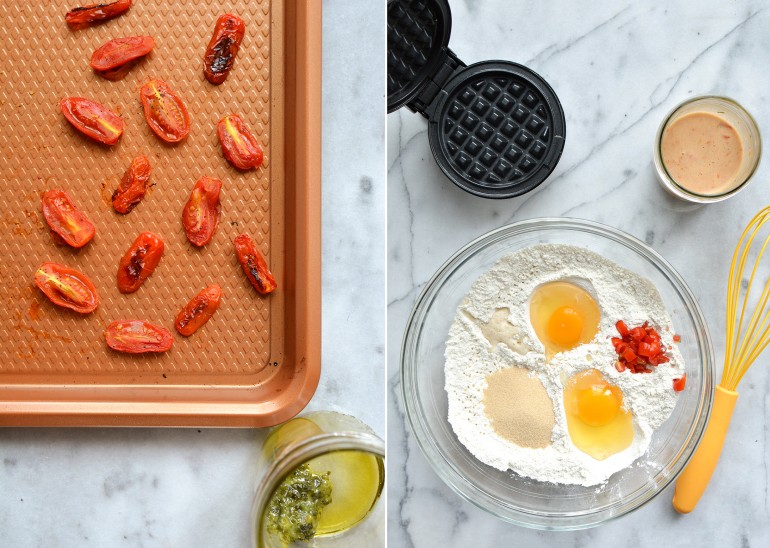 The Village Farms' Heavenly Villagio Marzano® tomatoes are just that... heavenly! On their own, roasted, or diced fresh --- you will want to eat them all day long.
Babycakes never used to like tomatoes (though ketchup is her friend). My hubby didn't love them either... so those two peas in a pod would encourage each other in their dislike of tomatoes and refuse to eat them. Until one day, the grown-up (Danny) changed his tune about tomatoes, thanks to the delicious Heavenly tomatoes I brought home, and said how good they really were. Now they both happily eat them, and Babycakes even requests them specifically... which goes to show, it really does matter what the parents are eating!
Lucky for us, I always make a double batch of these waffles, so they're easy to grab from the freezer, pop in the toaster, and serve within 3 minutes. This is perfect for busy weekday mornings or any morning when the kiddos are STARVING. Isn't it amazing how they can go from absolutely fine to starving in about 2.8 seconds?!?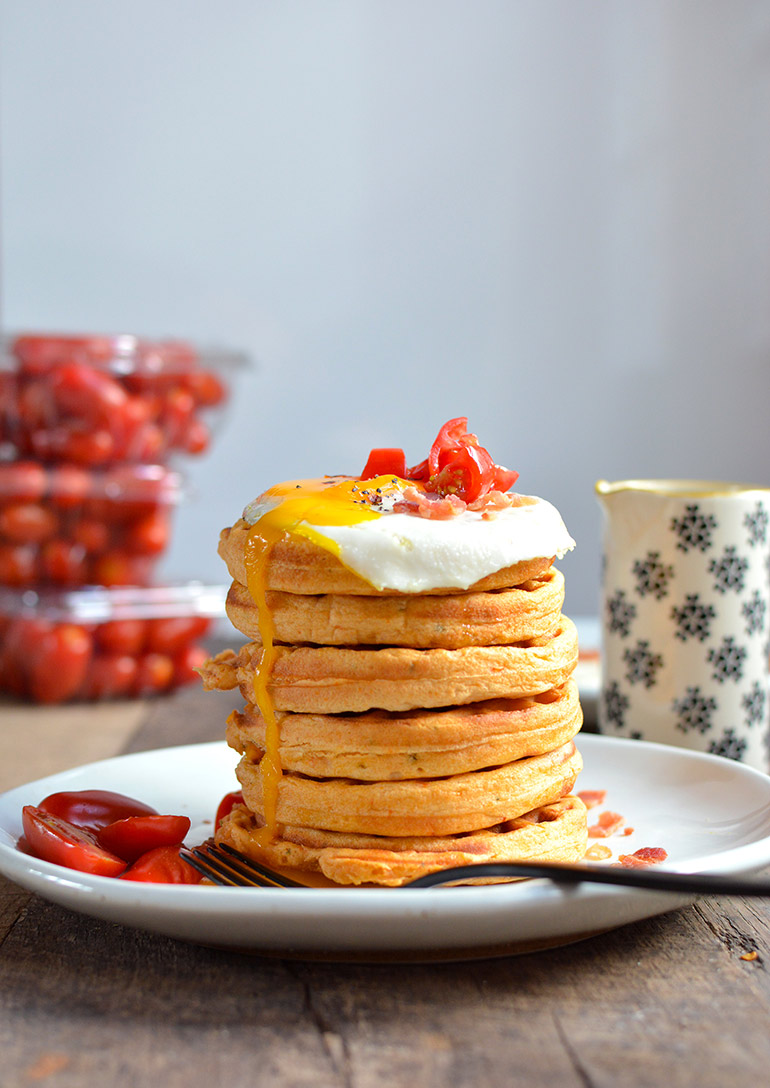 For lunch, Joy is making us these gorgeous Greek Chicken Mason Jar Salads.
Featuring the beautiful orange Lorabella Blossom® Tomatoes from Village Farms, this salad is so fresh and packed with flavor - and so quick to make. It's great to assemble these the night before and then take on-the-go to work or to the park. They're such a better option than most "fast food." The Lorabellas are packed with a special type of lycopene, which is a powerful antioxidant that helps build strong bones and supports a healthy heart. And they're really sweet and soooo vibrant!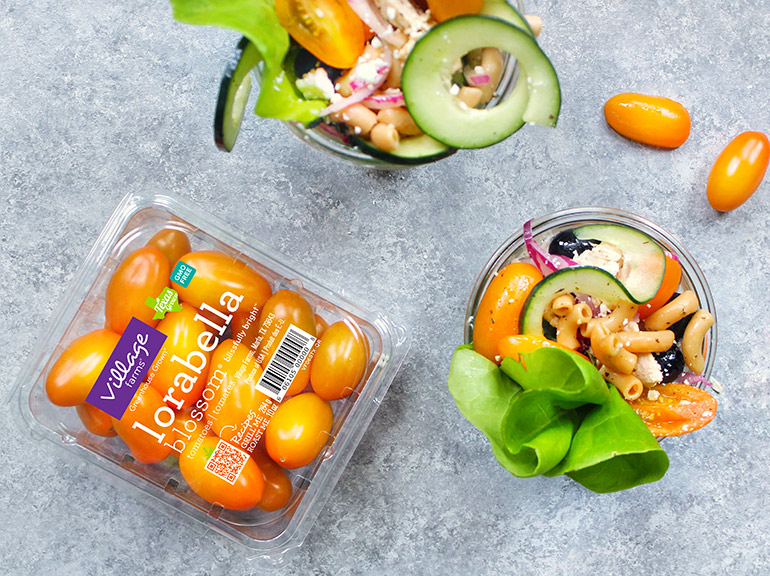 This salad is like a work of art! You'll also love these other tomato-filled lunch options:
Roasted Tomato and Red Pepper Soup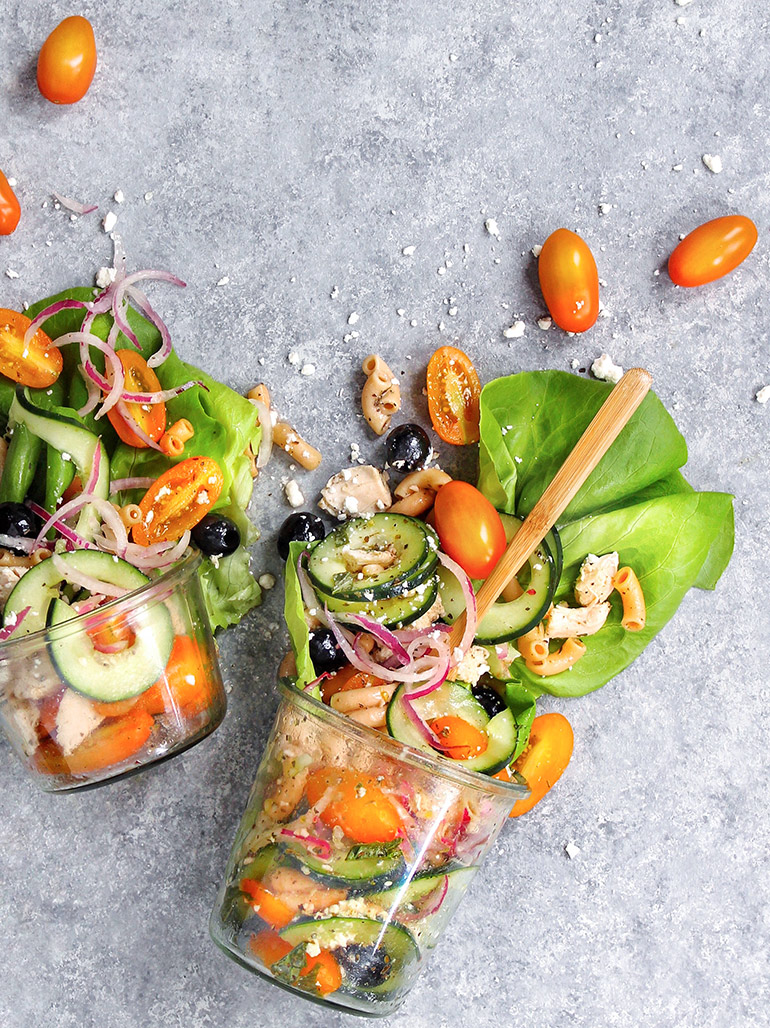 Tomatoes also make the perfect snack! Think salsa, hummus, cheese boards, or even gazpacho!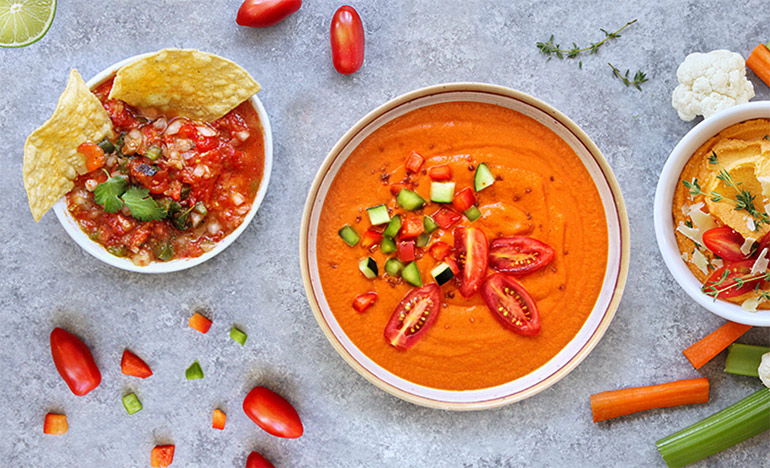 For dinner, we're serving up Mexican Street Corn Nachos topped with Village Farms' True Rebel Mix® tomatoes. They're colorful and smaller (ie. more bite-size!).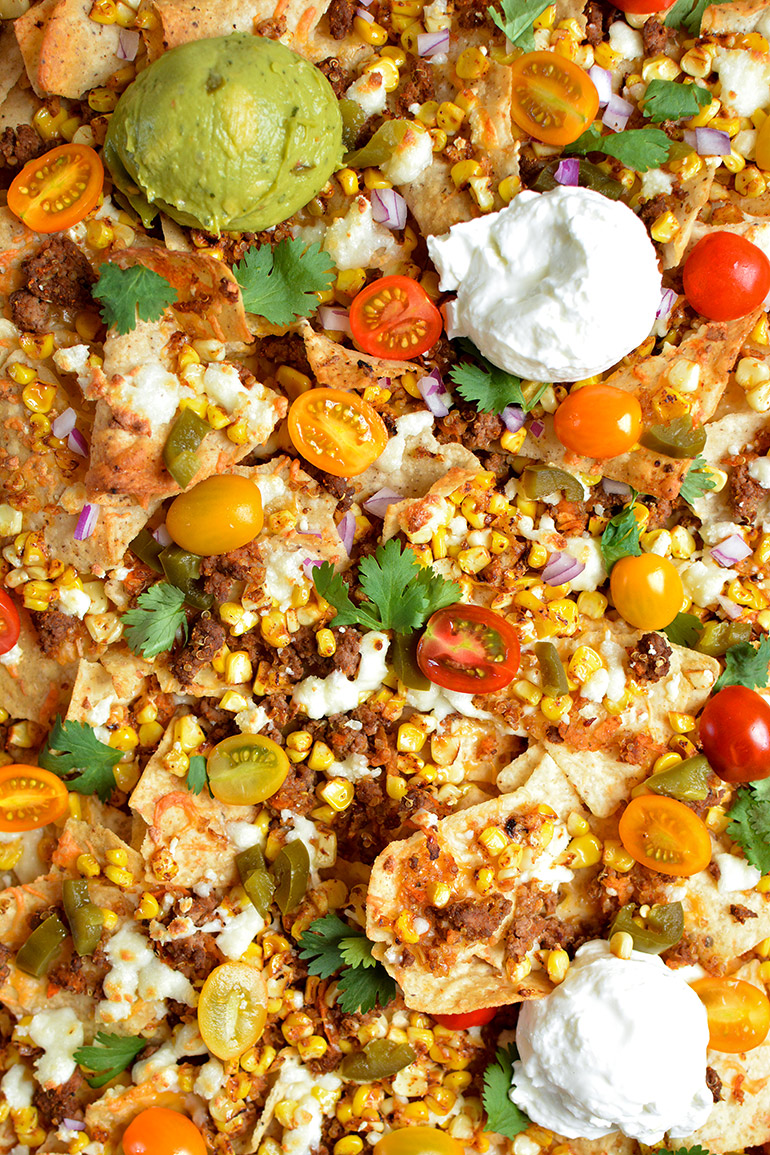 These nachos are LOADED (as you can see!) with alllllll the good stuff: 
Mexican Street Corn
A Beef/Sweet Potato/Quinoa mix (optional)
Shredded Mexican Cheese
True Rebel Tomatoes
Red Onions
Jalepenos
Queso Fresco
Cilantro
Guac
Greek Yogurt
I love nachos because they're so easy, and everyone loves them!! They're also super customizable... for instance, I only put onion and guac on one side, since the hubby and daughter don't like those. Though maybe they'll change their minds in the future, like they did with tomatoes all those years ago! I can always hope, right?!? Because we all know guac is AMAZING!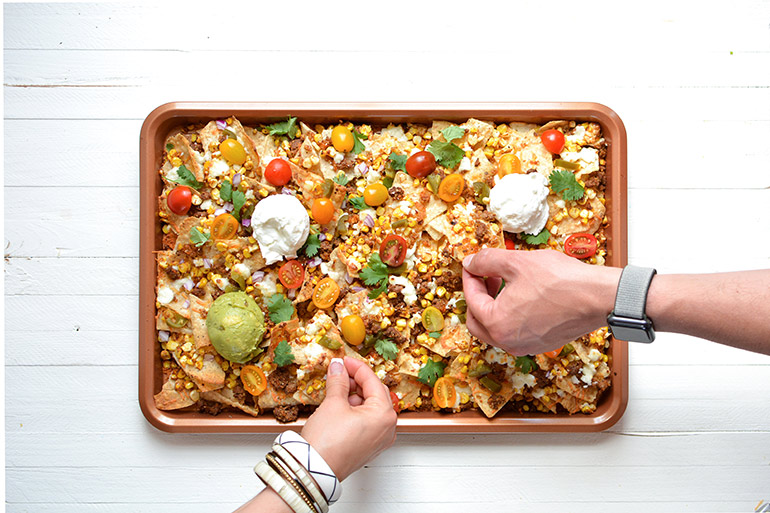 Now that things are winding down and we're finishing up our day of tomatoes, let's talk bedtime.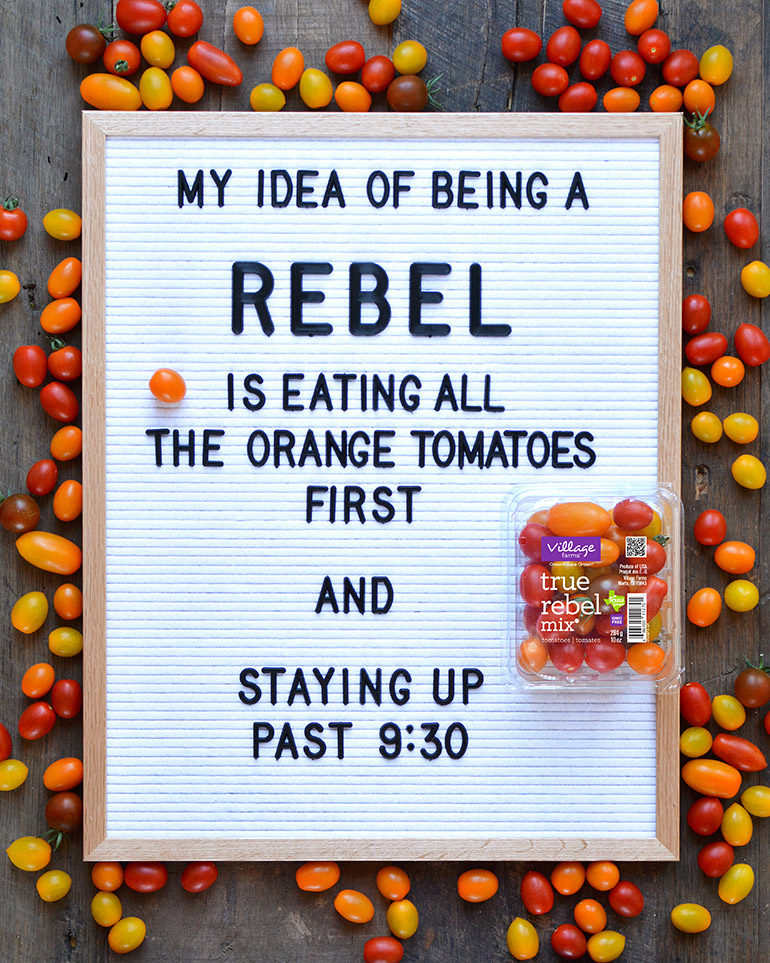 I go to bed early(ish) because my daughter ALWAYS wakes up early no matter if it's summer, or the weekend, or she's stayed up super late. All you parents know what I mean! I haven't slept in past 7:30 in eight years! But you know what's worth waking up for? Roasted Tomato Waffles! So let's do this delicious day on repeat, what do you say?
////////////////////////////////////////////////////////////////////////////////////////////////////////////////////////////////////////////////////////////// Disclaimer: this is a sponsored post written by me on behalf of Village Farms. The opinions, text, recipe, and beautiful photos are all mine. Thank you for supporting brands that support Nosh and Nourish!! I choose them based on what I already cook/create with and feel 100% confident in recommending to you.
Roasted Tomato Waffles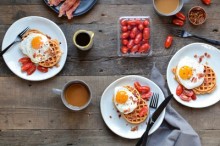 Ingredients
-----FOR THE WAFFLES-----
12 Heavenly Villagio Marzano® Tomatoes
1⁄2 tablespoon tube basil paste* (or sub 20 fresh basil leaves)
1 1⁄4 cup unsweetened almondmilk (divided, or sub regular almondmilk)
2 cups Unbleached All-Purpose Flour
1 tablespoon Baking Powder
2 tablespoons granulated monkfruit** (or sub sweetener of choice)
1 tablespoon Apple Cider Vinegar
4 Pieces of Bacon (cooked and crumbled)
1 pinch red pepper flakes
Notes
*This is the tube basil paste. It's found in the produce section of the grocery store. 
**This is the monkfruit I like to use... otherwise you could sub coconut sugar or even raw cane sugar.
*** TO MAKE FRIED EGGS: Crack eggs into large skillet over medium heat so that they don't touch each other (you might have to cook just 2 at a time). Then, cover the entire skillet with a large glass lid. This helps them cook from the top. Cook for approximately 5 minutes or until egg has reached its desired firmness. I like them to be a little drippy, but not too runny.
Instructions
Preheat oven to 425 degrees. Cut 8 of the Heavenly Villagio Marzano® tomatoes in half, longways, and then lay them in a single layer on a prepared baking sheet. Bake/roast for 10 minutes.
In a large measuring cup, combine the olive oil, basil paste, ½ cup almondmilk, and the roasted tomatoes. Blend until smooth. Then, set aside.
Dice the remaining 4 Heavenly Villagio Marzano® tomatoes. Then set aside.
In a large mixing bowl, combine the flour, baking powder, sea salt, and monkfruit. Whisk until combined.
Then, stir in the remaining ¾ cup almondmilk, apple cider vinegar, 2 eggs, roasted tomato mixture, and fresh diced tomatoes. Stir until just combined. If it seems to dry, add a splash more almondmlk.
Heat your waffle iron per owner instructions. Lightly spray cooking spray into iron and then add enough batter to the iron to make waffles. Every few waffles, be sure to re-spray your waffle iron as necessary.
Once cooked, stack up a couple of your waffles and adorn with a fried egg, bacon crumbles, and crushed red pepper flakes (optional).
If you like things sweeter, feel free to add a bit of maple syrup on top… or tomato jam!
* Please note: I used a mini waffle maker for these (I just think mini is more fun!). I used this one here, which yields waffles that are approximately 4 inches in diameter.
Yields 10 Waffles
Greek Mason Jar Salads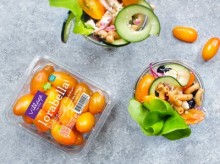 Ingredients
-----FOR THE DRESSING-----
1 tablespoon fresh chopped basil
1⁄2 tablespoon dried oregano
1 medium-sized lemon (juiced)
salt and pepper (to taste)
----FOR THE SALAD JARS----
8 ounces lentil elbow noodles (or pasta of choice)
1 red onion (sliced or spiralized)
1⁄2 cup pitted black olives
2 Cucumbers (sliced, diced, or spiralized)
1 pint Lorabella blossom® tomatoes (cut in half, longwise)
2 cups chopped rotisserie-style chicken
8 ounces butter lettuce (or greens of choice)
1⁄2 cup feta cheese (crumbled)
Instructions
Cook pasta al dente per package instructions. Once cooked, drain and set aside.
While pasta cooks, prep any produce that you need to prep and measure out your spices, etc.
Make dressing by combining the following in a large bowl: vinegar, garlic, basil, oregano, marjoram and lemon juice. Once combined, slowly add in your olive oil whisking gently as you go until oil is incorporated. Add sat and pepper to taste, and then set dressing aside.
Arrange salad jars by layering dressing on bottom of jars, followed by tomatoes, chicken, cucumber, pasta, olives, more tomatoes, red onion, feta cheese and butter lettuce on top. Once done, secure lids on tops of jars.
If you are enjoying immediately, shake jar to distribute dressing.
• If making ahead of time, please note that this salad can be refrigerated for a couple days. When ready to eat, shake jar to distribute dressing before serving. Enjoy straight from the jar or transfer to a bowl and enjoy!
• For more depth of flavor pour a very small amount of dressing onto individual salad components (onion, cucumber, etc.) and allow to marinate a bit prior to assembling. I always do this and it really gives it a much more intense flavor!
• Store extra dressing in the refrigerator for up to one week.  
Yields 4 Servings
Loaded Mexican Nachos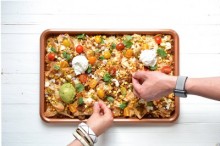 Ingredients
----FOR THE STREET CORN----
3 ears of fresh corn (cut off the cobb)
1 tablespoon avocado oil (or sub olive oil)
1 tablespoon Siggi's plain yogurt (or sub plain Greek yogurt)
2 tablespoons queso fresco (Mexican cheese)
----FOR THE TACO MEAT---- (optional)
1⁄2 cup grated sweet potato
1 tablespoon Taco Seasoning
12 ounces tortilla chips of choice (we love the Siete Foods' lime ones!)
Mexican Street Corn (recipe above)
8 ounces shredded Mexican blend cheese (we love the Horizon organic one)
1⁄3 cup queso fresco (Mexican cheese)
10 ounces True Rebel Mix® tomatoes (halved)
1⁄4 cup diced jarred mild jalapenos
1⁄2 cup Siggi's plain yogurt (or sub Greek yogurt)
1⁄2 cup Guacamole (optional)
Notes
*Other possible add-ons: melty queso dip, Chalula, or black beans. Or all of the above!
Instructions
In a large skillet pan over medium heat, combine the corn kernels, avocado oil, and lime juice. Saute for 5 minutes, stirring frequently. Corn should get lightly browned, but not burned. Then, stir in chili powder, yogurt, and queso fresco. Set aside.
Preheat the oven to 425 degrees.
In another large skillet pan over medium heat (or the same one emptied/wiped), saute the ground beef, quinoa, and grated sweet potato for approximately 5 minutes, stirring frequently. Beef should be browned and cooked through (no pink). Set aside.
Time to assemble your nachos! On a large sheetpan, lay out the tortillas chips in a single-ish layer. Top with ½ the shredded Mexican cheese. Then add any remaining tortilla chips and then top again with the rest of the Mexican Cheese. Spoon the Mexican street corn mixture on top of the chips evenly. Then add on the taco meat (optional). Then top with crumbled queso fresco. Bake for 10-12 minutes. You want the cheese to be melted on the nachos and the chips to be lightly browned, but not burned!
Remove from heat and then add on the toppings to serve (evenly spaced): True Rebel Mix® tomatoes (halved), red onion, jalapeno, cilantro, Siggi's yogurt, and guac. Feel free to arrange based on preference --- for example, I only put the red onion and guac on one half because my daughter and husband don't love those.
Enjoy!
Yields 4 Servings