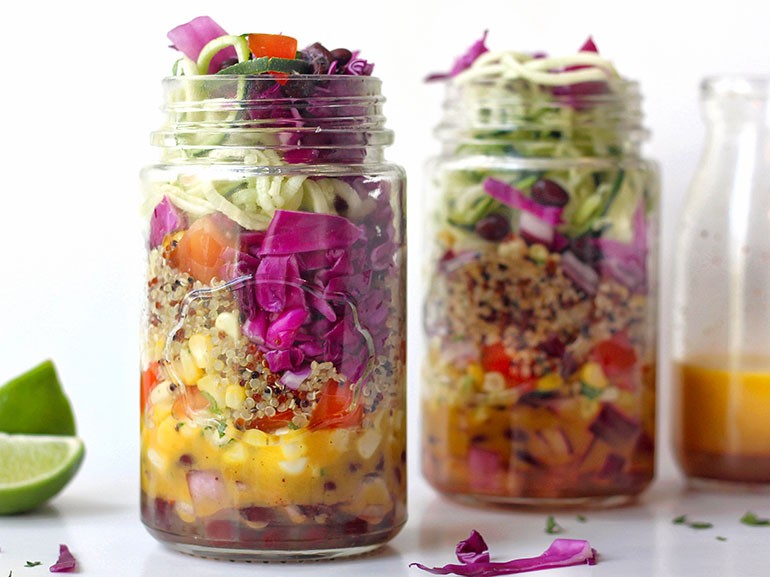 Joy again from Lunches + Littles here!
Last month I told you I was just getting started when I shared my Sweet Spring Jar Salads with Homemade Berry Vinaigrette, and I wasn't joking. I love a yummy salad, and you just can't go wrong layering all that healthy goodness up in a jar. My new Southwest Zoodle Jar Salads have it all – spiralized zucchini, roasted corn, red onion, black beans, juicy tomatoes and more, all with a homemade Honey Lime Dressing with a little kick, thanks to the addition of chili powder.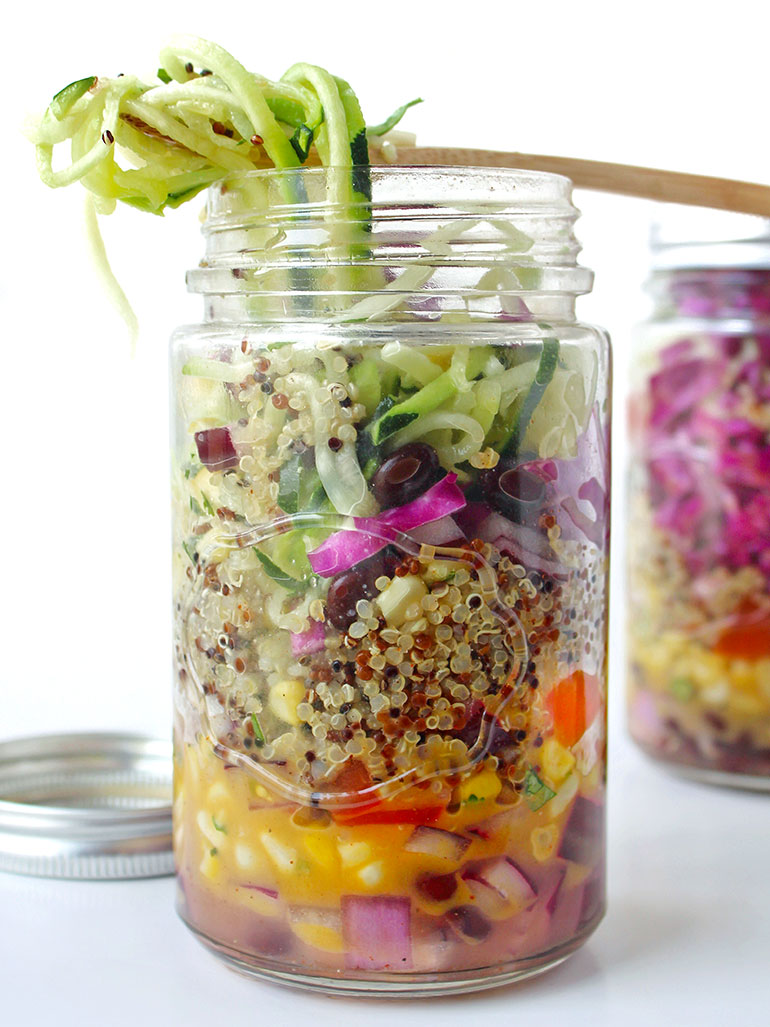 These Southwest Zoodle Jar Salads are packed with flavor and real food, and the colors are just incredible, aren't they?!
And, while this recipe keeps things vegetarian-friendly, you can certainly add in some chopped grilled chicken or shrimp if desired. Remember – mason jar salads like this aren't just easy to make, they are easy to make your own. Add, subtract...use whatever you have on hand. And, if you are making them for your little ones, let them be a part of the process! Getting your kids in the kitchen with you not only provides a great, hands -on learning opportunity, it also gets little ones more interested in the various foods that are being prepped, and ultimately more excited to give what they had a hand in creating a try. And that's a huge mom-win!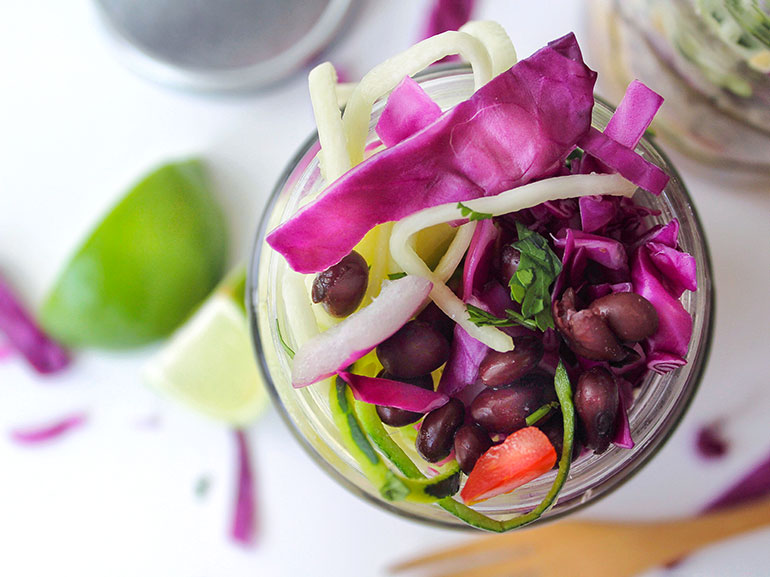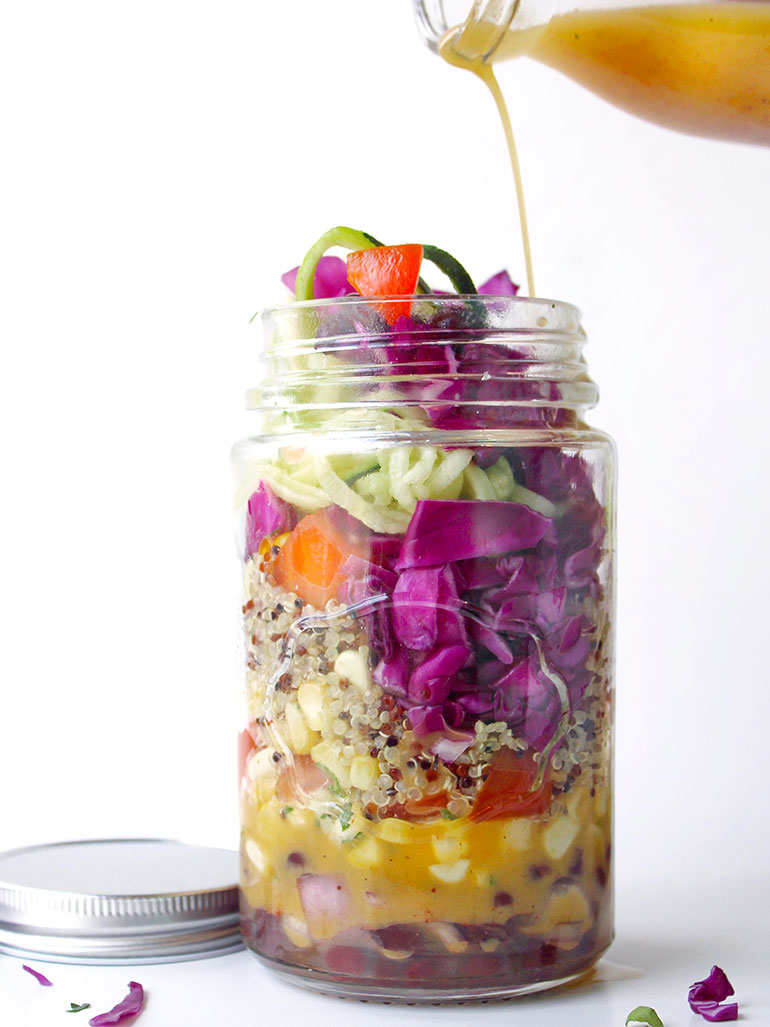 Some kids are pickier than others. We get that. Kelly and I love @veggiesandvirtue's philosophy on combining LOVE it foods with LIKE it foods and LEARNING (to like it) foods. So this salad combines beans and corn (LOVE it foods) with quinoa and tomatoes (LIKE it foods) with zoodles (a LEARNING to like it food). 
Here's a few other possible tweaks you could try:
saute the red onion to be softer / less strong, or omit altogether
combine with lentil pasta to make a zoodle/noodle blend
add in some diced mango for a little extra sweetness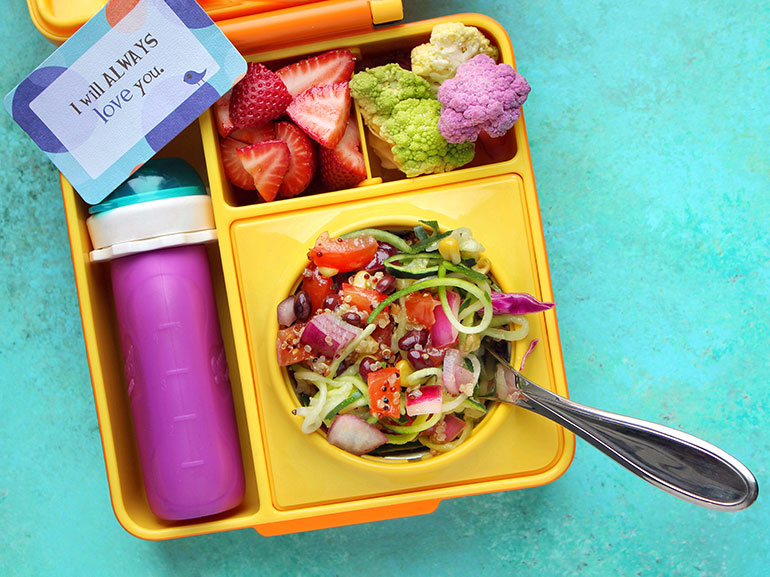 For more delicious, colorful recipes that are both vibrant and nutritious, be sure to check out my feed, @lunchesandlittles, where I am serving up easy and kid-friendly dishes all the time!
-Joy
Southwest Zoodle Jar Salads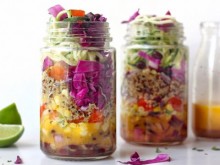 Description
Southwest Zoodle Jar Salads
Ingredients
1 1⁄2 cup zoodles (spiralized zucchini - you can do at home or buy at Whole Foods)
15 ounces can of black beans (rinsed and drained)
1⁄2 cup diced red onion (more or less depending on taste preference)
2 small tomatoes (~ 1/2 cup diced)
2 corn cobs (roasted/grilled then kernels removed ~ 1 cup)
1⁄2 head of red cabbage (sliced and chopped)
finely chopped cilantro (to taste)
1⁄4 cup Olive Oil (for dressing)
1⁄3 cup lime juice (for dressing)
1 tablespoon honey (for dressing - or sub maple syrup to keep vegan)
1⁄4 teaspoon Chili Powder (for dressing)
salt and pepper (to taste)
Notes
*I usually make these kinds of salads the morning my hubby and I (or our kiddos) will be eating them, but most salads like this will keep for about 1-3 days.
Instructions
• Start off by making your dressing. In a small bowl combine olive oil, lime juice, honey and chili powder. Whisk until well-combined. Add salt and pepper to taste.
• Place a couple of tbsp of dressing in the bottom of each of your mason jars.
• Next, start layering your ingredients, starting with items like onions first that will respond better to marinating and ending with your zoodles.
• Cover jars and keep in refrigerator until you are ready to eat up!
• When ready to eat simply shake your salad jar (make sure your lid is on tight!) to distribute dressing. Then, enjoy straight from the jar, or pour salad onto a big plate or bowl and enjoy!
• YUM!
Yields 4 Jars