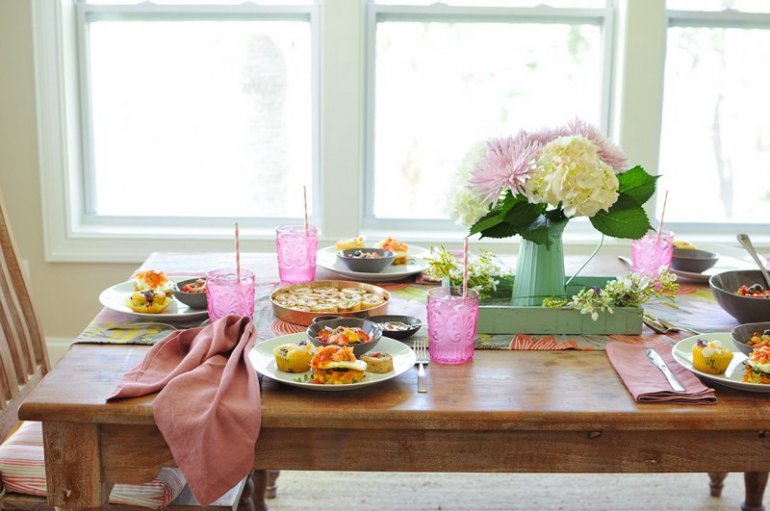 These Breakfast Stacks are made with a spiralized veggie base (sweet potatoes + potatoes + zucchini) topped with garlicky greens, a fried egg, Alaska Gold Smoked Salmon, and a Thai chile apricot glaze. They're the perfect "main dish" for your upcoming Mother's Day brunch, or any weekend this Spring for that matter!
I've been working on this for what seems like weeks, no months, really: an epic Mother's day brunch, at the beach, with my mom and daughter and some friends.
Dreaming.
Planning.
Buying flights.
Developing recipes.
Booking a beach house on vrbo. 
Packing.
Grocery shopping.
I am so excited that the day has finally come to share with you the entire fabulous Mother's Day brunch menu, with its beautiful colors, delicious flavors, and delicate touches Mom is sure to love (like the edible blooms adorning the lemon blueberry muffins, the gorgeous hydrangea, and the pink linen napkins to name a few).  And seriously, how gorgeous is this photo?!?!?!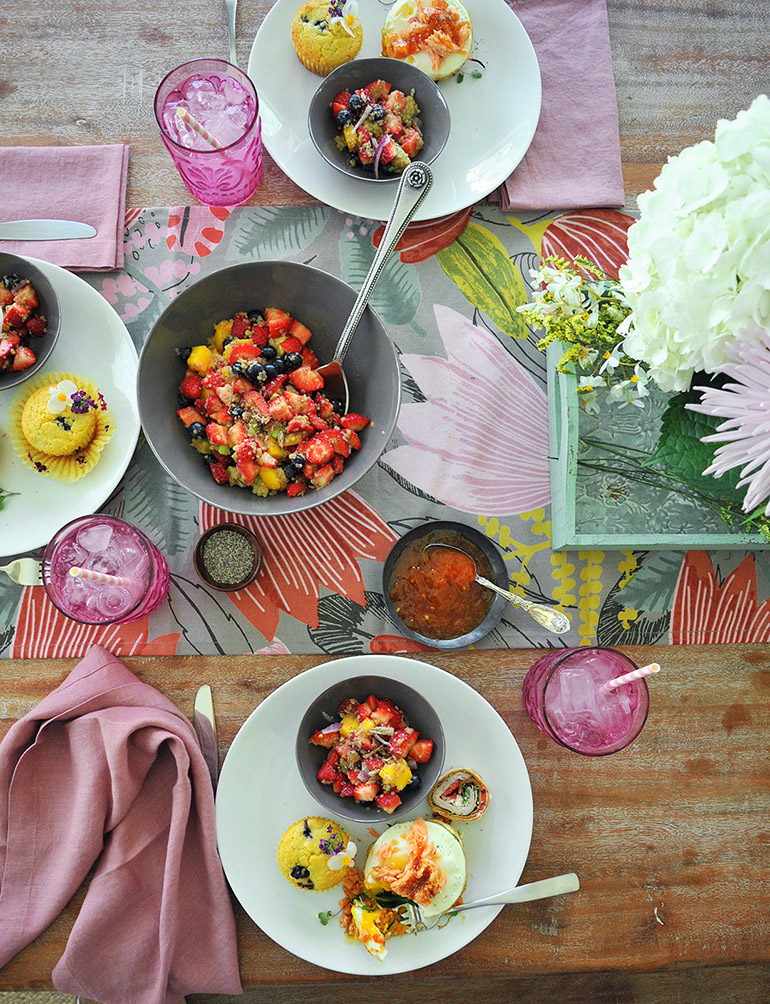 First, let's talk about the "main dish" --- the breakfast stack. It is superfood-packed: 
Spinach
Sweet potatoes
Eggs 
Salmon
Holy moly, so many nourishing things in one recipe!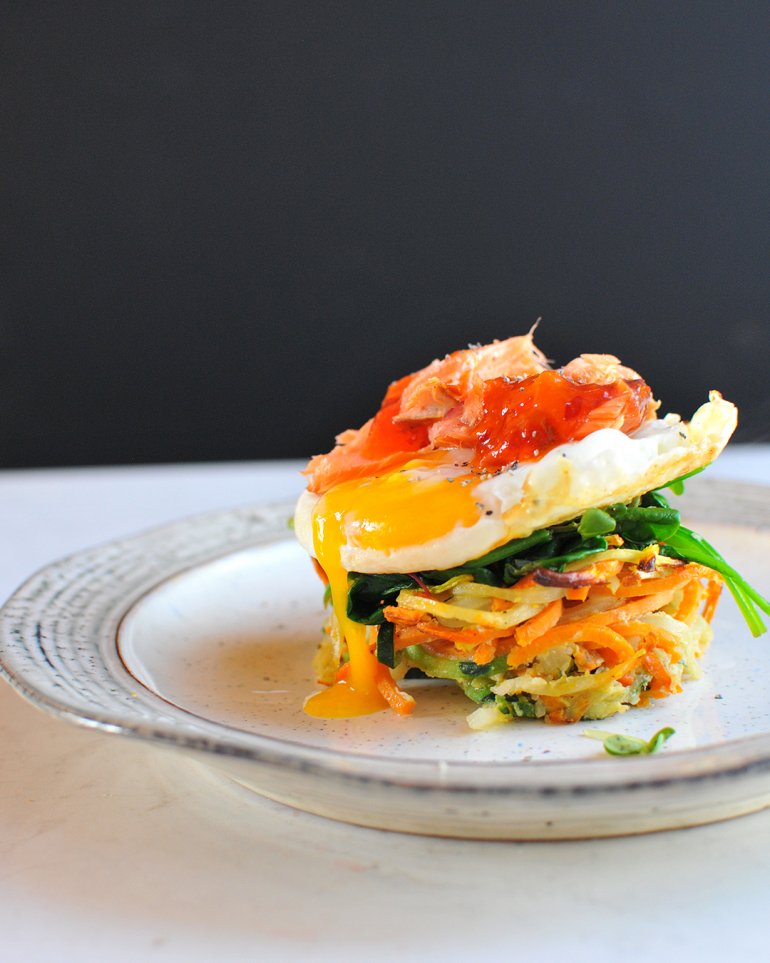 Wild salmon has always been one of Babycakes' favorite foods... which I love. I even put it in her lunchbox! It is FULL of healthy omega-3 fatty acids, B vitamins, protein, vitamin D, and more. And it's even better when you know the source. That's why I love Alaska Gold Seafood --- they use a sustainable fishing method that is better for the ocean and produces the highest quality seafood. You can even see bios of each of their fishermen!
Everything is shipped directly to your house, quickly, and on dry ice. 
Ready for your freezer. 
And then your table. 
And their smoked salmon is the best I've ever had --- it's the perfect texture and consistency: not dry, but also not overly oily.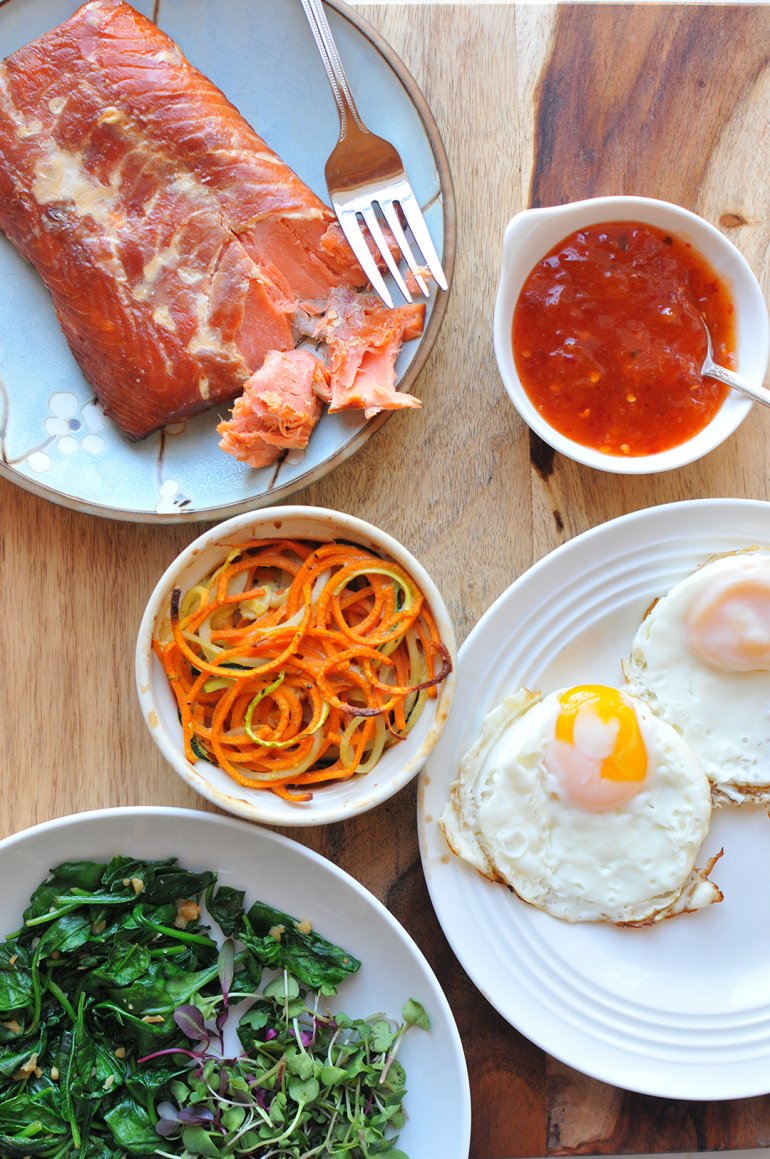 I could seriously eat this on repeat for days upon days upon days, it's that good. So satisfying. So vibrant.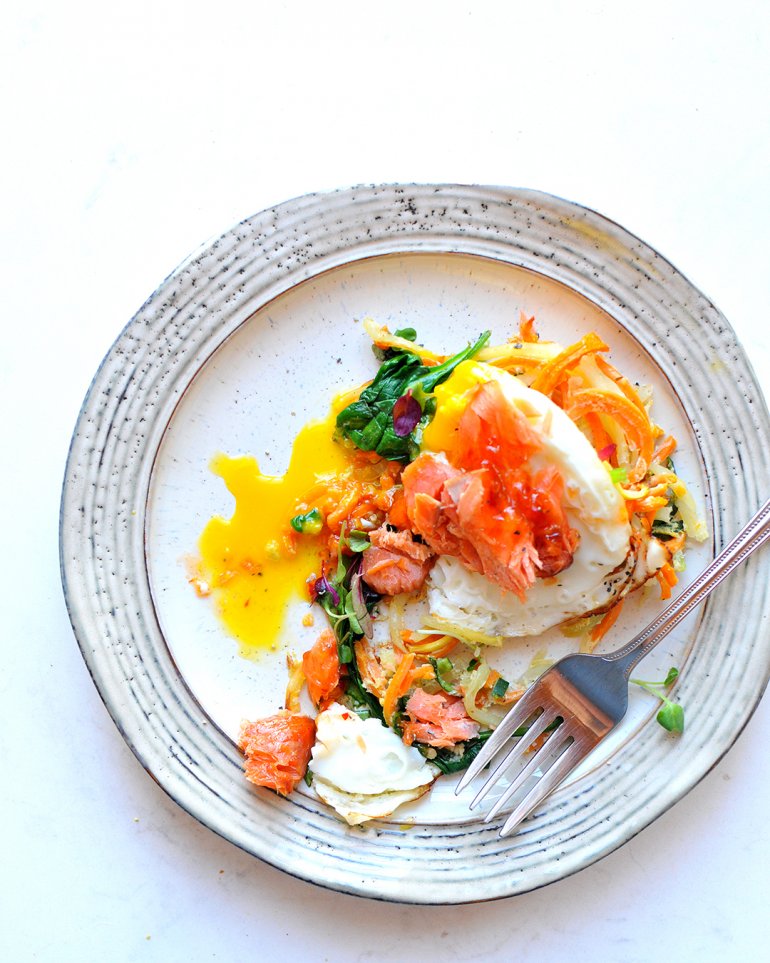 While we were in the South, I had a cookbook signing party in my hometown of Roswell, GA. The night was perfect and I was so thankful to spend it with so many dear friends. Babycakes enjoyed herself as well, especially when they started asking for her to sign "her page" in the cookbook. Seriously, how cute is she?!?!?!?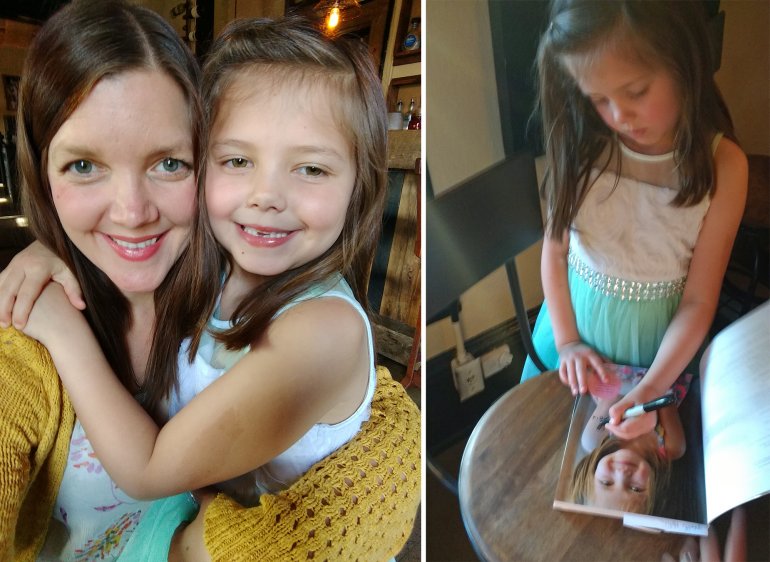 As I said, on that special page of my book:
"To my daughter, lovingly referred to as Babycakes... so beyond thrilled to be your mom, your cook, and your friend. "
So, here's the complete Mother's Day Brunch menu --- everything is equally fabulous:
     1. Strawberry & Quinoa Fruit Salad
     2. Turkey Pesto Pinwheels
     3. Lemon Blueberry Cornbread Muffins
     4. Smoked Salmon Breakfast Stacks (RECIPE BELOW!)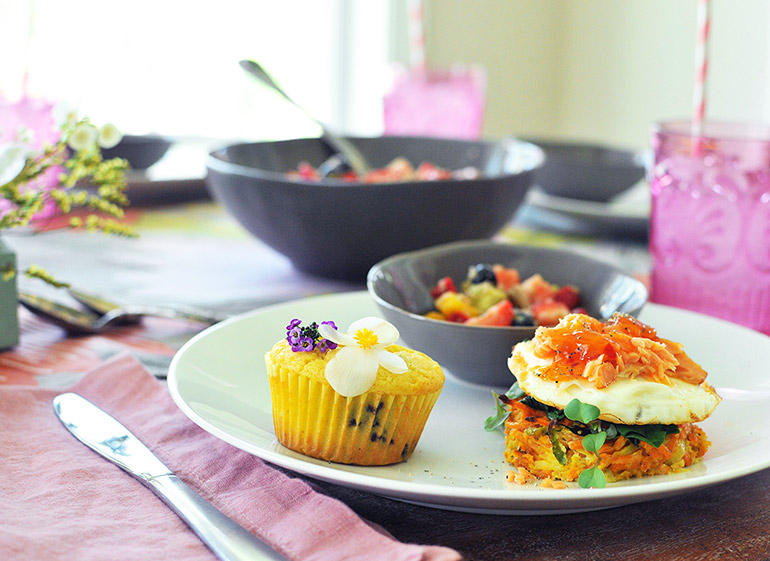 --------------------------------------------------------------------------------------------------------------------------------------- This is a sponsored conversation written by me on behalf of Alaska Gold Seafood. The opinions, recipe, beautiful food photography and text are all mine. Thank you for supporting brands that support Nosh and Nourish!!! I choose them based on what I already cook/create with and feel 100% confident in recommending to you.