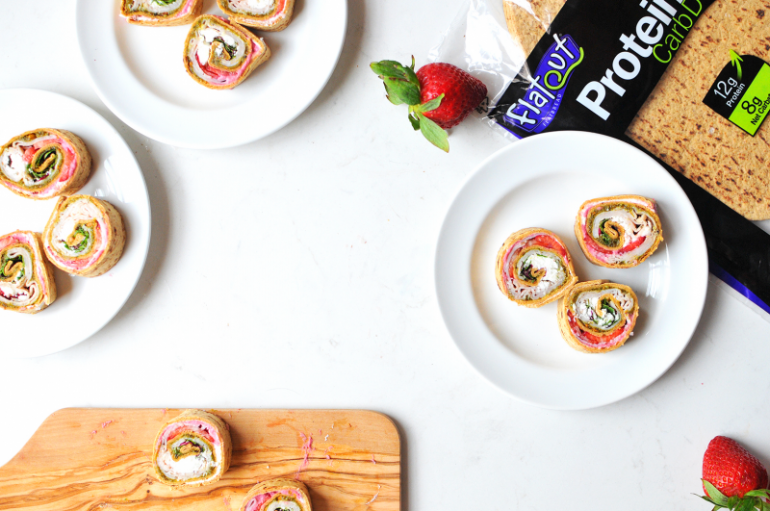 These colorful turkey pinwheels are perfect for Spring, an upcoming Mother's day brunch, or poolside when it's finally warm enough. They are rolled up in a protein-packed Flatout wrap with homemade pistachio pesto, fresh strawberries, pink beet hummus, micro greens, and goat cheese. 
First, let's take a minute to admire how pretty these are.
Seriously, I could stare at this picture all day!
You too?
Beautiful, nourishing, delicious food... it just makes me HAPPY!!!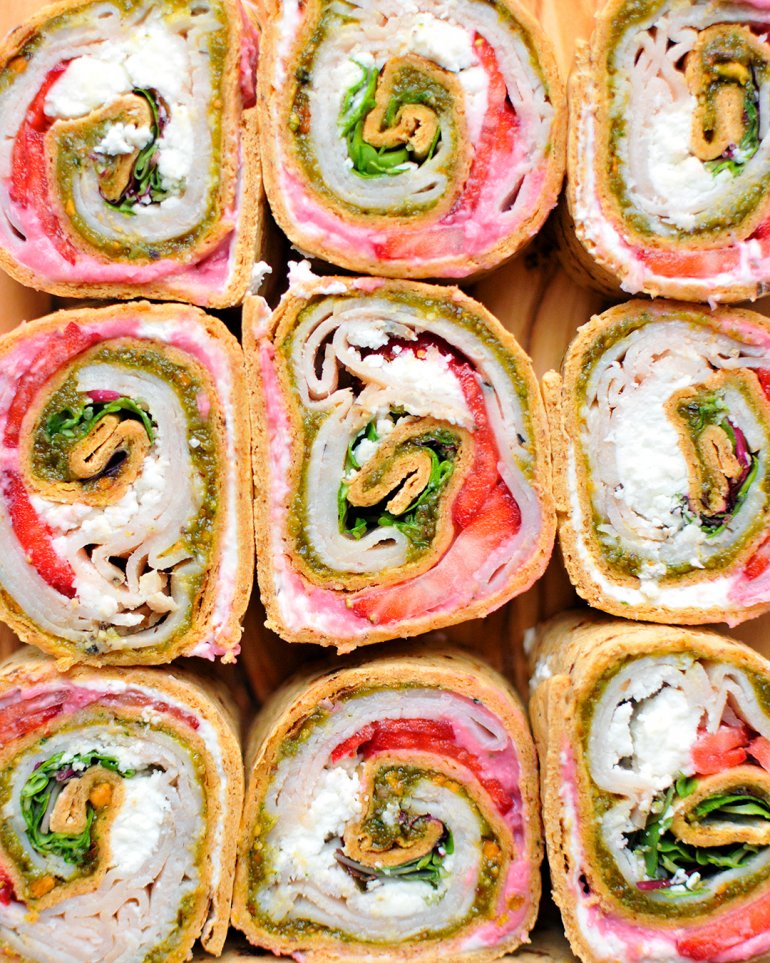 The key to a good wrap (or pinwheels in this case) is the variety of flavors and textures and colors. 
1. FRUIT:
That good ol' sweeet and savory combination is famous for a reason. It's just GOOD. So the fruit here serves the purpose of providing a little sweetness, fiber, and extra vitamins. Think strawberries, pear slices, apples etc...
I told you, I am obssessed with strawberries lately... and am putting them in allllllllllllllllll the things: 
Cake.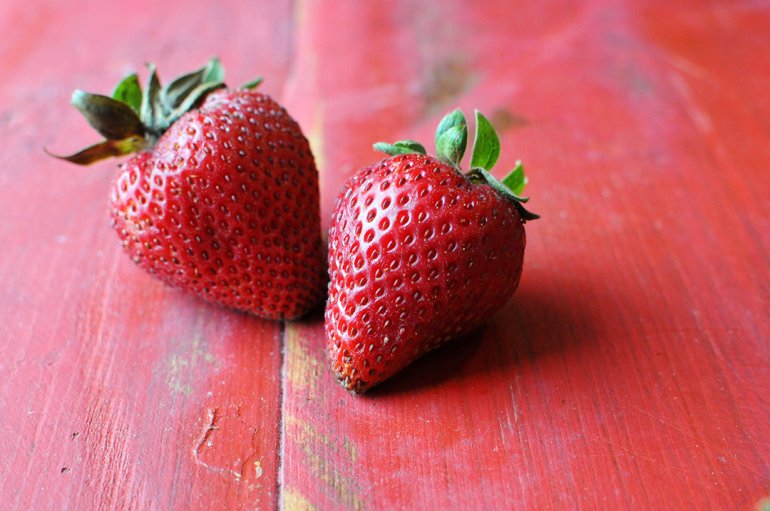 2. GREENS:
Personally, I've been loving micro greens lately. They're so Spring-y and fresh! They're basically lil' baby plants - like baby broccoli sprouts, baby beets, etc... and in addition to the bright green, there's some really lovely purples and pinks. You can also use spinach, kale, rainbow chard, etc.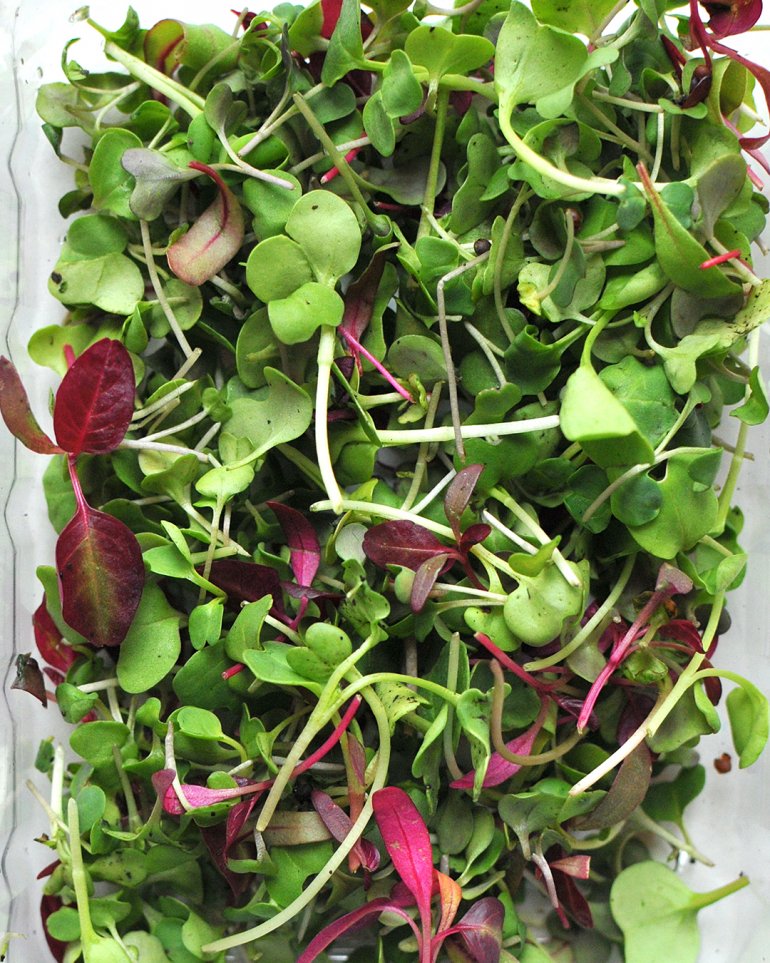 3. PROTEIN:
You can add black pepper turkey (like I did here) or rotisserie chicken or salmon, or even fully plant-based options like quinoa or chickpeas. In addition to the protein you're adding into the wrap, what if the wrap ITSELF was full of protein?! I'd call that a major win! And that is exactly why I love these Flatout ProteinUP wraps, that use chickpeas and flax to give that extra boost of protein (12g per flatbread!).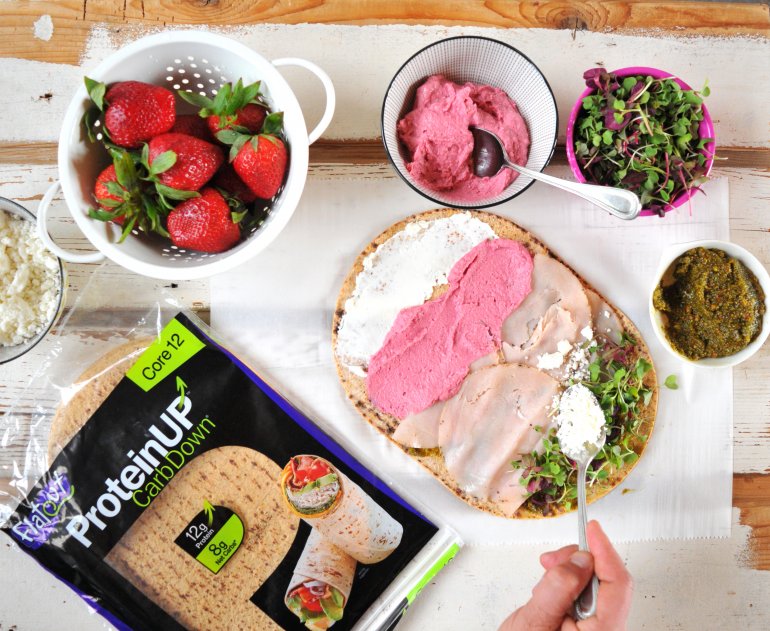 4. THE EXTRAS:
Pistachio pesto -- filled with healthy fats from the olive oil and nuts to help keep you satisfied and full. 
Cream cheese and beet hummus -- act as a binder to help the wrap/pinwheels stay closed. 
(optional) Goat Cheese -- adds a little creaminess and a lot of flavor.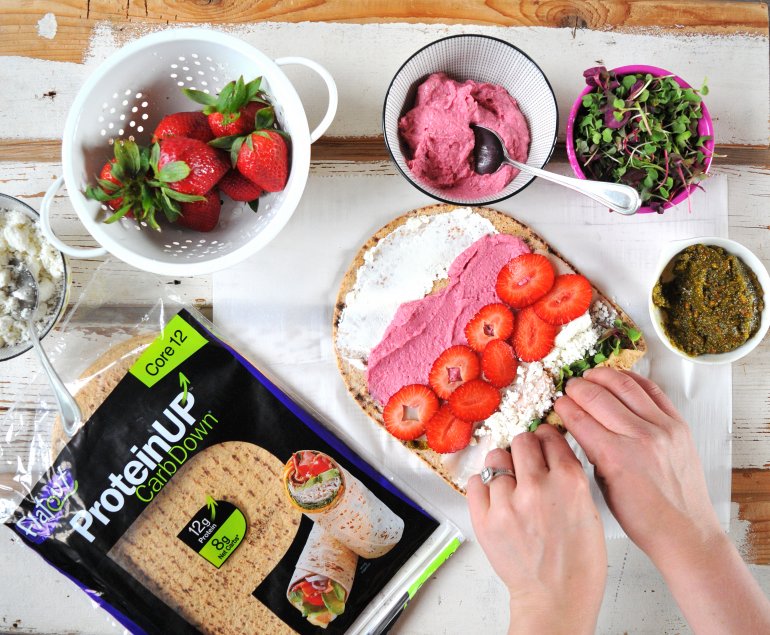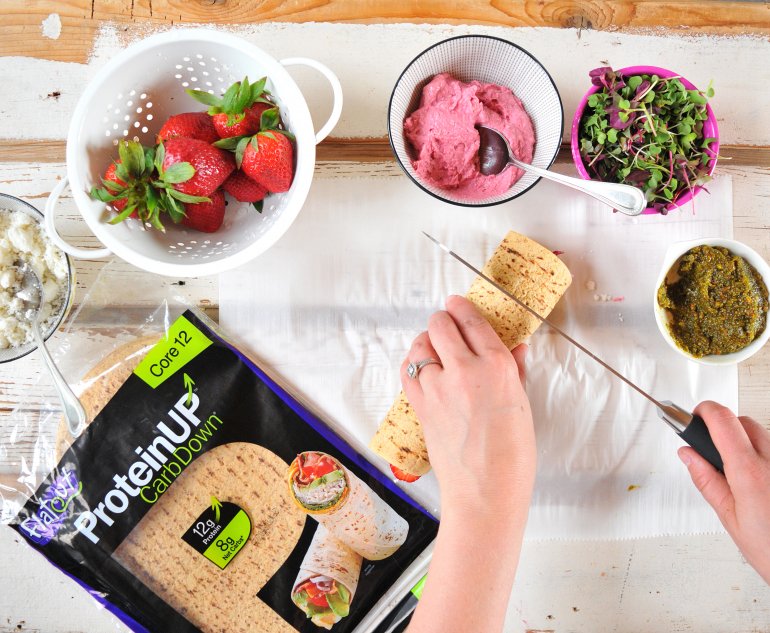 I'm super excited to share with you over the next couple weeks ---> an entire Mother's Day Brunch menu. We're starting with these beautiful pinwheels... but have so much more to share with you, including:
Smoked Salmon Breakfast Stacks with Spiralized Sweet Potatoes
Strawberry & Quinoa Fruit Salad
Smashed Berry & Basil Muffins
Strawberry & Dragonfruit Ice Cream Floats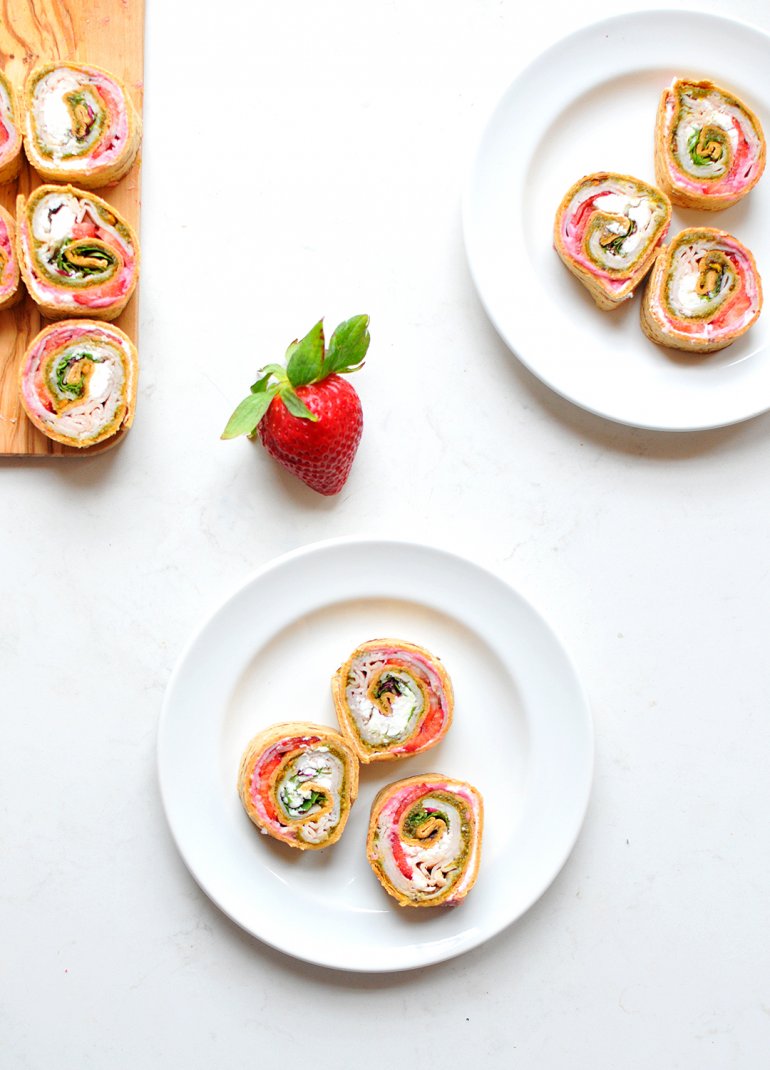 Tell me: What ingredients do you like to put in your wraps?
// Disclaimer: this is a sponsored post written by me on behalf of Flatout. The opinions, text, recipe, and beautiful photos are all mine. Thank you for supporting brands that support Nosh and Nourish!! I choose them based on what I already cook/create with and feel 100% confident in recommending to you.
Turkey Strawberry Pinwheels with Pistachio Pesto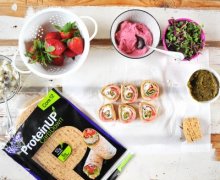 Description
easy mothers day recipes | mothers day brunch | turkey pinwheels | strawberry brunch ideas | pistachio pesto
Ingredients
2 tablespoons Basil Paste (sold in a tube in the produce section)
1 cup shelled pistachios (I use unsalted)
1⁄2 cup good quality extra virgin olive oil
handful of fresh basil leaves (~15 leaves)
1⁄2 tablespoon Coconut Sugar
1⁄2 tablespoon Minced Garlic
2 Flatout ProteinUP wraps
4 tablespoons Whipped Cream Cheese
1⁄3 cup beet hummus (you can use store-bought or homemade*)
1⁄2 cup micro greens (or sub spinach)
8 ounces black pepper turkey (or omit to keep vegetarian)
4 tablespoons Goat Cheese (optional)
Notes
*This is the recipe I like for homemade beet hummus. You could omit the thai chili paste for this particular scenario. This is the store-bought version I like.
Instructions
In a small food processor (or a blender would work), combine all of the pesto ingredients: basil paste, pistachios, olive oil, lemon juice, fresh basil, coconut sugar, garlic, and parmesan. Puree until smooth. Set aside.
Lay the Flatout wrap flat.
Add a thin layer of cream cheese to one end. Cover the remaining area with a thin layer of the pesto. (You will have leftoever pesto!)
Add a handful of the micro greens near the end farthest away from the cream cheese. Then, add 6-8 turkey slices next to that - the turkey shouldn't go too much farther than halfway. 
Add 2 tbsp of the beet hummus between the turkey and the cream cheese. 
Next, add the goat cheese and strawberries on top of the turkey.
Carefully, roll it up starting with the non-cream cheese end. Try to keep it tight, but not squished. 
Once it is rolled, use a bread knife to slice it into pinwheels. 
Repeat process with the other wrap.
Yields 6 Servings