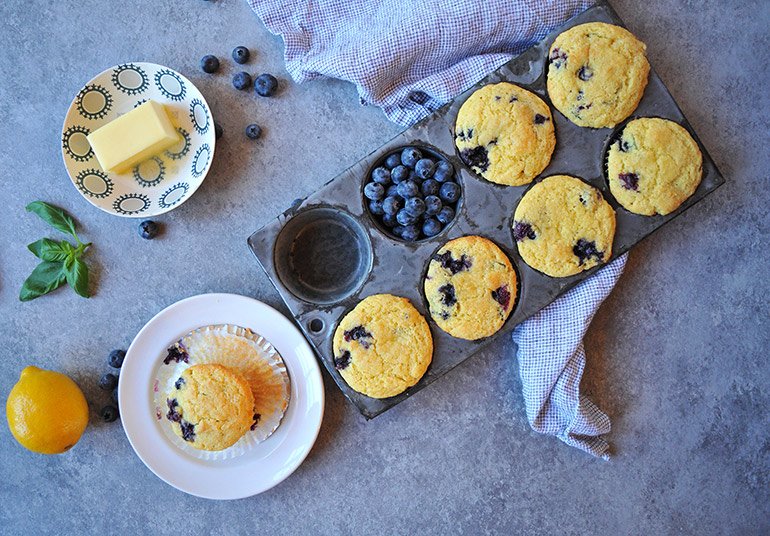 These lemon blueberry cornbread muffins are so light and fluffy thanks to the super fine stone ground corn flour from Bob's Red Mill. They're gluten-free, sweet, flavorful, and perfect for an upcoming weekend or Mother's Day brunch!
I reaiized I'm spoiled. 
Not because I'm an only child, but because I've taken for granted what an array of beautiful, organic food and gorgeous blooms I have right at my fingertips. What's the saying --- "You don't know what you have until it's gone."??? This realization came to me recently when I was preparing a full (early) Mothers' Day brunch in a totally different state/town/region. 
I went into the local grocery store expecting to find what I always find. 
Not so much. 
I was literally shocked by their lack of organic produce. There was a tiny 4 foot section that housed all their organic food. And it all looked sad and tired. No wonder no one probably bought it. I'm used to rows upon rows (probably 40+ feet, which is 10x the amount of space given for organic choices at this other store) of picturesque, vibrant organic produce (see picture below)... basically an organic version of every single fruit and vegetable offered. I have totally taken this for granted. I thought all major grocery stores were like this.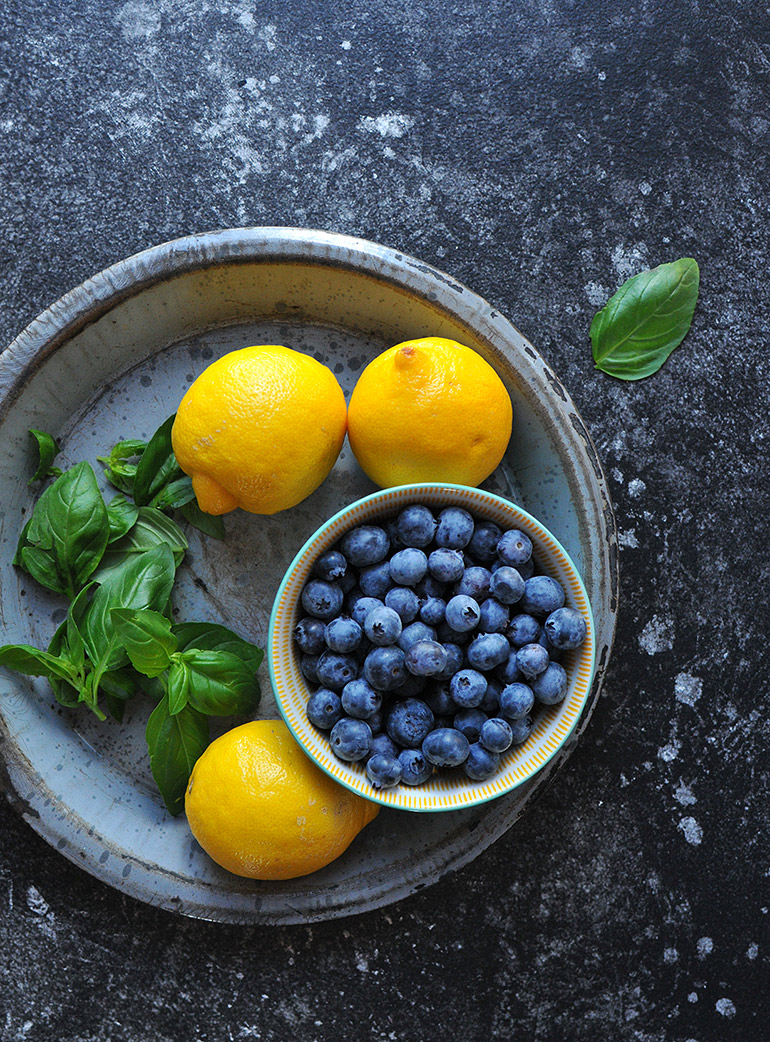 It was also hard to find some of my "staples" -- like my Silk Unsweetened Cashewmilk was hidden behind an awkward divider door in their fridge section. I had to move two other things to even reach it. The eggs I like, unavailable. And the Bob's Red Mill corn flour I like, nowhere to be found. Thankfully I had brought some of the items with me in a second suitcase, so the brunch went off without a hitch.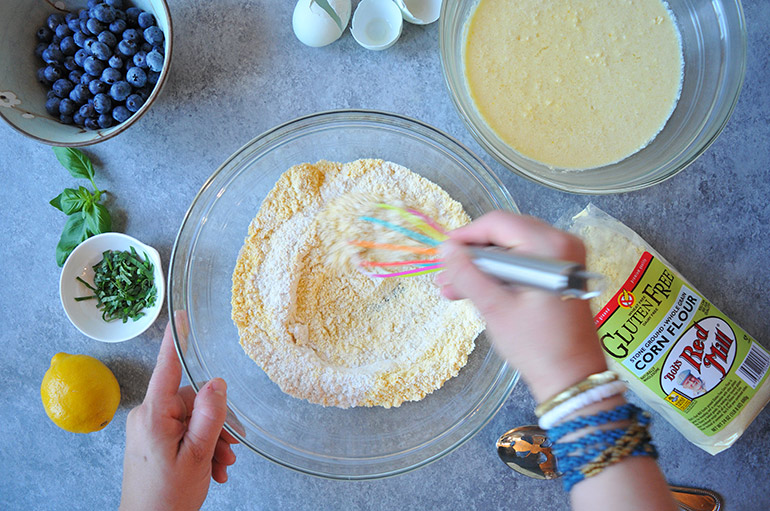 I'm not trying to sound like "woe is me." I guess I just realized that the things I buy and use in my recipes aren't always available where you are! I'm thinking of you :) Sooooooooo, I'm happy to provide substitutions if you need ideas; just email me. And I'll try to list some in the recipe notes as well.
I could provide links to some of the items, if you think that would be helpful. Many things can be delivered right to your door. Bob's offers free shipping on most orders over $50.
Maybe I should create like a "Nosh Pantry" section for the blog, where I list out and link to all the staples I use regularly? 
Thoughts???
Let me know in the comment section below.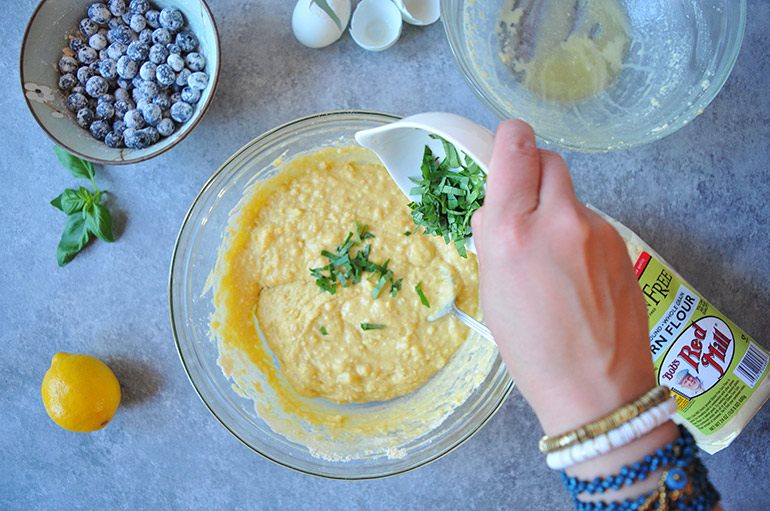 But, back to these muffins... 
QUICK TIP: Don't believe everything you read on the internet. LOL. I recently read an article about how it is a waste of time (ie. unneccessary) to stir your blueberries in flour first before adding them to the batter. But, I couldn't disagree more! It totally makes a difference in my kitchen. Stir them in flour and they stay put, evenly spaced throughout the muffin; skip that step, and they all sink to the bottom creating a gooey mess.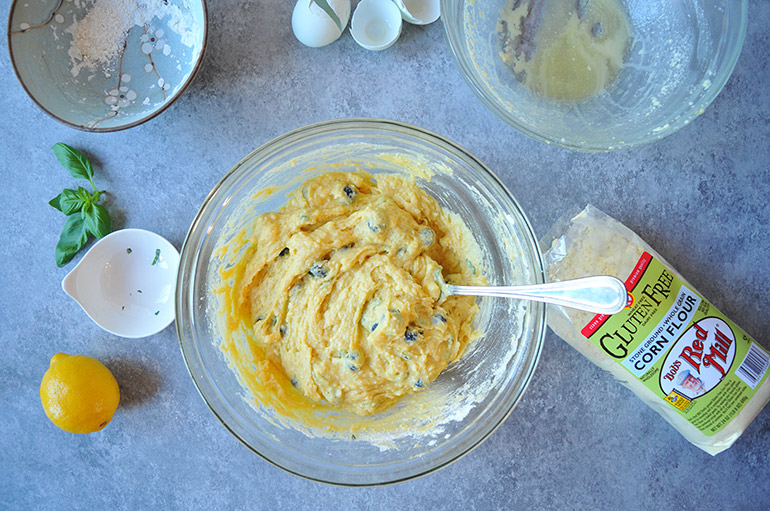 These lemon blueberry cornbread muffins with fresh basil are super flavorful, totally gluten-free, light + airy, fluffy, sweet, and delish. They are the perfect addition to a big brunch (full blogpost with pics and recipes for the Mother's Day brunch coming soon!!!) or good just by themselves on a quiet Saturday morning.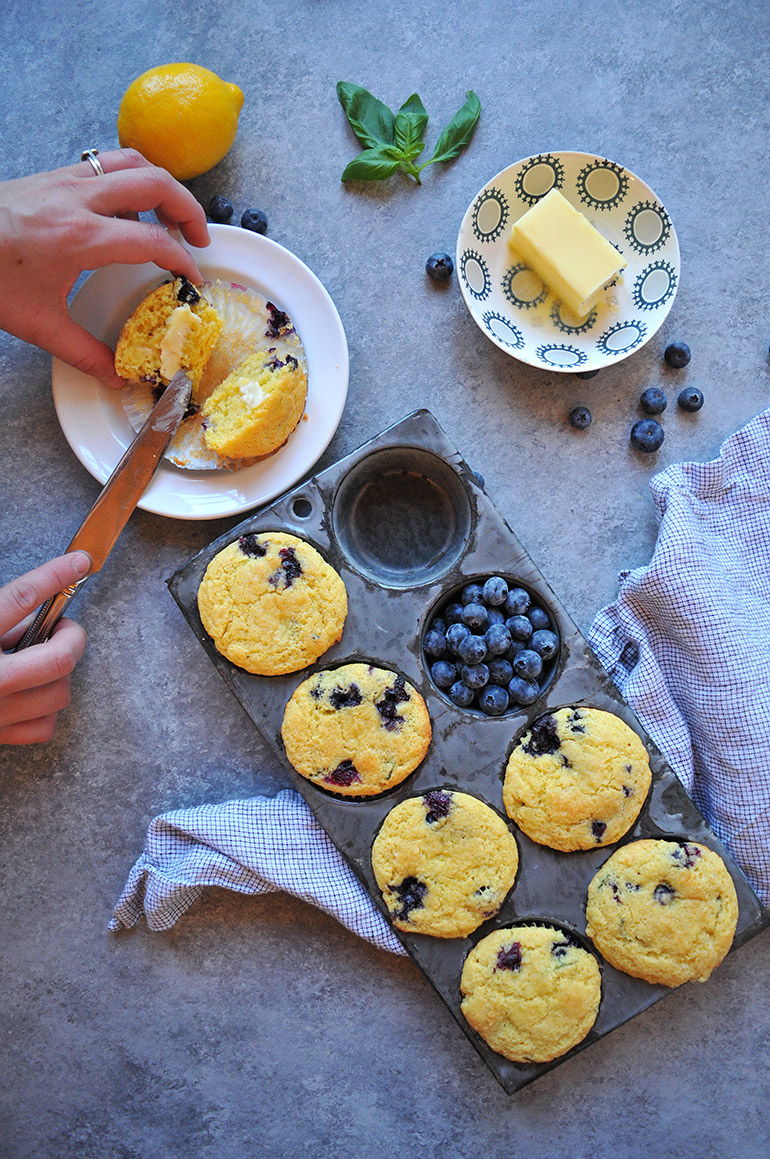 ITEMS USED IN THIS POST:
* Bob's Red Mill Gluten-free Corn Flour
* Bob's Red MIll Gluten-free 1:1 Baking Flour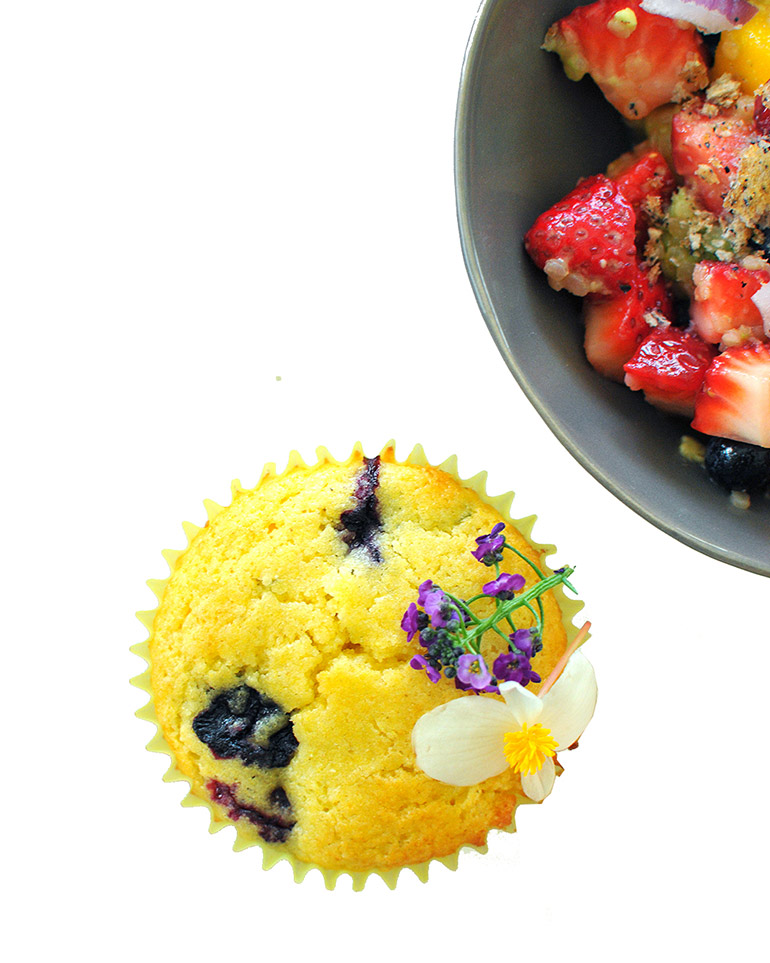 Question:
What is the organic produce section like at your local grocery store?
/////////////////////////////////////////////////////////////////////////////////////////////////////////////////////////////////////////////////////////////////
Disclaimer: this is a sponsored post written by me on behalf of Bob's Red Mill. The opinions, text, recipe, and beautiful photos are all mine. Thank you for supporting brands that support Nosh and Nourish!! I choose them based on what I already cook/create with and feel 100% confident in recommending to you.
Lemon Blueberry Cornbread Muffins with Basil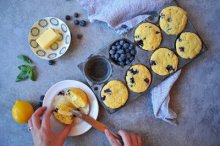 Description
lemon blueberry muffins | cornbread muffins | mother's day brunch recipes | lemon basil recipes
Ingredients
1 cup Bob's Red Mill Gluten-free Corn Flour* (or sub organic corn flour)
1 cup Bob's Red Mill GF 1:1 Baking Flour (or sub organic all-purpose flour)
1 tablespoon Baking Powder
1⁄8 teaspoon Iodized Sea Salt
1 cup organic raw cane sugar
6 tablespoons Organic Butter (at room temp is preferred)
5 3⁄10 ounces Lemon Greek Yogurt (or you can sub sour cream)
2 tablespoons Lemon juice
1⁄2 cup vanilla unsweetened cashewmilk (or sub your favorite milk)
1 cup organic fresh blueberries
1 tablespoon Bob's Red Mill GF 1:1 Baking Flour (to coat the blueberries)
1 tablespoon diced fresh basil
Notes
*corn flour is a finer grain than corn "meal" so the muffins turn out lighter and fluffier
Instructions
Preheat oven to 375 degrees.
In a large mixing bowl, combine the dry ingredients: flour, corn flour, baking powder and sea salt. Whisk to combine and then set aside. 
In a medium mixing bowl, add the cane sugar, room temp butter, and eggs. Use an electric hand mixer for approximately 2 min to combine. Then, stir in the lemon greek yogurt, lemon juice, lemon zest, cashewmilk, and eggs. 
Pour in the wet ingredients into the large mixing bowl with the flours. 
Stir until just combined. 
In a small bowl, stir the blueberries with 1 tbsp of flour to coat them. Then gently mix them into the batter along with the basil. 
Line a muffin tray with paper baking cups and fill each one 3/4s full with batter. 
Bake for 23 - 25 minutes, until tops are slightly golden. 
Enjoy!
Yields 12 Muffins