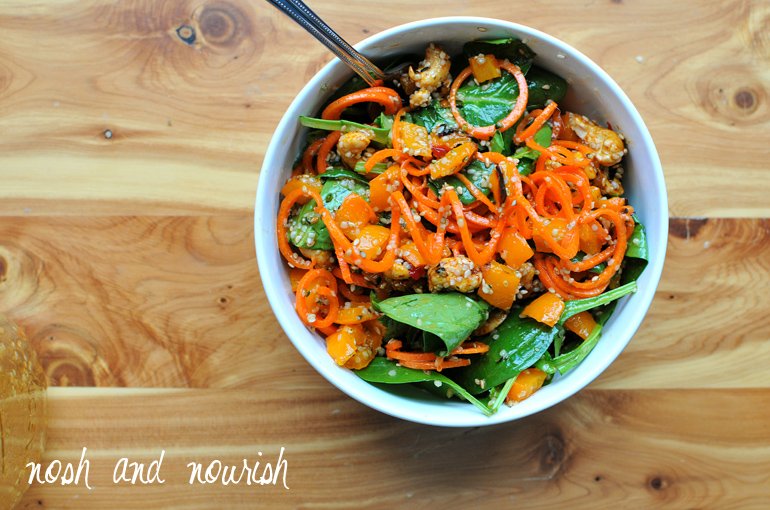 Mason Jar salads are taking over the internet. Seriously, this is a major food trend right now (just take a peek at Buzzfeed, HuffPost, and Google)! And for good reason -- what a fantastic way to transport healthy, nutrient-packed salads to work without getting soggy!! The strategic layering keeps everything perfectly fresh and crisp. Or get super ambitious and plan ahead/pack a week's worth of salads into individual mason jars to grab on the go, like Lexi.
Mason Jar Carrot Noodle Salad:
The key to a great mason jar salad is the layering and packing it in tight, so things don't move around. 
Dressing on the bottom.
Next up: spiralized veggies. They build a nice layer to keep the sauce away from everything else.
Roasted veggies.
Seeds.
Nuts.
Greens on top.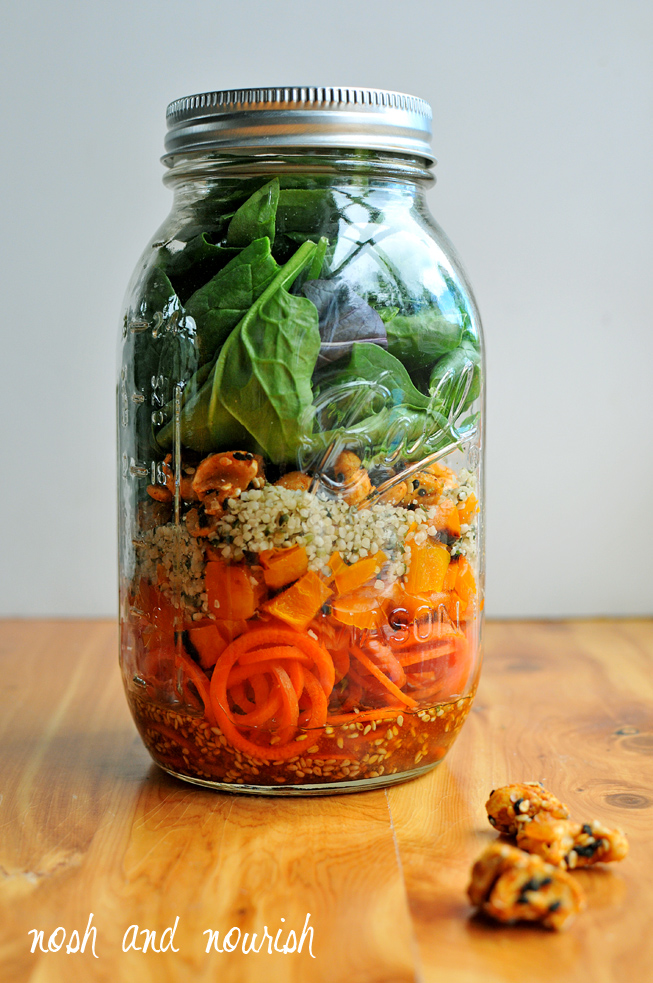 Speaking of food trends, I've also included spiralized veggies AND hemp seeds into the mason jar, so we are talking about one popular salad!!
What's so great about hemp seeds?
Bob's Red Mill Hulled Hemp Seeds contain all nine of the essential amino acids (which is unique and unusual), are packed with digestable plant-based protein (5g per serving), and are rich in vitamin E.  They have a mild flavor, increase energy levels (YAY to that one!!), are low-carb, and are super versatile. Add them into salads for crunch or blend them into smoothies like this one.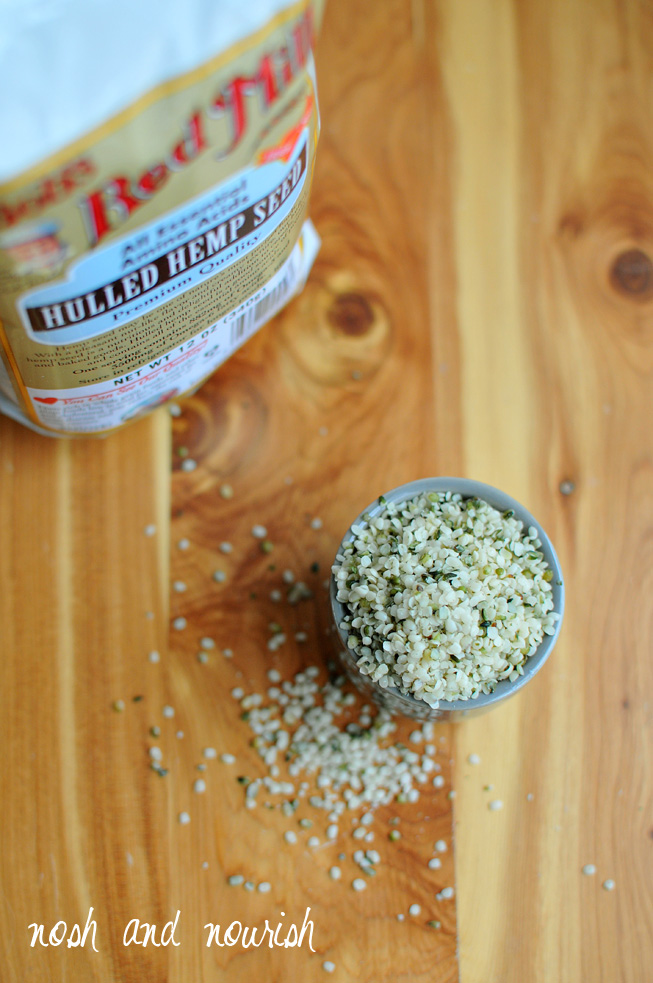 When it's time to eat, empty out the contents of the mason jar into a large bowl and stir it all up. Gorgeous. Delicious. Satisfying. I could seriously eat this salad all day every day... it's soooo good!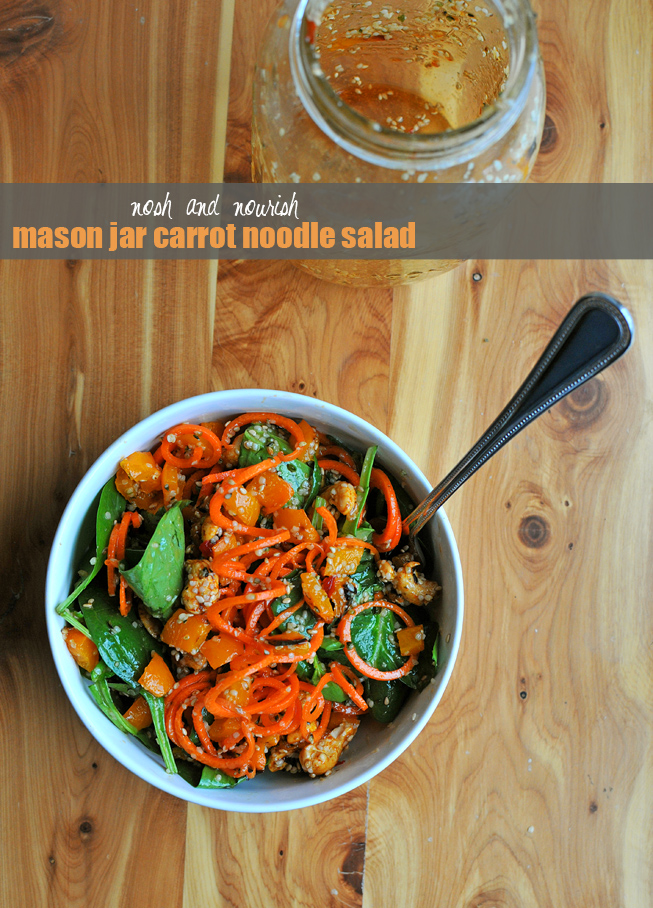 From mason jar to salad bowl to hungry belly, healthy eating has never been so easy!!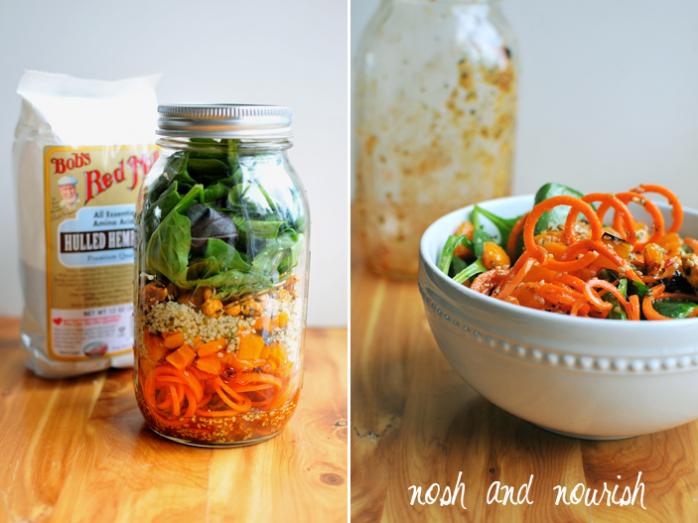 So, what's the verdict?
Have I convinced you to try a mason jar salad?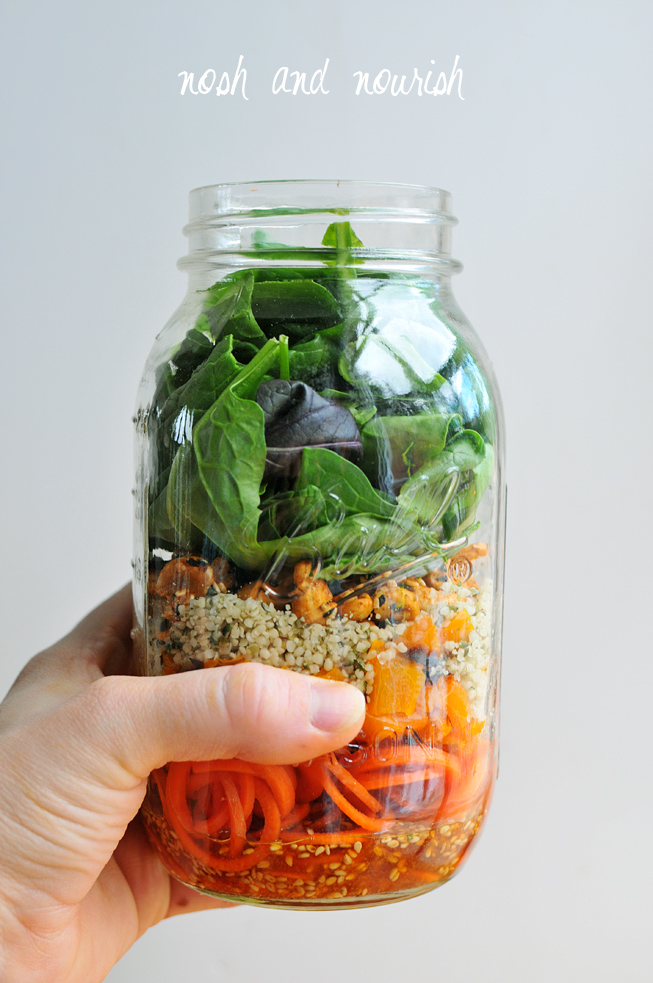 Disclaimer: this is a sponsored post written by me on behalf of Bob's Red Mill. The opinions, text, unique recipe, and beautiful photos are all mine.  Thank you for supporting brands that support Nosh and Nourish!! I choose them based on what I already cook/create with and feel 100% confident in recommending to you.
Mason Jar Carrot Noodle Salad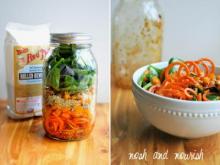 Description
Mason Jar Carrot Noodle Salad w/Sweet Chili Sesame Vinaigrette // via Nosh and Nourish
Ingredients
1 tablespoon toasted sesame oil
1 tablespoon Thai sweet red chili sauce
1⁄2 teaspoon Garlic Powder
1 teaspoon Dark Amber Maple Syrup
1 tablespoon toasted sesame seeds
1 Carrot (spiralized, or julienned)
2 tablespoons Bob's Red Mill hulled hemp seeds
1⁄3 cup cashews (plain or flavored, like Asian Sesame)
2 cups Spinach (or sub your favorite greens)
Notes
This recipe fills up a 24 ounce mason jar.
Instructions
Combine all your sauce ingredients in a small bowl: sesame oil, sweet red chili, garlic powder, rice vinegar, soy sauce, maple syrup, and sesame seeds. 
Roast your bell pepper in a toaster oven or regular oven (425 degrees for 15 minutes).
Assemble your mason jar salad: dressing in the bottom, then spiralized carrot, roasted bell pepper, hemp seeds, cashews, and finally top it with the spinach. Make sure the jar is packed tightly. Put on your lid. 
When you're ready to eat, empty the contents of the mason jar into a large salad bowl. Stir, then devour.
Yields 1 Serving