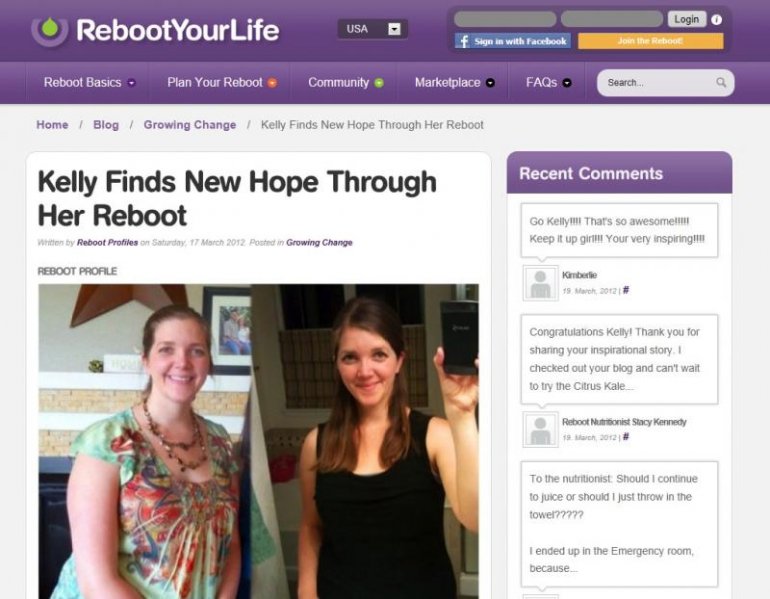 Well first of all, I must say, I have been overwhelmed with joy and thankfulness at the response to my recent guest blog post on the "Fat, Sick, & Nearly Dead" website.  You can read the full post here.   This has been quite the journey with many celebrations and mini-milestones along the way, but I must say that this moment has been the best yet.  To actually feel like an inspiration to others (you!)... WOW!!  What a feeling!!  THANK YOU for taking the time to stop by my blog and share in this journey with me.  I hope that I will continue to be an encouragement to you, but also provide you real tools, recipes, and ideas to hit milestones in your own health journey. 
I am thinking I will do another Reboot in the coming weeks and document my experience daily for you.  If you're on the fence about starting one, why don't you do it with me?!  No more excuses! If you're interested, message me:  kelly (at) nosugarsweetlife (dot) com.  **Update - I did another Reboot and documented everything - shopping lists, menus, recipes, everthing! 
This weekend I had my inlaws over for dinner.  Though my hubby swears I don't have to prove anything to them, I always want the house to be clean enough, the meal good enough, etc... when they come over.  The result? We hardly ever invite them over!  Ha!  I know, that's terrible.  But as a full-time working mom, wife, and blogger, there's not a ton of time for continual tidying and elaborate meals.  All that build up to say it was a big deal they came over.  I created a new meal for them with my favorite new food to experiment with: polenta.
Here's the recipe for Italian Polenta:
Ingredients:
1 roll of Basil/Garlic Polenta
1 lb chicken breasts
1 jar organic tomato sauce
1 jar white wine butter cream sauce
1/2 cup mozzarella cheese
1 pkg provolone cheese
~Serves 4 - 6 adults
Directions:
Boil a stockpot of water
Add chicken to boiling water, boil for about 10 minutes or until cooked through (no pink)
Heat oven to 400 degrees
Line a baking pan with foil and spray with non-stick spray
Slice polenta into 2mm rounds (should equal about 24 slices)
Bake polenta for 20 minutes, flipping once halfway through
Shred chicken and separate into 2 bowls
Mix one bowl of chicken with tomato sauce & 1/4 cup mozzarella cheese
Mix the other bowl of chicken with cream sauce & 1/4 cup of mozzarella cheese
Spoon some of each mixture onto the polenta rounds (I did 12 of each)
Bake for 10 minutes to make sure chicken is heated through
Cover each "round" with 1/4 slice of provolone cheese
Bake another 5 minutes until cheese is melted and browning
Add a basil leaf on top of each
Enjoy!!
I'm Italian.  I LOVE italian food!!!  The polenta was a great subsitute for regular heavy pasta.  One serving (five slices) of the polenta only has 70 calories.  That is waaaaaaaaaay better than a cup of pasta I might normally have.  Here's the sliced polenta in the oven: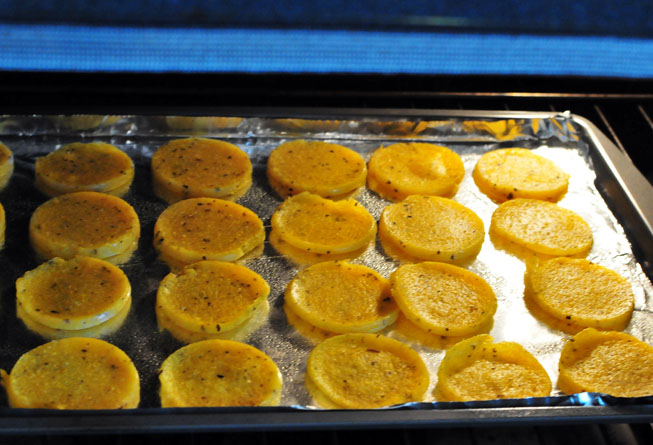 The shredded chicken in 2 separate bowls: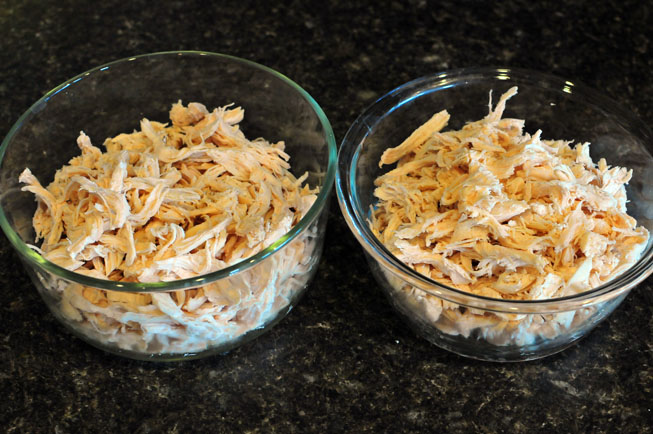 After mixing in the 2 different sauces and cheeses: Mmmmmmmm!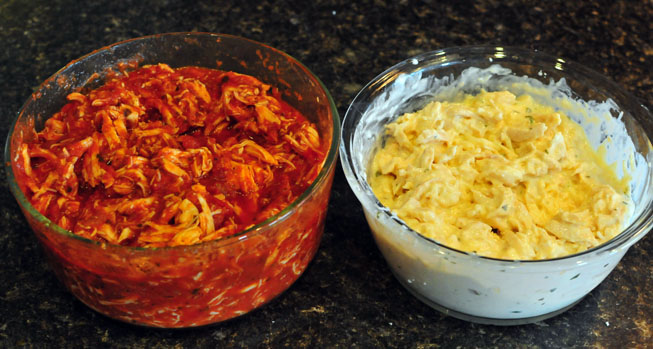 After scooping the chicken mixtures onto the polenta rounds: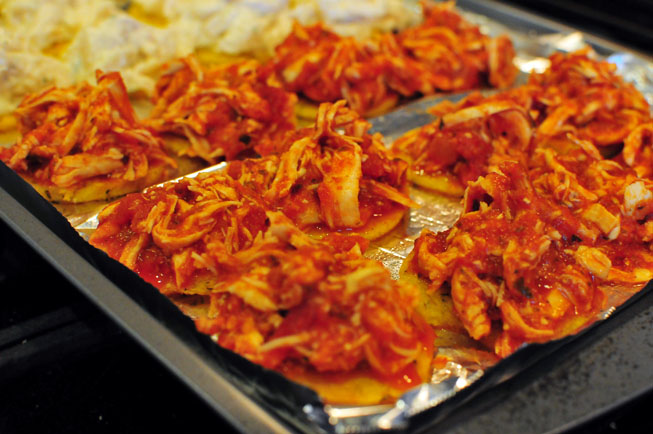 After the cheesy melted goodness:  (Note, I didn't have any fresh basil sprigs, otherwise I would have added them on top of the melted cheese.)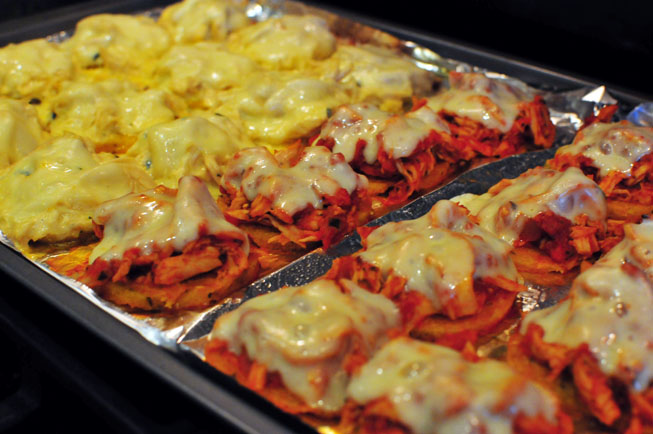 And the final product, accompanied with garlic broccoli made by my MIL.  It was a fabulous pairing!  Everyone loved it.  I served garlic parmesean french bread with a plate of olive oil and balsamic vinegar for the non-dieters in the family (uh, everyone but me! Ha!!)  I really didn't miss it though because LOOK how yummy that food is!!!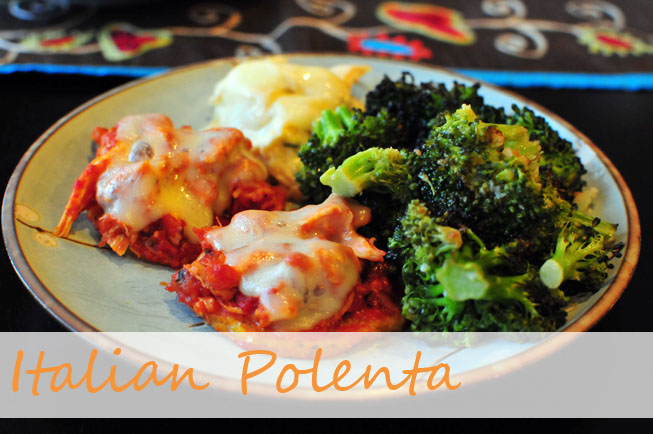 Like polenta?  Try my Steak Mole Polenta recipe.
Want to do a Reboot with me?
I want to hear from you - where are you in your weight-loss/health journey?  Are you in a good place?  What's holding you back?