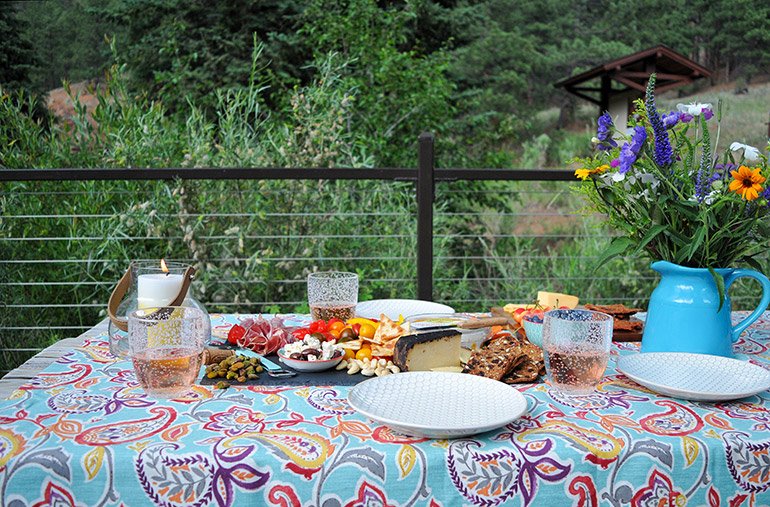 Have you heard of charcuterie boards? 
They're kind of taking over Instagram and the food blogging world in general, as fast as frosé and smoothie bowls and unicorn everything! They're basically an epic snack board with a bunch of different meats and cheeses and an assortment of fruits and veggies and dips. And they can look really complicated, but honestly, they're super simple to prepare. So, here are some tips:
1) Like Noah, follow the twos rule. Try to bring at least two of each thing: two fruits (like blueberries and cherries), two veggies (like carrots and bell peppers), two kinds of cheeses (like apple gouda and barely buzzed), two meats, two crackers, two nuts, etc...  
And then anchor everything with a fabulous dip, like the Lemon Pepper Asiago Spread from La Terra Fina.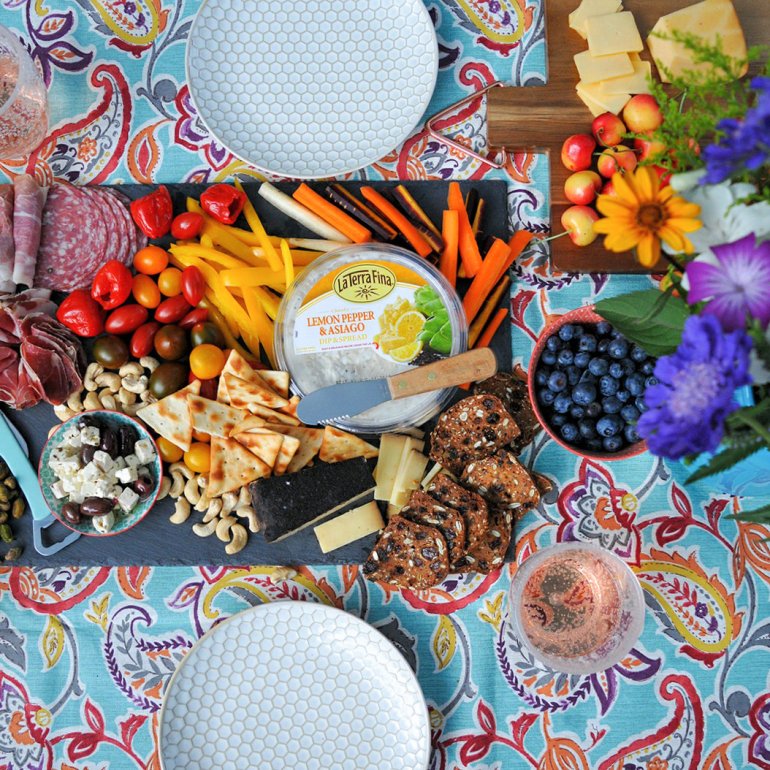 2) Speaking of Noah, check the radar for rain --- and then plan (or postpone!!) accordingly. About five minutes after this photoshoot finished up, there was a torrential downpour. We saved most of the food and wine, but the tablecloth (and we!!) got soaked. Be sure to follow along on my Instagram stories for all the behind-the-scenes action.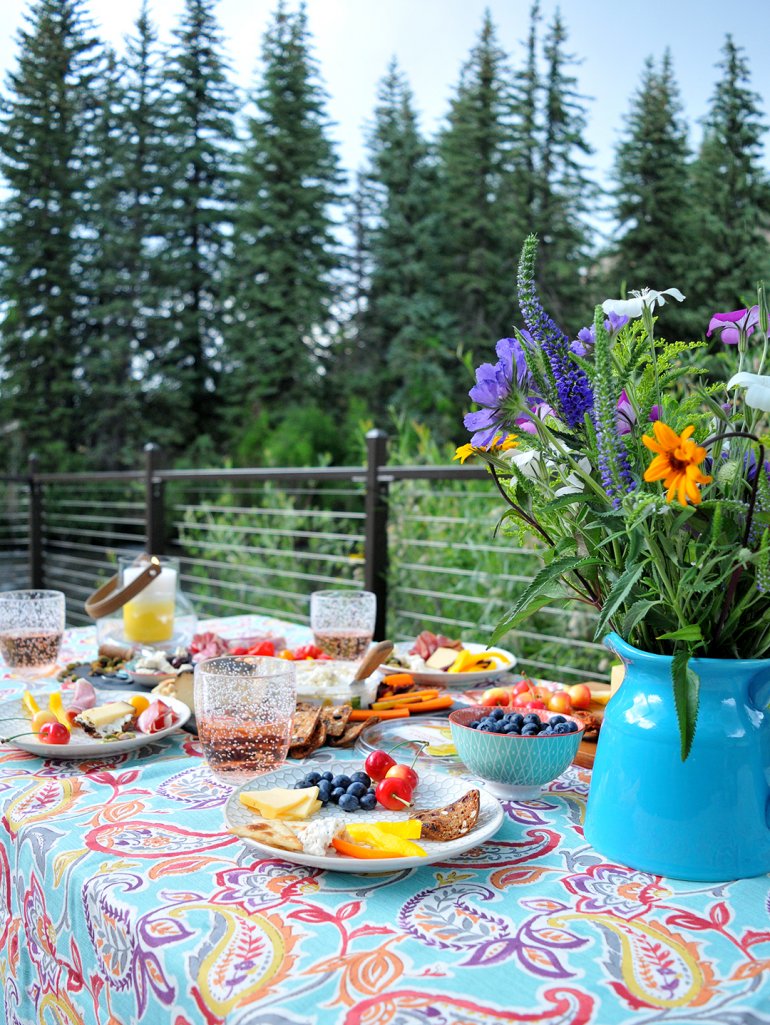 3) Bring a few (small) kitchen tools with you. I suggest the following items:
a small cutting board and paring knife
a wine bottle opener
a spreading knife or spoon for the dip
a small bowl for olives
a white kitchen trash bag
a few ziplocs for any leftovers
a lighter for the candle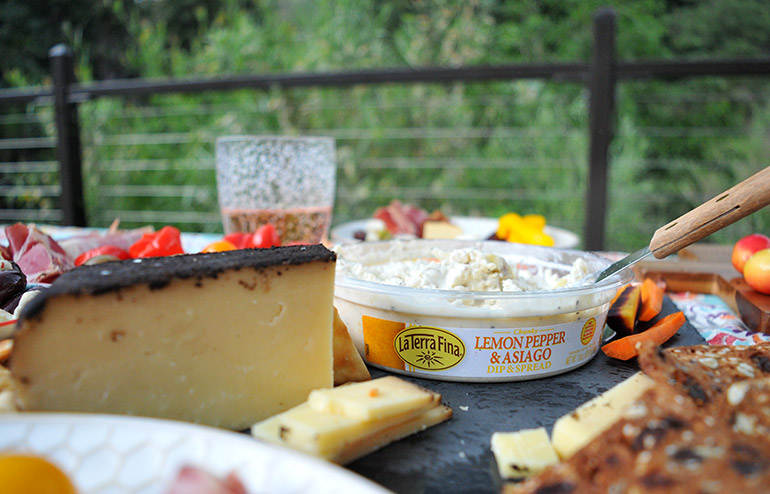 4) Use real plates (ie. not paper). Not only do they raise the elegance level of the picnic immediately, they also don't blow away as easily should it get windy!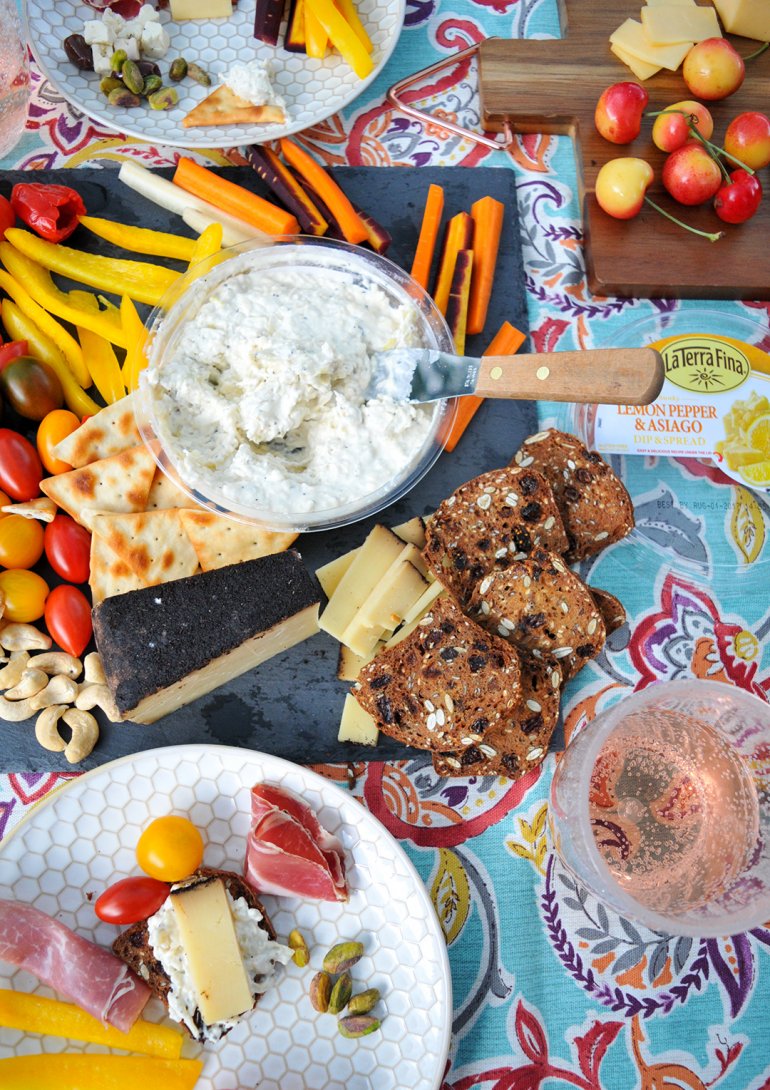 5) Get some cute plastic tumblers. Charcuterie boards pair nicely with a summery wine like rosé or pinot gris. Check ahead of time to make sure the park you are going to allows alcohol! Otherwise, bring sparkling water.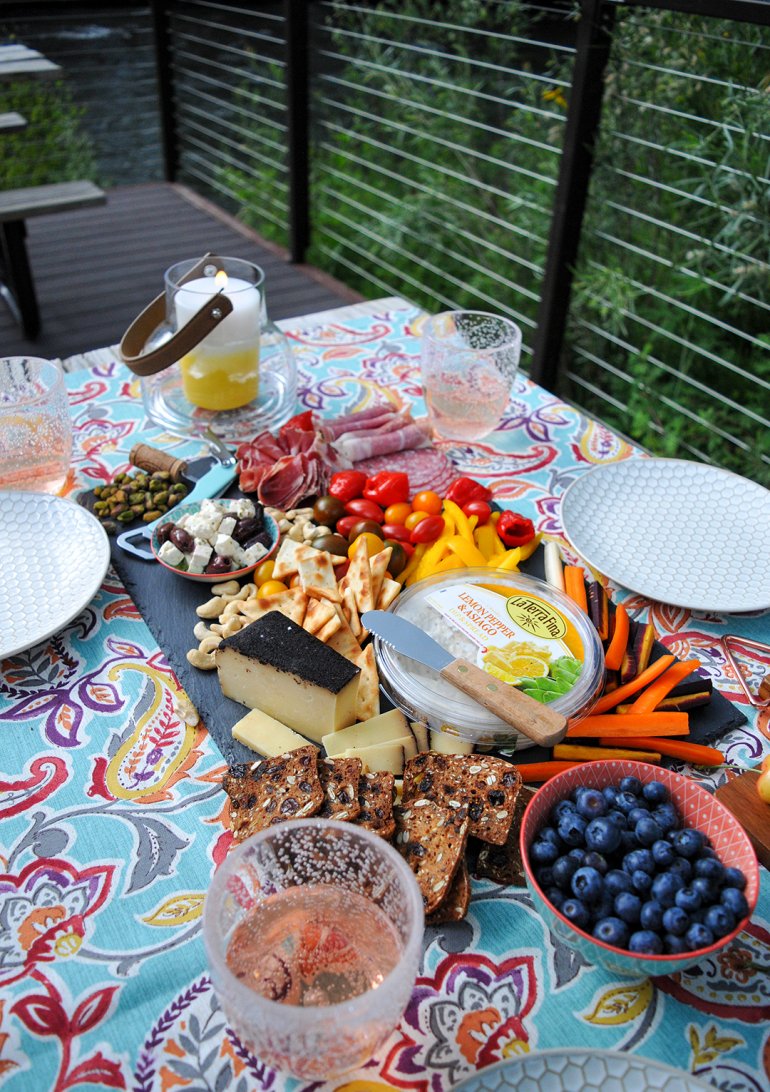 ///////////////////////////////////////////////////////////////////////////////////////////////////////////////////////////////////////////////////////////// Disclaimer: this is a sponsored post written by me on behalf of La Terra Fina. The opinions, text, and beautiful food photos are all mine. Thank you for supporting brands that support Nosh and Nourish!! I choose them based on what I already cook/create with and feel 100% confident in recommending to you.
A Simple Summer Charcuterie Board
Description
A Simple Summer Charcuterie Board
Ingredients
8 ounces Assorted Italian Meats from Whole Foods (salami, prosciutto, etc.)
2 1⁄2 inch wedge of Barely Buzzed* Cheddar from Whole Foods (or sub your favorite cheese)
10 ounces La Terra Fina Lemon Pepper Asiago Dip
8 ounces Chile Lime Beef Jerky
2 1⁄2 inch wedge of smoked apple gouda
3 rainbow carrots (cut into thin sticks)
1 yellow bell pepper (cut into thin sticks)
1⁄2 cup shelled pistachios
1⁄2 cup marinated feta and olives (from the olive bar - set in a separate bowl!)
8 ounces raincoast apricot fig crackers** from Whole Foods
750 milliliters bottle of rosé (optional, but recommended)
Instructions
Yields 8 Servings