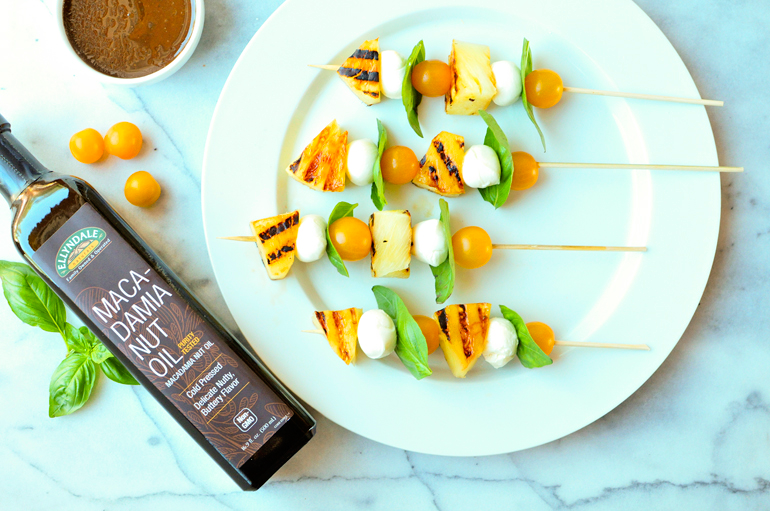 Summer has arrived! Fire up the grill, because these Grilled Pineapple Caprese Skewers are a must for your next summer bbq! Sweet grilled pineapple, fresh mozzarella balls, basil from the garden, and golden snacking tomatoes are dipped in a coconut macadamia balsamic sauce.
We went from winter to summer here in Colorado, and skipped spring altogether. Babycakes was shoveling snow in her swimsuit and snow boots (see the cuteness here) just a couple weeks ago. And I've patiently been growing my seedlings and herbs inside as the mornings are still too frosty for them to survive outdoors.
But soon, really soon, ie. this weekend, they'll find their new home in the garden. 
I declared in my last post that stars make everything cuter. So instead of using a knife to core the pineapple before grilling, I used the star cookie cutter. And it really IS the star of this recipe (pun intended!).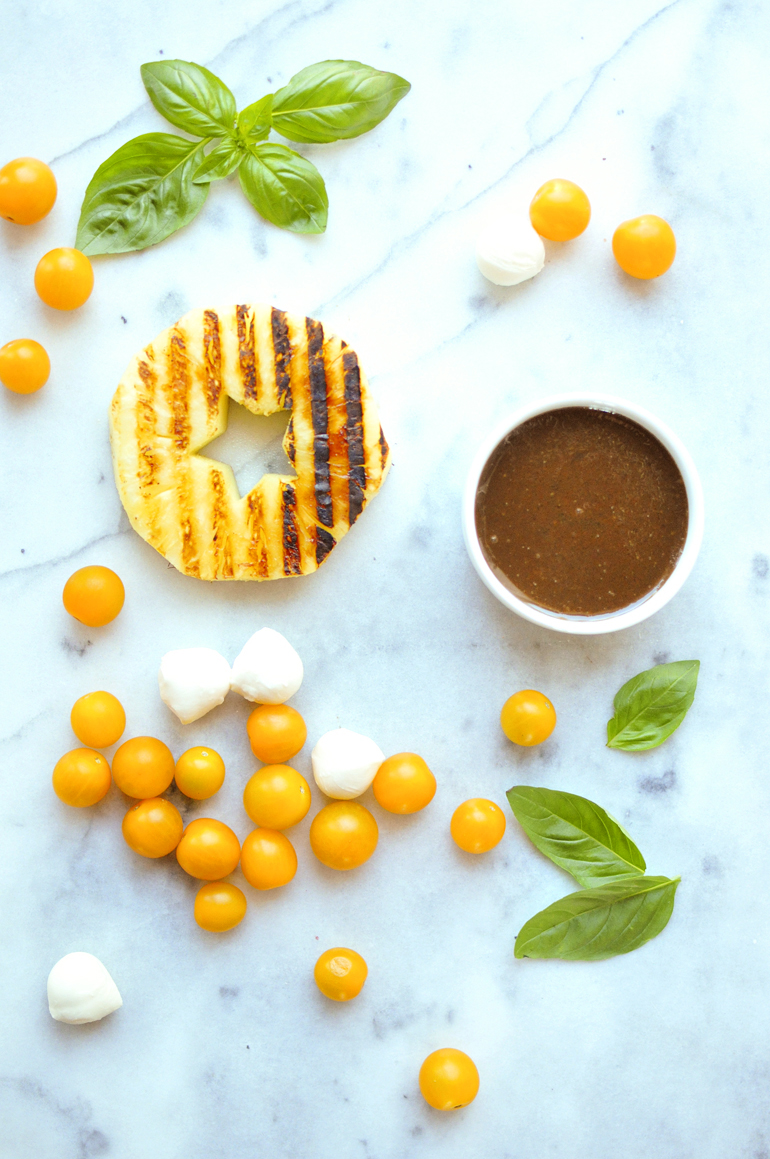 The grilled pineapple adds a delectable sweetness and a tropical twist to the classic caprese.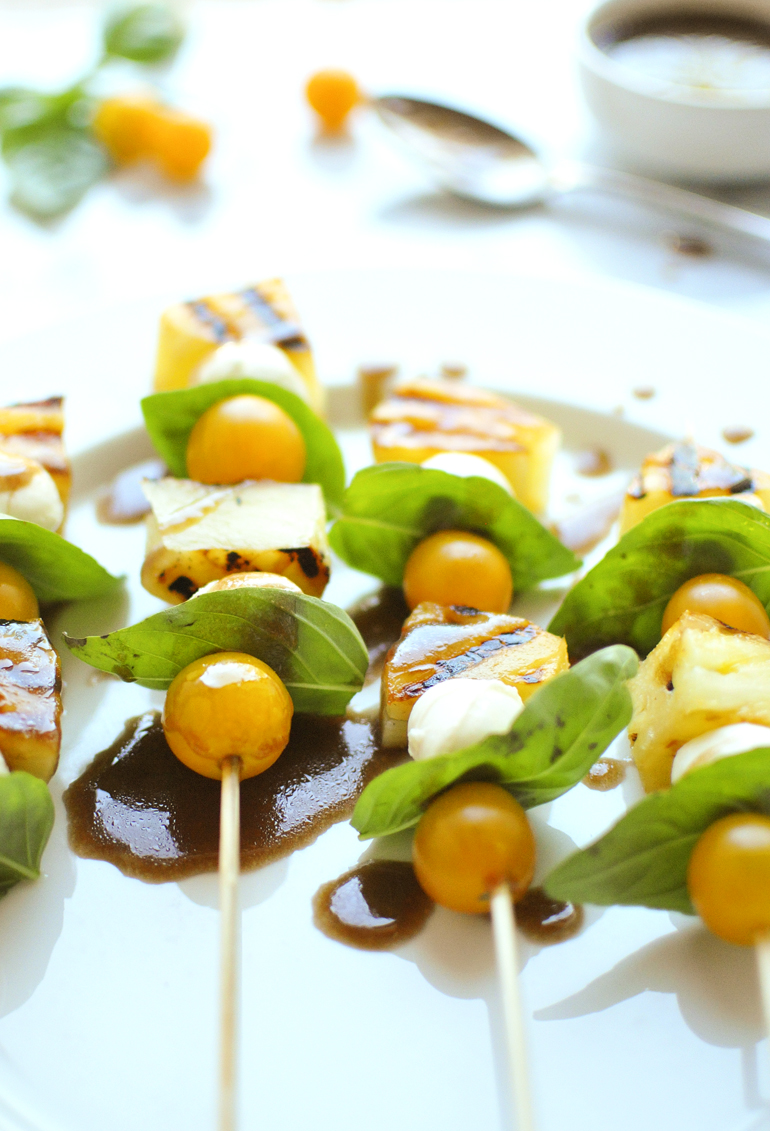 This is such a great summer party appetizer!
It's super simple to make --- grilling the pineapple takes about 8 minutes, making the sauce is as easy as whisking together a few ingreidents, and assembling the skewers is a breeze!
From wholesome ingredients to party perfect app in a matter of minutes!!
So you have more time to enjoy the party.
And the warm summer sunshine.
And while you're at it, you'll probably want to whip up a couple other party-perfect things like: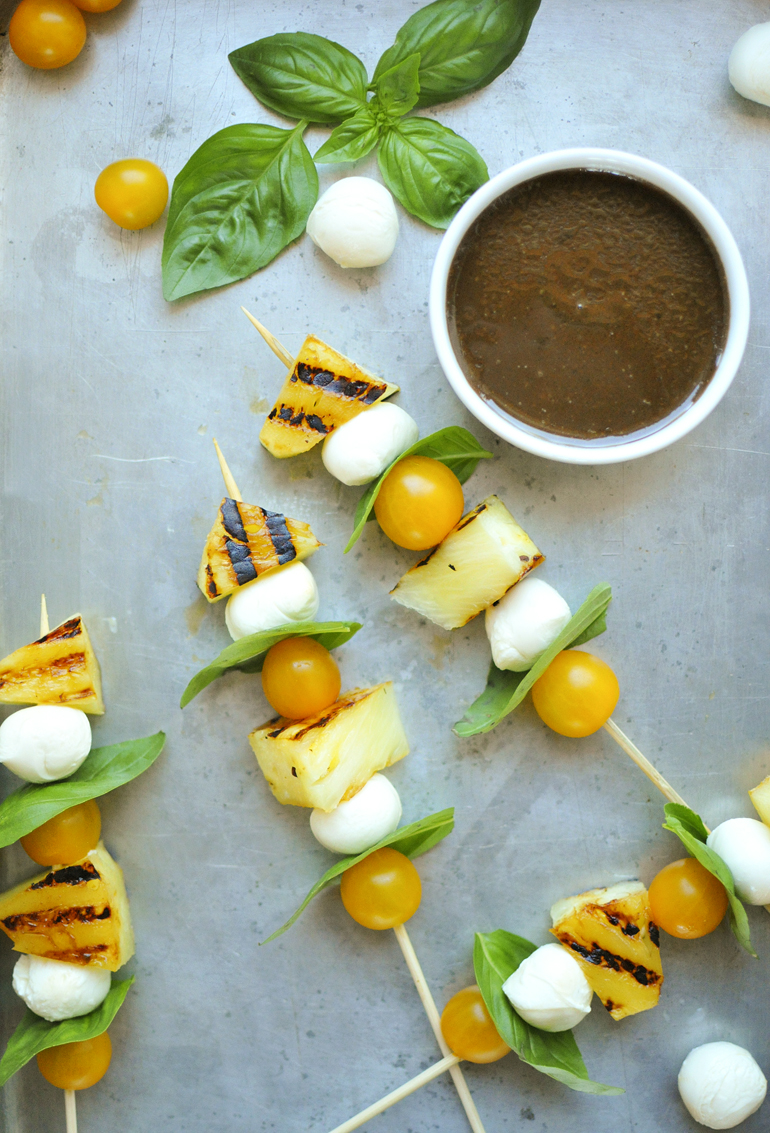 The flavorful dipping sauce is made up of:
Ellyndale's Macadamia Nut Oil --- so decadent and delish!
Coconut Milk
Aged Balsamic Vinegar
Dark Amber Maple Syrup
You will want to put it on allllllllllllllllll the things!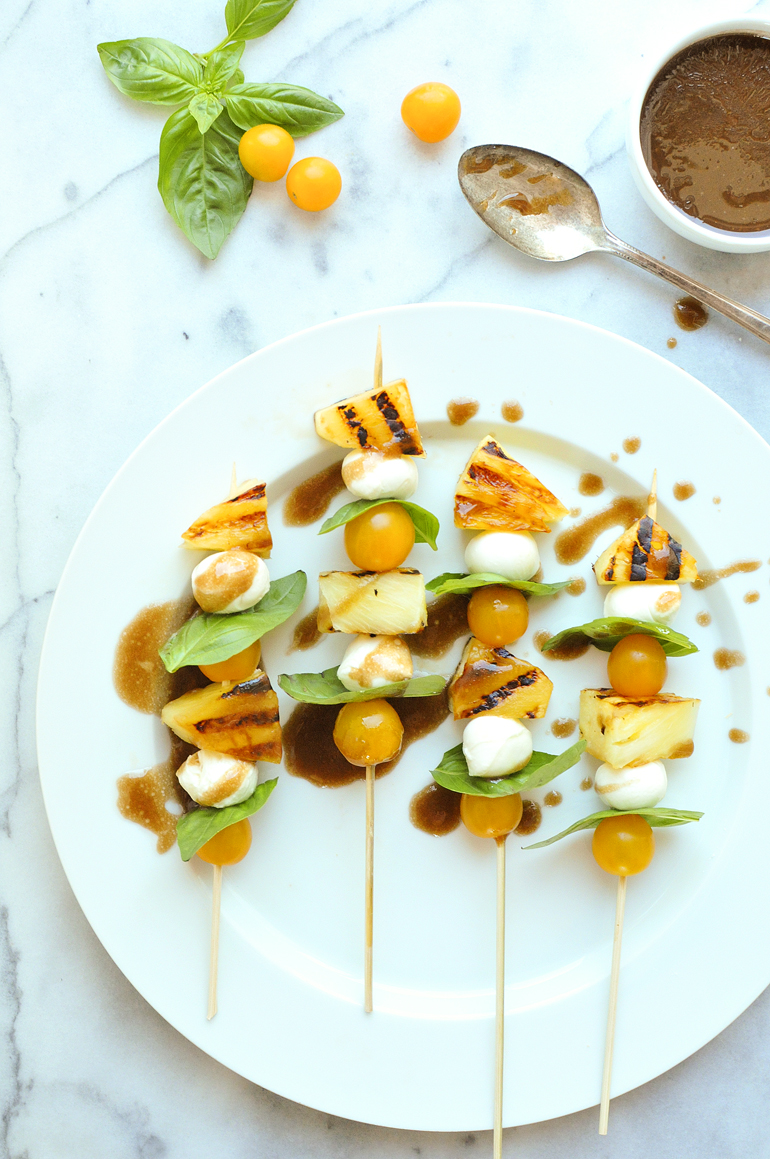 Disclaimer: this is a sponsored post written by me on behalf of NOW Foods. The opinions, text, recipe, and beautiful photos are all mine. Thank you for supporting brands that support Nosh and Nourish!! I choose them based on what I already cook/create with and feel 100% confident in recommending to you.
Grilled Pineapple Caprese Skewers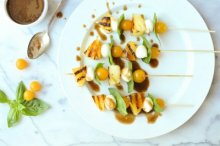 Description
Grilled Pineapple Caprese Skewers with Coconut Macadamia Balsamic Dipping Sauce --- the perfect summer party appetizer!
Ingredients
16 golden snacking tomatoes (I used the NatureSweet brand, called Sunbursts)
8 ounces fresh mozzarella balls
1⁄2 a large pineapple (cut into thick rings)
1⁄4 cup Ellyndale's Macadamia Nut Oil (for the sauce)
2 tablespoons coconut milk (for the sauce)
1 tablespoon aged balsamic vinegar (for the sauce)
1⁄2 tablespoon Dark Amber Maple Syrup (for the sauce)
1 pinch of sea salt (for the sauce)
Instructions
Cut a fresh pineapple into thick 1 inch slices. Cut off the peel and core. 
Grill on high for approximately 4 minutes per side. Then, remove from grill and cut into 1 inch pieces.
Assemble your skewers: 1 golden tomato, 1 large fresh basil leaf, 1 small ball of fresh mozzarella. If using long skewers, repeat one more time so that there's two of everything on the skewer. Or if you're using shorter party toothpicks, you can just use one of everything. Totally up to you!
Combine the sauce ingredients in a small bowl and whisk together until combined. 
Serve and enjoy!
Yields 8 Skewers