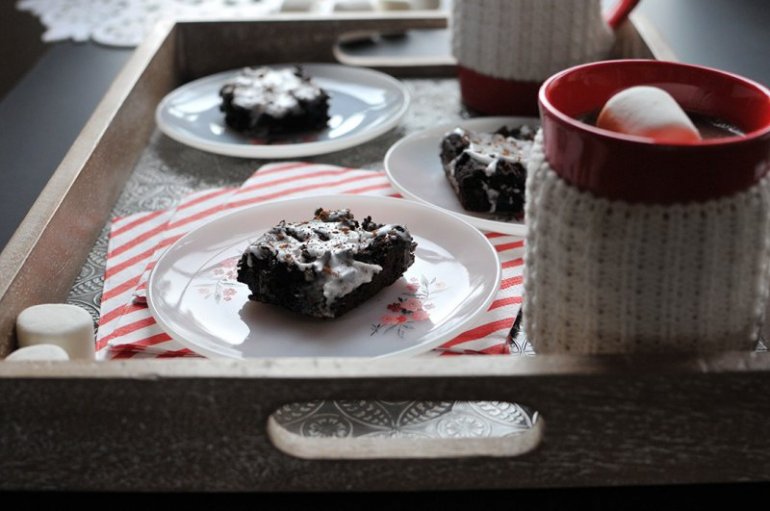 These fudgy, delicious, minty brownies are vegan + grain-free (ie. ZERO FLOUR, say what?!?!? I know). They are super chocolately, infused with peppermint, and joy-producing. So you should totally make a batch, asap! 
This is my new go-to holiday dessert.
Seriously. So easy. And everyone loves them.
And there's good-for-you things hidden inside.
And even my gluten-free sister-in-law, and MIL, and Babycakes' allergic-to-eggs-classmate can enjoy them too.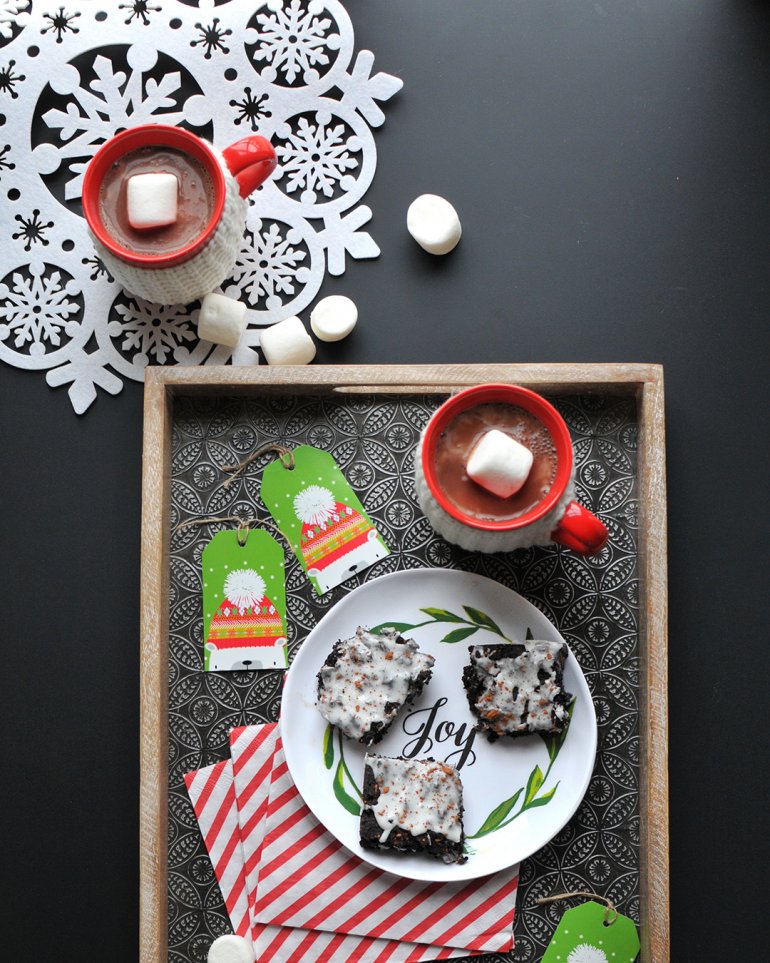 And let's take a moment to talk about this icing. It's totally optional, but highly recommended! And it's super simple: just powdered sugar + Silk unsweetened cashewmilk + coconut oil + peppermint extract. You could also sub in other liquids like coffee... or bourbon for the grown-ups (like the icing on this cake)... whatever you like!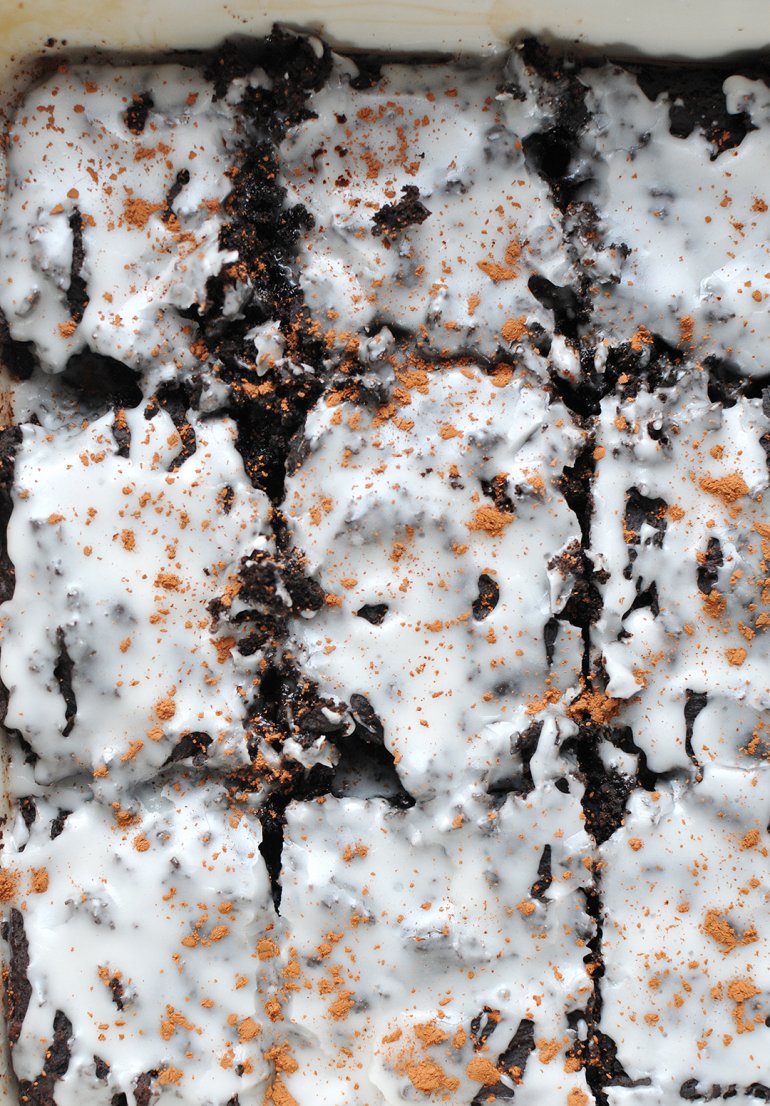 In the hustle and bustle of the holidays, I love having a cozy afternoon with friends over hot cocoa and brownies. Listening. Talking. And really being together. And really, shouldn't all mugs wear cozy sweaters?!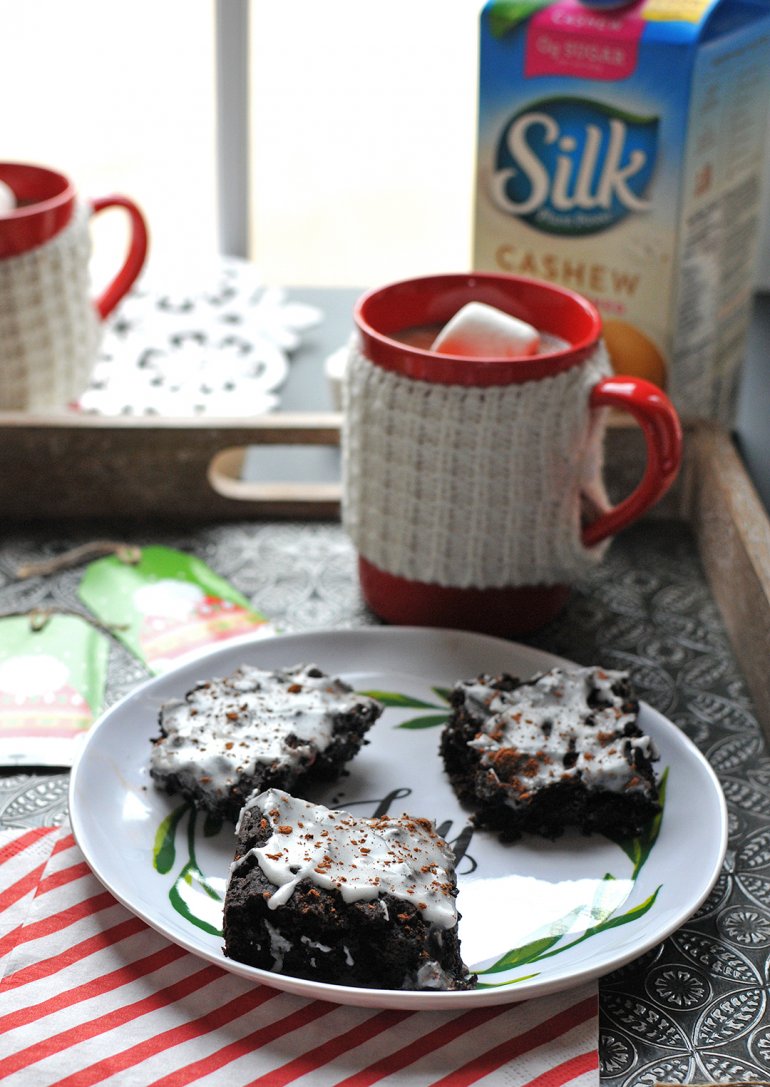 And listen to me now, when I say... you don't have to be scared about the black beans in this brownie. They don't taste like beans or tacos or anything weird, I promise. They just taste like decadent chocolate yumminess.
I pinky swear. :)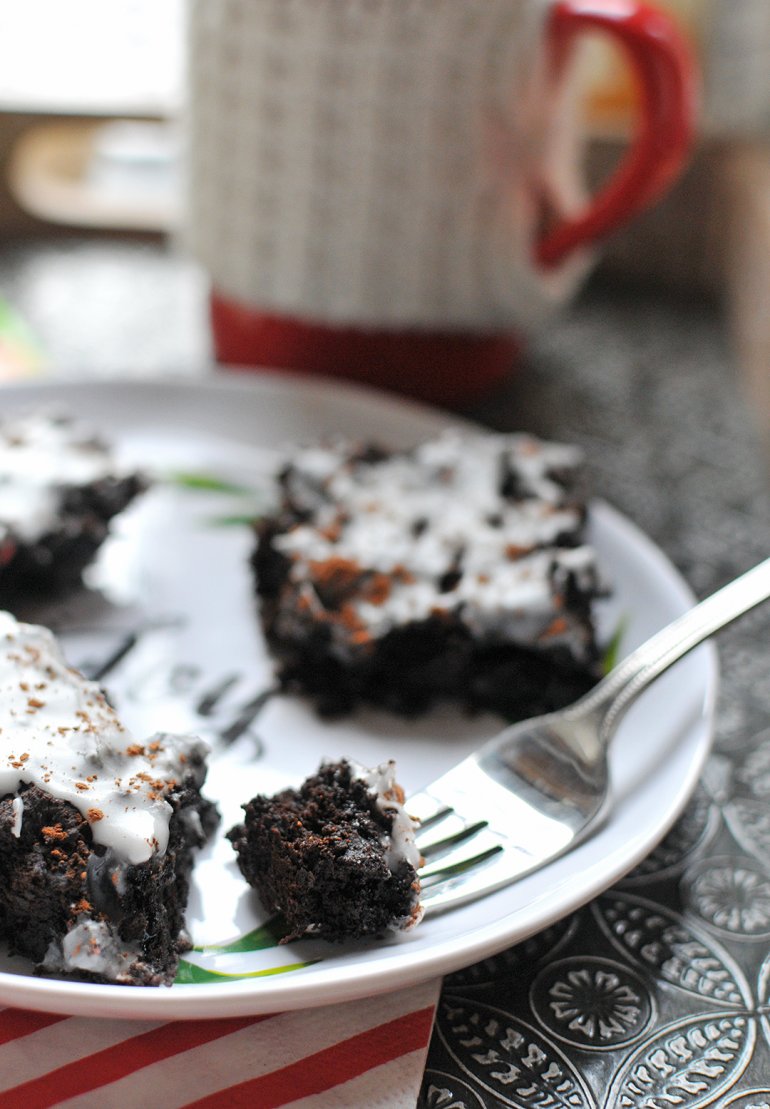 PS. Be sure to sign up for Silk's newsletter to keep up with new product offerings, recipe ideas, + get coupons
This is a sponsored conversation written by me on behalf of Silk. The opinions, recipe, beautiful food photography and text are all mine. Thank you for supporting brands that support Nosh and Nourish!!! I choose them based on what I already cook/create with and feel 100% confident in recommending to you.
Vegan Peppermint Brownies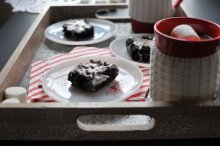 Description
Vegan Peppermint Brownies --- that are also flourless! // via Nosh and Nourish
Ingredients
2 tablespoons Ground Flax
6 tablespoons Silk Unsweetened Cashewmilk (warmed up)
15 ounces can of organic black beans (rinsed and drained)
4 tablespoons coconut oil* (melted)
1⁄3 cup Dark Amber Maple Syrup
1⁄2 teaspoon pepermint extract (or sub vanilla extract)
2 teaspoons Baking Powder
1⁄4 teaspoon iodized fine sea salt
1⁄2 cup mini dark dairy-free chocolate chips (or sub regular)
2 cups Powdered Sugar (----for the icing)
2 tablespoons Silk Unsweetened Cashewmilk (----for the icing)
1 tablespoon Melted Coconut Oil (----for the icing)
1⁄4 teaspoon peppermint extract (----for the icing)
Notes
Instructions
Preheat oven to 375 degrees.
Create your flax eggs by mixing together the ground flaxseed and warmed cashewmilk (you can heat it up on the stovetop or in the microwave, whichever you prefer). Refrigerate for 15 minutes before adding into the batter.
Drain and rinse black beans, then put in a large mixing bowl with melted coconut oil, maple syrup, coconut sugar, and peppermint extract. Use an immersion stick blender (or a high speed blender will work) to puree the beans until smooth. 
Add in all remaining ingredients, including flax eggs, and stir. 
Use non-stick spray or additional coconut oil to grease the bottom of a 9 x 9 baking pan. 
Pour in batter and bake for 30 minutes or until a knife comes out clean. The top edges of the brownies should start to come away from the pan. 
Allow to cool for at least 30 minutes before slicing. 
(Optional): drizzle with icing.
Yields 9 Brownies