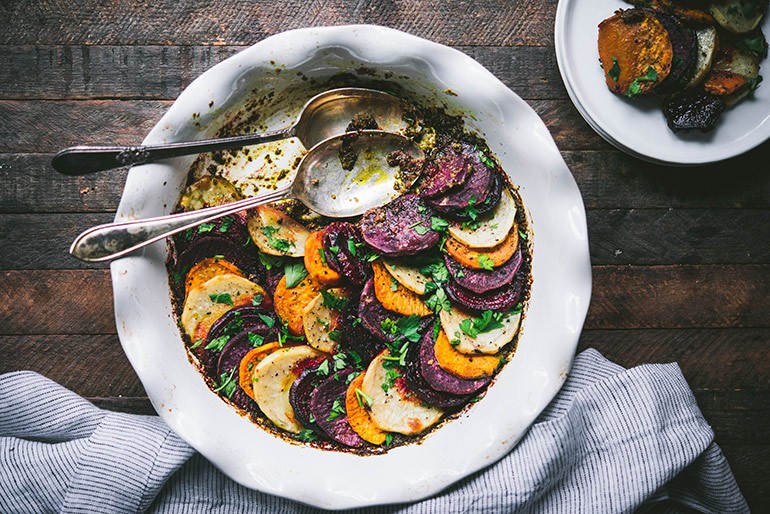 Hi Nosh and Nourish readers! Lexi and Beth here from Crowded Kitchen. Can you believe Thanksgiving is NEXT week?! I know Thanksgiving is early this year, but it really feels like there should be an extra week or two left still. As Kelly keeps saying, "Oh my starzies, didn't the kids JUST go back to school?!"
This is a pretty busy holiday season for us - I (Lexi) just closed on my first home with my husband, so we're busy painting and getting everything ready to move in (hopefully just before Thanksgiving). For the first time in years, we're not having Thanksgiving at home - we're heading to my brother and his fiancée's new home (they're getting married in February, so wedding festivities are already beginning!) And then in December, I'll be heading to New York for the holidays with my husband's family, while my parents get ready for a one month trip to Antarctica and Patagonia for all of January (yes, Antarctica!!).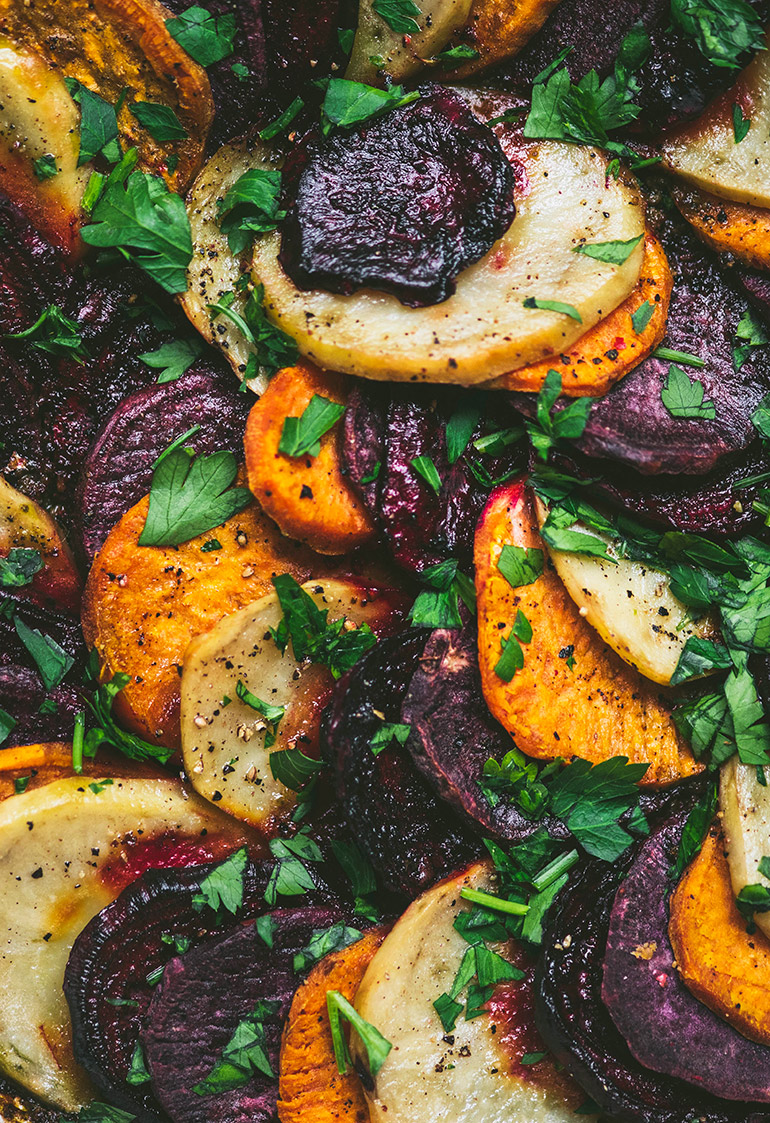 Between everything we have going on, we're definitely simplifying our holiday menu this year and this vegetable bake is a great option! It may look fancy, but it's actually very easy to prepare and makes for a great (colorful) side dish. To reduce food waste, we used the greens from the beets to make a pesto for the bottom of the dish, similar to Kelly's carrot top pesto. But if you buy loose beets, you can simply substitute the beet greens for more basil or another green like spinach.
*Recipe Note: Try to choose similar sized vegetables so they cook evenly.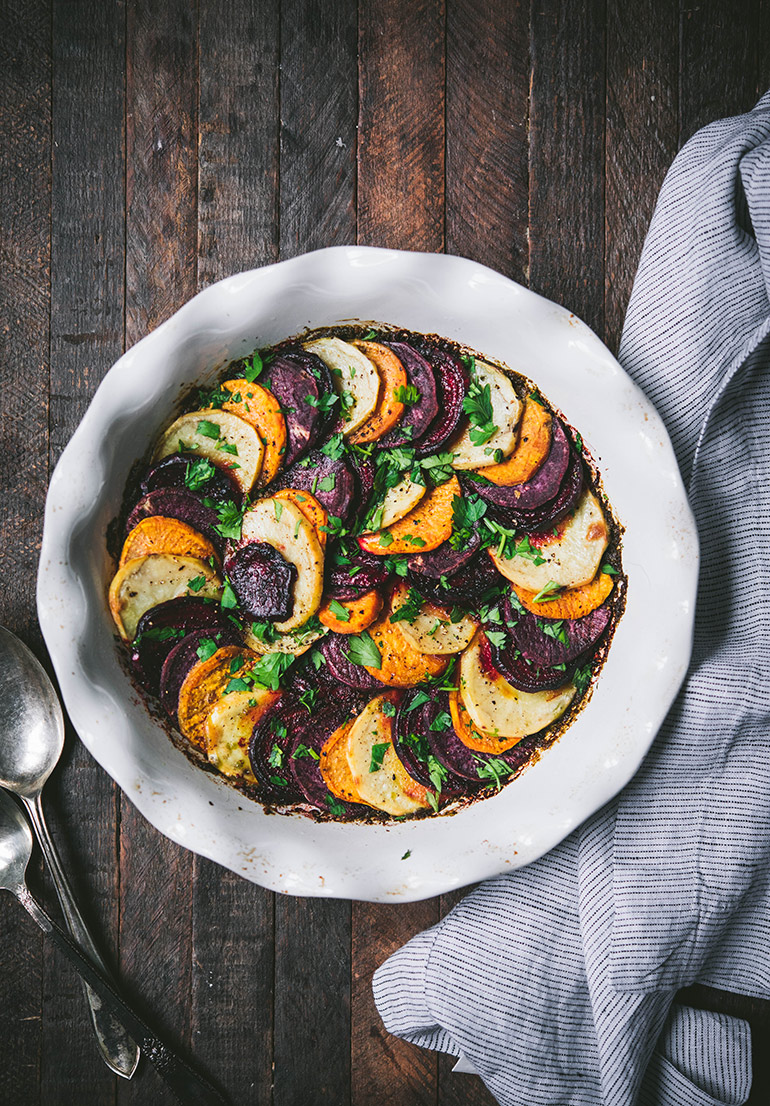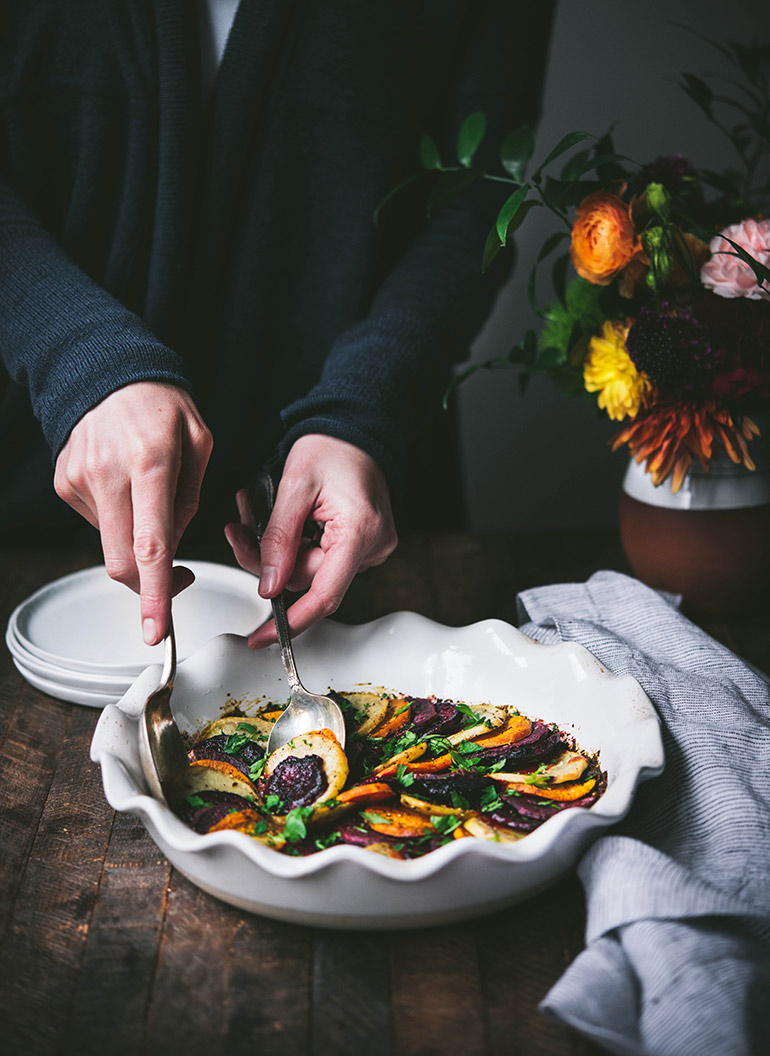 Aren't purple sweet potatoes sooooooooo pretty?! Kelly is making a stuffed version this week that you won't want to miss.
As for Thanksgiving, here's a few more great vegan recipes to try:
Harissa Roasted Carrots with Toasted Hazelnuts and Pomegranate
-Lexi + Beth
Fall Spiral Veggie Bake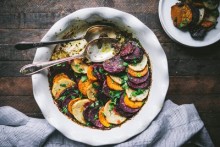 Description
Fall Spiral Vegetable Bake
Ingredients
salt and pepper (to taste)
Instructions
Preheat oven to 350 F.
Wash potatoes and beets well. You can peel or leave skin on. Using a mandoline, slice each potato to about ⅛" thickness.
Spread pesto on bottom of a 9-inch pie pan. Layer vegetables in a spiral, then brush with olive oil and sprinkle with salt and pepper.
Roast for 40-45 minutes, or until vegetables are completely tender and slightly crispy around the edges.
Serve with fresh herbs and more pesto (optional).
Yields 8 Servings