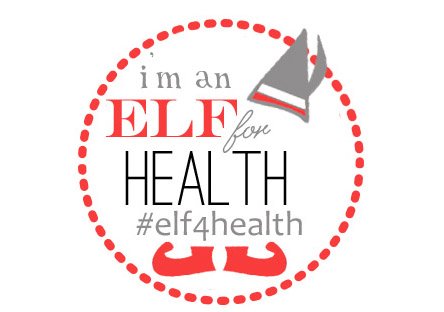 Remember the Blend Retreat way back in May where I got to meet the most awesome healthy like-minded group of friends?!? Well, my blend (blogger + friend) Lindsay, is starting an awesome holiday challenge to help keep us motivated and encouraged in our health goals over the next 6 weeks.  I love her idea and want to share it with all of YOU to see if you'll participate. Who knows, maybe you'll be matched with ME and we can motivate each other!  So, here is the explanation (directly from her blog)...you will need to click on over to sign up officially.  There's already over 200 people participating!!!

Elf for Health Holiday Challenge:

Hi Friends, Lindsay here!
Hope you all had a great weekend. We're postponing Bean Bytes today because I have something super exciting to share with you guys! I know a lot of you loved the #LiveLeanEatGreen challenge in October and asked for another one. Well…. ask and you shall receive! I've teamed up with one of my best blogging buddies, Elle from nutritionella, to bring you guys a six week challenge to help you stay on track during the holidays! Elle just finished her dietetic internship so we'll both be becoming Registered Dietitians in early 2013.
We're super passionate about nutrition and wellness and LOVE helping others eat right and stay active. Since we know the holidays can make it hard to stay on track with healthy habits, we wanted to come up with a way we could help you guys! Here's what we came up with…
Introducing the Elf for Health Holiday Challenge! This is a six week challenge that will run from the Monday after Thanksgiving thru the first week in January. There will be daily tasks, daily winners, prizes, weekly newsletters, and a Facebook group for support.
And are you ready for the best part? You'll have an elf to support and encourage you! When you sign up, you will also be committing to be an elf for someone in return. Over the course of the challenge, you will have three different elves.
Sounds like a great way to stay motivated and meet new people over the holidays doesn't it?! Since this challenge is internet based, anyone can participate… no matter where you're located! All you need is access to the internet and an email address.
So what does an Elf do?
Elf Duties
As an Elf, you are expected to support your assigned buddy with their holiday health goals and the daily challenges. Elves & buddies will be reassigned every 2 weeks. You are only asked to email your buddy 2 times per week:
Monday: Send your buddy an email to help them with the challenges for that week. Ideas of things to include/attach: your own personal tips & tricks, inspiring words and/or images, a new, healthy recipe or workout to try.
Thursday – Saturday: Any time during these days, check in with your buddy! For example, ask them if they tried a new recipe, workout, or had fun with any certain challenges. Feel free to tell them how you did with your challenges, too!
Anything more than those 2 emails is up to you but feel free to go above and beyond this to show your support! Just a few ideas: send your buddy Tweets, shout outs on our Facebook Page, email a fun workout you liked or send a hand written recipe or note.
Important Dates
*Friday, November 23rd at midnight: sign up deadline for all 6 weeks
Sunday, November 25th: Round 1 Elf assignments emailed
Monday, November 26th – Sunday, December 9th: Round 1
Sunday, December 9th: Round 2 Elf assignments emailed; Round 1 "Best Elf" winners chosen
Monday, December 10th – Sunday, December 23rd: Round 2
Sunday, December 23rd: Round 3 Elf assignments emailed; Round 2 "Best Elf" winners chosen
Monday, December 24th - Sunday January 6th: ROUND 3
Sunday, January 6th: Round 3 & participant grand prize winners chosen
*If you missed the initial sign up deadline, you can still participate:
Sign up before December 7th for Rounds 2 & 3
Sign up after December 7th but before December 22nd for Round 3
Not clear about something? Email Elle or Lindsay!
Prizes
We are working on getting some of our favorite companies involved to provide you guys with awesome prize packages. We will update our challenge pages with prize specifics once we finalize the brands we're working with (hopefuly later this week) but for now we will have:
3 prizes for "Best Elf", one awarded at the end of each round
1 grand prize for best participant awarded at the end of the challenge determined by participation, hashtagging and being an awesome Elf.
There will be a daily challenge winner chosen each day. Daily winners will be entered for a chance to win the grand prize!
Best elf prizes will given based on participation and nomination. If you love your elf, let us know so we can consider them for a Best Elf prize. Best Elf prizes will be awarded at the end of each round.
Still with me?
Want to sign up?!
**** Click Here to fill out the registration form ****
We will be sending out a weekly newsletter reminding you of the weekly challenges so look out for a confirmation email to confirm your participation & newsletter subscription. If you don't receive a confirmation email, check your spam box. If you still can't find a confirmation email, let one of us (Elle or Lindsay) know ASAP and we'll add you to the list.
Follow
Make sure you're following us for the latest updates, daily challenge reminders and winner announcements by social media.
Don't forget to join the Elf for Health
Facebook group
, too! We'll be posting pictures and updates there too.
Info Pages
Also, we'll both have Elf for Health info pages on each of our blogs if you're looking for the calendar of daily challenges, the sign up form, important dates etc…
Last but not least,
I think that about does it, for now. We're excited to get things started after a relaxing Thanksgiving weekend!
*********************************************************************************************************************
(Kelly here...I hope you will consider joining in. I think it will be really fun!! And not too much effort for the great comraderie and encouragement!) 
PS. If for some reason you missed yesterday's first ever VIDEO post, be sure to go back and check it out!
PPS. And I PROMISE, tomorrow, you'll get the recipe for these amazing banana cream pie bites! (which may be even better than the original white chocolate pumpkin pie bites!)