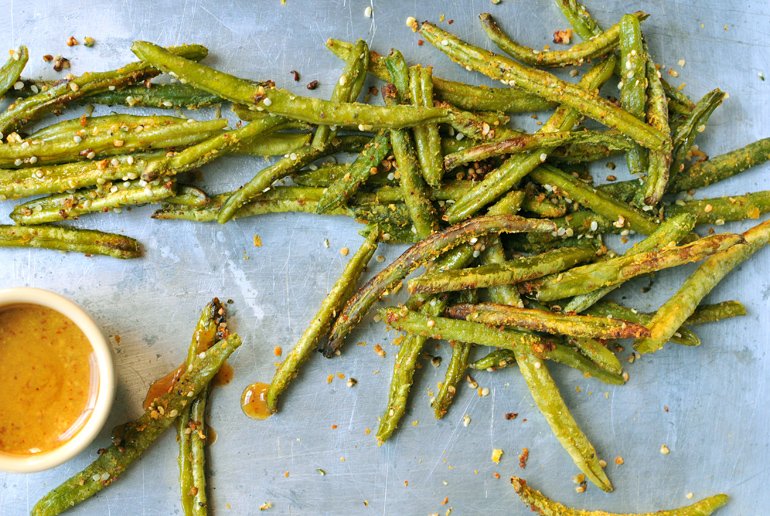 I started the day with an hour of circuit training and cardio at the gym followed by a trip to Target. I'm definitely not one who is "addicted to exercise" but I know it's good for me. So I'm commited and getting it done. 
Anyone relate?
Evidently I'm on a veggie kick lately. Remember these sweet potato and carrot shoestring fries? or this carrot noodle salad? or this juice with rutabagas? or this superfood salad with roasted sweet potatoes? Well, today I'm bringing you another easy way to happily eat your veggies... whether you're an adult or a four-year old!
Crispy Green Bean Fries:
Baked, crispified, coated with protein-packed hemp seeds and nutty/cheezy nutritional yeast and a bit of sea salt, and then dipped in a heavenly mix of sweet and salty, these green bean fries will be gone in seconds.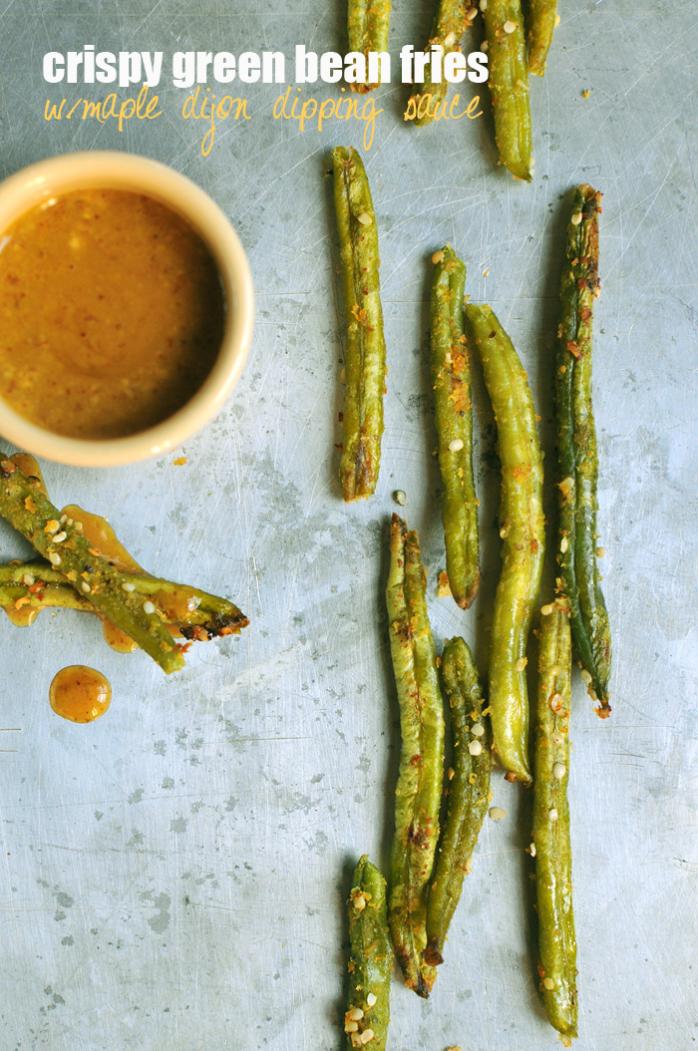 Remember all the health benefits I mentioned recently about hulled hemp seeds?  In a nutshell, they're protein-packed, contain all nine essential amino acids, and are rich in vitamin E.  Great in salads, smoothies, and fries.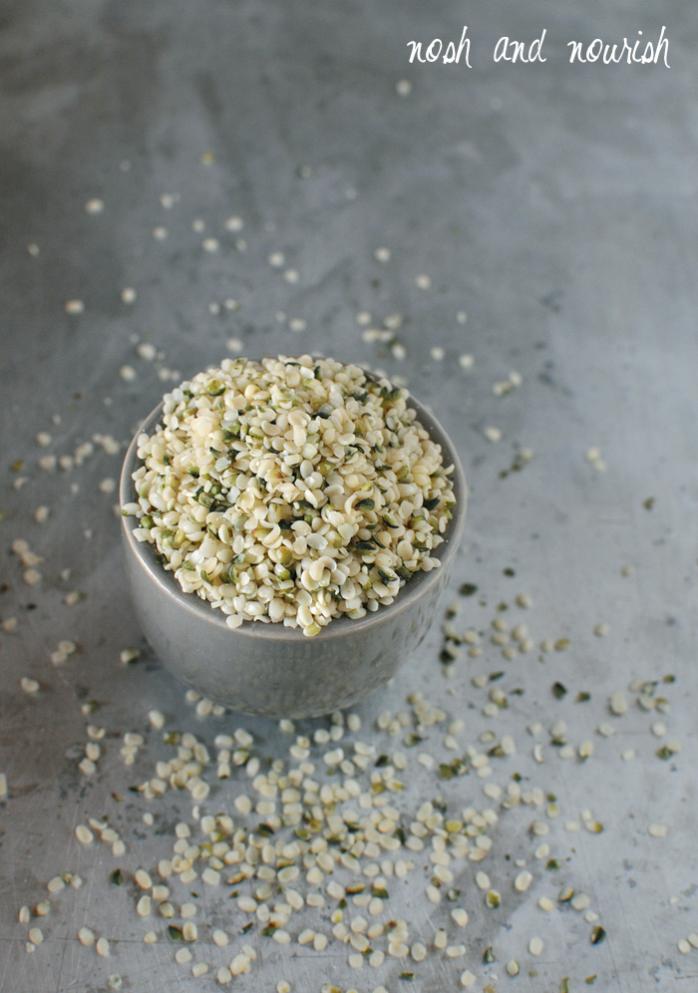 And the pièce de résistance -- this heavenly dip, made of dijon mustard, dark amber maple syrup, and soy sauce.  It would make a killer salad dressing too!!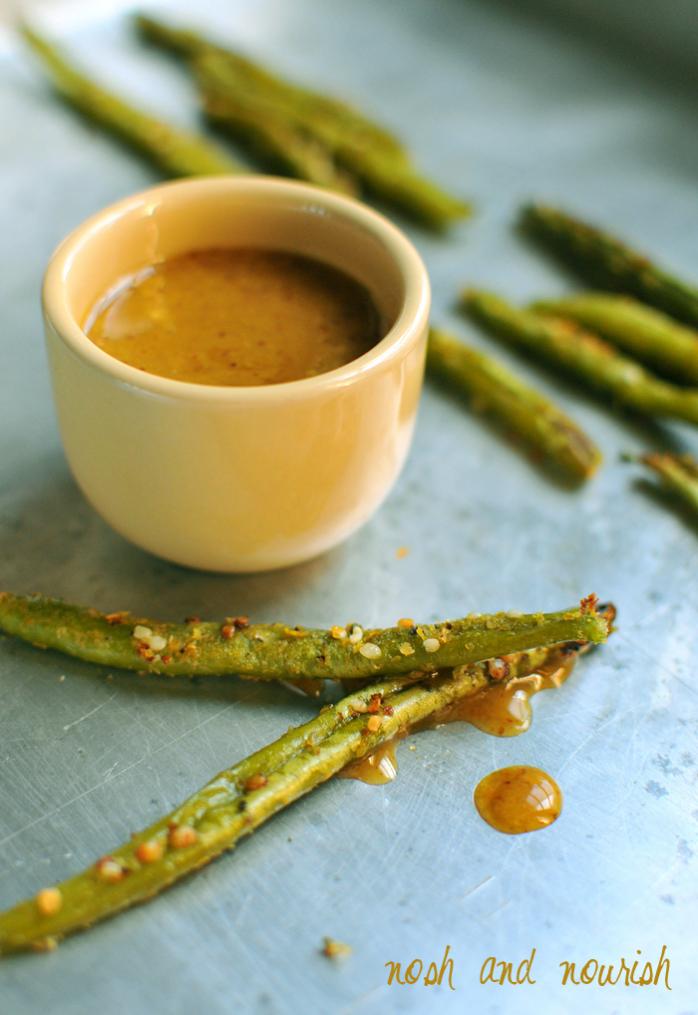 So, the question is:
Which veggies are you loving lately?
Crispy Green Bean Fries w/Maple Dijon Dipping Sauce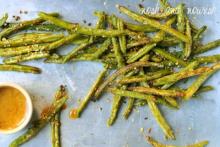 Description
Crispy Green Bean Fries with a Maple Dijon Dipping Sauce -- the best and yummiest way to eat your veggies!! // via Nosh and Nourish
Ingredients
3 cups Green Beans (I used frozen organic)
2 tablespoons Nutritional Yeast (also known as "nooch")
1⁄2 teaspoon black pepper
1 tablespoon spicy dijon mustard (for the dipping sauce)
1 tablespoon Dark Amber Maple Syrup (for the dipping sauce)
1 teaspoon coconut aminos (or sub soy sauce, if not strictly paleo)
Instructions
Preheat the oven to 425 degrees.
In a microwave-safe dish, add the green beans and cover with water. Microwave on high for 3 minutes.  Then, drain the green beans. 
In a large mixing bowl, coat the green beans with olive oil. 
Lay the coated grean beans in a single layer on a large baking sheet.
In a small bowl, mix together the hemp seeds, nooch, sea salt, and pepper. 
Sprinkle the spice mixture over the green beans evenly. 
Bake for 20 minutes, or until golden brown and crispy (but not burnt).
Combine the sauce ingredients in a small bowl: mustard, maple syrup, and coconut aminos. 
Dip the fries in the sauce and enjoy!
Yields 4 Servings