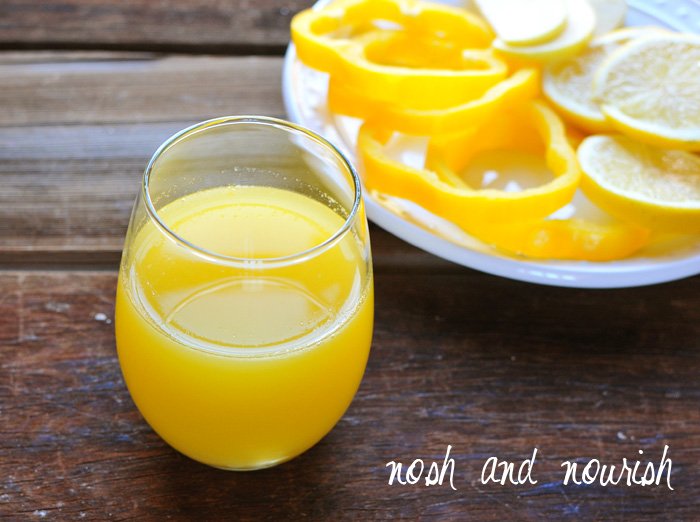 When it comes to the new year and all the resolutions we make about eating healthier, my philosophy is to not focus on what you can't eat... but instead, focus on all the healthy, nourishing things you can (and should) be filling up on--- like bell peppers and sweet potatoes and cauliflower and kale and nuts, to name a few. My blogging besties and I have gotten together to give you 6 delicious ways to detox...a time of resting, of nourishing your body with good-for-you things, and of cleaning out your system).
PLUS we have a giveaway for you -- one lucky reader will win a $150 Amazon giftcard so you can stock up on some of those nourishing superfoods, or buy Taylor Swift cds, you know... whatever sounds best to you.
Detoxing AND Delicious?!
Detoxing doesn't have to be bland or harsh or complicated. It can be delicious.  With a coconut cashew smoothie bowl, superfood energy balls, veggie soup, cauliflower fried rice, roasted salmon with garlicky kale, and super yellow juice on the menu, detoxing has never tasted so good!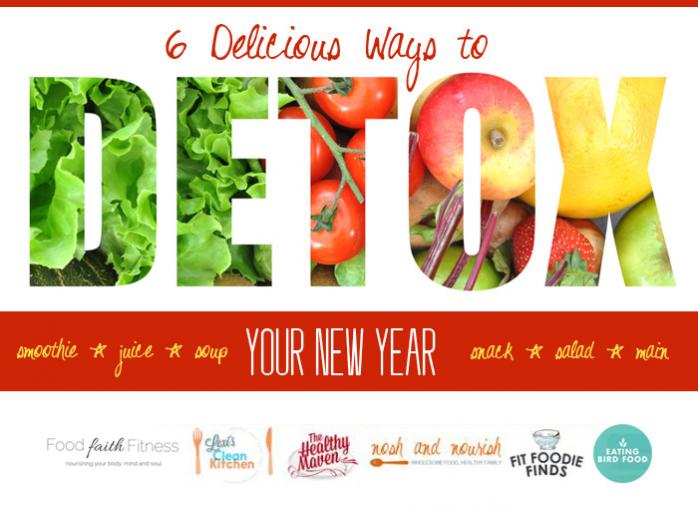 Do You Juice?
Juicing is a great way to get extra nutrients and vitamins that you normally wouldn't because they are condensed/extracted.  A large pile of vegetables and fruits becomes one nutrient-loaded glass of juice.  And what I found is that by juicing, my cravings for sugar disappeared. Poof. Gone. So next time you're craving something sweet, make some veggie juice! Today's juice is part of my "Juicing the Rainbow Series" --- Super Green Juice, Super Orange Juice, and Super Red Juice are favorites at our house... and this new Super Yellow Juice is no different!
Super Yellow Juice (recipe at bottom of post):
This Super Yellow Juice is overflowing with vitamin C from the bell peppers and rutabega and aids in digestion, boosts your immunity, and acts as a powerful anti-inflammatory. What a perfect way to start the new year!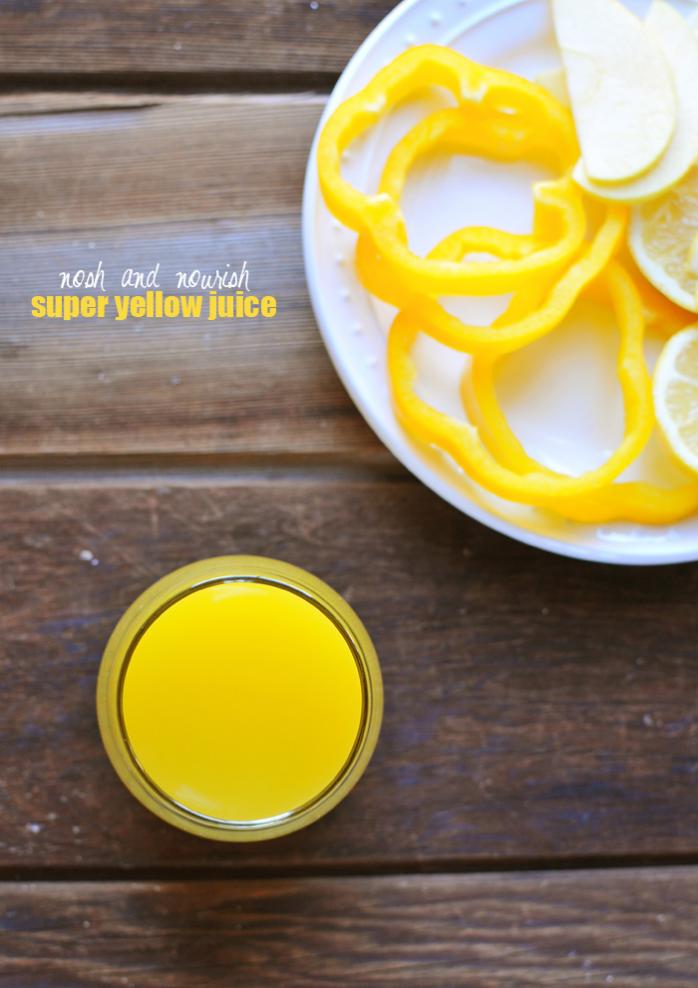 The flavors may sound a little strong, but the juice is naturally sweetened with apple and pear. To get the most benefit, you want to make sure your juices are at least 75% veggies. Babycakes loved this juice, and it's the only way I've ever gotten her to happily consume bell peppers and ginger!  
This juice is:
colorful

vibrant

packed with veggies

kid-friendly

a little sweet

a little tangy

delicious

a great way to start the day!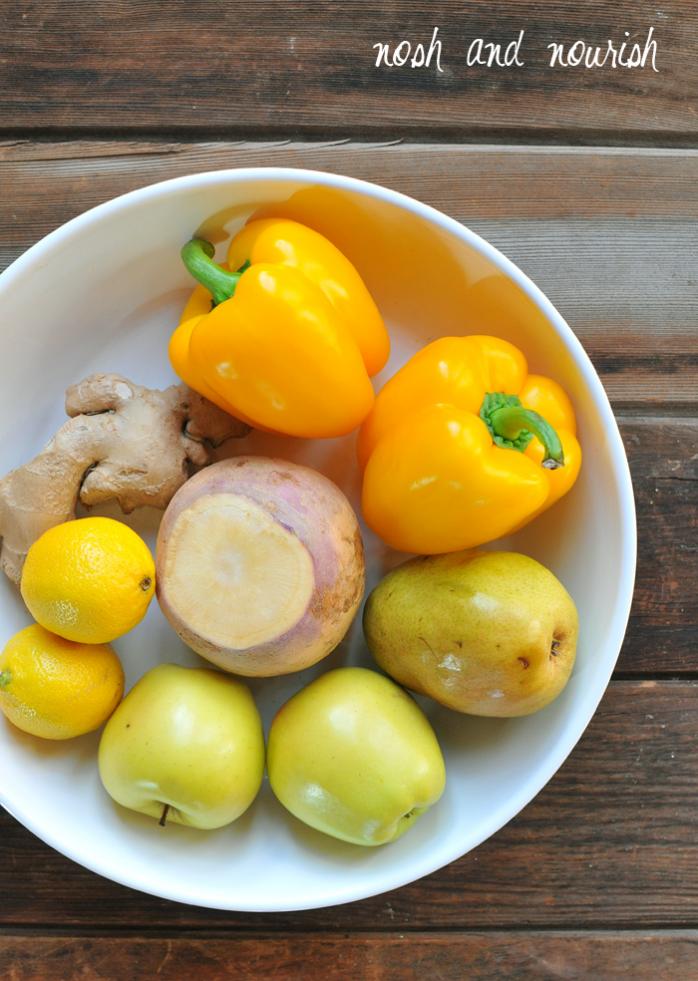 Next Up...
Coconut Cashew Smoothie Bowl // by Taylor at Food Faith Fitness
A protein and superfood-packed smoothie bowl that is made extra creamy with Greek yogurt and avocado. It's swirled (beautifully) with cashew cream for the perfect nutty note!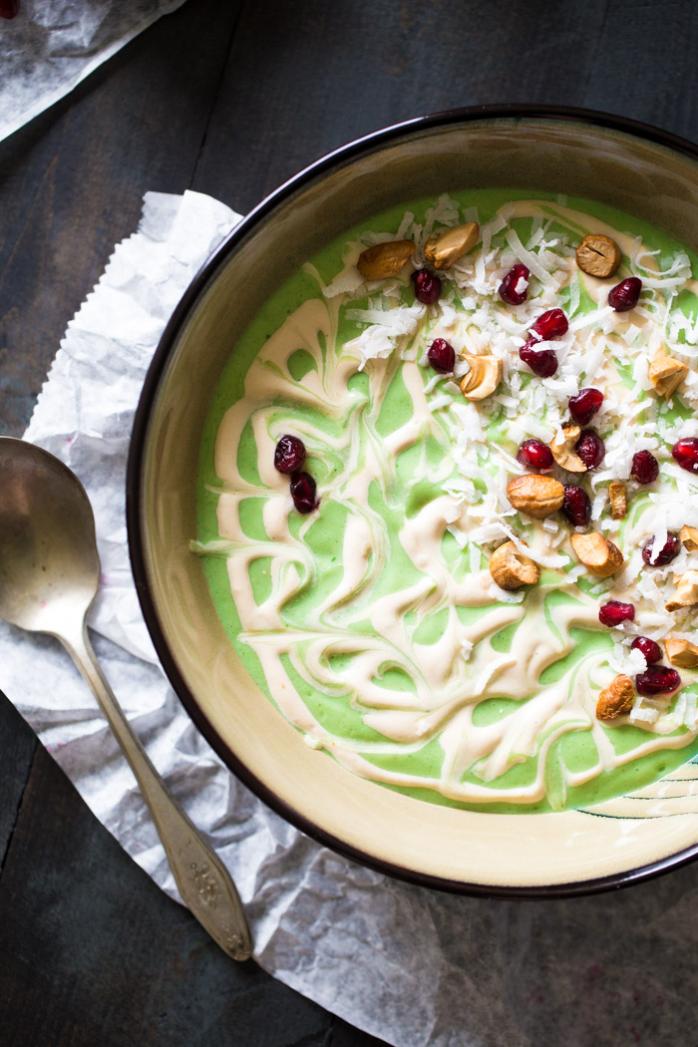 Superfood Energy Balls // by Brittany at Eating Bird Food
These superfood energy balls have a base of oats and almond butter and are studded with a blend of goji berries, inca berries and mulberries. They're a healthy on-the-go snack with enough sweetness to satisfy a sugar craving.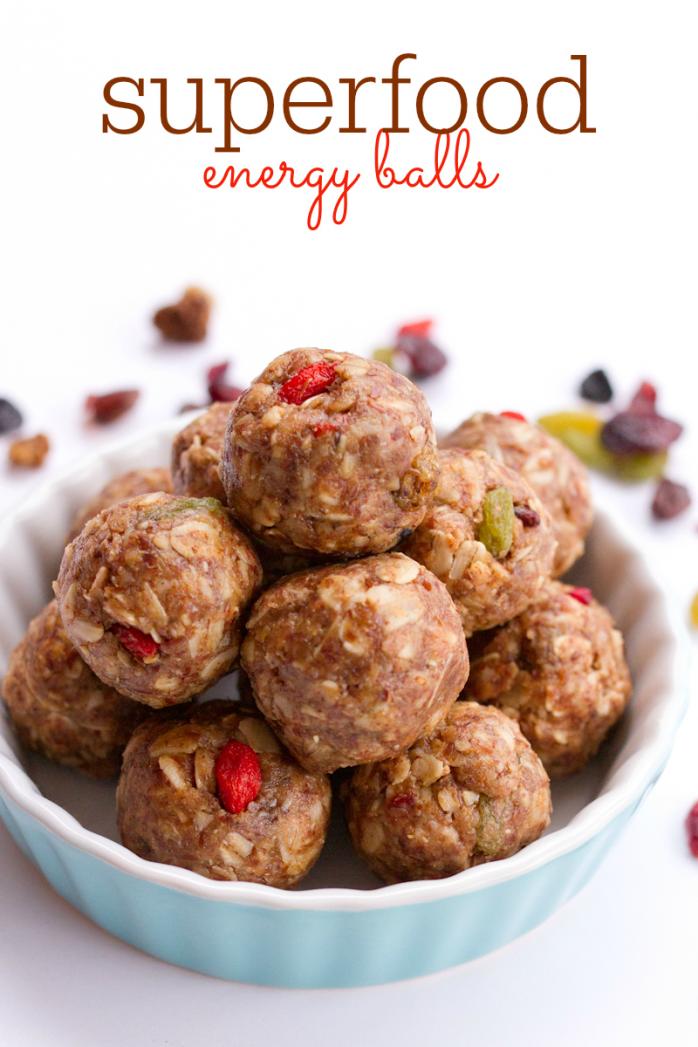 Detox Vegetable Soup // by Davida at The Healthy Maven
Salad just met its match with this healthy and nutritious Detox Vegetable Soup. It's made with eight different vegetables and is ready in under 40 minutes for a hearty and veggie-packed meal.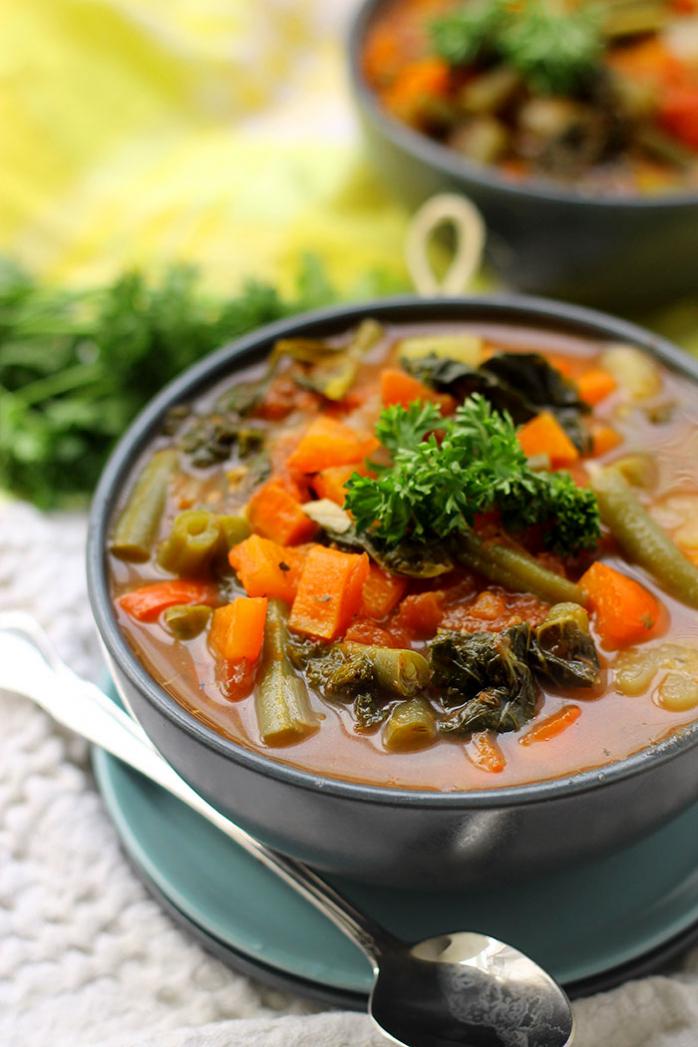 Cauliflower Fried Rice // by Lee at Fit Foodie Finds
Make this Paleo Fried Rice using cauliflower in place of rice and tons of veggies for a healthy, quick, 30-minute meal that's vegetarian and delicious.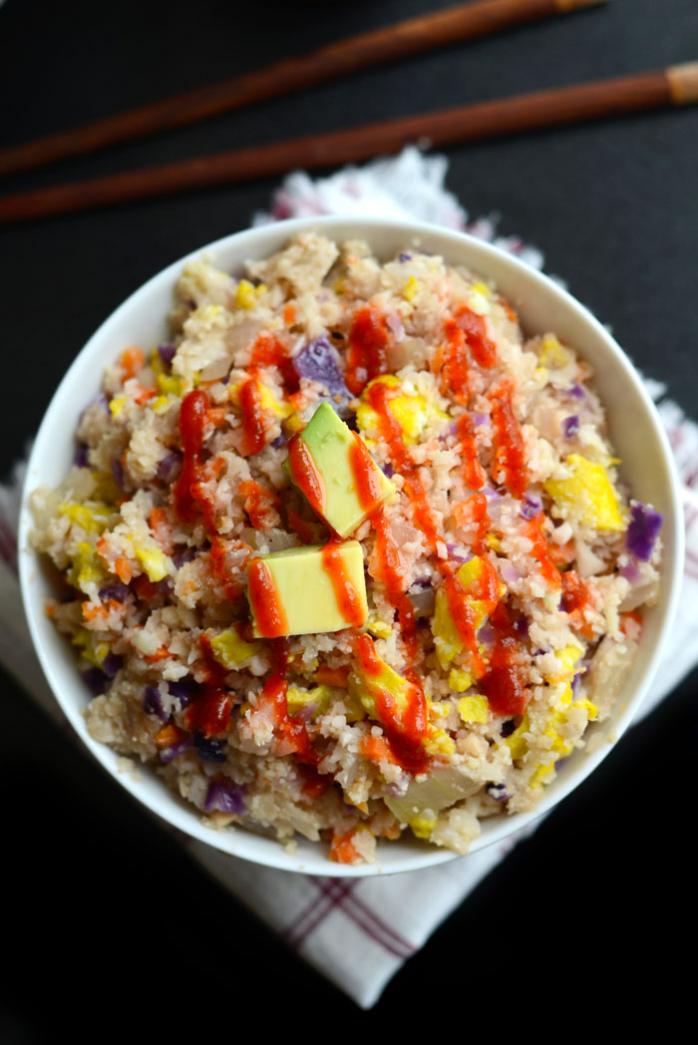 Roasted Salmon with Apple, Fennel and Garlicky Kale // by Lexi at Lexi's Clean Kitchen
This Roasted Salmon dish is the perfect light & healthy dinner option that's packed with your favorite winter flavors! Paired with sautéed garlicky kale and topped with an apple fennel salad, it's easy enough for a weeknight dinner and elegant enough to impress your weekend guests!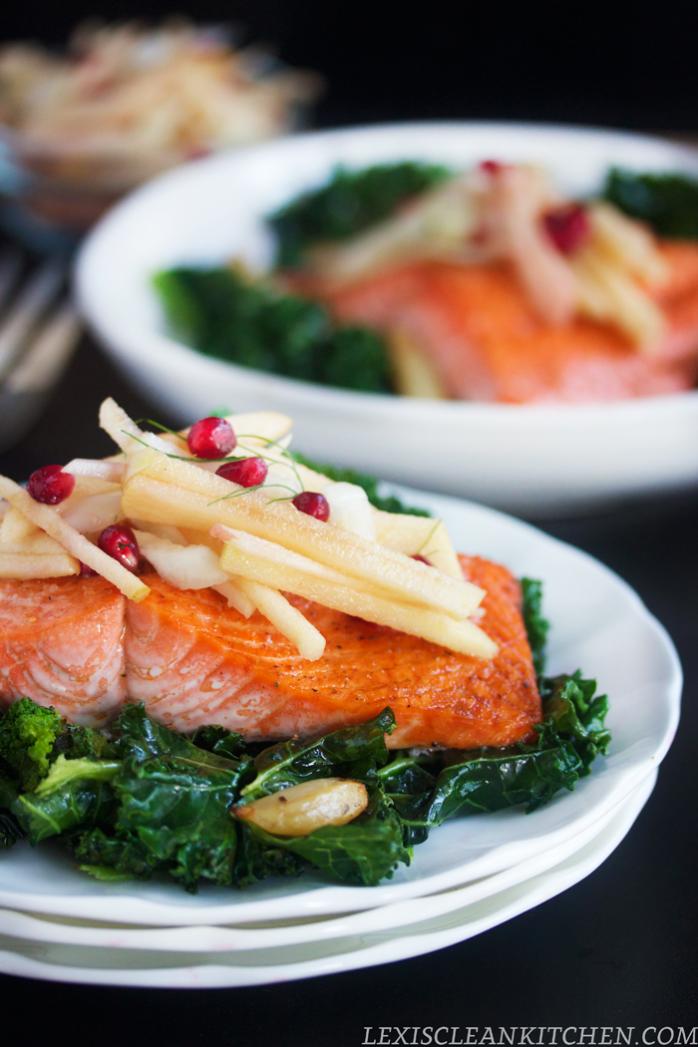 Now for the Giveaway!!
Super Yellow Juice
Description
Super Yellow Juice // via Nosh and Nourish
Ingredients
2 yellow bell peppers (stem and seeds removed)
2 organic golden deliciousapples (cored and seeds removed)
1 Pear (optional -- it's sweeter with it, a little more tart without it... but good either way!)
2 inches of fresh ginger (skin removed)
Instructions
Juice all ingredients.
Enjoy immediately!
Yields 32 Ounces