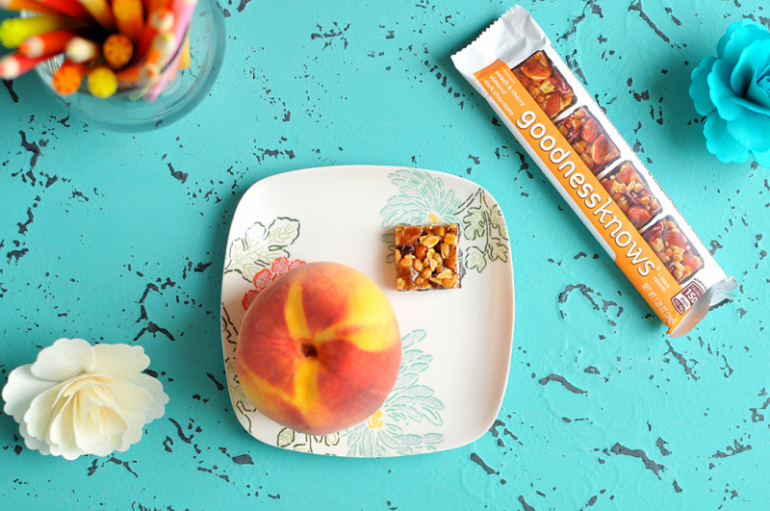 As much as I've absolutely loved summer and all the fun we've gotten to have (swimming, popsicles on the patio, glamping, vacation), I'm also craving a little bit more routine that the school year inevitably brings. We all know going back-to-school is a big deal for our kiddos, but what about us moms?
Them: School supplies, clothes, homework, making new friends, etc...
Us: Packing a million lunches, waiting in the dreaded carpool line, filling out two thousand billion forms, etc...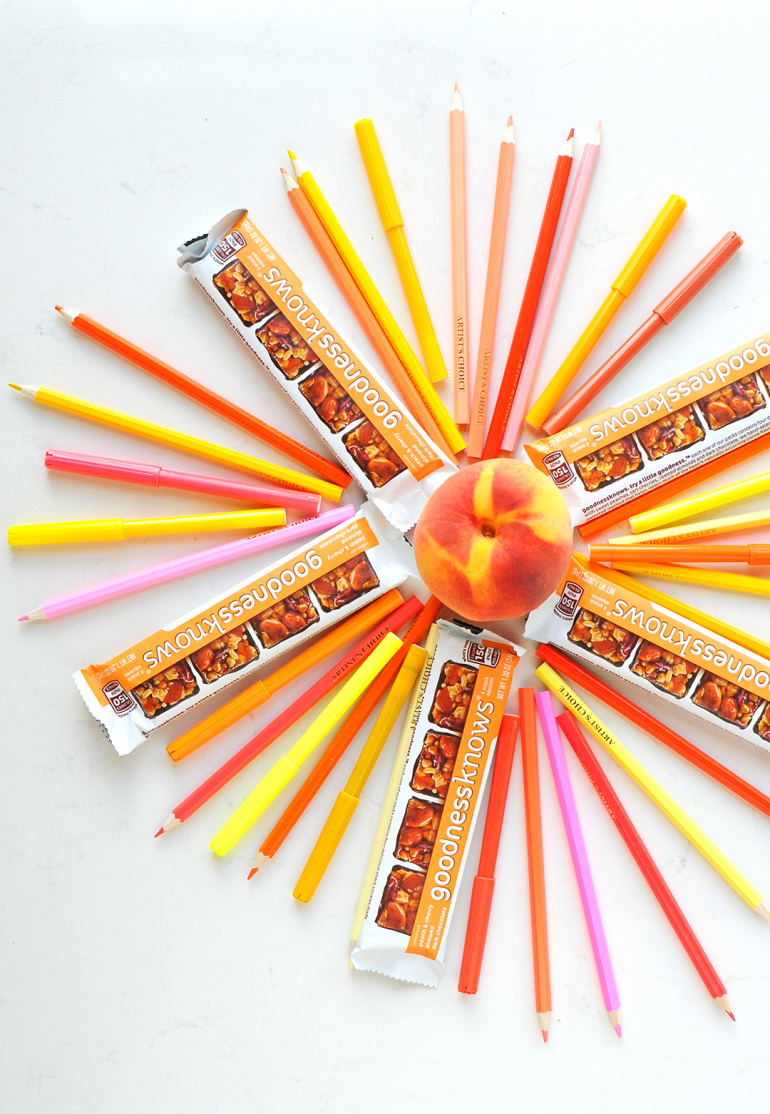 So I've come up with some back-to-school mom essentials:
1. Patience --- let's just start there, shall we? Patience with other moms (and dads) as we navigate through those carpool lines. I must admit, I'm the "new mom" at the new school and I have no idea how carpool is supposed to work. But I'll learn... I promise. And quickly. So please be patient with me as I figure things out. Patience with our kids. Of course Babycakes didn't "sleep in" the entire summer until last week. So, now I have to wake her up to get ready for school. Our kiddos will be more tired (physically and mentally) and therefore require more patience from us as they figure out this back-to-school routine as well!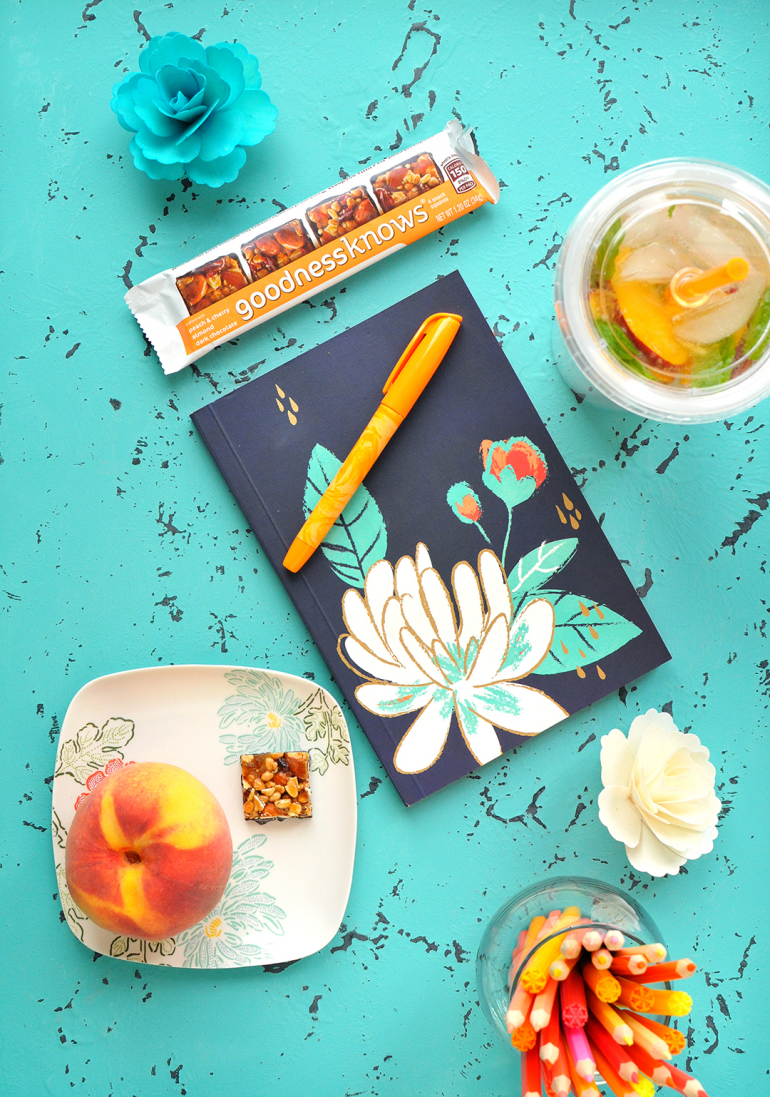 2. Good snacks --- It is essential to have good snacks that you can grab on the go once school starts and life is so much busier. Whether you're in that dreaded carpool line or driving the kiddos across town after school to soccer practice, good snacks mean you won't be HANGRY. Some of my favorites include: goodnessknows peach & cherry squares (with chocolate!), almond butter squeeze packets, seaweed, and turkey jerky.
goodnessknows snack squares are:
divided into 4 snackable squares per serving
only 40 calories each
packed with good-for-you ingredients
available in 3 flavor combos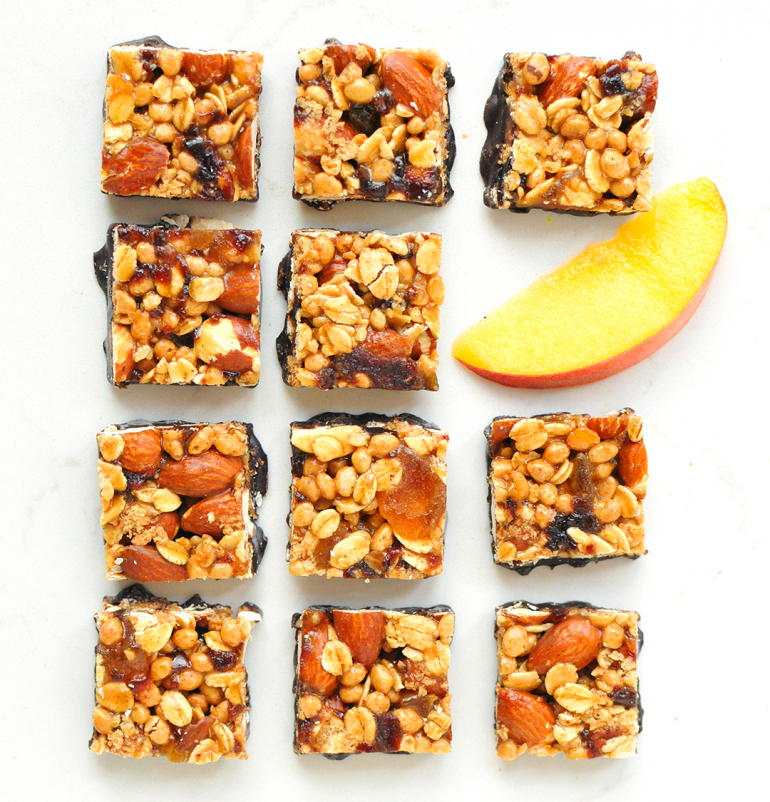 3. Refreshing Drinks --- of course water fits the bill, and I drink a TON of water throughout the day especially when I'm on-the-go. But sometimes you want something else for a refreshing energy boost. That's where this sparkling peach green tea comes in! Steep green tea with fresh mint leaves, peach slices, and a bit of honey... then cool it and top with sparkling peach La Croix and ice cubes! Easy peasy and so good.
(see below for full recipe).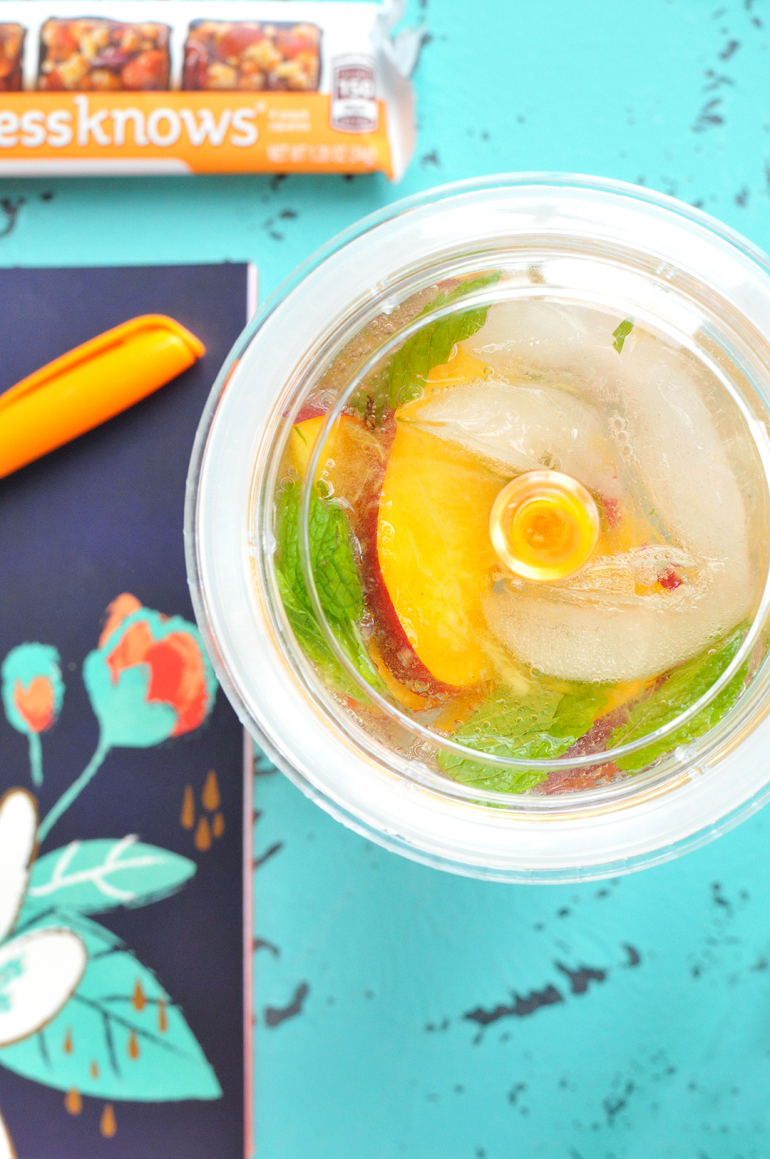 4. A good pen and highlighter --- to fill out those aforementioned two billion forms, initial homework folders, and keep track of all the after-school activities and anything going on in our own adult lives (do we still have one of those, lol?!?!).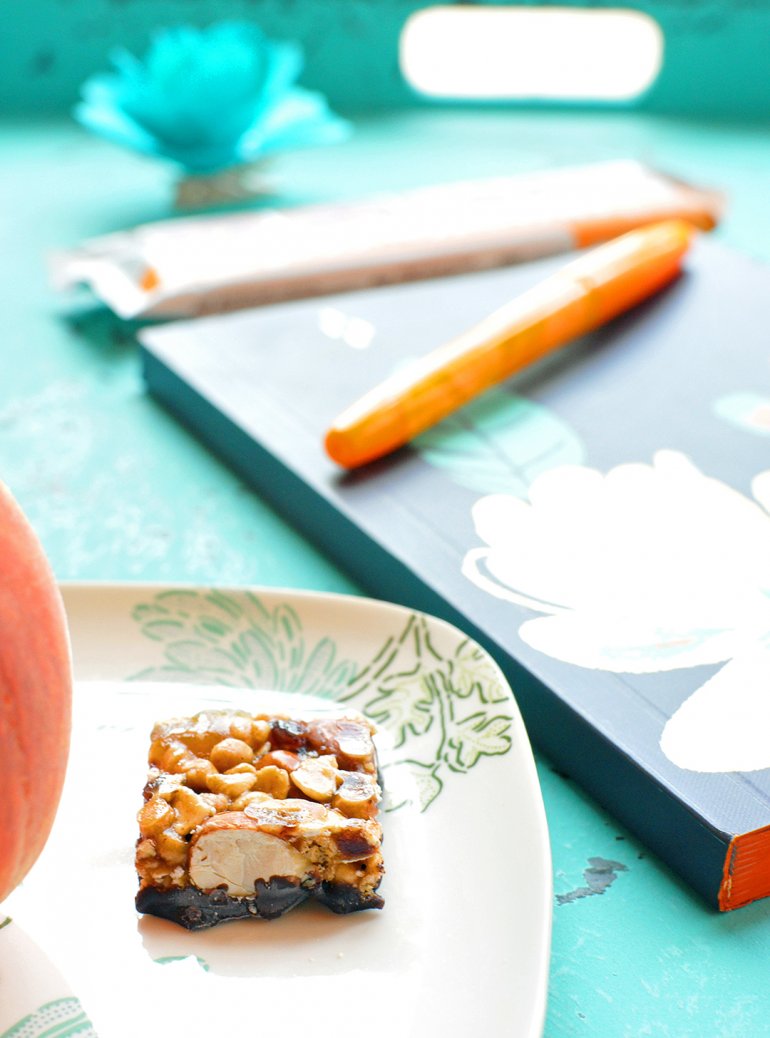 5. Lunchbox ideas --- Babycakes would totttttttttttttttally be fine with PB&J every single day. But I like to mix things up and make sure she's getting a balance of nutrients throughout the week. Packing healthy lunches can seem daunting, but they don't have to be! Here's a list of some of our favorites:
     * turkey & spinach wraps with maple cinnamon pb dip
     * salmon apricot bites with pink cookie dough
     * cherry banana bread with nut butter & salmon/quinoa
     * autumn harvest chili and cornbread
     * pineapple chicken salad & strawberries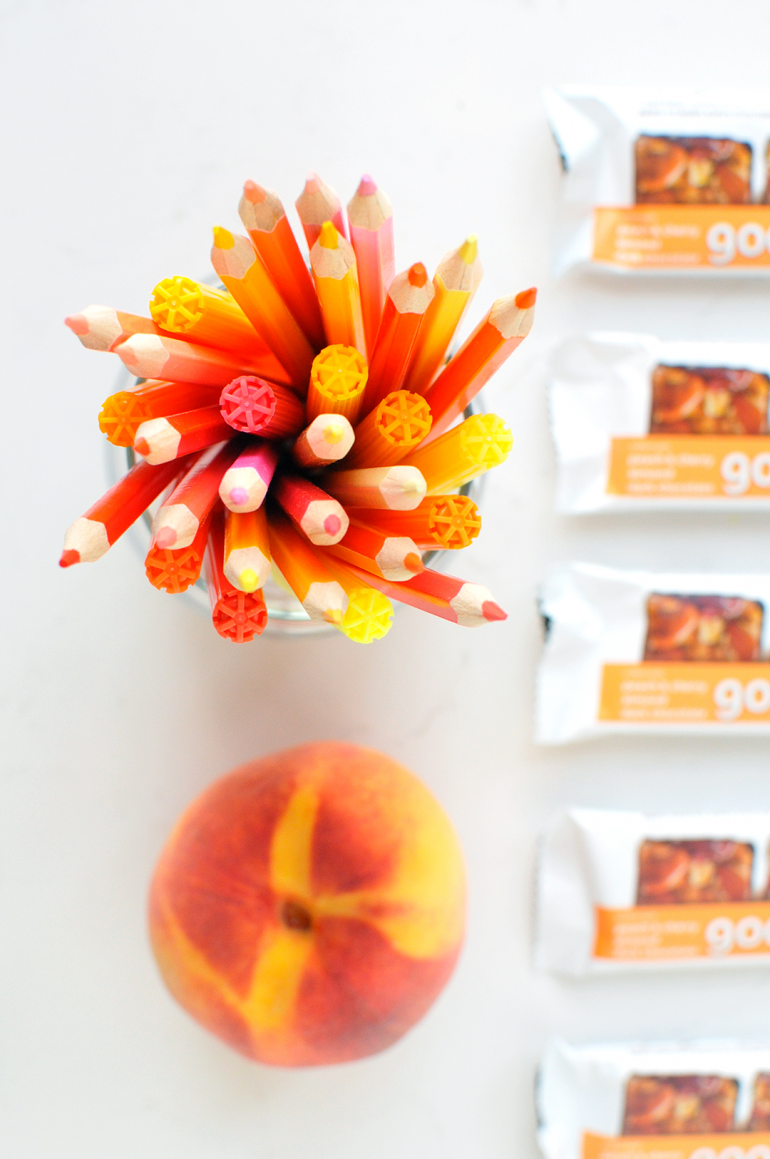 6. Self-care rituals --- it's easy to forget about yourself and your own health and your own well-being when you're so busy taking care of kiddos. But don't! Be sure to create some self-care rituals that make you feel good, that help you re-center, and that allow you to be the best mom possible. I've listed a few ideas that work for me here. 
This is a sponsored conversation written by me on behalf of goodnessknows. The opinions, recipe, beautiful food photography and text are all mine.
Sparkling Peach Green Tea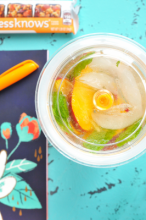 Description
Sparkling Peach Green Tea
Ingredients
8 ounces Sparkling Peach Soda Water (I used La Croix / unsweetened)
Instructions
Bring 8oz of water to a boil, either in the microwave or in a kettle.
Steep the green tea for approximately 3 minutes, then remove the bag. 
Add the fresh mint leaves, honey, and peach slices to the hot tea. Stir and use the back of a spoon to gently press on the mint leaves and peach slices. 
Refrigerate for 15 - 20 minutes until cool. 
Transfer cooled tea to a large cup or mason jar, then add the ice cubes and top with 8oz of sparkling peach soda water.
Enjoy!
Yields 20 ounces