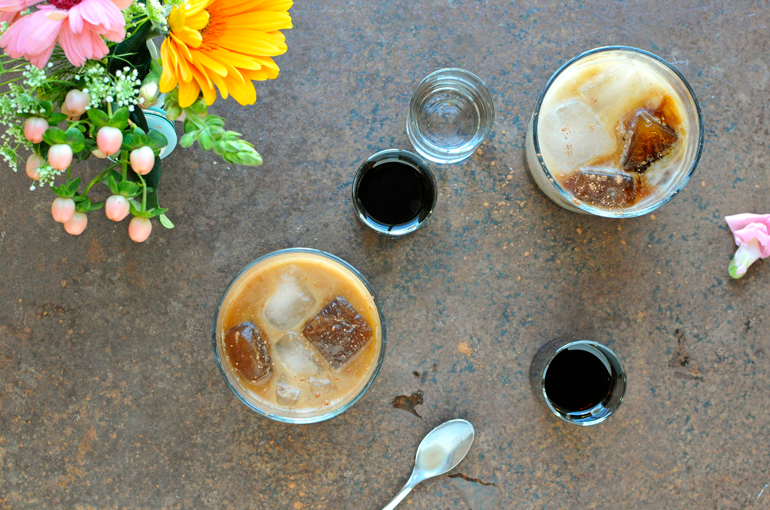 A flavorful twist on the classic White Russian, these Caramel White Russians feature Silk's creamy, delicious, caramel almondmilk creamer. Simple. Decadent. Delish. Grown-up. This drink is the perfect afternoon indulgence (or necessity...depending on the day!).
The days are long, but the years are short. That's what they say, anyway. 
And I believe them. 
I swear I just sent Babycakes off to her first day of kindergarten and packed her lunch for the first time... like yesterday. And just like that, the year's over.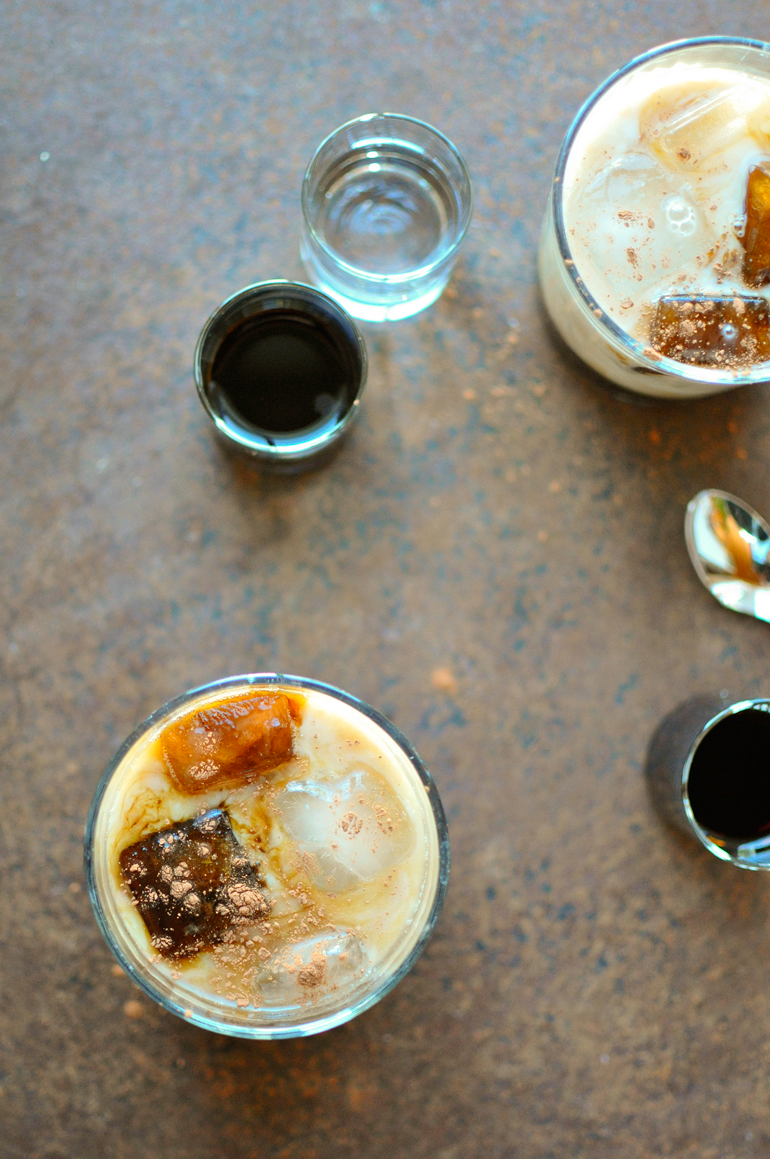 On those long hard days... when I'm pulled in a thousand directions, the sweet loving daughter I dropped off at school has become a hot, cranky mess on the drive home, the speed demon behind me endangers everyone by passing across double yellow lines, and the store I needed to go to closed 5 minutes before I could get there, I like to take a few minutes to myself to recenter. Some things that work for me are:
1) Taking a walk around our property --- breathing in the fresh air, absorbing the beauty around me, and even something as silly as pulling weeds (I have a purpose! And my work is tangible! Look how much better things look!) can be cathartic to me.
2) Enjoying a cold drink (cocktail, or not) out on the patio --- soaking in the sunshine. Helllllllllllllllllo, vitamin D!
3) Saying a few things I'm thankful for --- despite all the crazy circumstances and bad that may have happened in my day, I can still remember and focus on some of the good things I have going on. 
4) Texting with a friend --- having a friend to laugh with... and commiserate with... and celebrate with... and to lift each other up. Sooooooooo important!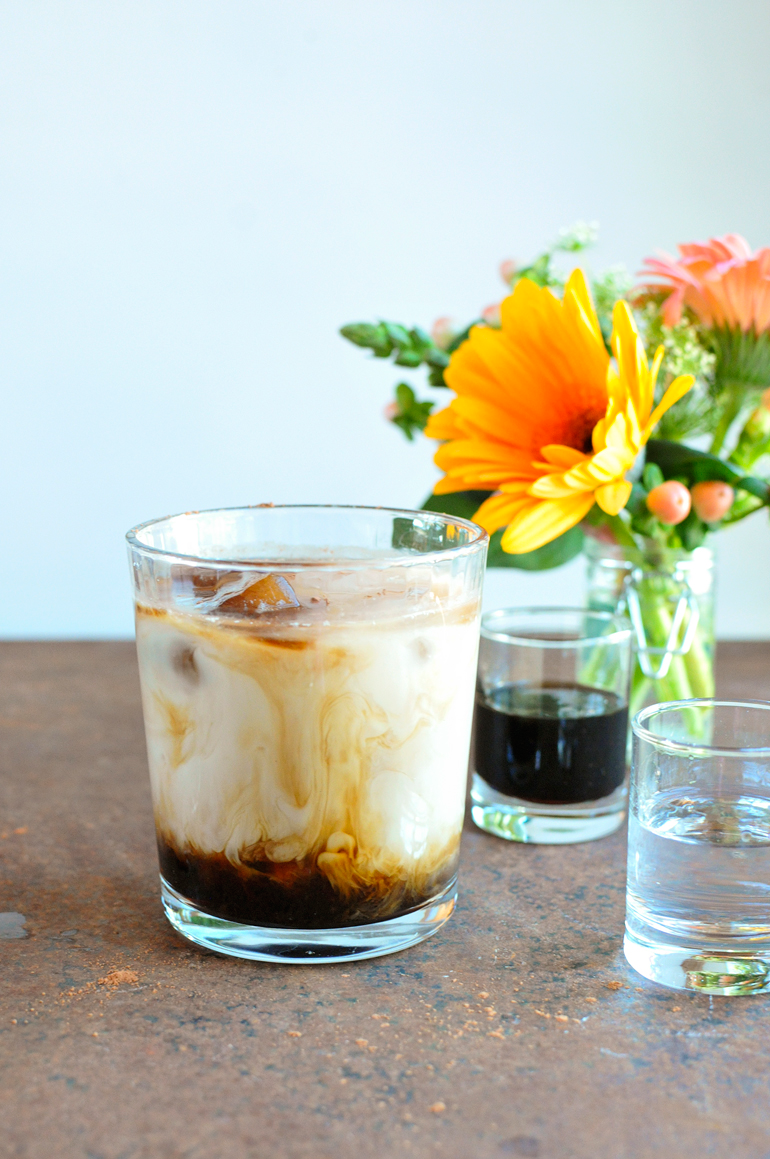 But, back to cocktails... 
This drink is so super simple: kahlúa + vodka + almondmilk + creamer.  
With... 
.
.
.
Wait for it... 
.
.
.
COFFEE ICE CUBES!
These might just be my favorite things ever. a) they're great in this cocktail recipe because they enhance the already-coffee-flavored Kahlua and they don't dilute your drink by adding water. b) they're great in morning smoothie recipes, like this almond mocha green smoothie. and c) if your husband has to leave for work early and doesn't drink his usual second cup of coffee, you can just freeze the leftovers into these cubes!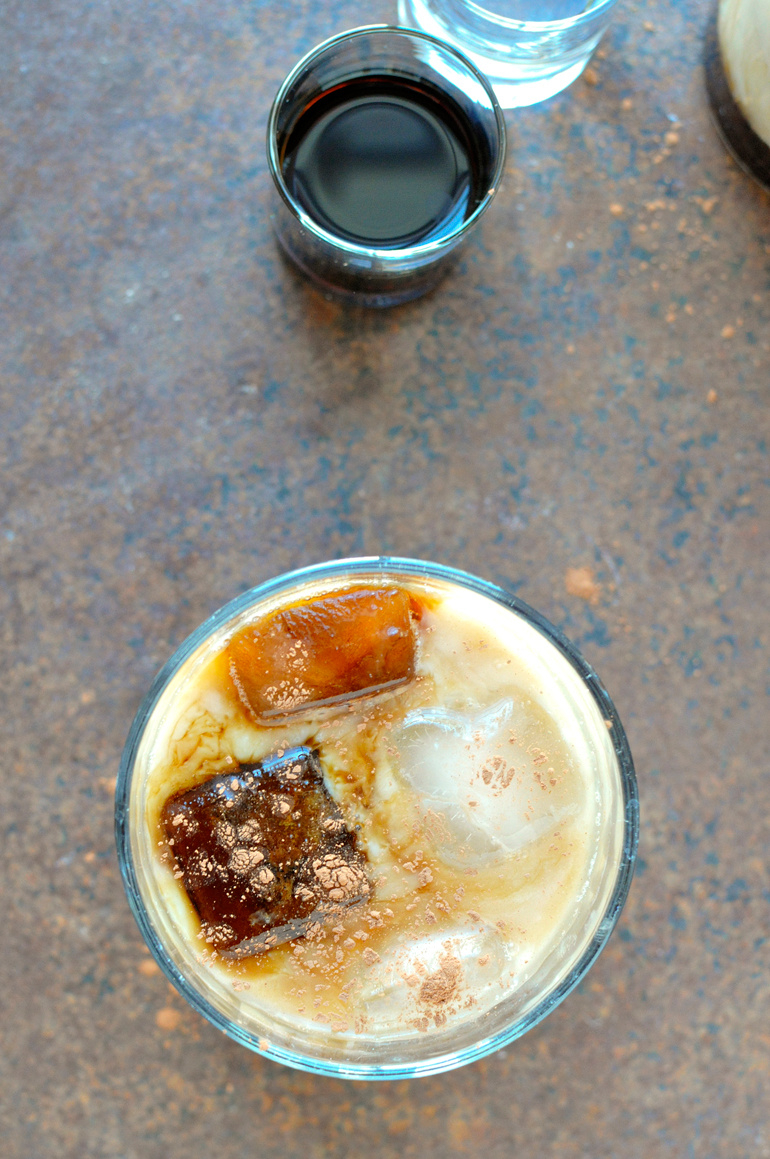 As for the creaminess in the drink, instead of the White Russian's traditional heavy cream made from cow's milk, I've subbed in the dairy-free, nut-based, almondmilk creamer. And let me tell you... it's divine. Just as creamy, but more flavorful.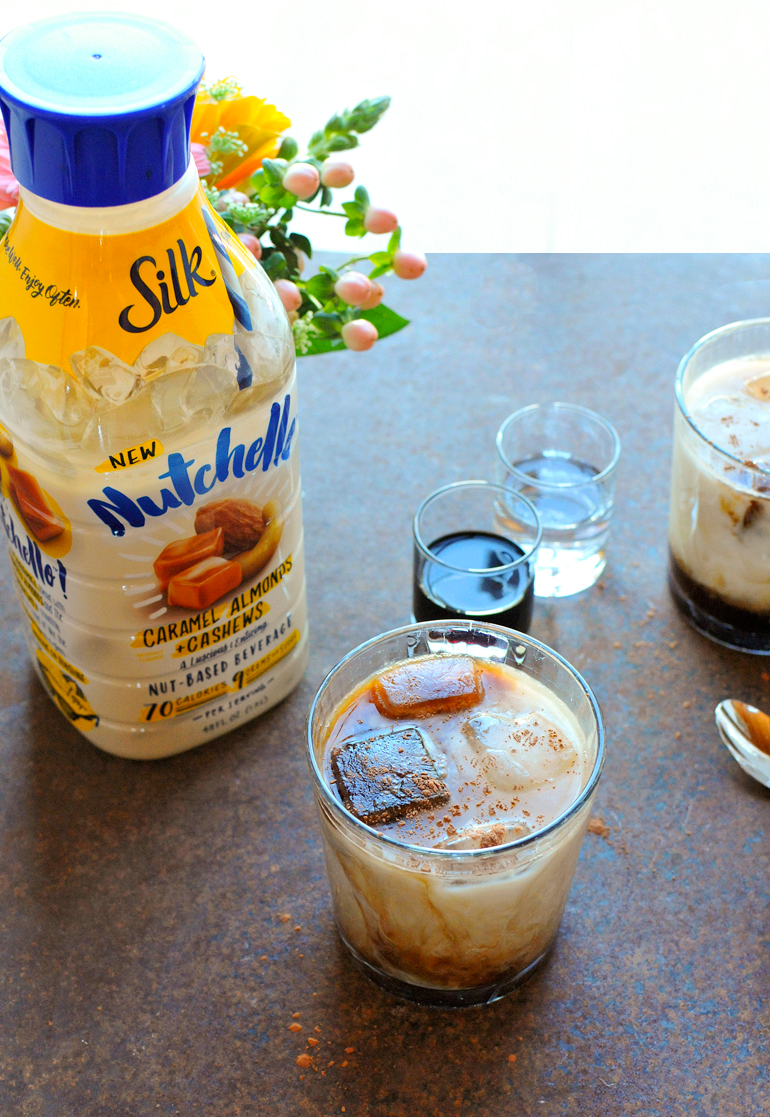 Good on their own, or in cocktail form. 
Be sure to sign up for Silk's newsletter to keep up with new product offerings, recipe ideas, get coupons, etc.
This is a sponsored conversation written by me on behalf of Silk. The opinions, recipe, beautiful photography and text are all mine.
Caramel White Russian
Ingredients
6 Ice Cubes (I used half coffee cubes, half regular ice)
1⁄4 cup Silk's caramel almondmilk creamer
1⁄2 cup Silk unsweetened vanilla almondmilk
Notes
If you want a stronger cocktail, add one additional ounce of vodka.
Instructions
Combine all ingredients in a lowball glass. 
Sip responsibly.
Yields 1 Servings