Hi Nosh & Nourish readers! Lexi and Beth here with another #TeamNosh contributor recipe. You guys are really going to love this one - it's SUPER blue homemade Blueberry Ice Cream and it's totally vegan, easy to make and absolutely stunning!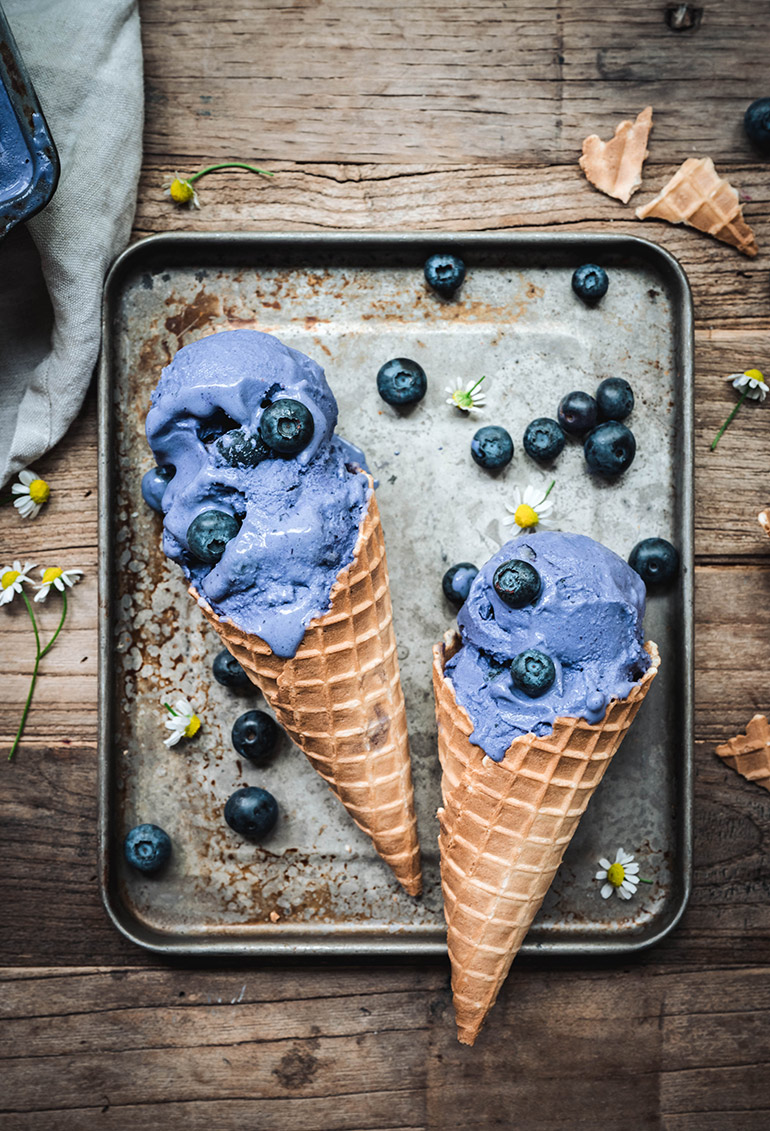 As you might've guessed, that deep blue hue doesn't come naturally from blueberries. The secret ingredient is a dash of Blue Butterfly Pea Powder. You're probably wondering what the heck butterfly pea powder is and where you can find it - and we're here to tell ya! Butterfly pea flowers are primarily found in southeast Asia. The deep blue color of the petals makes for perfect natural food dye, and it's also often used to make tea.
The flavor is relatively mild and won't overpower other flavors. It has a slight herbal taste, but it's barely noticeable in this ice cream. Fun fact: the powder can change color depending on the pH balance. If you were to add lemon juice to water with butterfly pea powder, it would turn purple. The more acid, the more purple/pink. We added just a touch of lemon juice to this ice cream, so the color remains a deep, dark blue.
It's a totally optional ingredient, but so fun! Kelly has been adding it to alllllllllll the things... like these waffles, these noodles, this yogurt, and this brownie pie. One bag might seem a little pricey, but it goes so far when you only use 1 teaspoon or tbsp at a time!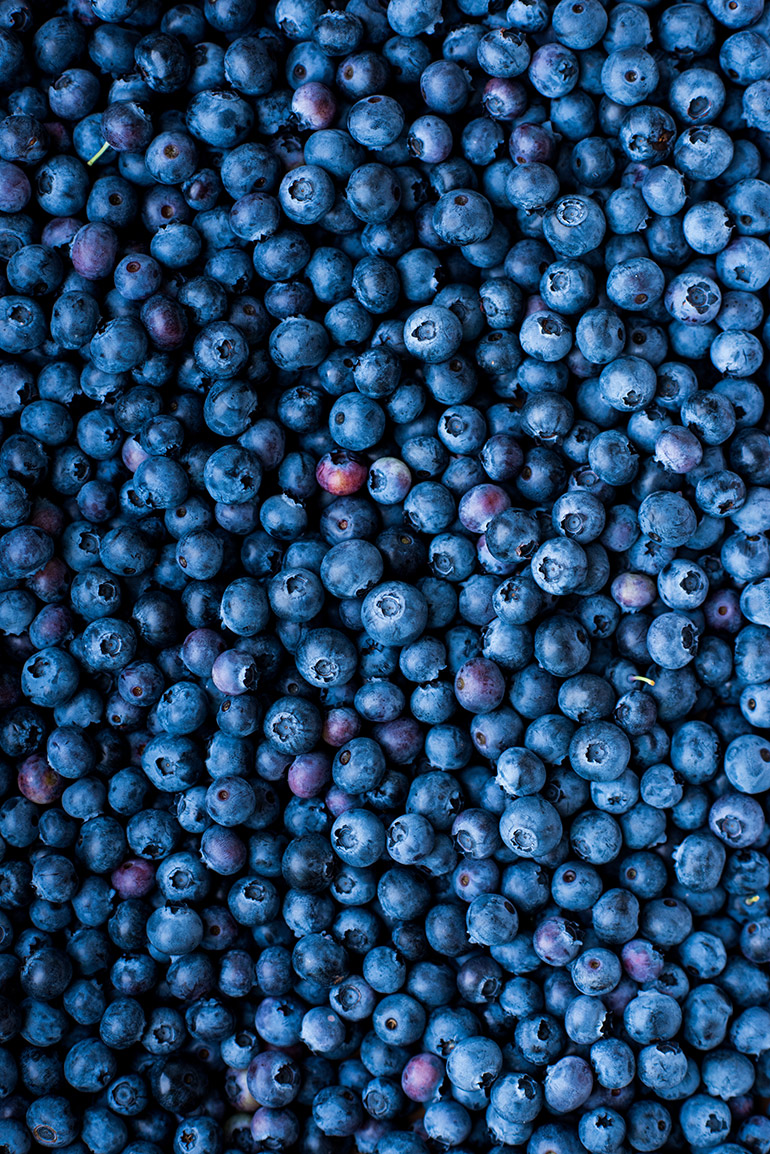 Back to this ice cream - we're so excited for peak blueberry season! Blueberries are my all-time favorite fruit. If left to my own devices, I could easily consume 3-4 cartons of blueberries in about 10 minutes. They're the best snacking fruit (IMO) and we absolutely love adding them to summer desserts. Almost every summer for the last few years, I've visited my friend (and now co-worker!) Lizzy at her house in Vermont and we always go blueberry picking. I usually come back with about 10+ lbs., so I have to figure out how to use them all up in creative ways!
In addition to this ice cream, I love adding fresh blueberries to blueberry muffins, salads, pancakes, 4 berry pie bars, cobblers and just about anything else I can think of.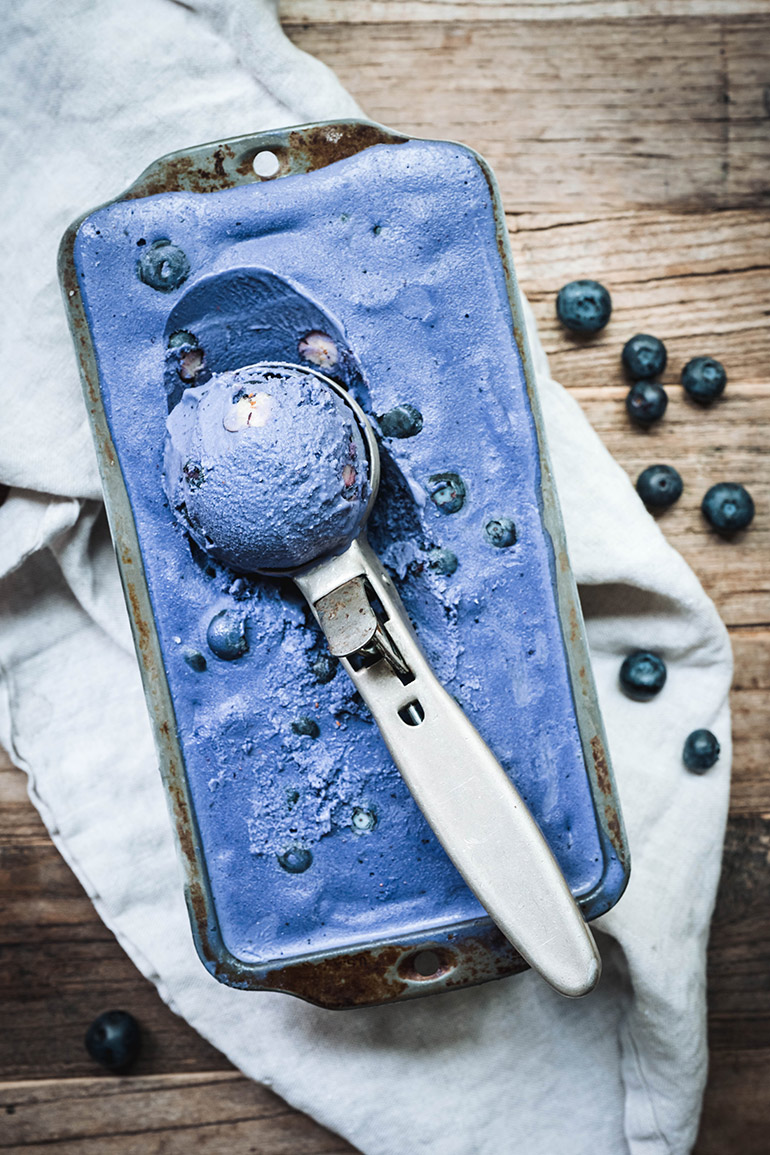 Here's some more blueberry inspo from #TeamNosh:
Annnnnnnnnnd, be sure to check out our giveaway over on insta. We're giving away an ice cream maker to one of you!
xoxo, 
Lexi + Beth
/////////////////////////////////////////////////////////////////////////////////////////////////////////////////////////////////
Or try one of our other favorite vegan desserts: carrot cake bars!
Vegan Blueberry Ice Cream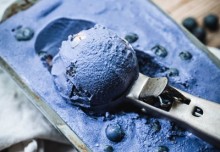 Description
Vegan Blueberry Ice Cream
Ingredients
30 ounces full fat coconut milk (~two 15oz cans)
1 cup cashews (soaked for 2 hours in room temp water)
2 cups Blueberries (frozen or fresh)
2 tablespoons freshly squeezed lemon juice
1 1⁄2 tablespoon butterfly pea flower powder (*link below on where to buy)
1⁄2 tablespoon Pure Vanilla Extract
Instructions
Add everything (except the 1 pint of fresh blueberries) to a blender and blend well.
Pour into ice cream maker and start churn cycle. When finished, gently fold in fresh blueberries and return to freezer until solid. Enjoy!
Yields 8 Servings