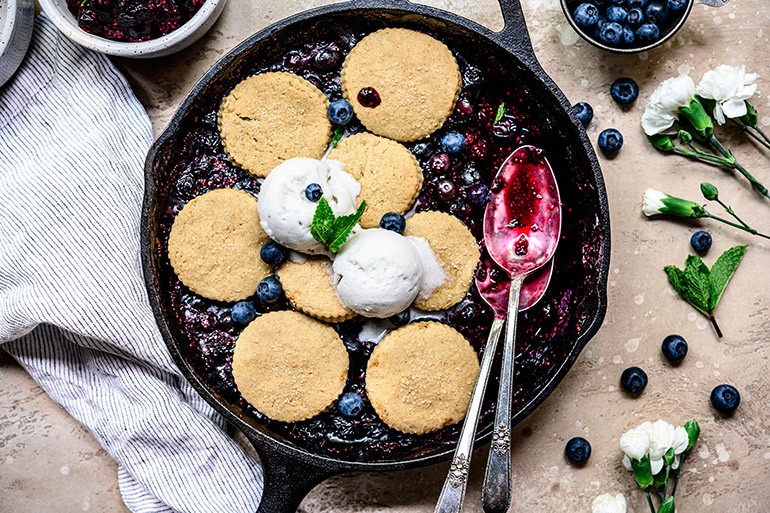 Hi Nosh and Nourish readers! Lexi and Beth here from Crowded Kitchen. Happy almost summer! We hear it's still looking more like winter at Kelly's place in Colorado, but it's been consistently in the seventies and eighties here in Michigan. I'm certainly not complaining!
As summer produce starts to pop up in our local stores and farmers markets, we're working on all sorts of seasonal recipes. We're trying to use fresh berries in just about everything - they're definitely one of the best parts of summer!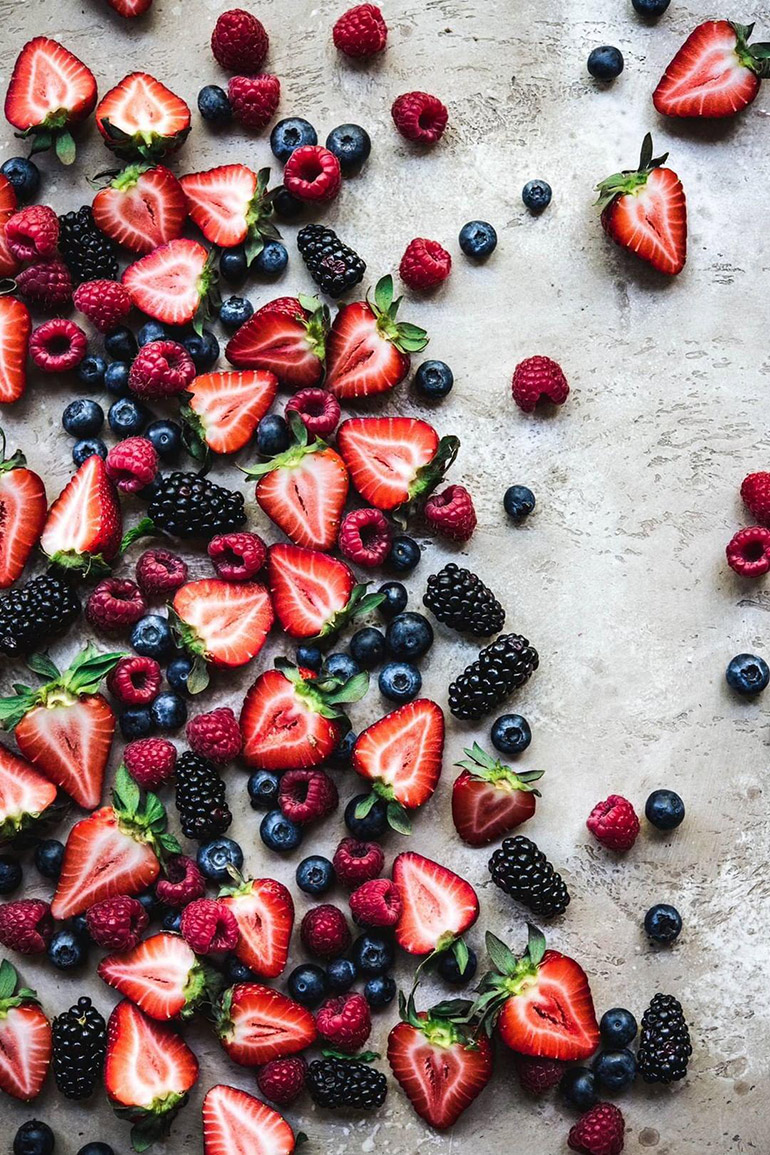 One of our goals this summer is to spend a bit more time relaxing and enjoying ourselves. We've been putting in a ton of hours for Crowded Kitchen this year, and while our business has benefitted from the extra work, it's important to take a step back and appreciate the flexibility of owning our own business. We're trying to make more time for fun, which means taking some day trips, hosting dinner parties with friends, and going berry picking. Every summer, we say we're going to, and somehow we never make the time. This year, we're making it a priority, and we'll definitely be making this cobbler again once we have an abundance of freshly-picked berries!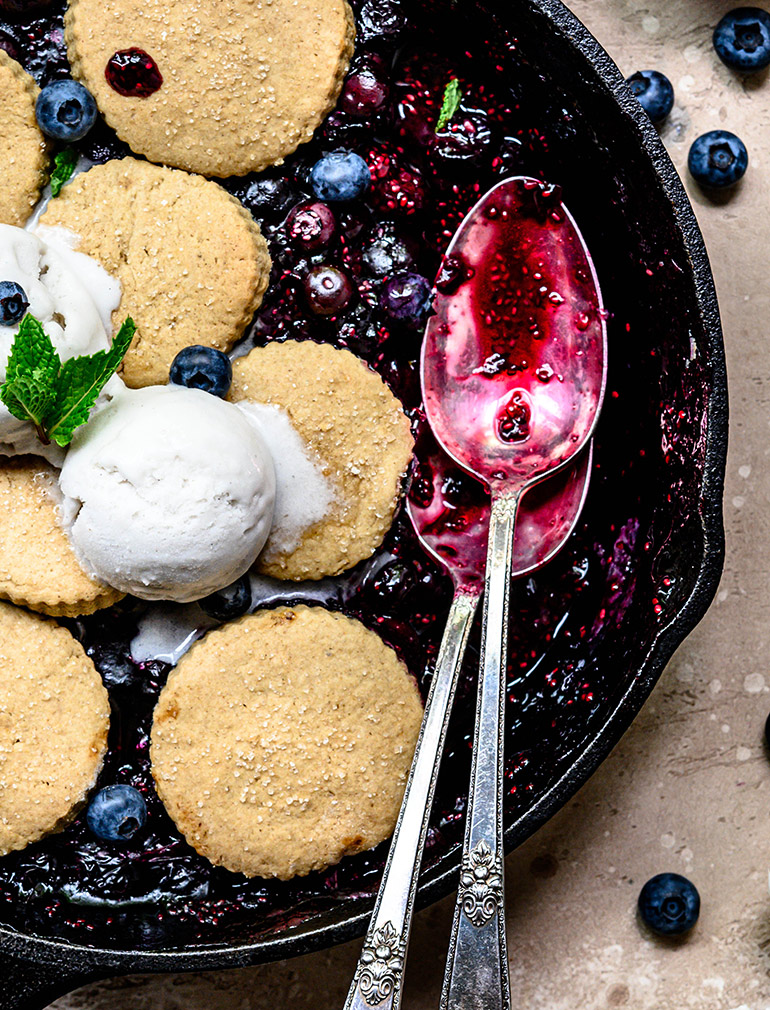 I absolutely love making (and eating!) berry cobblers. They're much easier to make than an intricate pie, and they're the perfect summer dessert. This version is gluten free, vegan and 100% delicious! Altogether, it only takes about 20 minutes of hands-on work.
The filling is thickened with chia seeds, which help absorb the liquid from the berries and makes the cobbler much easier to serve. Plus, it doesn't hurt that chia seeds are a nutritional powerhouse. They're full of fiber, plant protein and healthy omega-3 fatty acids. They take on the flavor of the liquid they're soaked in, so they're totally versatile. We love making homemade chia pudding, adding them to overnight oats, stirring them in to jam, or even to this rhubarb compote.
Don't forget to serve this cobbler with a few scoops of your favorite vanilla ice cream! We also love adding some fresh mint for a pop of color and freshness.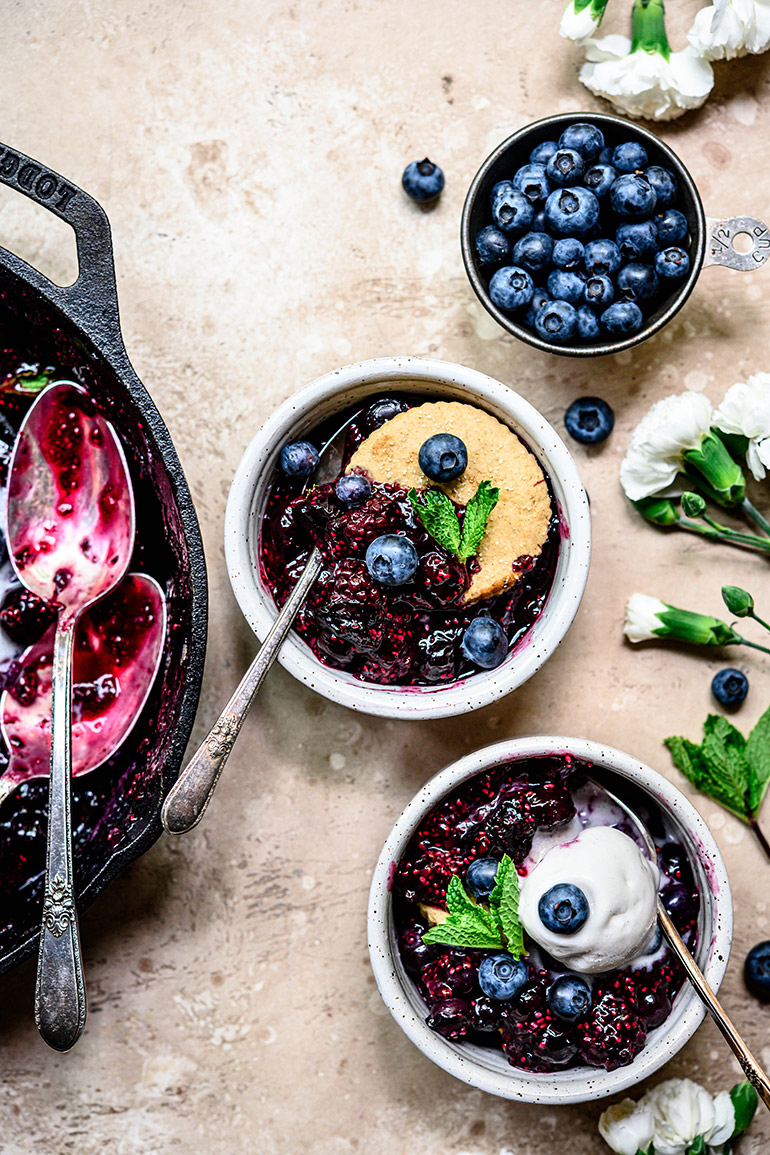 Looking for more summer dessert recipes? Here are a few of our favorites from #TeamNosh!
- Strawberry Rhubarb Crisp (vegan + gluten free)
- 3 Ingredient Raspberry Sorbet from My Diary of Us
- Boozy Pina Colada Pops from Nosh & Nourish
- Hibiscus and Strawberry Mexican Paletas from Piloncillo & Vainilla
- Blueberry Key Lime Cheesecake Tart from The Pig & Quill
Or try Kelly's Olive Oil Cake and top it with fresh berries:
Blueberry Blackberry Cobbler (GF + Vegan)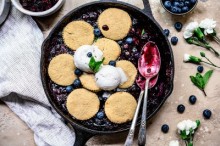 Description
Blueberry Blackberry Cobbler (GF + Vegan)
Ingredients
1 1⁄4 cup gluten-free all purpose flour
1⁄3 cup cane sugar (or sub granulated monkfruit)
1⁄4 cup cold vegan butter (cut into small pieces)
1⁄4 cup vanilla yogurt (vegan or regular)
1 1⁄2 teaspoon Pure Vanilla Extract
6 cups fresh berries* (we used blueberries + blackberries)
5 tablespoons cane sugar (~ 1/4 cup plus 1 tbsp)
2 tablespoons arrowroot powder
2 teaspoons freshly squeeze lime juice
1 1⁄2 tablespoon honey (or sub brown rice syrup to keep vegan)
1 teaspoon Vanilla Extract
Notes
*we used blueberries + blackberries, but you could also use strawberries or raspberries --- even sliced peaches!
Instructions
Preheat oven to 335 F.
To make crust, whisk all dry ingredients together in a large bowl. Add vegan butter and use a dough cutter or your hands to incorporate the butter. Add remaining ingredients and stir until it comes together.
Knead the dough into a smooth ball, then roll it out to about ¼ inch thick and cut into rounds with biscuit cutter (or cookie cutter).
To make filling, add all ingredients to a large bowl and stir until well coated. Pour filling into skillet. Top with cobbler crust. Bake for 38-40 minutes.
Let cool for 15 minutes, then serve with vanilla ice cream.
Yields 6 Servings