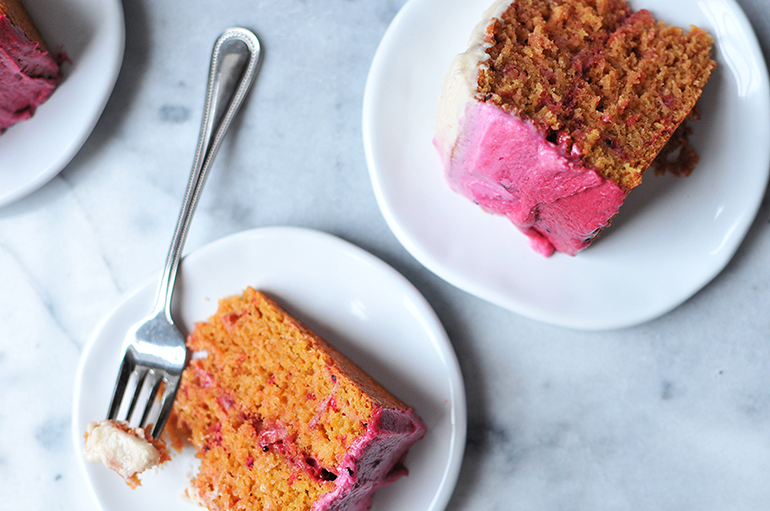 This gorgeous layered cake is made with dragonfruit puree and fresh strawberries, is completely gluten-free thanks to the Bob's Red Mill GF 1:1 Baking Flour, is so super moist and delish, and is covered in the most beautiful pink ombre vegan buttercream. 
I have been obsessed with ombre. 
And dragonfruit. 
And strawberries. 
So combining them into one fabulous spring dessert seemed like the right thing to do.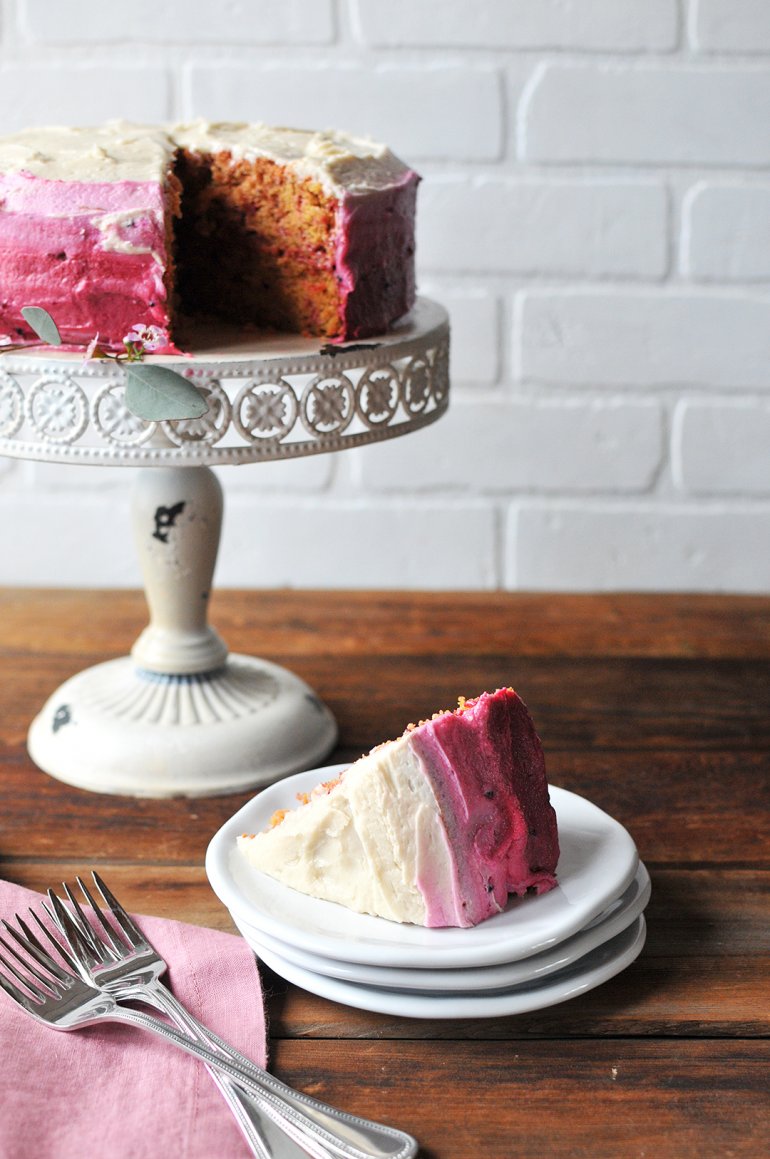 I had leftover frozen dragon fruit puree from the smoothie bowls I made a couple weeks ago, so I wanted to use it in cake.  Never heard of dragon fruit? That's ok. It's not super common. It's chockful of antioxidants and nutrients -- like magnesium and fiber and vitamins B2 and C --- and it is the most glorious pink color!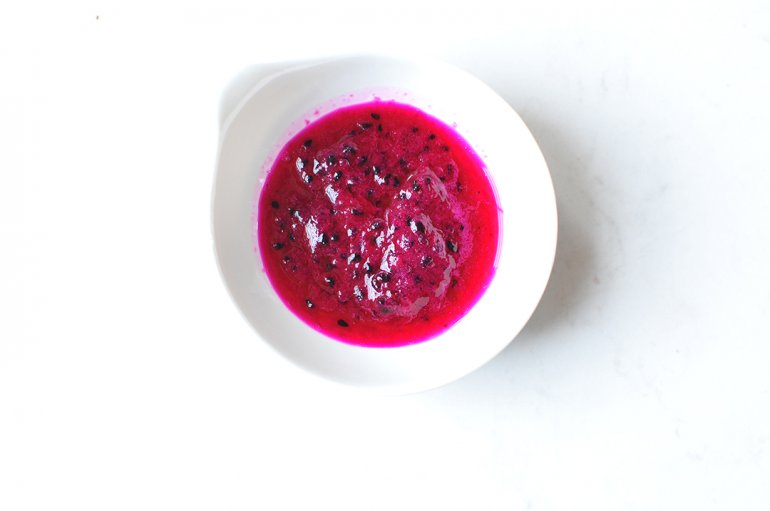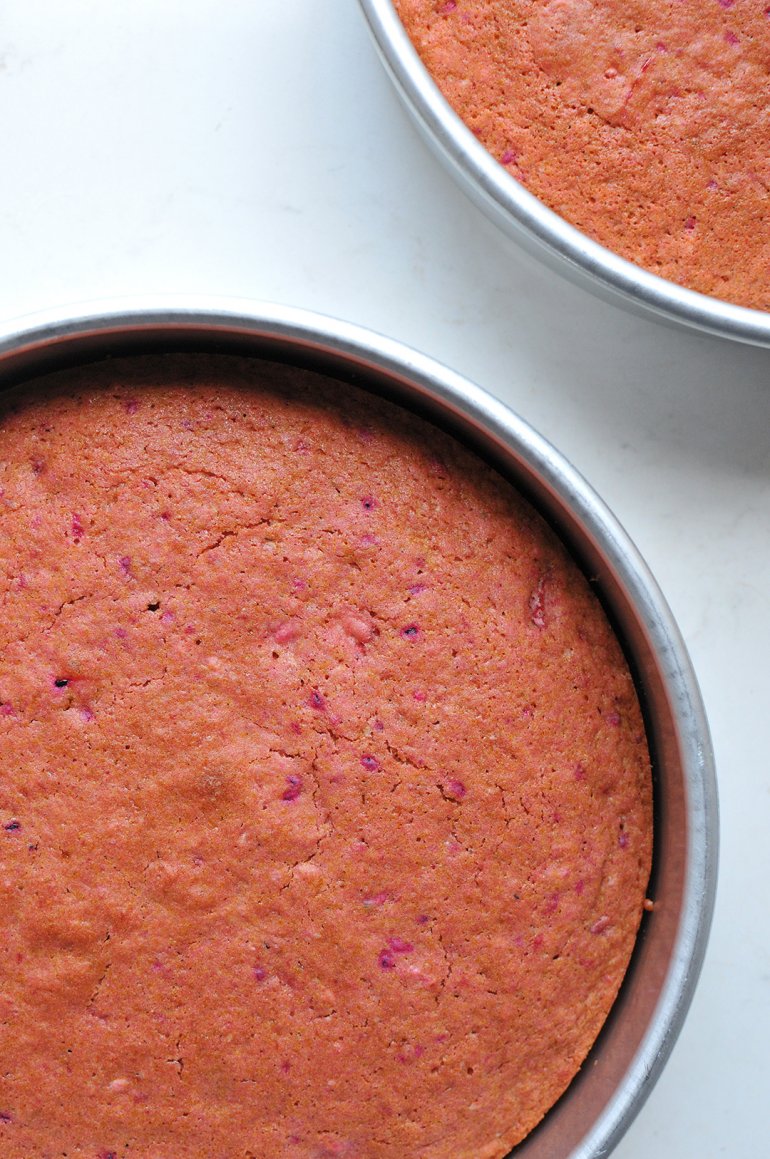 The inspiration for the pink ombre frosting came from Sarah at Snixy Kitchen, who recently posted a chocolate cake with hibiscus frosting that I couldn't stop staring at. 
Basically, you make your frosting base (I did a vegan vanilla buttercream) and then you naturally dye it with various things. I used more dragon fruit, of course! Plus a small scoop of beet powder for the darkest color.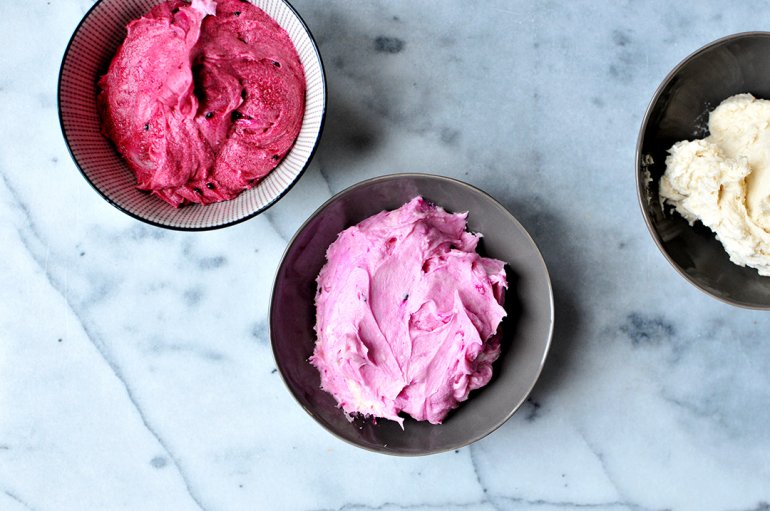 This cake is everything. 
It's:
super moist
fruity
FLAVORFUL
DECADENT
GLUTEN-FREE
DAIRY-FREE
AIRY AND LIGHT
sweet, but not tooooooo sweet
gorgeous
pinkalicious
perfect for mother's day, a bridal shower, or just a regular ol' weekend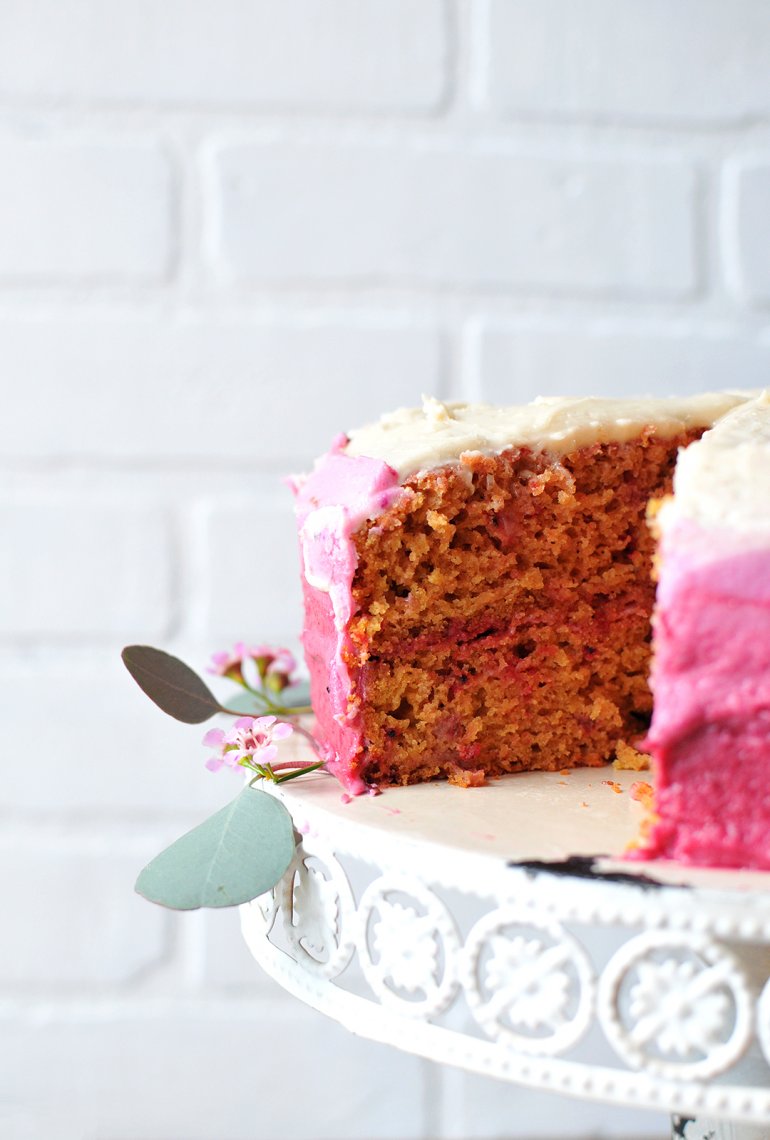 If you're not gluten-free, you can use regular all purpose flour or whole wheat pastry flour. But, if you ARE gluten-free or are cooking for friends who are gluten-free, you should make sure you have some of this Bob's Red Mill Gluten-free 1:1 Baking Flour in your pantry... at. all. times. It consistently bakes perfectly in whatever I'm doing --- cakes, muffins, pancakes, you name it. I love it!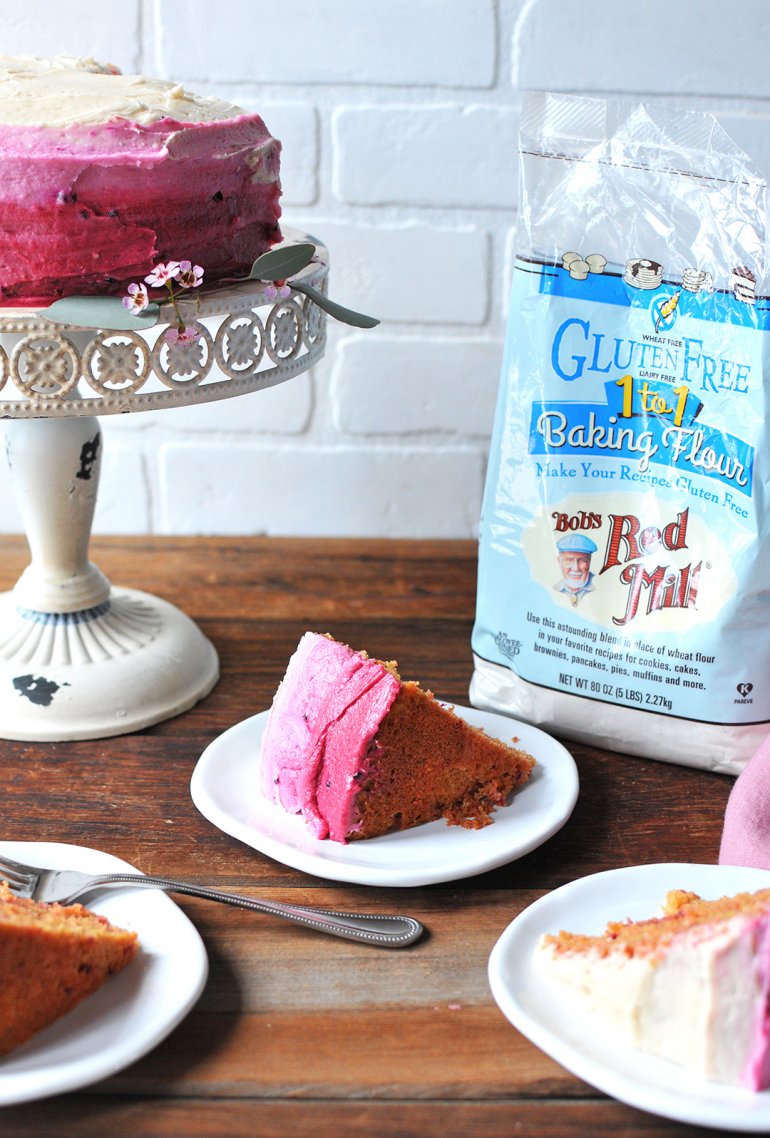 So all that's left to do is grab a fork and enjoy a slice with me!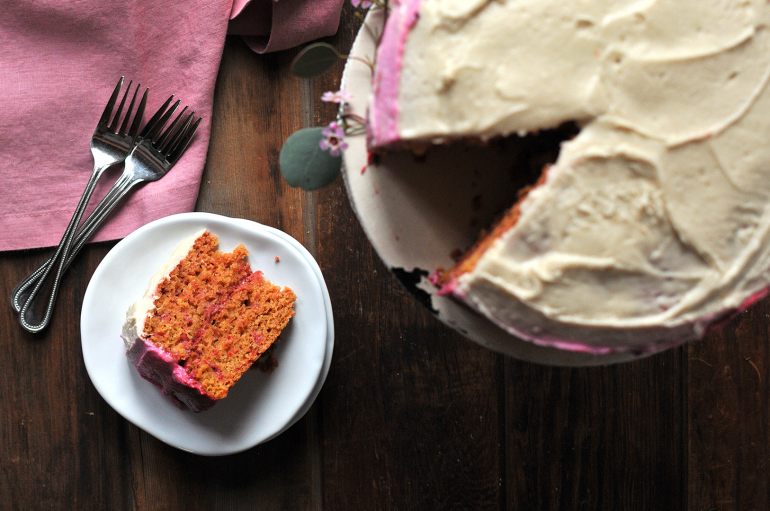 Disclaimer: this is a sponsored post written by me on behalf of Bob's Red Mill. The opinions, text, recipe, and beautiful photos are all mine. Thank you for supporting brands that support Nosh and Nourish!! I choose them based on what I already cook/create with and feel 100% confident in recommending to you.
Dragonfruit and Strawberry Cake with Ombre Frosting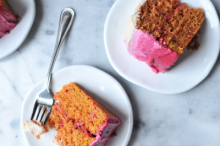 Description
dragonfruit strawberry cake | pink ombre cake | naturally pink frosting | glutenfree strawberry cake
Ingredients
3 cups Bob's Red Mill GF 1:1 Baking Flour (or sub regular all purpose or whole wheat pastry flour)
3 teaspoons Baking Powder
3⁄4 teaspoons fine sea salt
2 packages frozen dragonfruit puree* (~approx 7 ounces, divided)
4 fresh strawberries (diced)
1 cup avocado oil (or sub extra virgin olive oil)
1 1⁄2 teaspoon Vanilla Extract
3⁄4 cups unsweetened cashewmilk
4 cups organic powdered sugar (for the frosting)
1 cup Vegan Butter (I use the Earth Balance vegan buttery sticks)
1 teaspoon Vanilla Extract (for the frosting)
2 tablespoons cashewmilk (for the frosting)
1⁄2 tablespoon beet powder (for the frosting - optional)
Notes
*I like buying the dragonfruit / pitaya smoothie packs from Whole Foods in the frozen fruit section. It looks like this.
Instructions
Preheat the oven to 350 degrees.
Thaw the frozen dragonfruit puree in a small bowl of warm water. Once thawed, reserve 1 Tbsp in a small bowl (to be used for the frosting later!)
Get out 3 large mixing bowls.
In the largest mixing bowl, combine the dry ingredients: flour, baking powder, and sea salt. Stir and then set aside. 
In a smaller mixing bowl, combine the thawed dragronfruit puree and then add in the diced strawberries, avocado oil, vanilla, and cashewmilk. Stir and then set aside. 
In a third bowl, combine the eggs and sugars. Using a hand mixer, mix on medium-high for 2 - 3 minutes. 
Then, pour the egg mixture into the dragonfruit mixture. Stir. Then, pour the wet mixture into the dry mixture and stir until just combined. Do not overstir. 
Divide the batter into a two greased 9" round cake pans, then bake for 45 minutes. 
Once the cakes are finished, let them cool on the counter for 20 minutes. Then, flip them out onto parchment to cool completely.
Meanwhile, prepare the frosting. Use a hand mixer to beat the vegan butter, vanilla, and cashewmilk until smooth. Then slowly add in the powdered sugar. Texture should be creamy. Not too thick, not too thin. You can add more cashewmilk or powdered sugar until the desired consistency is reached. 
Once the cakes are cooled, you can spread the frosting on. If you want to make the ombre colors, divide the frosting into three small bowls. Leave one as is (white). In the second bowl, stir in 1/2 tbsp of dragonfruit puree. In the third bowl, stir in 1/2 tbsp dragonfruit puree plus 1/2 tbsp beet powder. 
Put one cake on a cake stand. Then spread a thin layer of frosting on top. Then put the second cake on top of that... to create the layered cake. 
Use a frosting spatula to cover the full cake with frosting (I put the darkest shade on the bottom, then lighter, then lightest), and then scrape vertically around the cake to smooth the frosting. 
The last step: slice the cake and enjoy!
Yields 10 Servings