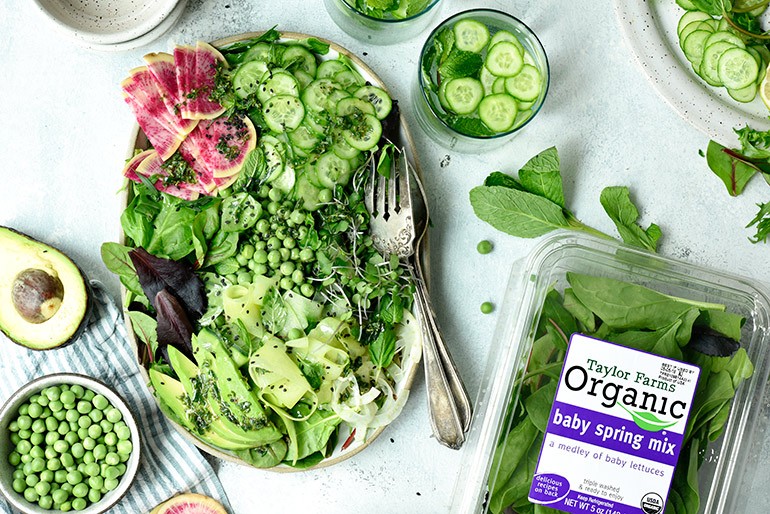 Hi Nosh and Nourish readers! Lexi + Beth here from Crowded Kitchen.
Can you believe Mother's Day is right around the corner? This spring has absolutely flown by, but to be honest, we're totally fine skipping straight to summer at this point after the weather we've had! We're looking forward to a relatively quiet Mother's Day spent at home with plenty of delicious food and family time. The youngest Crowded Kitchen family member (Bryce) is finally home from college for the summer, so he'll be helping me (Lexi) prepare brunch for mom!
Our Mother's Day menu includes a little bit of everything, which means we certainly can't forget a refreshing salad. This salad, in fact, is a definite highlight of our menu; beautiful, fresh produce, a bright, flavorful dressing and plenty of texture, all atop a bed of crisp Taylor Farms Organic Baby Spring Greens!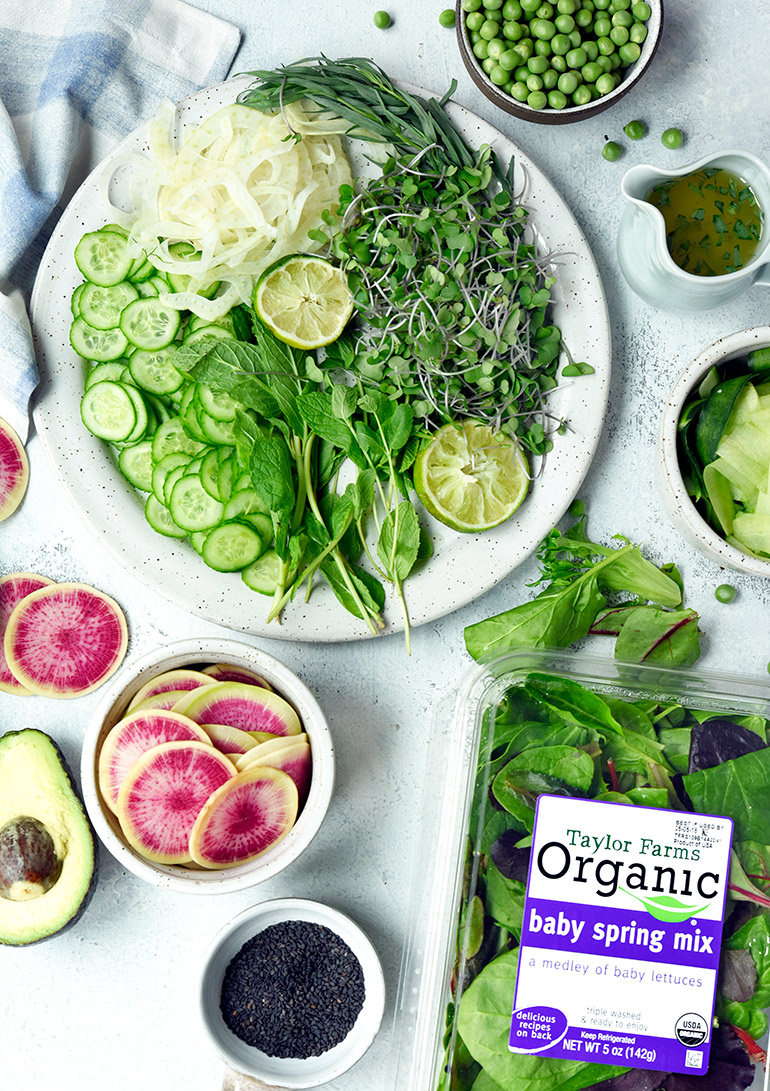 We are thrilled to partner with Taylor Farms and Nosh and Nourish on this recipe. We love this Organic Spring Greens Mix from Taylor Farms! Our go-to-greens in years past has typically just been spinach or kale, but it's great to switch things up with some different greens. Their Spring Mix includes up to 19 different varieties of baby leaves, some of our favorites including arugula, frisee, red and green chard, and even beet tops!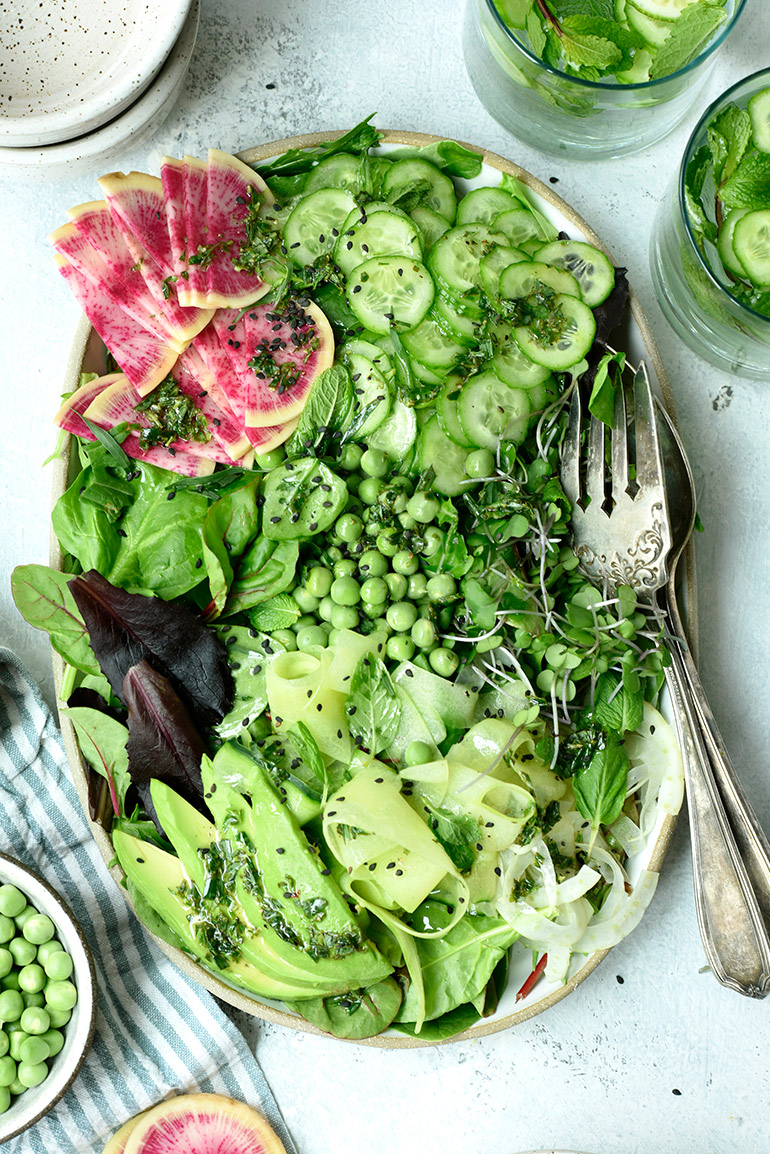 We've paired this nutrient-dense mix with a variety of thinly sliced vegetables, including cucumber two ways (shaved and sliced), watermelon radish, peas, fennel, avocado, and even some fresh mint and tarragon. The key to a vegetable-heavy salad is to slice everything very thinly with a mandoline, which not only helps keep the textures consistent, but also makes it easier to eat. Instead of large chunks of cucumber here and there, every serving will have plenty of smaller slices! We've had great success with our basic Japanese mandoline (it's definitely one of our most used kitchen tools!), which you can find here if interested.
The tarragon mint vinaigrette is just a few simple ingredients - the higher quality the better! I could honestly just eat the greens alone drizzled with a generous amount of vinaigrette - it's perfectly tangy and refreshing.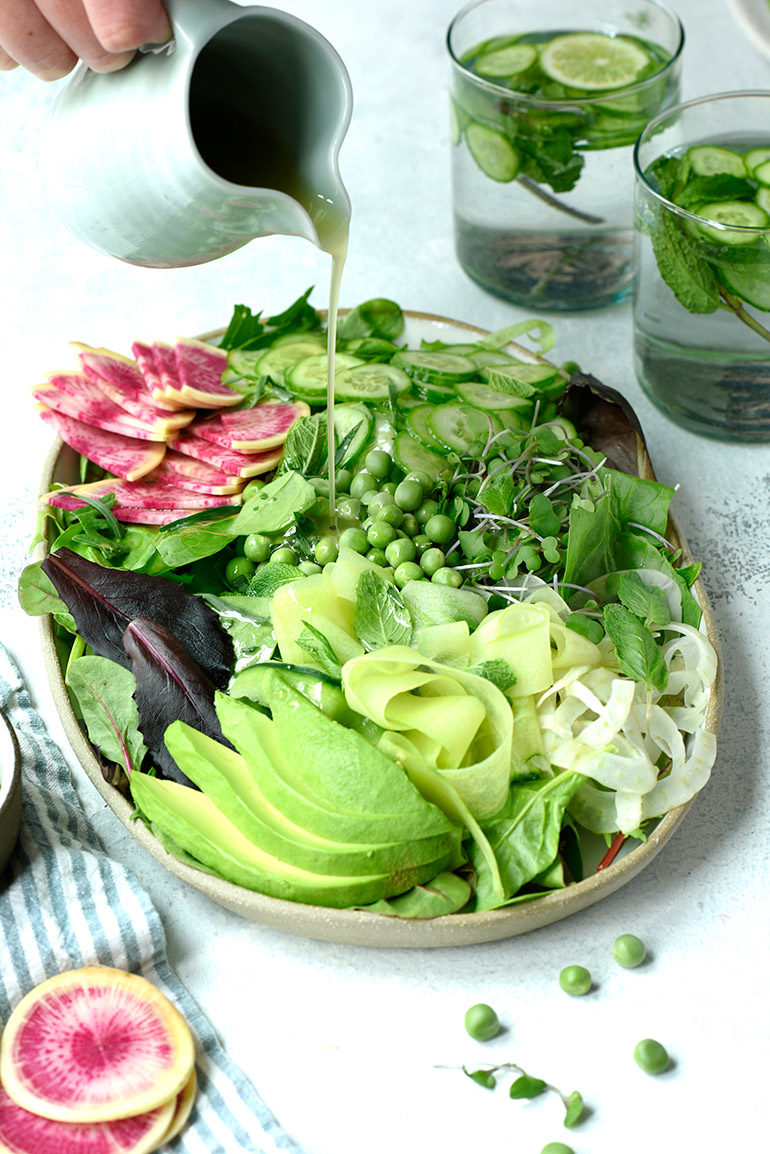 If you're looking for more delicious spring salad recipes, check out Kelly's recipe for Loaded Fiesta Taco Salad with Avocado Ranch and Joy's recipe for Asiago Kale Rainbow Salad!
-Lexi + Beth
Spring Greens Salad with Tarragon Mint Vinaigrette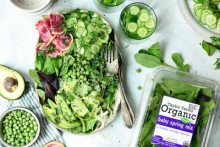 Description
Spring Greens Salad with Tarragon Mint Vinaigrette
Ingredients
11 ounces Taylor Farms' Organic Baby Spring Mix
1 large cucumber (half shaved, half thinly sliced with mandoline)
1 large watermelon radish (thinly sliced)
1 ripe avocado (pitted and diced)
1 small fennel bulb (thinly sliced )
sesame seeds (for garnish)
fresh mint & tarragon (for garnish)
fresh micro greens (for garnish)
2⁄3 cups Olive Oil (--- for the dressing)
2 1⁄2 tablespoons lime juice (--- for the dressing)
1⁄2 teaspoon Sea Salt (--- for the dressing)
1⁄4 teaspoon black pepper (--- for the dressing)
1 tablespoon fresh tarragon (--- for the dressing)
1⁄2 tablespoon fresh mint (--- for the dressing)
Instructions
For dressing: In a small bowl, combine all ingredients and whisk well until emulsified. Alternatively, add all ingredients to a mason jar, attach the lid firmly, and give it a good shake!
For salad: Wash and prep all ingredients. Toss in a large bowl with dressing. It's always better to start with a smaller amount of dressing and add more as you go. Garnish as desired and enjoy! 
Yields 4 Servings