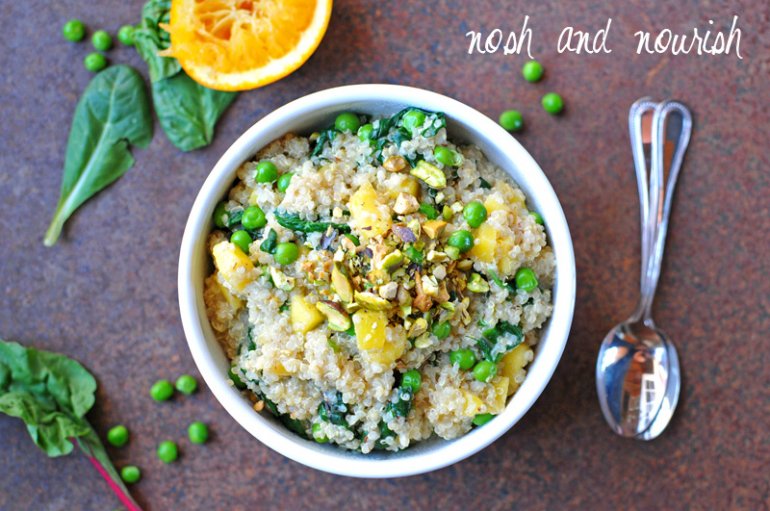 Silk recently came out with a new Almondmilk with Protein + Fiber that I talked about in this post. It was creamy and thick and perfect for savory uses. Remember those amazing Super Greens Mac & Cheese Cups?!?! But today I'm even more excited to share another new Silk product with you: their Unsweetened Almond/Coconut Blend. It has all the same good-for-you nutrients as their almondmilk with the extra flavor of coconut. It's dairy-free, soy-free, carrageenan-free, MSG-free, added-sugar-free, gluten-free, and only 35 calories per cup... and that makes me really happy! So of course I had to make something coconut-y with it.
Introducing Sweet Sticky Coconut Quinoa:
Dreamy.
Tropical.
Sweet.
Sticky.
Coconut-y.
Protein-packed.
Completely satisfying.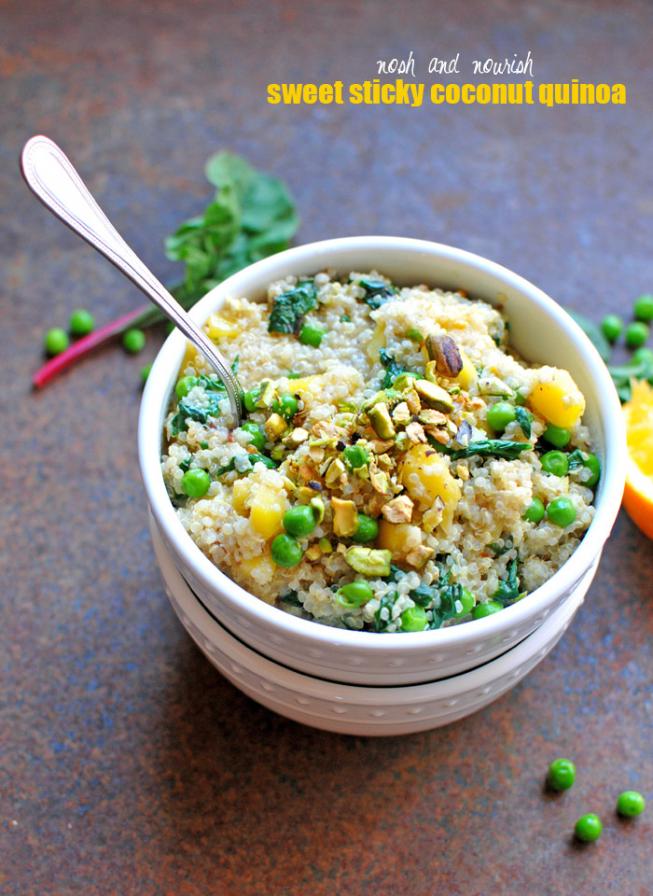 And with 77% less calories than even lite canned coconut milk, using the Silk Almond/Coconut Blend is a healthy swap in any recipe. I'm going to try it in my Coconut Peanut Sauce next!!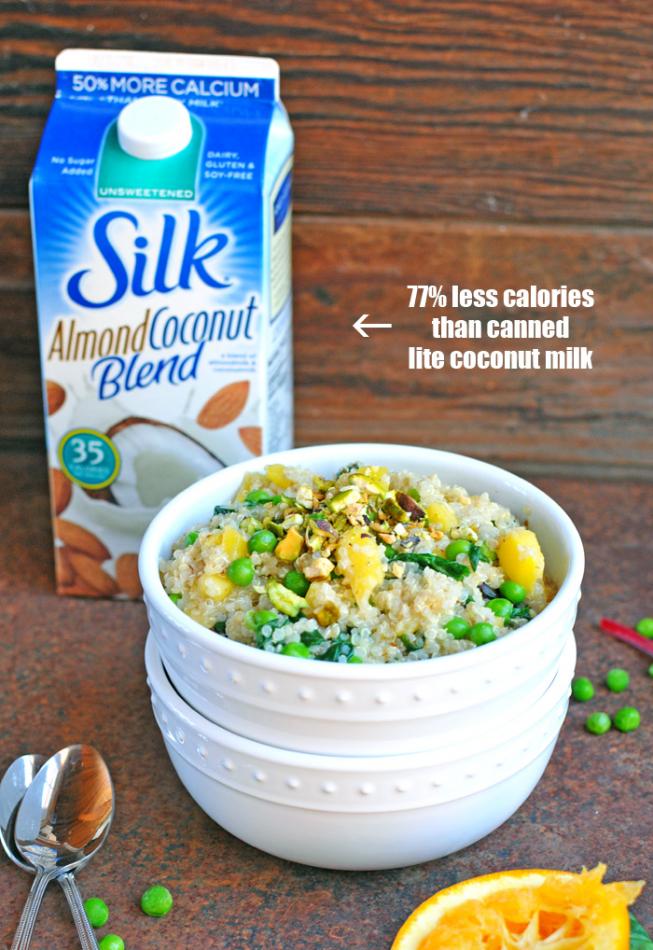 How to approach trying new healthy products:
1) Be adventurous. Don't be afraid to try something new just because it's new. It may turn out to be your new favorite thing!! At some point, some person tried smashing peanuts and schmearing them on bread for the first time ever... who knew it would be so awesome?!?!
2) Read labels. Make sure the new product aligns with your health goals and beliefs. Look at the ingredient list. Look at the nutrition facts. Be aware. Even if it's from a brand you already know and love.
3) Start slow. Mix it in with something that's tried and true. Like in this sticky "rice" recipe, I used half canned coconut milk and half the new Silk Almond/Coconut blend. Next time I might try all Silk, but starting slow gives you a higher probability of success. 
4) Be honest. If you don't love it, don't buy it again. And if you do, well, give yourself a pat on the back for discovering something wonderful!
So go ahead, try out Silk's new Almond/Coconut Blend and this bite could be yours!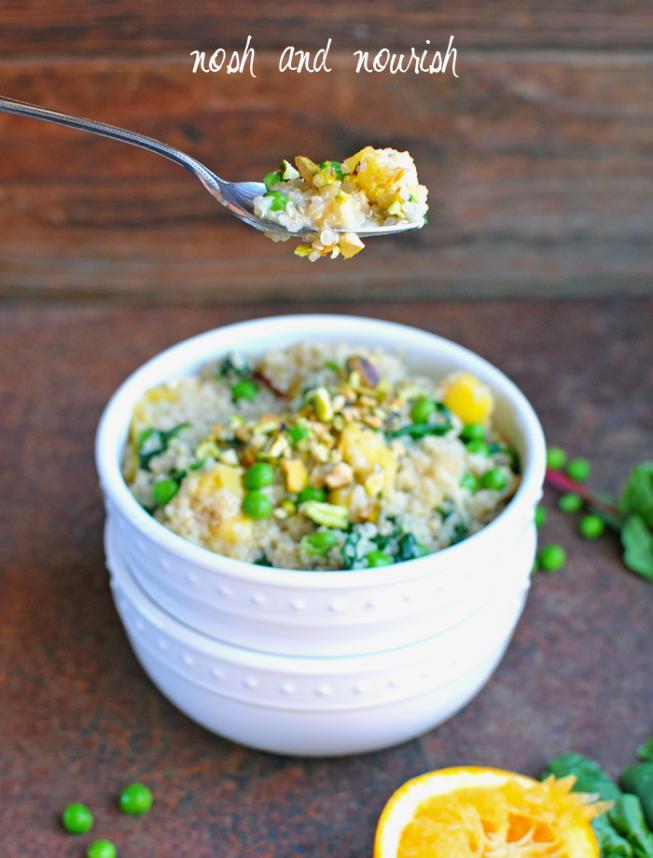 This is a sponsored conversation written by me on behalf of Silk. The opinions, text, recipe, and beautiful food photos are all mine.
Sweet Sticky Coconut Quinoa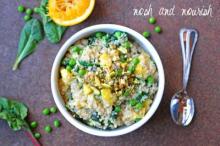 Description
Sweet Sticky Coconut Quinoa // via Nosh and Nourish #recipe #vegan #dairyfree
Ingredients
6 cups Mixed Greens (I used Newstar's Spinach plus Power Greens)
1 cup lite canned coconut milk
1 cup Silk Almond/Coconut Blend (or sub lite canned coconut milk)
1 cup frozen organic peas
1 cup diced mango (or sub pineapple if mangoes are out of season)
2 tablespoons Dark Amber Maple Syrup
1 tablespoon Soy Sauce (or sub liquid aminos)
1 teaspoon fresh minced ginger
1⁄3 cup Pistachios (shelled and coarsely chopped)
Instructions
Cook quinoa according to instructions on the box. (I used a rice cooker with 2 cups dry quinoa to 4 cups water). Takes approximately 15 minutes.
In a large deep saute pan over medium heat, melt coconut oil and saute mixed greens for approximately 5 minutes. Greens should be wilty, but not browned. 
Add in all remaining ingredients except pistachios, but including cooked quinoa.
Cook over medium heat for approximately 15 minutes to thoroughly heat/thicken, stirring frequently to prevent sticking. 
Serve hot, adorned with pistachios.
Yields 6 Servings