I don't know about you, but Saturdays have changed.  Oh yes.  They are no longer the lazy days for sleeping in 'til 10 and eating brunch or starting the day at noon.  No, my Saturdays usually start earlier than the weekdays.  Monday through Friday like clockwork I have to wake Babycakes up around 7 to get out the door each morning; but without fail on Saturday, she's up around 6.  What's UP with that?!?!  I guess she just knows she gets to spend the day with Mommy and Daddy, so it might as well start earlier!
We started our morning with eggs, turkey bacon, and Californian kiwis.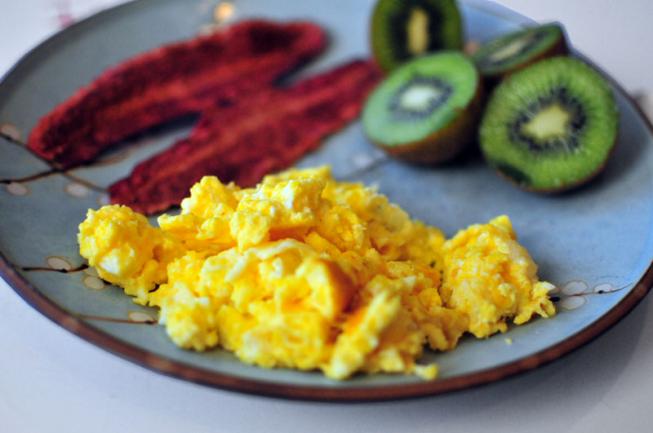 Then, we headed out for our morning excursion.  We decided to stay more local and save on gas.  We hiked along a river, crunched on dead leaves, and saw birds, fish, and even a coyote skull.  Here is a pic of me and Babycakes.  Why can't I just reach my goal tomorrow??? (I'm seriously not loving that tummy!)  I carried her for half of the trip, and let her walk the rest.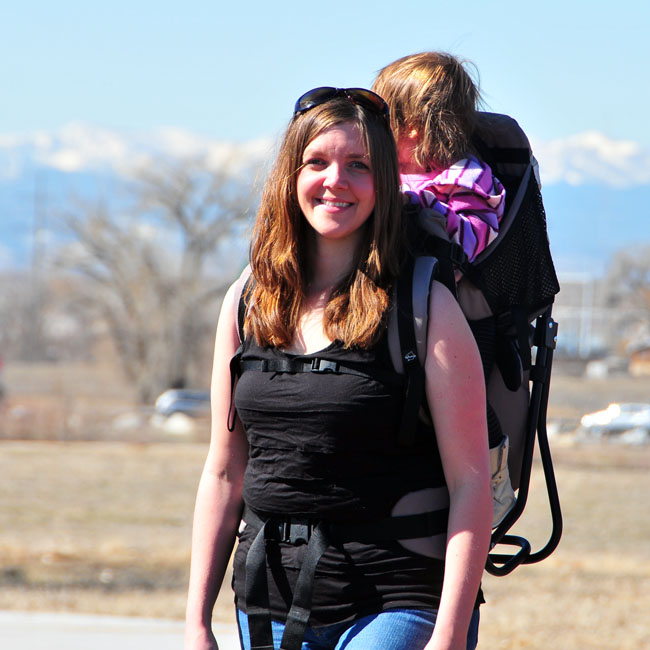 Here is dear hubby looking for fish in the river.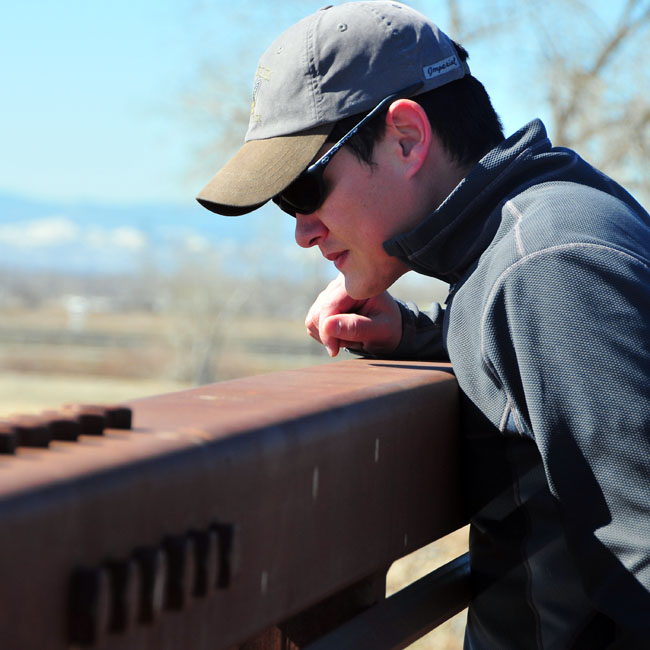 It was nice to be outside in the fresh air, exploring together.  LOOK at that blue sky!!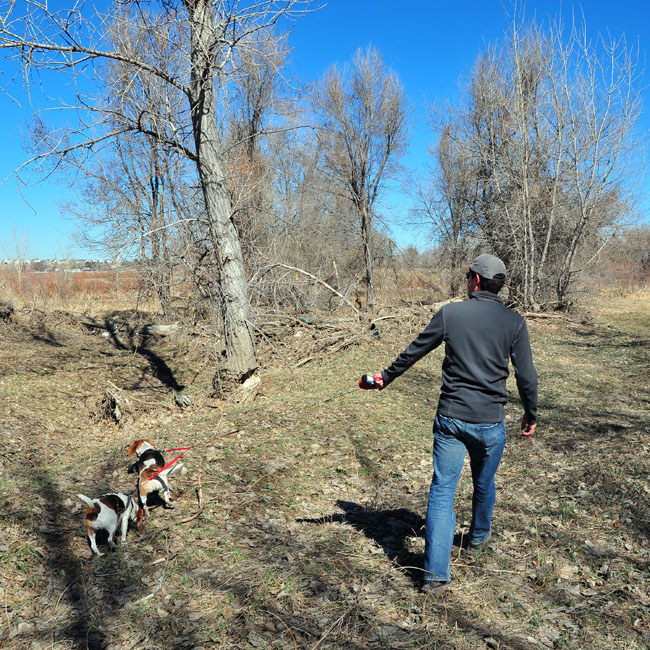 And, Babycakes' favorite part???  Playing in the dirt, of course.  Oy!!  SOMEONE needs a bath.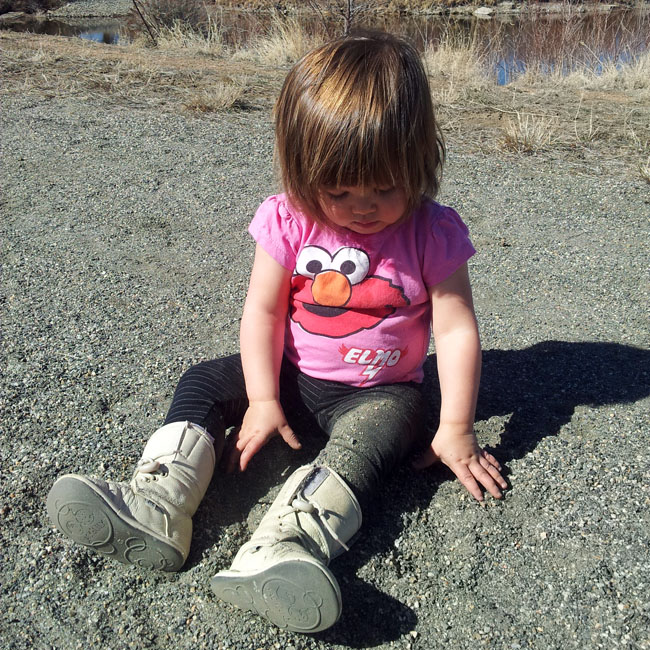 And once we were back I put together a really yummy spring salad:  chickpeas, fresh tomatoes, corn, grilled chicken, and 1Tbsp roasted red pepper dressing.  It was delicious! And come on... doesn't that pretty pic make you want to eat some?!?!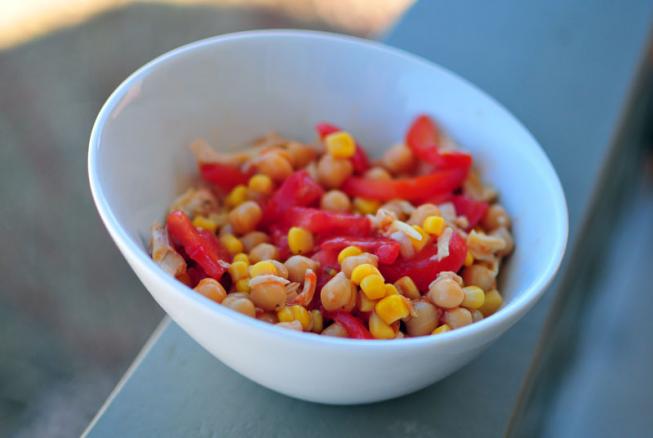 I served it with sliced apples and chunky peanut butter, though the main dish was so filling I put the apples in the fridge for later.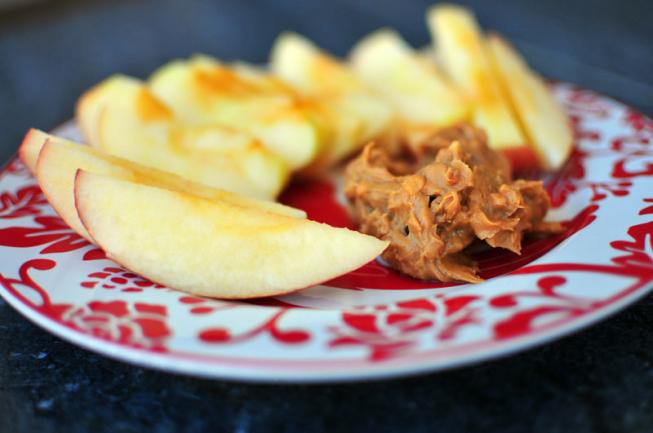 Now Babycakes is napping, I'm blogging, and dear hubby is watching golf whilst setting up my blog email address.  He's so sweet :)