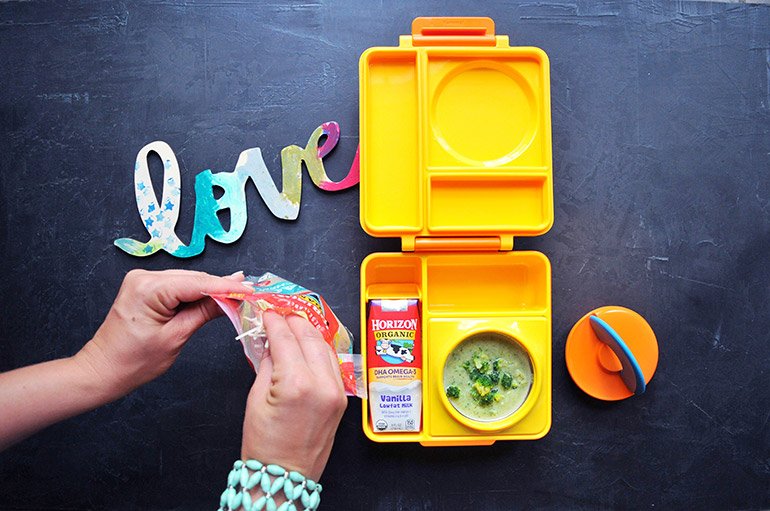 Make back-to-school lunch fun with nutritious and delicious options from Horizon Organic and Santa Cruz... like this bento box filled with broccoli cheddar soup, pb crackers, apple sauce, fruit, and milk. And be sure to enter the giveaway at the bottom of the post to win lots of fabulousness!!
Back-to-school lunches don't have to be plain and boring. 
Or intricate works of art. 
Let's be honest, most of us don't have time for that! There's a great middle ground that includes delicious and nutritious foods that are easy to prepare and quick to make --- and that your kiddos will love.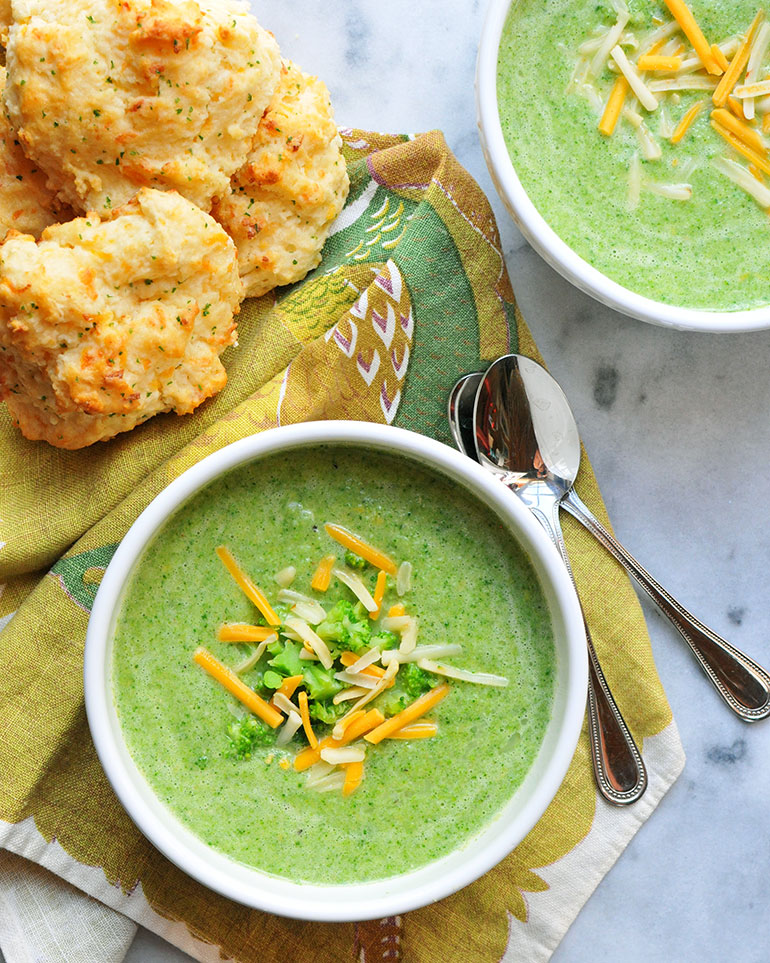 This broccoli cheddar soup is hands-down THE most requested meal at our house. It's ready in under 30 min. 
And it's full of everyday superfoods... like:
spinach
olive oil
quinoa
lentils
and of course, broccoli!
It's from my newest cookbook, Superfood Weeknight Meals.  And I love that we finally have a lunchbox that will keep things nice and hot, so that she can bring this soup to school.  And your kids can too (recipe below!)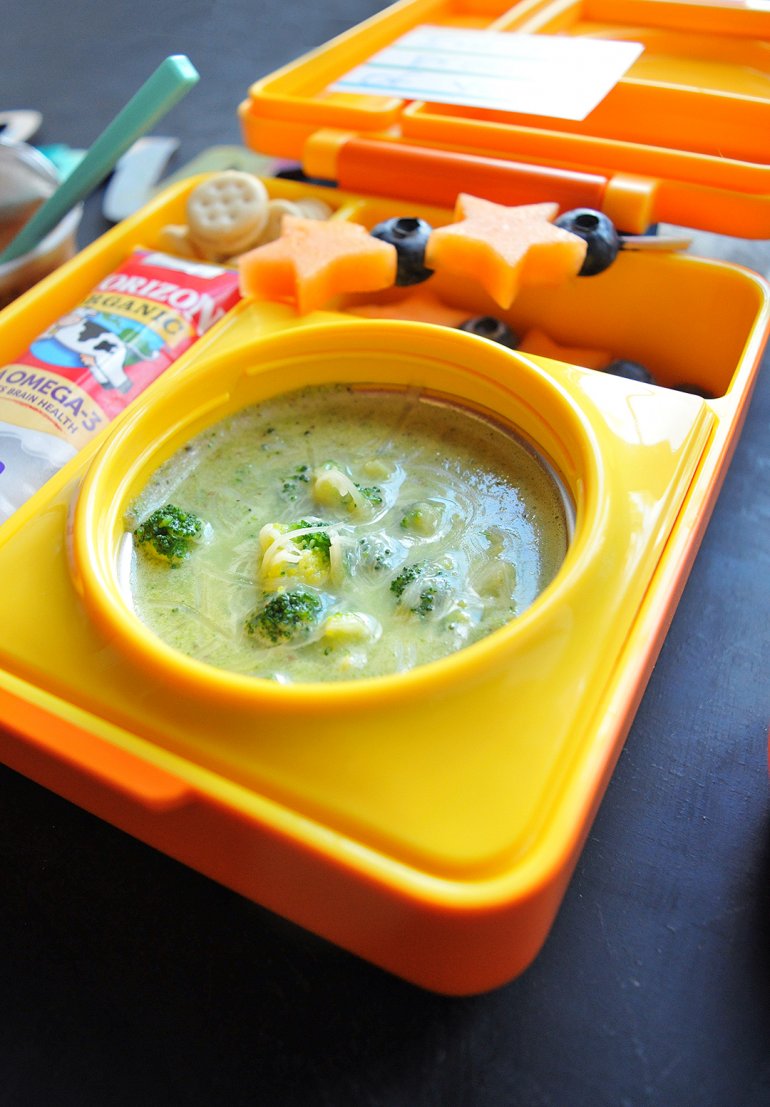 Who else is obsessed with shopping at Target?! 
It's literally my favorite store. We go there for alllllllllllllllllllll the things. Babycakes loves their "dollar spot" and finding lots of cute treasures. We love their clothing (she's dressed from head to toe in Target wear in the pics below). We love their home section --- decor + dishware (and get lots of blog props there). And we love that they have an extensive grocery section. And you can buy my cookbook there. It really is SUPER. :)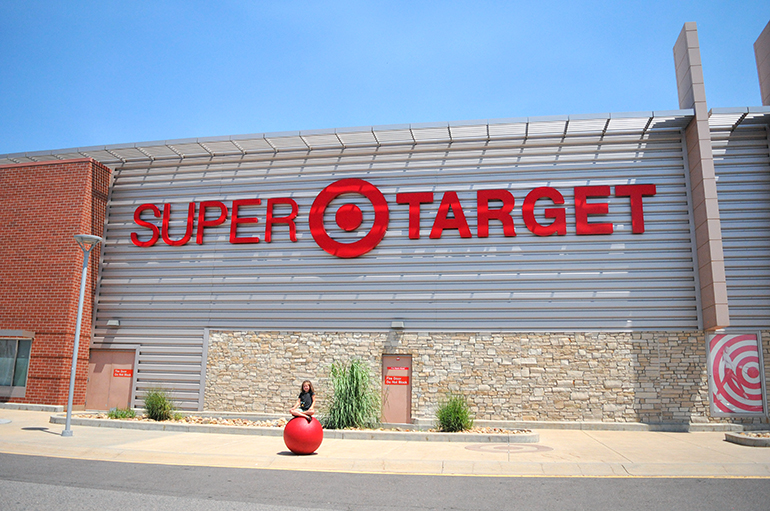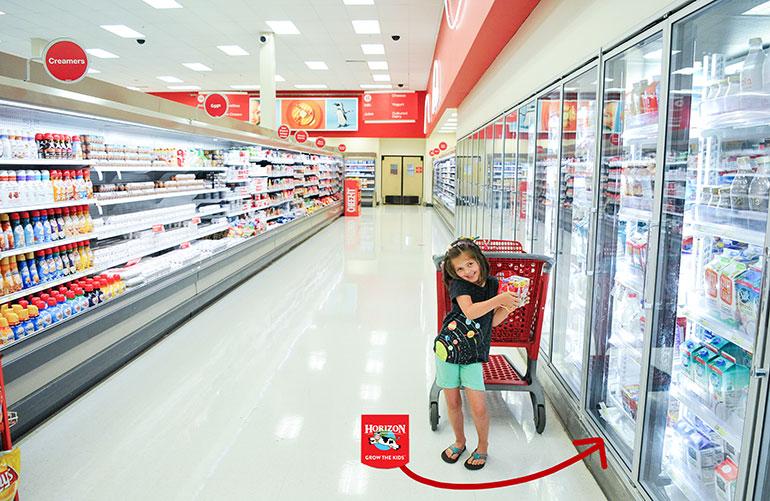 Here's Babycakes showing off her Horizon Organic milk in the refrigerated aisle of Target. Such a cutie pie!
This fun lunchbox includes:
Broccoli Cheddar Soup, topped with Horizon Organic Monterey Jack Cheese
Horizon Organic Peanut Butter Crackers
Canteloupe Stars + Blueberries (looks intricate, but is super simple! You just need one small star cookie cutter)
Horizon Organic Lowfat Vanilla Milk with DHA Omega-3
Santa Cruz Organic Cinnamon Applesauce
A lil' love note from mom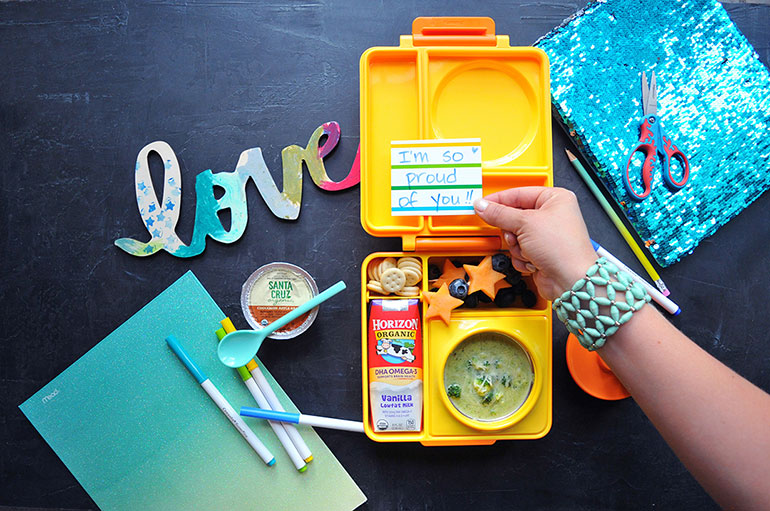 I love knowing that she's grabbing colorful, nourishing food --- mostly organic --- which means it has no growth hormones, no antibiotics, no persistent pesticides, and no GMOs.
PS. Between 8/6 and 8/26, save 20% on Horizon with Cartwheel and go in-store to Target for savings on Santa Cruz Organic!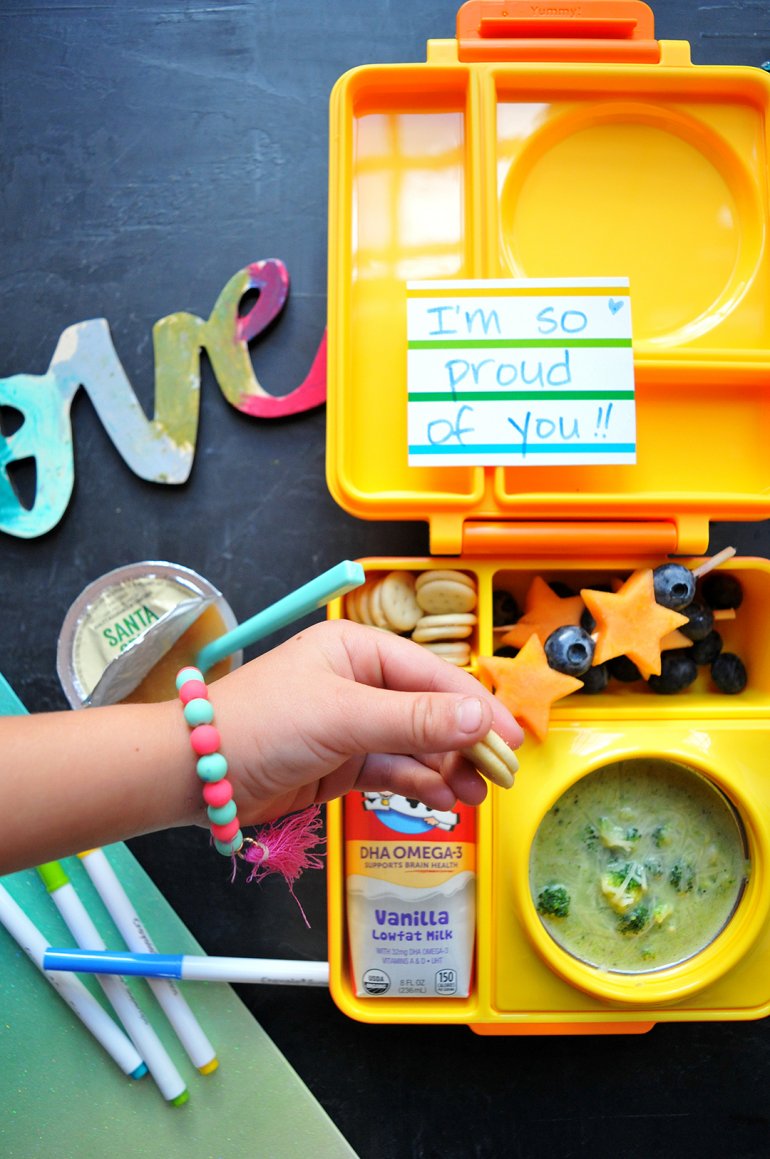 Now it's time for the giveaway!
ONE Winner will receive these back-to-school goodies (valued at over $125!):
1 case of Horizon Organic Single Serve Milks

1 copy of my cookbook, Superfood Weeknight Meals

1 $50 Target gift card

1 Omiebox lunchbox
Giveaway is open to blog readers in the US. Giveaway will end 8/31 at 8pm EST and the winner will be announced the following week!
GIVEAWAY CLOSED.
Leave a comment below telling us your kid's favorite lunchbox meal (or your favorite bring-to-work lunch).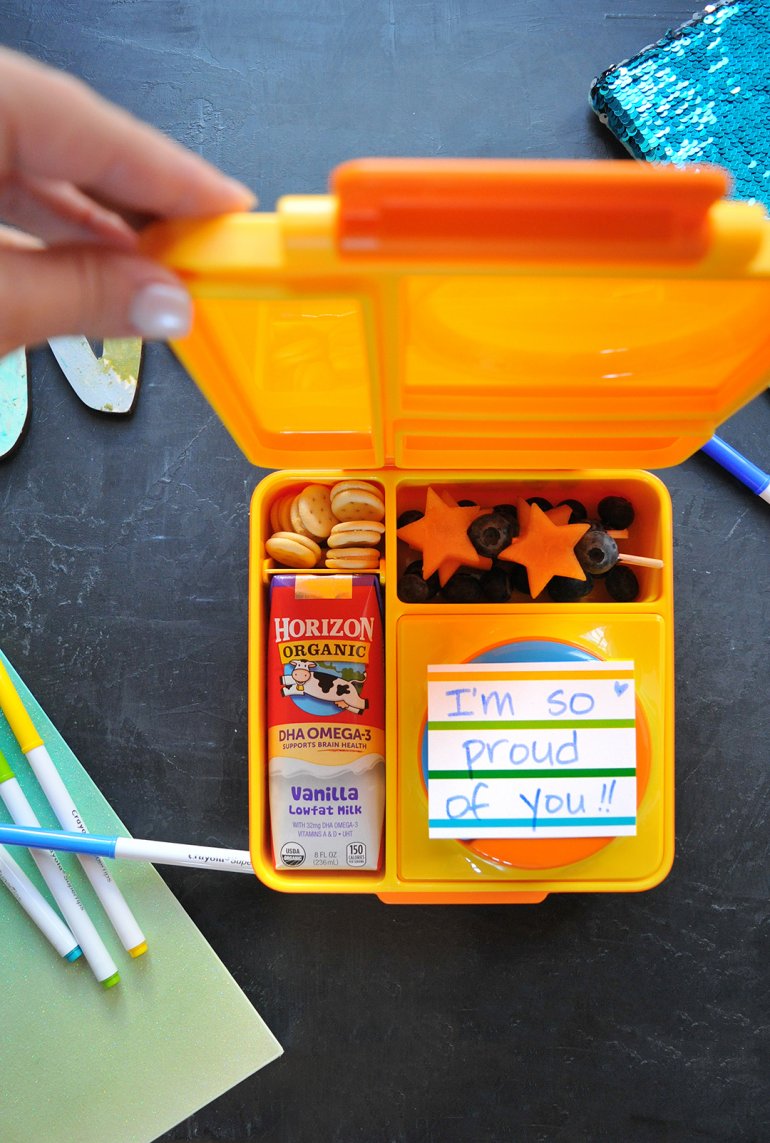 This is a sponsored conversation written by me on behalf of Horizon and Santa Cruz Organic. The opinions, recipe, beautiful food photography and text are all mine. Thank you for supporting brands that support Nosh and Nourish!!! I choose them based on what I already cook/create with and feel 100% confident in recommending to you.
Broccoli Cheddar Soup
Description
Broccoli Cheddar Soup lunchbox ideas | easy school lunch | superfood weeknight meals | superfood broccoli soup
Ingredients
1 tablespoon extra virgin olive oil
4 cups fresh baby spinach
4 cups Broccoli (cooked and divided)
1 cup Cooked Quinoa (or use the quinoa/lentil blend from p. 18 of my cookbook!)
1 quart organic chicken broth (or sub veggie broth to keep vegetarian)
1 tablespoon Minced Garlic
1 teaspoon Worcestershire Sauce
1⁄4 teaspoon onion powder
2 cups Horizon Organic Cheddar Shredded Cheese (plus more for garnish)
1⁄4 cup Plain greek yogurt
Notes
*for the lunchbox: serve with cantaloupe, fresh blueberries, milk, and peanut butter crackers (optional)
Instructions
In a large pan over medium heat, heat the olive oil. Add the spinach and sauté for about 5 minutes, or until soft and wilted, but not brown. Transfer to a blender.
To the blender with the spinach, add 2 cups (142 g) of broccoli, the Quinoa-Lentil Blend, chicken broth, almond meal, garlic, Worcestershire sauce, onion powder, and sea salt. Blend until smooth.
Pour the blended mixture into a large stockpot over mediumhigh heat.
Coarsely chop the remaining 2 cups (142 g) of broccoli and add it to the stockpot. Stir in 2 cups (225 g) of Cheddar cheese, the yogurt, and butter. Heat for 10 minutes, or until the cheese has melted completely.
Serve with the bread for dipping and top with more Cheddar cheese (if using).
Yields 6 Servings