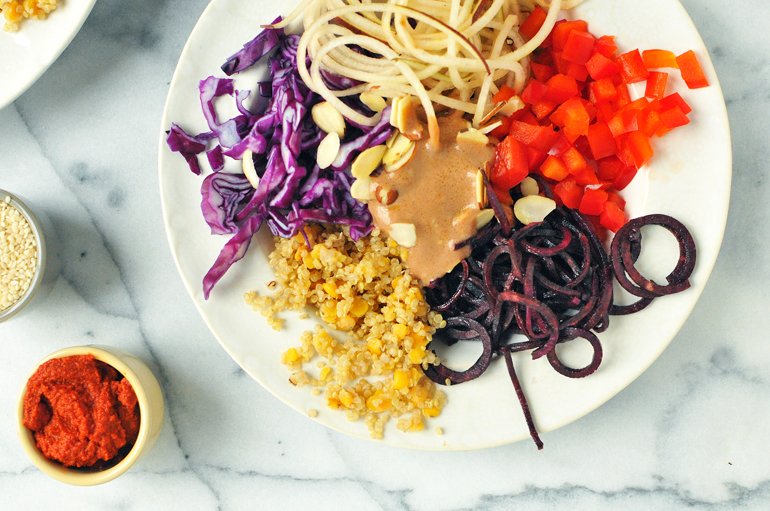 This Purple Power Bowl with Yogurt Curry Dressing is a perfect plant-based lunch with a balance of protein, healthy carbs and fat, and veggies galore! It's topped with a dairy-free yogurt curry dressing that is a little sweet and a little spicy.
I recently posted another "bowl" meal on Instagram and y'all went wiiiiiiiiiiiiiiiild for it! So I will definitely be including more of them on the blog over the next couple months! I love how easy they are. The goal is to vary the textures, the flavors, and the nutrients --- the combinations are endless!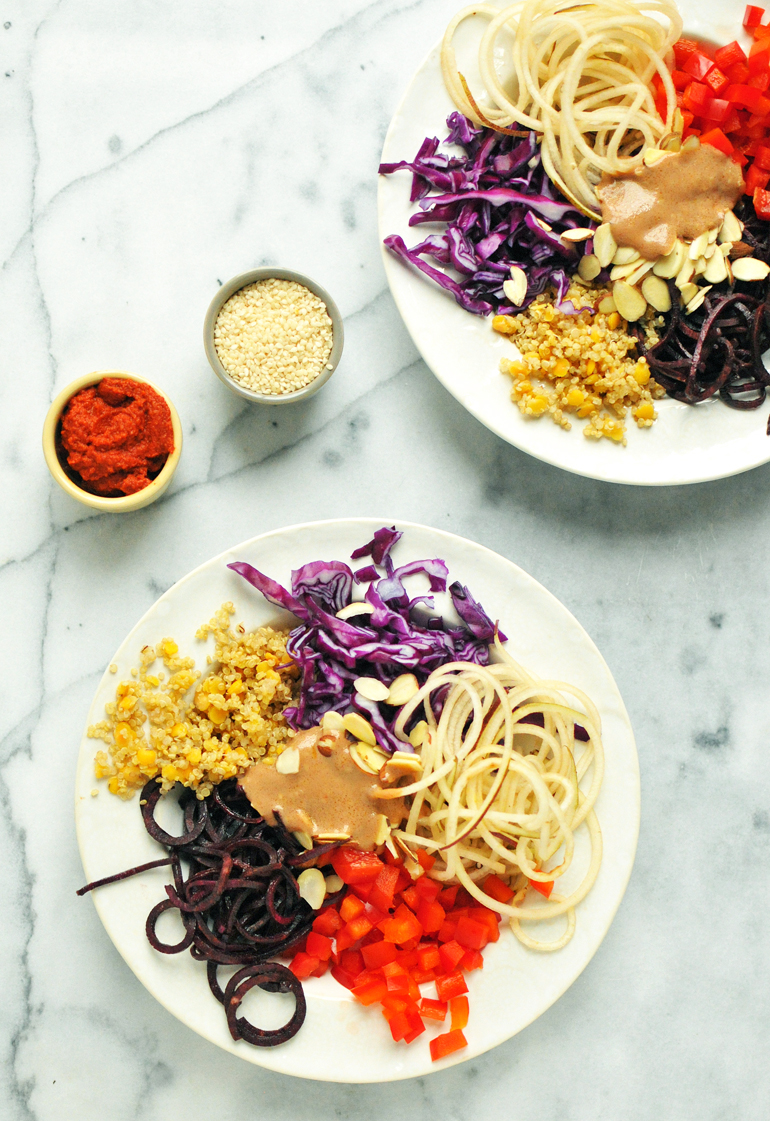 The yumminess in this bowl includes:
spiralized purple sweet potatoes
quinoa/lentil blend
red (purple) cabbage
spiralized pear "noodles"
red bell peppers
sliced almonds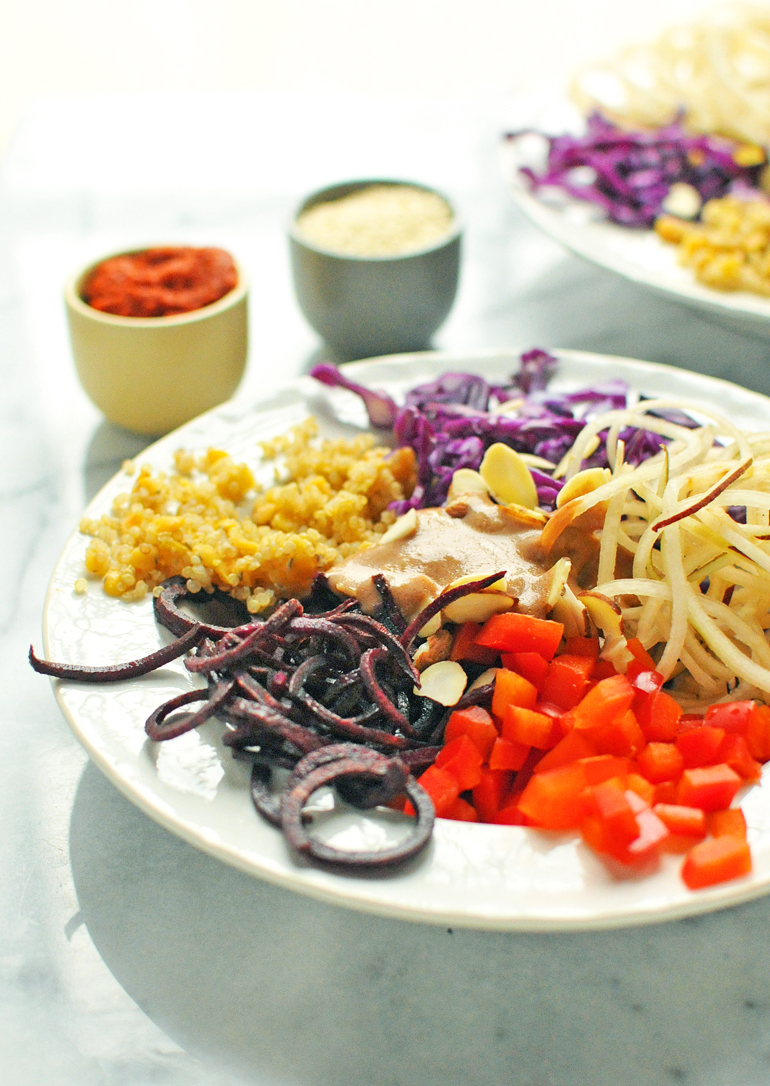 Mix it all up, top with the yogurt curry dressing, and enjoy! Other possible (delicious) add-ins include:
chunks of avocado
baked tofu or chicken
cilantro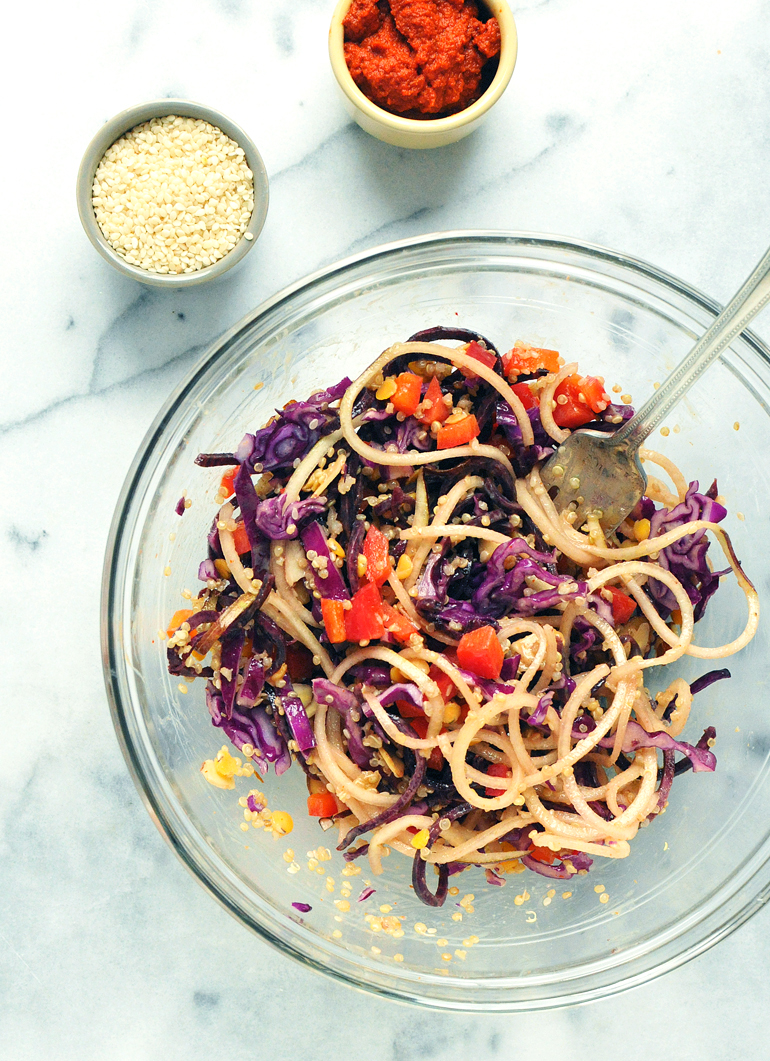 Do you Spiralize?
I am absolutely loving the new Inspiralizer
, see action shot below! My friend Ali, amazing food blogger from inspiralized.com, entrepreneur, and cookbook writer, literally created this new product that is taking over the internet. I really do like it better than my older spiralizer (which was made by Paderno). Here are the main differences:
A lot less of the fruit/veggie is wasted with this version (the core is smaller)
You don't have to pull out big blades with this one, just turn the nob
It "sticks" better / stays on the counter better
It's easier to clean
And the best news is... I'm giving one away on the blog next week... so be sure to check back!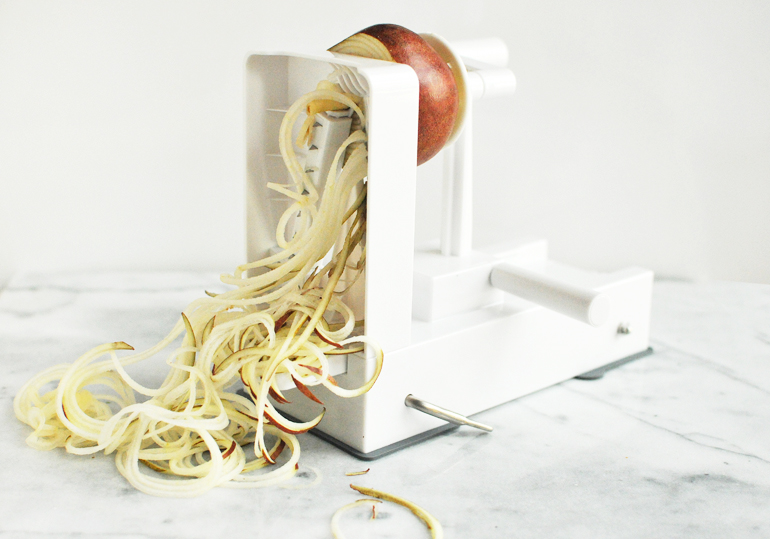 Purple Power Bowls with Yogurt Curry Dressing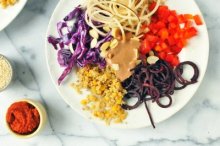 Description
Purple Power Bowls with Yogurt Curry Dressing // via Nosh and Nourish
Ingredients
2 tablespoons Silk Dairy-Free Strawberry Yogurt Alternative
1 tablespoon rice vinegar
1 tablespoon red curry paste
1 tablespoon sesame seeds
1 Sweet Potato (spiralized)
1 red anjou pear (spiralized)
1⁄2 cup cooked quinoa/lentil blend*
1⁄2 cup diced red cabbage
1 Red Bell Pepper (diced)
Notes
*Ahead of time, I cook quinoa and lentils together in my rice cooker! What's worked best for me is: Combine 2 cups dry quinoa, 3/4 cup dry red lentils, 2 cups chicken or vegetable stock, and 2 cups water in a rice cooker. Press "Cook" and about 20 minutes later, you have perfectly cooked quinoa and lentils!
Instructions
Combine all sauce ingredients in a small bowl: yogurt, olive oil, rice vinegar, curry paste, and sesame seeds. Stir until combined, then set aside.
Over medium-high heat, saute the sweet potato noodles with 1 tbsp of olive oil for approximately 8 minutes, or until noodles are softened. Stir frequently.
Assemble your bowls, 1/2 into each: cooked sweet potato noodles, quinoa/lentil blend, pear noodles, red cabbage, and bell pepper. Top with almond slices and yogurt curry dressing. 
Enjoy!
Yields 2 Bowls