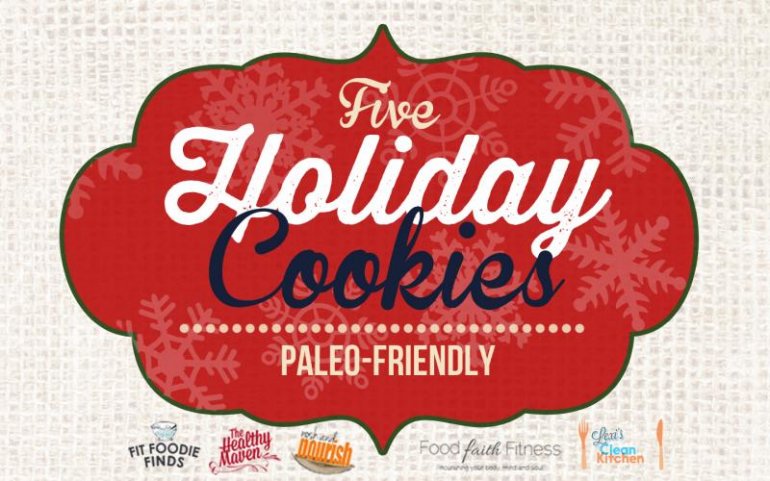 You might have noticed it's been kindof quiet around these parts... I took the month of November off to spend more time with Dear Hubby and Babycakes, to really be present and enjoy the Thanksgiving holiday, and to rejuvinate a bit and refocus before the BOOK craziness begins! Remember I have a cookbook coming out soon?!?! January 15th to be exact. Soon I'll be doing a full sneak peek inside the book for you as well as a giveaway! But in the meantime, December is all about the cookies. Today I've teamed up again with my blogging besties to bring you 5 delicious, decadent, and paleo-friendly holiday cookies for you.
Paleo Shortbread Cookies dipped in Chocolate Cranberry Ganache // via yours truly
Seriously, these might be my favorite cookies ever. AND they're my first paleo baking success! Remember my woes from last time? These cookies are so simple to make, yet look super fancy. They are:
the perfect balance of crispy and soft
completely grain-free
sweetened only with honey
packed with pears, cranberries, and pistachios
over-the-top delicious
great to bring to a cookie swap!
GET THE RECIPE BY SCROLLING DOWN TO THE BOTTOM OF THE POST.
The decadent chocolate ganache is made from melted dark chocoalte, chocolate almondmilk, and leftover cranberry sauce! It adds an amazing flavor, but is completely optional... though highly recommended.
And 4 More Delicious Holiday Cookies:
Hot Chocolate Cookies w/Vanilla Bean Frosting // via Lee @ Fit Foodie Finds
I mean really, what's more comforting and Christmas-y that a big mug of hot chocolate topped with whipped cream, and peppermints?! All in cookie form.
Paleo Gingersnaps // via Taylor @ Food, Faith, Fitness
I have always loved gingersnaps. And these paleo ones are perfect to dip in a big glass of almondmilk!
Paleo Peppermint Chocolate Crinkle Cookies // via Davida @ The Healthy Maven
Mint + Chocolate + the genius use of ground up coconut palm sugar to make "powdered sugar" = pure bliss.
Sea Salt Nutella Thumbprint Cookies // via Lexi @ Lexi's Clean Kitchen
This is the ultimate thumbprint cookie -- she had me at sea salt and nutella. Give me all the cookies!!!
Question:
What are you favorite cookies to make during the holidays?
Paleo Shortbread Cookies Dipped in Chocolate Cranberry Ganache
Description
Paleo Shortbread Cookies Dipped in Chocolate Cranberry Ganache // via Nosh and Nourish
Ingredients
8 tablespoons
Grass-Fed Butter (one stick)
1⁄3 cup
coarsely chopped pistachios
1⁄3 can
Dried Cranberries (chopped)
1 teaspoon
Vanilla Extract
1⁄2 cup
Dark Chocolate chips (for ganache)
2 tablespoons
chocolate almondmilk (for ganache)
1 tablespoon
cranberry relish/sauce* (for ganache -- optional)
Instructions
In a large mixing bowl, combine the first 6 ingredients: melted butter, honey, pistachios, cranberries, pears, and vanilla.
Stir in dry ingredients: almond flour, coconut flour, and baking soda until thoroughly combined and a dough forms. 
Refrigerate for 30 minutes. 
Preheat oven to 350 degrees.
Either make small 1.5 inch balls and slightly press down onto a greased cookie sheet OR roll the dough out flat between 2 pieces of parchment and use a round cookie cutter to make perfectly round shapes and then place on a greased cookie sheet. 
Bake for 10 - 12 minutes, until slightly browned. Then, let cool on a wire rack. 
Melt the chocolate in a small pan over low heat. Stir in the almondmilk and cranberry sauce.  Then, dip each cookie partway into the ganache. Set on a cooled cookie sheet for chocolate to dry. 
DEVOUR them.
Yields 18 Cookies