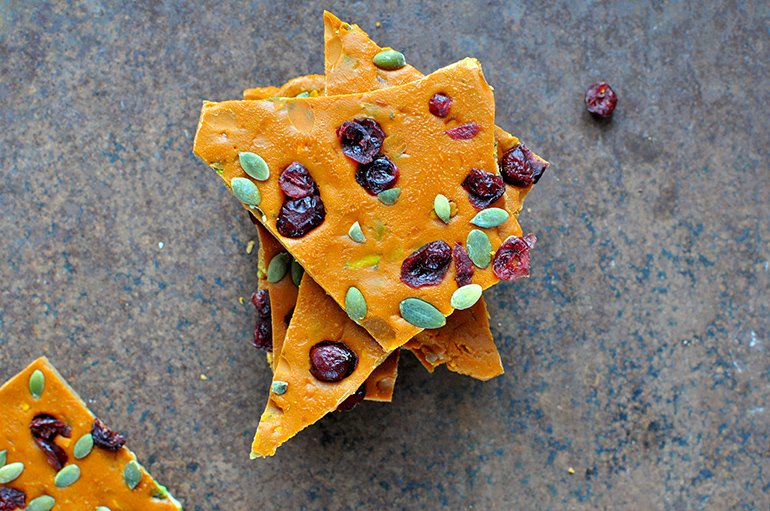 This pumpkin butterscotch is the perfect way to celebrate the beginning of autumn. It is like pumpkin pie in bark form. The pumpkin flavor (thanks to Sprouts Maple Pumpkin Butter, oh my starzies... so good!!) is infused into the melted butterscotch, the pistachios and pepitas give it crunch, and the dried cranberries add a hint of sweetness.
I love making bark around the holidays because:
a) it's so easy
b) Babycakes loves helping to scatter and press on the toppings
c) it's super great to share with friends
and d) it's DELISH!!
And this pumpkin one is by far my absolute favorite. But you might also like my carrot cake one, my apricot chocolate quinoa one, or my orange walnut one. I told you I love bark!!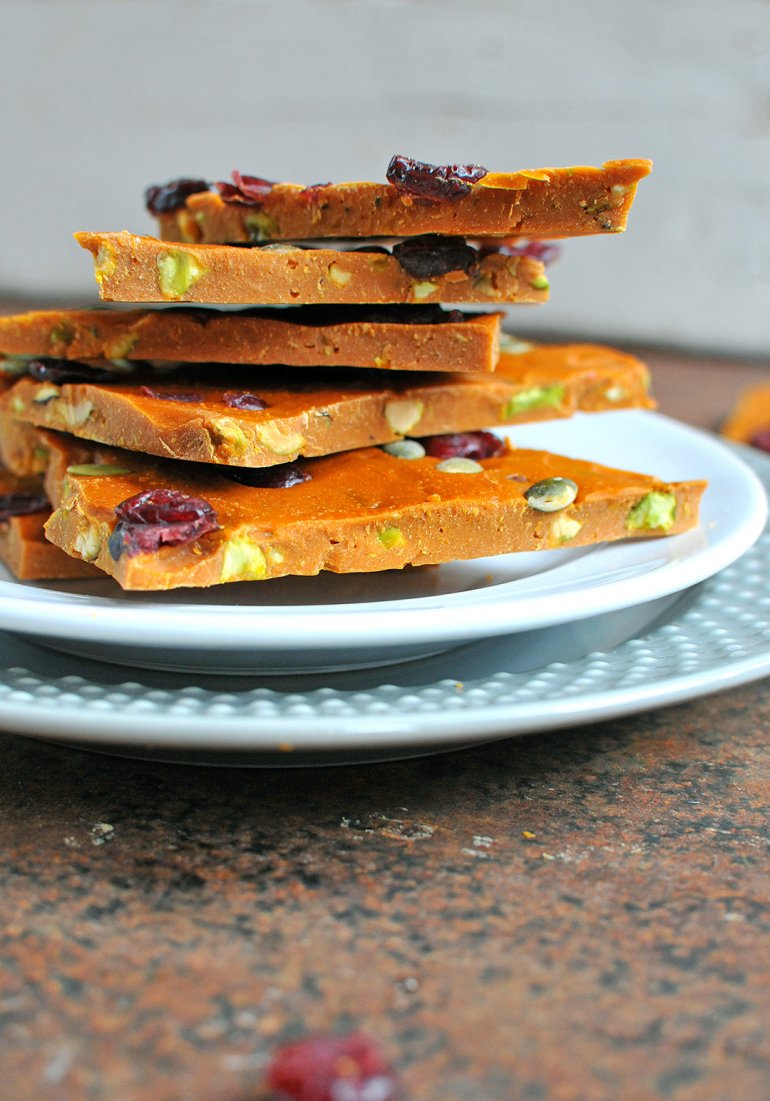 I love that Sprouts Farmers Market has so many private label organic foods to choose from --- and at really good prices. And their pumpkin line is soooooo delish. I used their Pumpkin Apple Cider and their Maple Pumpkin Butter in my latest cocktail. And their Cranberry Pumpkin Crisps are perfect with a cup of coffee.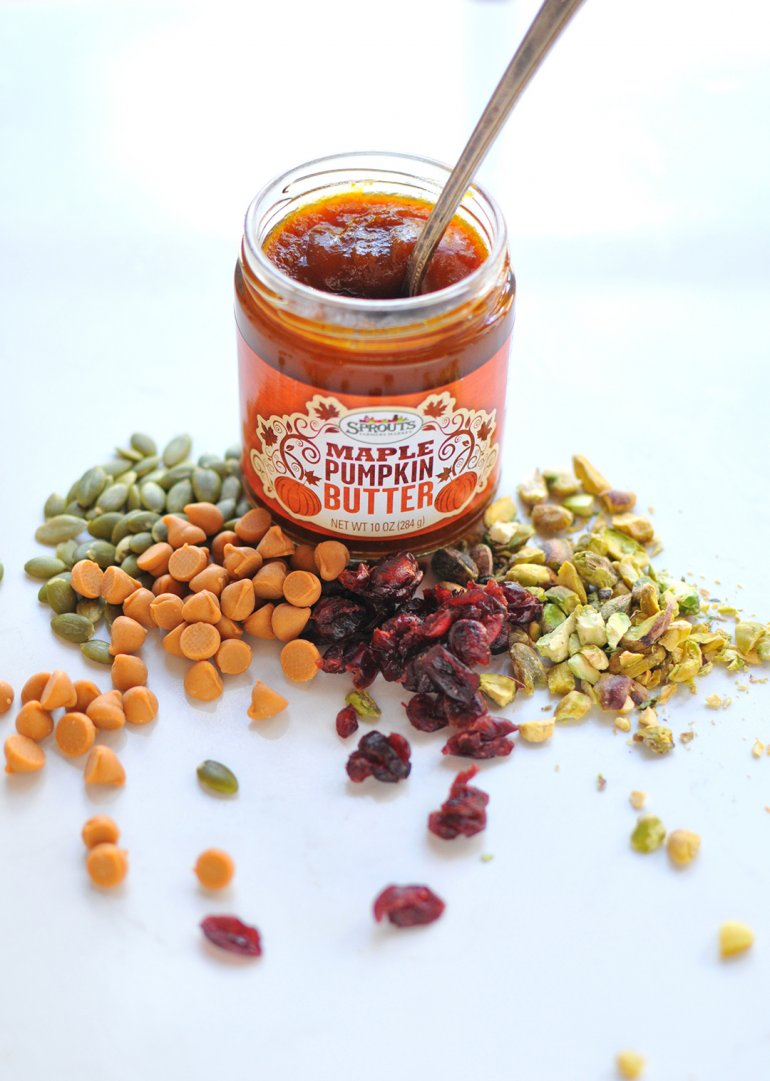 To Do: 
Make this bark. Then, bring it to a party, package it up to give to friends or your kids' teachers (they will love you forever!), or eat it for dessert at home with the fam.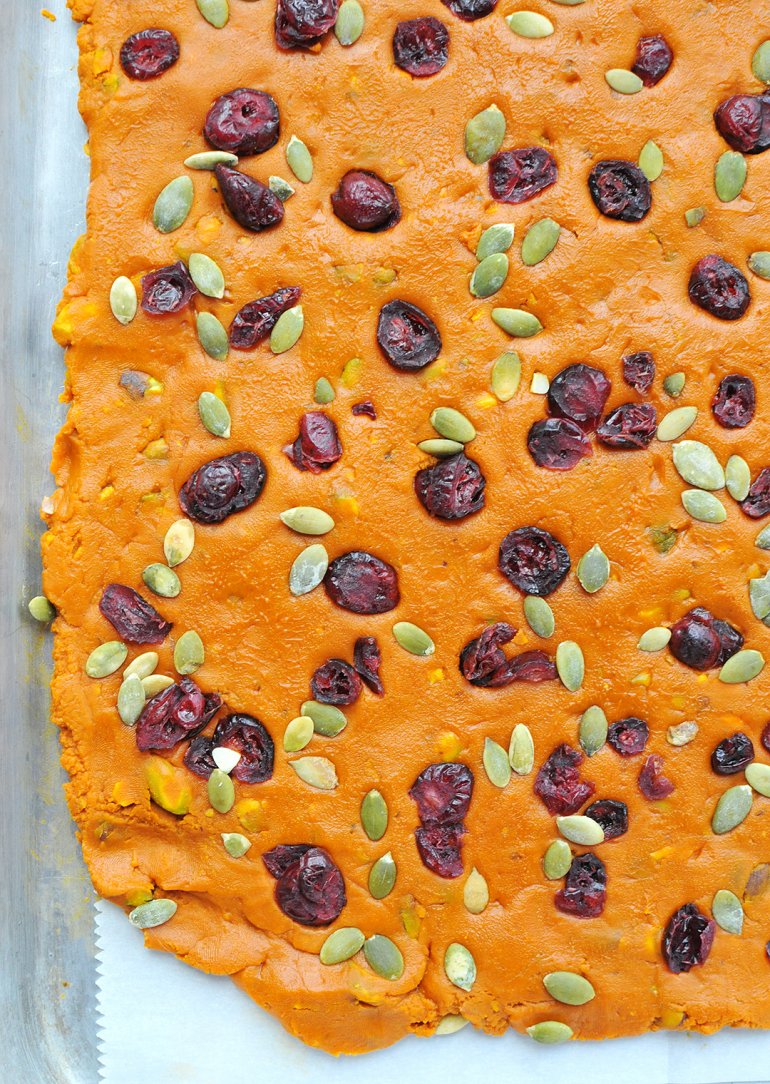 Other Delicious Health(ier) Fall Treats: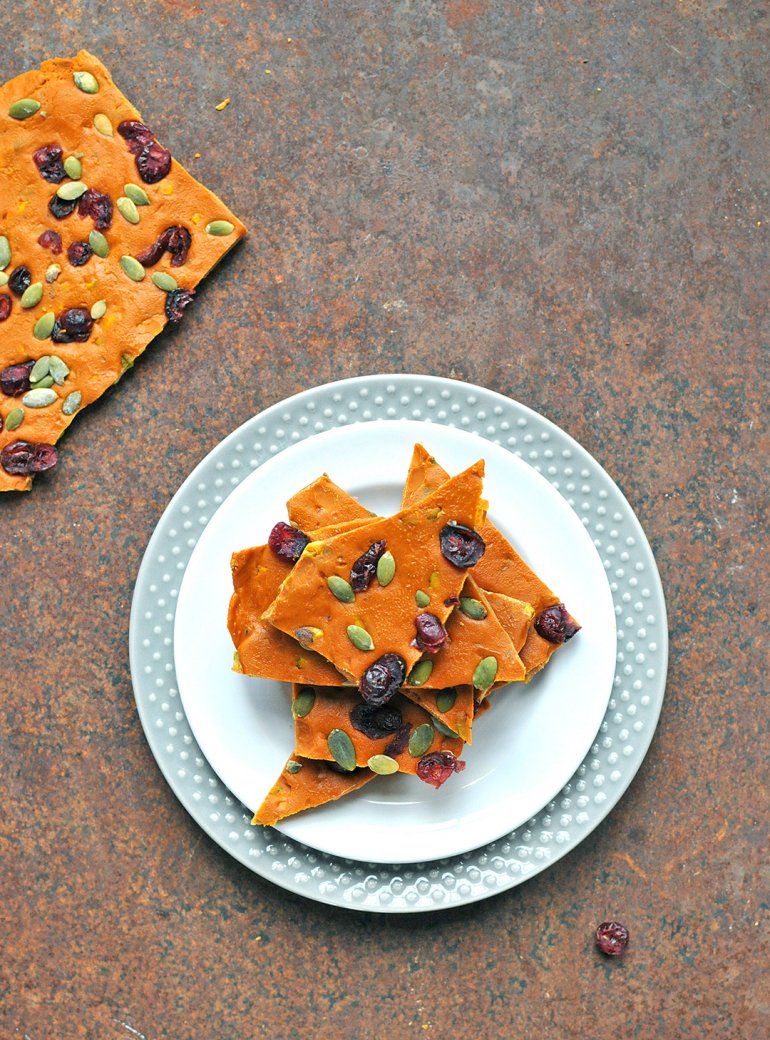 Disclaimer: this is a sponsored post written by me on behalf of Sprouts. The opinions, text, recipe, and beautiful food photos are all mine. Thank you for supporting brands that support Nosh and Nourish!! I choose them based on what I already cook/create with and feel 100% confident in recommending to you.
Butterscotch Pumpkin Bark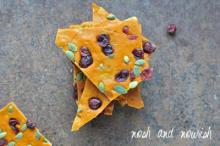 Description
Butterscotch Pumpkin Bark -- a super fun, fall treat! // via Nosh and Nourish
Ingredients
3 cups butterscotch chips (I used a dairy-free variety made by King David)
2 tablespoons Sprouts' Maple Pumpkin Butter
1⁄2 cup Pistachios (coarsely chopped or crushed)
1⁄3 cup Sprouts' dried organic cranberries
1⁄8 cup pepitas ((aka. pumpkin seeds))
Instructions
Melt the butterscotch chips and pumpkin butter in the top of a double boiler or in a stainless steel mixing bowl set over a pot of simmering water (make sure the bottom of the bowl doesn't touch the water). Approximately 5 minutes, stirring continually.
Once they are melted completely, stir in the crushed pistachios.
Pour the mixture onto a baking sheet lined with parchment paper. Use a spoon to flatten and level the mixture.
Sprinkle the dried cranberries and pepitas evenly over the top, pressing them down gently with your hand or the back of a spoon.
Cool for 1 hour in the refrigerator, then break apart into pieces and enjoy!
Store in an airtight container in the refrigerator.
Yields 10 Servings