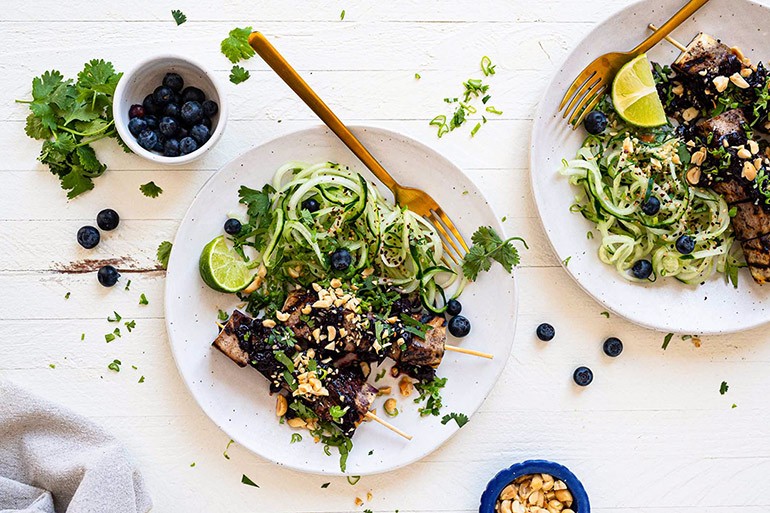 Grilled Tofu Kebabs with Blueberry Chutney -- a simple, grilled plant-based meal with a tangy, fruity chutney and bright herbs.
Well hey, guys!! Em here, popping over once again from The Pig & Quill to share these Grilled Tofu Kebabs with Blueberry Chutney. I'm gonna be real with you for a moment: when Kelly approached me with the idea for a recipe that would marry blueberries + tofu, well -- I was totally on team sweet. Visions of blueberry smoothies and vegan panna cotta and tofu mousse danced in my head -- and maybe one day they'll dance to life, too -- but there's something so very satisfying about going in the savory direction and having the results be so dang unexpectedly delicious. And simple, too. Because if you've followed me for any length of time, you know that's just how I roll.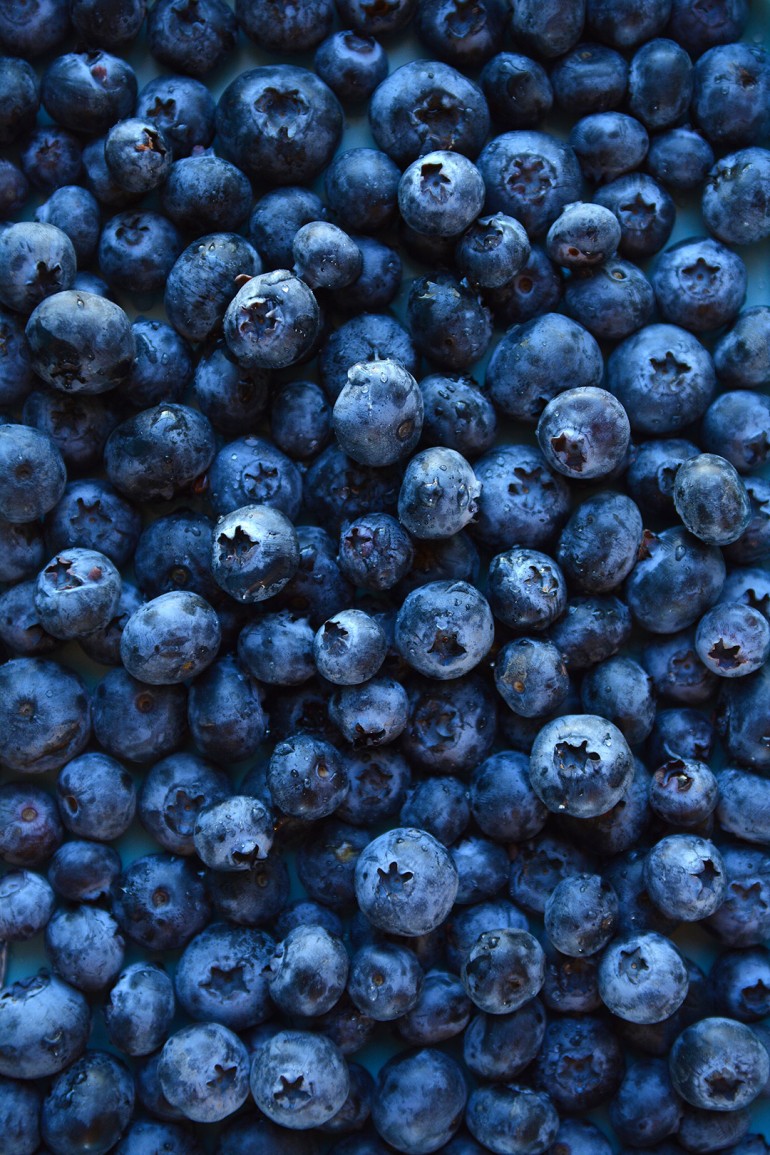 If you've been holed up at home for the past few months, you'll appreciate the takeout-worthy flavors of these easy grilled tofu kebabs, too. Sure, they look pretty straightforward, but the blueberry chutney delivers such a wallop of unexpected flavor that you might just find yourself branching out and smothering it on a porkchop, or maybe some grilled halloumi. It's worth making up a batch and smearing it on a little fluffy pita or naan, too. Or here's a pro tip: smoosh a little on your pizza crust. You know when you get to the end of the slice and you're like if only this were a garlic breadstick? I mean, if you're me, you happily eat it anyway, but a little dab of this and it suddenly feels like you've got a little global fusion bonus snack on your hands. Trust me.
So let's talk about it: The Chutney. It starts off with a heaping half cup of blueberries. They can be fresh or frozen -- I've done it with both, but in the iteration I photographed here, we used the tiny wild frozen ones. Chuck those into a saucepan with a little diced red onion, grated fresh ginger (feel free to use dried ground ginger, in a pinch), maple syrup, a splash of vinegar, and the umami-packed duo of soy sauce + sesame oil. (This is probably where I should mention that this is by no means an authentic chutney, but the combination of fruit, vinegar and sweetness pushes it easily toward that flavor profile.) A little five spice and salt goes in, plus a splash of water to get things started. And then you just let it rip. Bring it to a bubble, reduce the heat, and allow the flavors to marry and get a little bit sticky. Blueberry chutney -- done.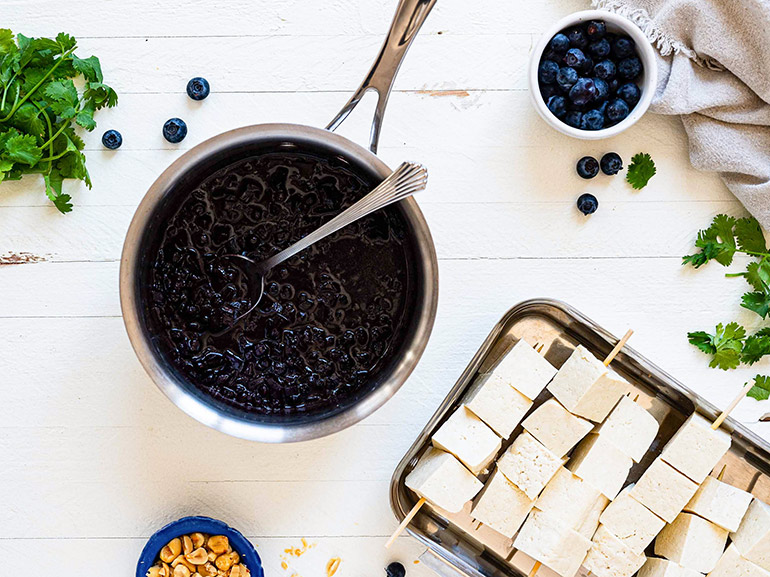 After that, it's a matter of marinating the tofu in the chutney* (see note at bottom of page), reserving a bit for serving, and then threading the tofu onto skewers and getting some good grill marks on those babes. Remove the grilled tofu kebabs to a plate, spoon over more of the chutney, a generous sprinkling of fresh herbs, and a scattering of crushed peanuts, if you're so inclined. (This is a dish that benefits from the texture they add, so if you're averse or allergic to peanuts, sub in some toasted pepitas or even some lightly toasted panko crumbs.) I'd love these with a side of basmati rice, but for a summer lunch we served them with a shaved cucumber salad -- literally just cucumber "noodles" (I love this handy and space-saving spiralizer -- it's what I used here) tossed with a little sesame oil, lime juice and aleppo peppers.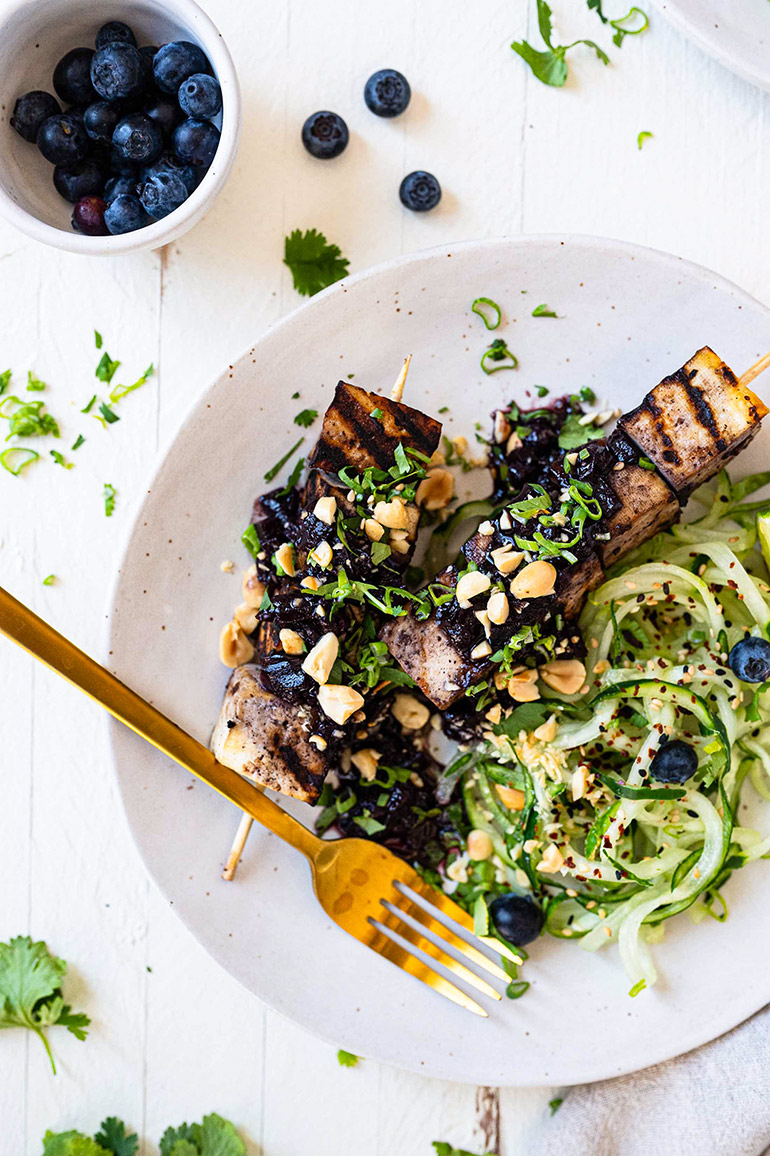 Simple, refreshing -- and family-friendly, too... at least in my house, where the not-so-wee one has been brought up eating tofu on the regular. And how cute is this Hello Kitty Bumkins plate?! The little bow part is perfect for dips like this blueberry chutney, or syrup, or more fruit!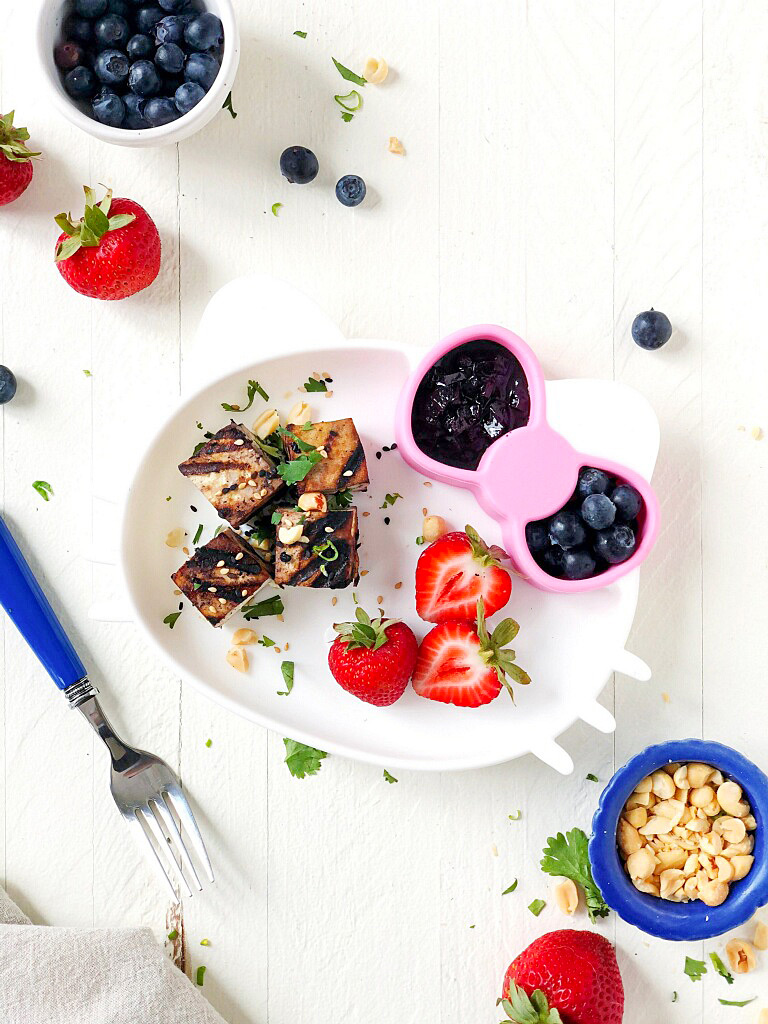 Hope everyone is enjoying their summer -- even if it may be a bit modified from the usual. And of course, stay safe and healthy out there, friends.
xo,
Em
*Quick little note: I photographed this dish showing the skewers threaded before being marinated, but the best flavor is really achieved if you marinate the tofu before it goes onto the skewers. Don't be like me! Marinate them first, even if they're not as photogenic. :)
//////////////////////////////////////////////////////////////////////////////////////////////////////////////////////////////
Want a delicious cocktail to pair with this? Try Kelly's Roasted Strawberry Frose!
Grilled Tofu Kebabs with Blueberry Chutney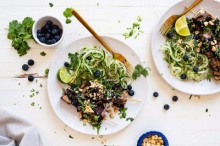 Description
Grilled Tofu Kebabs with Blueberry Chutney -- a simple, grilled plant-based meal with a tangy, fruity chutney and bright herbs.
Ingredients
1⁄2 cup Blueberries (heaping, fresh or frozen)
1⁄2 a small red onion (diced)
1 inch of ginger (grated)
2 tablespoons Maple Syrup
1 tablespoon black (or balsamic) vinegar
avocado oil (or other light cooking oil)
cilantro and scallions (finely chopped)
crushed peanuts (for serving)
lime wedges (for serving)
Notes
*Our store sells a sprouted version, but I really love Hodo Soy when I can get it
Instructions
Combine blueberry chutney ingredients in a saucepan and heat to a boil. Cover, reduce heat to low and simmer 10 mins, then uncover and simmer another 5 mins, or until reduced by about one-third.
While chutney cooks, slice tofu into 1" cubes and chop garnishes. In a large bowl, gently stir together tofu cubes with about half the blueberry chutney. Marinade for 30 mins or up to overnight, stirring occasionally.
When ready to cook, drain marinade from tofu and thread onto skewers. Preheat an indoor grill pan over med-high heat (alternatively, heat an outdoor grill) and lightly oil the surface. Grill tofu skewers for 2-3 mins/side or until deeply marked and tofu releases easily. (If it's not releasing, it's not ready!) Serve grilled tofu kebabs with reserved blueberry chutney, cilantro, scallions and crushed peanuts. Enjoy!
Yields 4 Servings