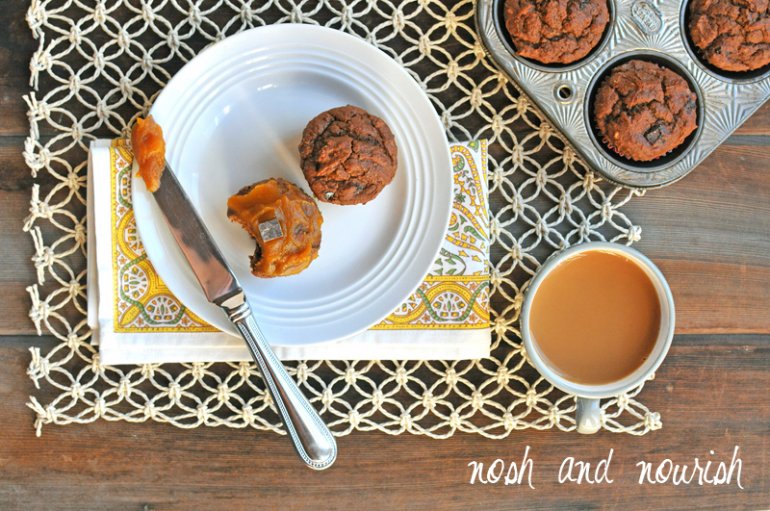 It's time to give in, folks:      to the craving of all things pumpkin! And not just pumpkin "flavored" things like the Starbucks Pumpkin Spice Latte that doesn't contain any actual pumpkin, but the real deal, 100% pumpkin puree. This time of year I put it in everything: pancakes, muffins, chili, cranberry relish, and yes of course... pie. I decided this year I needed to up the pumpkin ante by adding in lots and lots of chocolate.
Introducing Double Chocolate Pumpkin Muffins:
You are going to want to make these all season long. They are:
perfectly moist
light and fluffy
decadent and chocolate-y
filled with a few hidden good-for-you things
dairy-free
egg-free
completely satisfying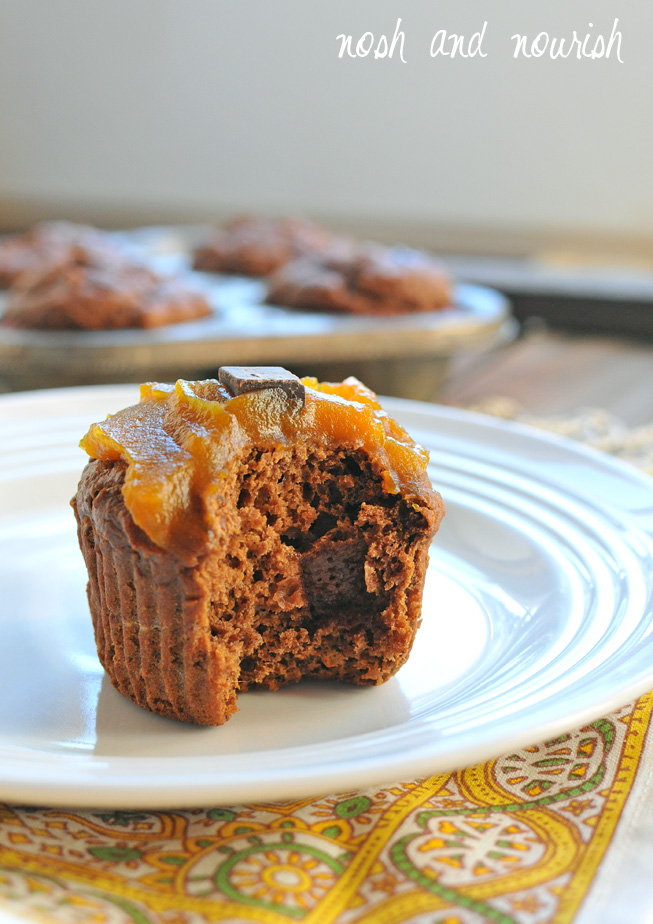 Chocolate almondmilk, chunks of dark chocolate, and cocoa powder give the muffins their decadence.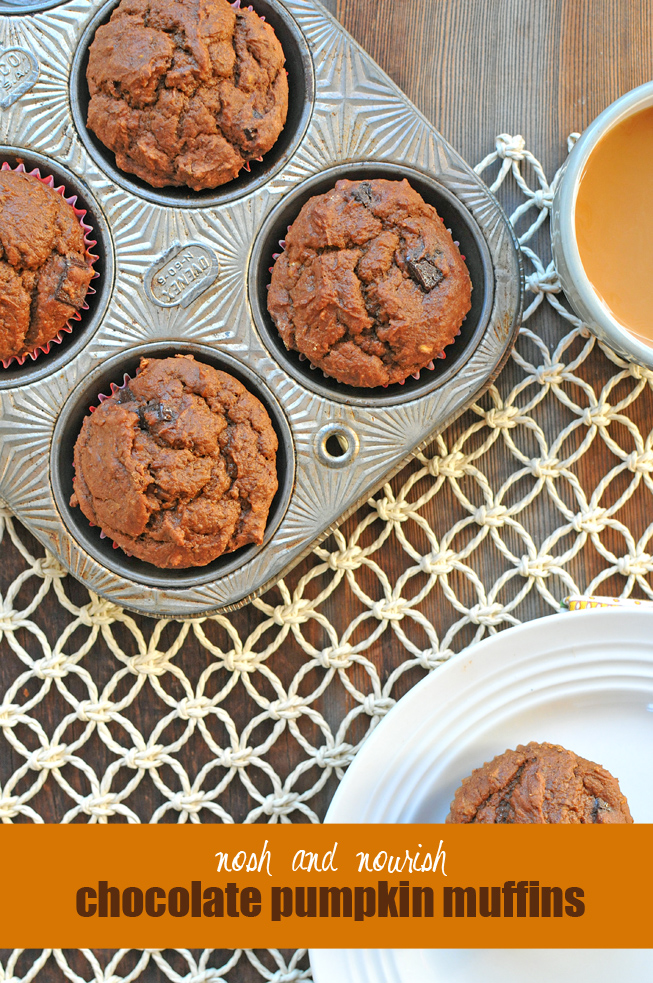 Pumpkin, coconut oil, and black beans give them a nourishing boost and wash away any possible guilt for devouring 2 or 3 at a time! They happen to be vegan chocolate pumpkin muffins, because I am avoiding all dairy and it's just so easy to sub in ground flax (FULL of omega-3s, antioxidants, and fiber) instead of eggs.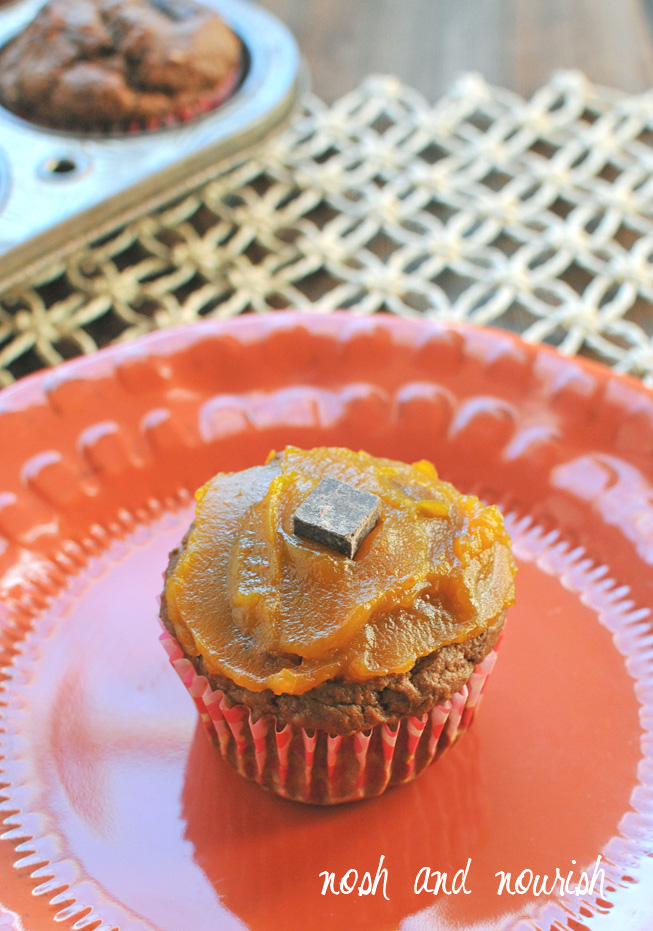 Questions:
What is your favorite pumpkin-filled recipe?
Do you love the chocolate/pumpkin combo?
Double Chocolate Pumpkin Muffins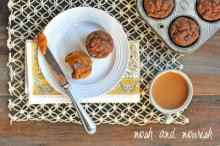 Description
Double Chocolate Pumpkin Muffins // via Nosh and Nourish #dairyfree #vegan #recipe
Ingredients
2 Flax Eggs* (or sub regular eggs)
15 ounces pumpkin puree (make sure NOT to use the pre-spiced kind)
1⁄4 cup Melted Coconut Oil
1⁄2 cup Black Beans (rinsed and drained)
1⁄4 cup chocolate almondmilk (I used Silk)
1⁄4 teaspoon Ground Cloves
2 cups Unbleached All-Purpose Flour
1 1⁄2 teaspoon Baking Powder
1⁄2 cup Chocolate Chips (be sure to use Enjoy Life brand, if you want to keep it vegan)
1⁄3 cup pumpkin butter (to adorn the tops of the muffins (optional))
Notes
2 flax eggs = 2 tbsp of ground flax + 6 tbsp warm water, refrigerated for 15 minutes.
Instructions
Preheat the oven to 400 degrees.
Make your flax eggs.
In a medium mixing bowl, combine the pumpkin puree, black beans, chocolate almondmilk, and coconut oil. Use an immersion stick blender to puree, or mash well with a fork. 
Add in the cocoa powder, coconut sugar, cinnamon, cloves, and flax eggs. Stir with a fork to combine.
In a separate bowl, combine the dry ingredients: flour, baking powder, and sea salt. Mix well, then slowly add it in to the wet mixture.
Once combined, stir in the chocolate chips.
Bake for 30 minutes, or until the muffins are cooked through.
Adorn with pumpkin butter and additional chocolate chips (optional)
Yields 12 Muffins