I shared this news on Facebook awhile back, but haven't posted about it on the blog. I am officially teaching a cooking class this fall --- a middle school elective once a week called "Nourishing Snacks." As part of the class, in addition to cooking / recipe creation, they will be learning about food photography, story-writing, and nutrition. This past week, I pre-made 24 vegan pumpkin muffins so they could spend the entire 45 minutes experimenting with food photography: different backgrounds, angles, lighting, poses etc. We just used the school's mini ipads this time and will use real DSLRs later in the semester. 
Overall they had a blast!
This was their subject: a better version of my vegan pumpkin muffins. Original recipe here.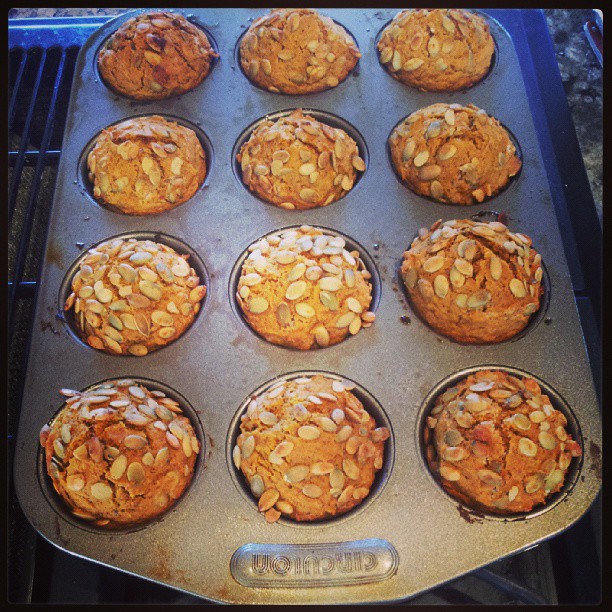 At first they were bummed they couldn't eat the muffins right away. But before long, they were really getting creative with their project. #engagedlearning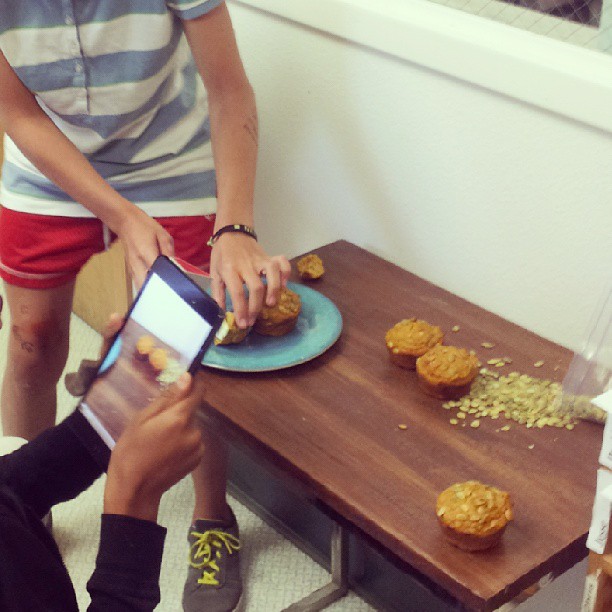 The next few photos (plus the one at the top -- muffin on a heart of pumpkin seeds) were all taken by my middle schoolers!! #theyrock
As for the differences in this "better" muffin recipe: 1) more pumpkin puree, 2) no banana, and 3) add chickpeas.  I told you I'm obsessed!  I also ran out of gluten-free flour, so I subbed whole wheat pastry flour.
I loved this simple shot of a muffin in hand. It makes me want to eat it. #thegoaloffoodphotography
Question:
What do you think of the photos?!?!
Better Vegan Pumpkin Muffins
Description
Better Vegan Pumpkin Muffins // Nosh and Nourish
Ingredients
2 cups Whole Wheat Pastry Flour
1 1⁄2 teaspoon Baking Powder
1⁄2 teaspoon Ground Ginger
1⁄4 teaspoon Ground Cloves
2 tablespoons Ground Flax
15 ounces Pure Pumpkin Puree (not pumpkin pie filling)
1⁄4 cup Coconut Oil (melted)
1⁄2 cup Chickpeas (mashed)
1⁄4 cup Vanilla Almond Milk
3 tablespoons Raw Pumpkin Seeds (to adorn the top)
Instructions
Combine 2 Tbsp flax plus 6 Tbsp warm water. Refrigerate for 15 minutes.
Preheat oven to 400 degrees.
Mash chickpeas well, or combine with almond milk and use the immersion stick blender to puree.
Combine all ingredients, except pumpkin seeds, but including the chilled flax in a medium bowl. 
Spray a muffin tin with non-stick spray.
Fill each cup to the top.
Press pumpkin seeds into the top of each muffin batter.
Bake for 30 minutes, or until lightly browned.
Yields 12 Muffins