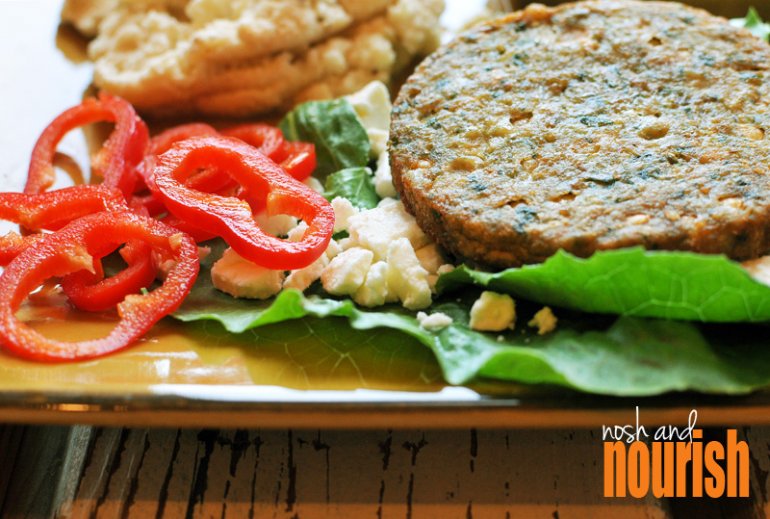 Can I just start out with the word YUMMOLA?!?! This is exactly how I felt about this entire meal.  Awhile back, I was contacted by MorningStar Farms to see if I'd be interested in trying/reviewing their new Mediterranean Chickpea Burgers. With 70% less fat than regular ground beef and containing less than 2% soy protein, I immediately said YES, PLEASE!  I am a huge fan of hummus and of burgers, so this felt like the perfect combination :)  It took me awhile to find it at the store, but finally my eyes were drawn to this packaging: (the "NEW!" helped)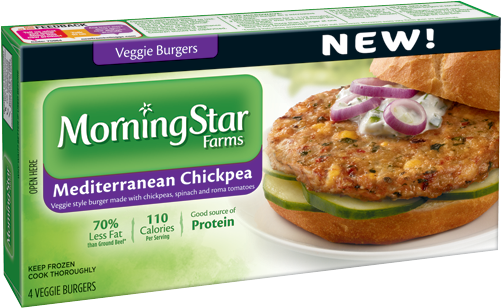 I decided to serve it over a bed of romaine lettuce leaves, crumbled feta, and sliced sweet peppers...rather than traditional burger-style with a bun.  But, I'm sure it would be great that way too!  I also created a new side dish to serve alongside --> Greek Mashed Cauliflower.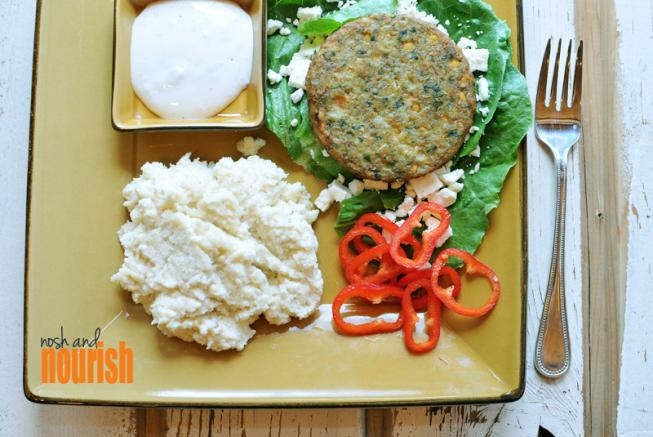 The Mediterranean Chickpea Burger was very flavorful, with just the right consistency.  I was in a bit of a hurry, spending time on my new recipe creation (below), so I cooked it according to the microwave instructions. And despite not "grilling" it, it was still amazing!  With only 110 calories, 10g of protein, 7g of fiber, and only 4.5g of fat --- this is worth adding into your meal plan regularly!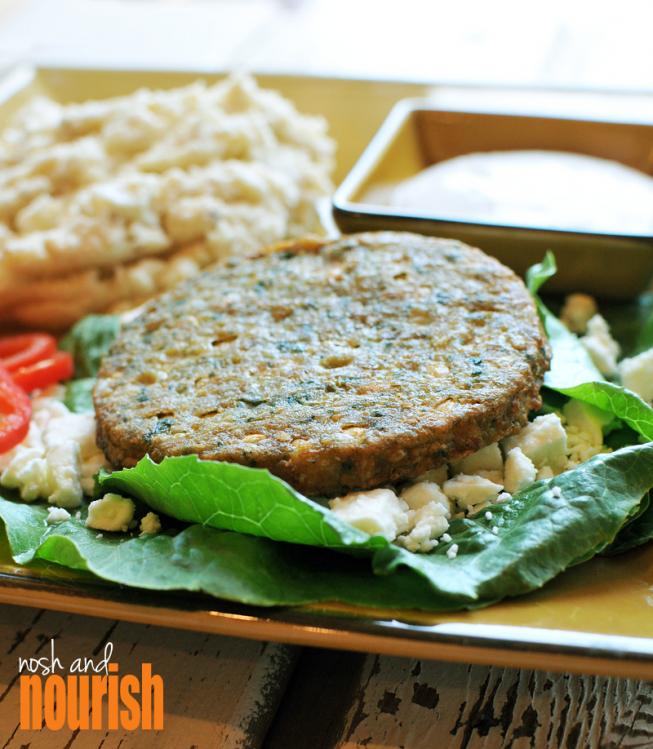 Introducing Greek Mashed Cauliflower:
The cucumber ranch and feta are really what make it "greek" --- oh, and Chobani greek yogurt :)  It is super flavorful, light, and better-for-you than potatoes: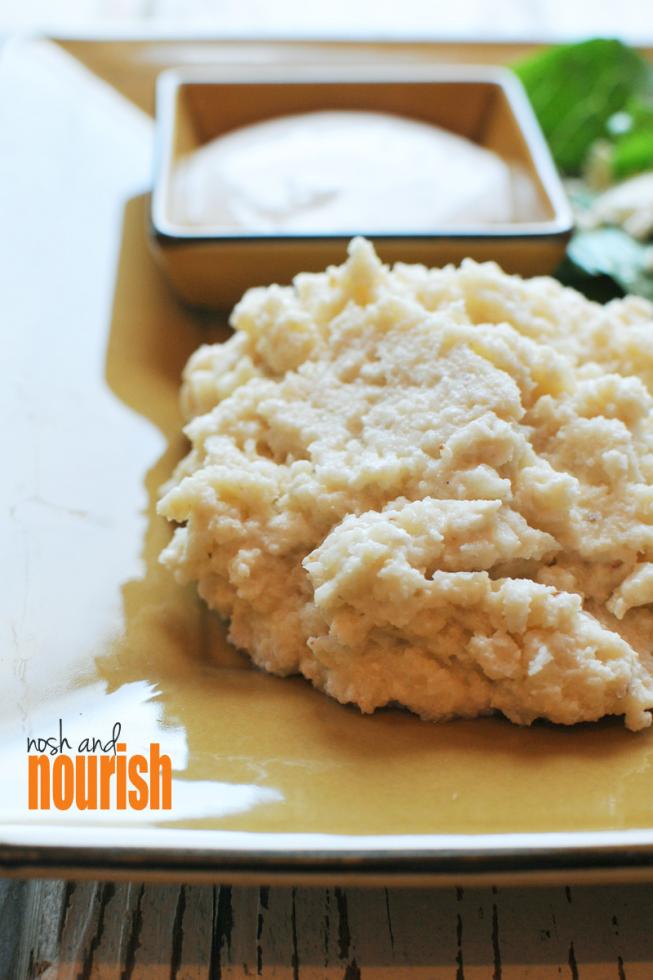 And now it's Giveaway Time!!!
Up for grabs: One reader will win coupons for FREE Mediterranean Chickpea burgers, a Chickpea cookbook, and additional swag.

To Enter:
Leave me a comment below with what you'd serve alongside your Mediterranean Chickpea burger.  
Bonus Entries:

1) (optional) Leave me an addtional comment below after you're Tweeted the following: 
FREE Mediterranean Chickpea burgers + Greek Mashed Cauliflower recipe: @MorningStrFarms #giveaway via @noshandnourish http://bit.ly/13VwEmq
2) (optional) Leave me an additional comment below after you've shared a link to this page (http://bit.ly/13VwEmq) on Facebook.
A winner will be chosen on Sunday night, June 23rd at 8PM MST, and announced in Monday's Blogpost. The winner must be in the U.S.
Disclaimer: because I have to make SURE you know this... these products were given to me to taste/review for free.  These thoughts and opinions are strictly my own, and I was not compensated for this post.
Greek Mashed Cauliflower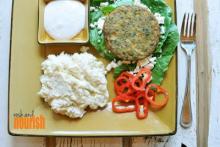 Description
Greek Mashed Cauliflower // @noshandnourish
Ingredients
1⁄2 cup Cottage Cheese (I used 2%)
1⁄4 cup Plain Chobani greek yogurt
1⁄4 cup Feta Cheese Crumbles
2 tablespoons Cucumber Ranch Salad Dressing (I used Kraft)
Instructions
Preheat oven to 400 degrees.
Cut the cauliflower into smaller chunks (approx. 2 inch pieces).
Roast in the oven for 45 minutes, or until softened.
Mash the cauliflower using either an immersion blender or a hand masher.
Stir in butter, cucumber ranch, cottage cheese, Chobani, and feta.
Continue to mash until the desired consistency.
Enjoy!!
Yields 4 Servings