This is a sponsored post written by me on behalf of Safeway. All opinions are 100% mine.
We LOVE Safeway's exclusive house brands because they help you stretch your budget and get high-quality (oftentimes organic) items at a low price. Here are their house brands, simplified:
O Organics® offers high-quality, non-GMO and 100% USDA-certified organic products.
Open Nature® offers high-quality, minimally-process plant-based products free from 110 food additives.
Signature brands has options for every meal and occasion including ready to eat, ready to heat, and cooking from scratch ingredients.
For today's post, we are focusing mostly on O Organics: 18oz bag of broccoli slaw, rainbow carrots, mini cucumbers, 90 second white rice, garlic cloves, and coconut aminos; plus a few Signature Select sauces: Sweet chile sauce + seasoned rice vinegar.
As a family, we love broccoli slaw because it is delicious and so versatile! It's basically shavings of the broccoli stems. And because the bag is so large, today I'm showing you how to use that bag in 3 different meals / recipes.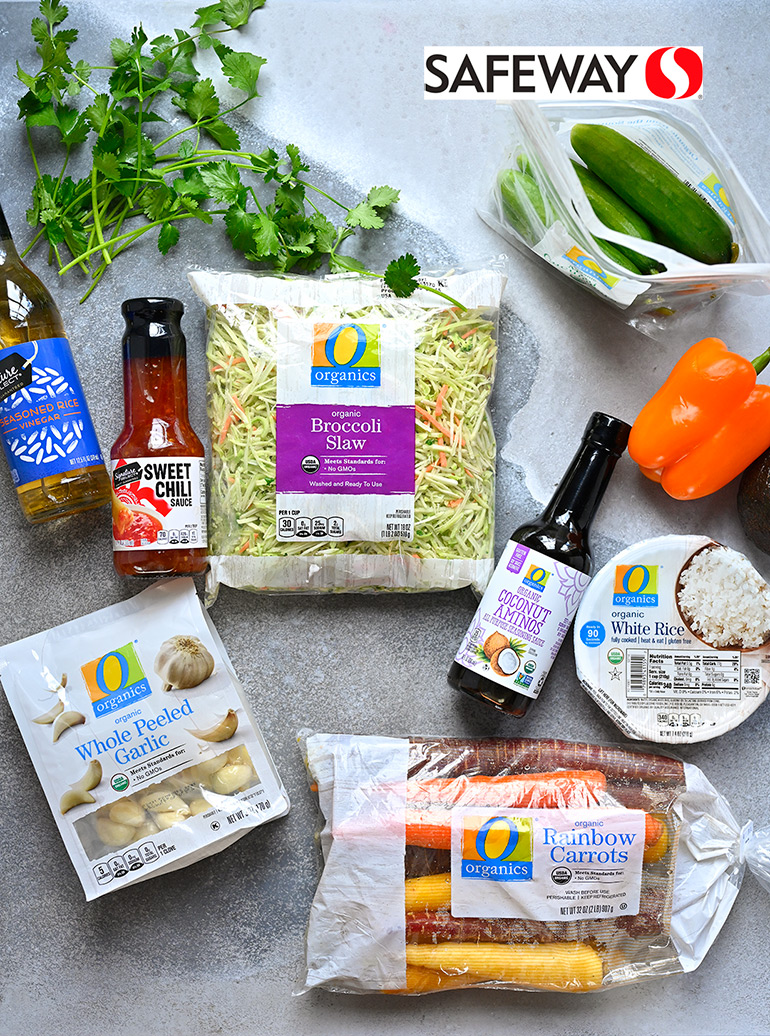 Shop these affordable high-quality products.
1) in meatball tacos
I made some plant-based Greek meatballs a month or two ago and knew that I wanted to create a Sweet Chile / Thai version at some point. These are all of our favorite flavors in one meal, and my family LOVED every bite.
Mini street taco tortillas are filled with:
PLANT-BASED THAI MEATBALLS (RECIPE BELOW)
SAUTEED BROCCOLI SLAW
O ORGANICS SLIVERED ALMONDS
CRISPY WONTON STRIPS
FRESH CILANTRO
A VEGAN CHILE CREMA (RECIPE BELOW)
SPLASH OF LIME JUICE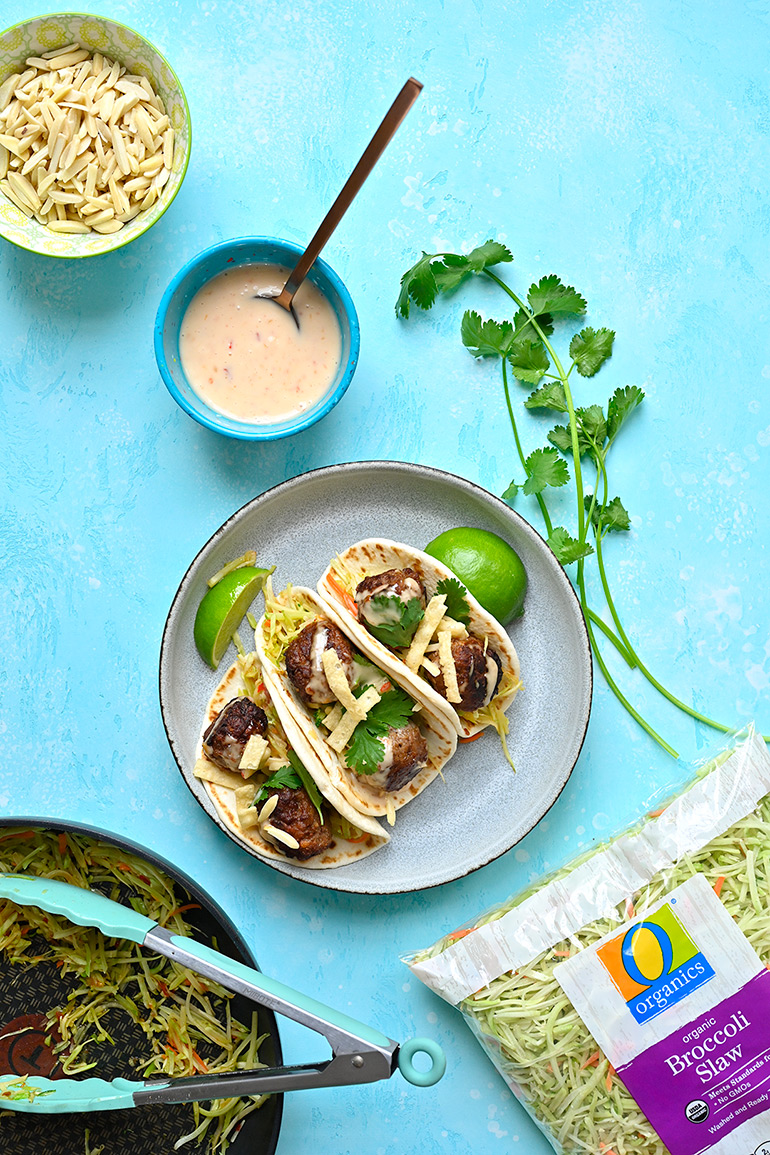 These Thai tacos are going onto our weekly menu, because they are THAT GOOD.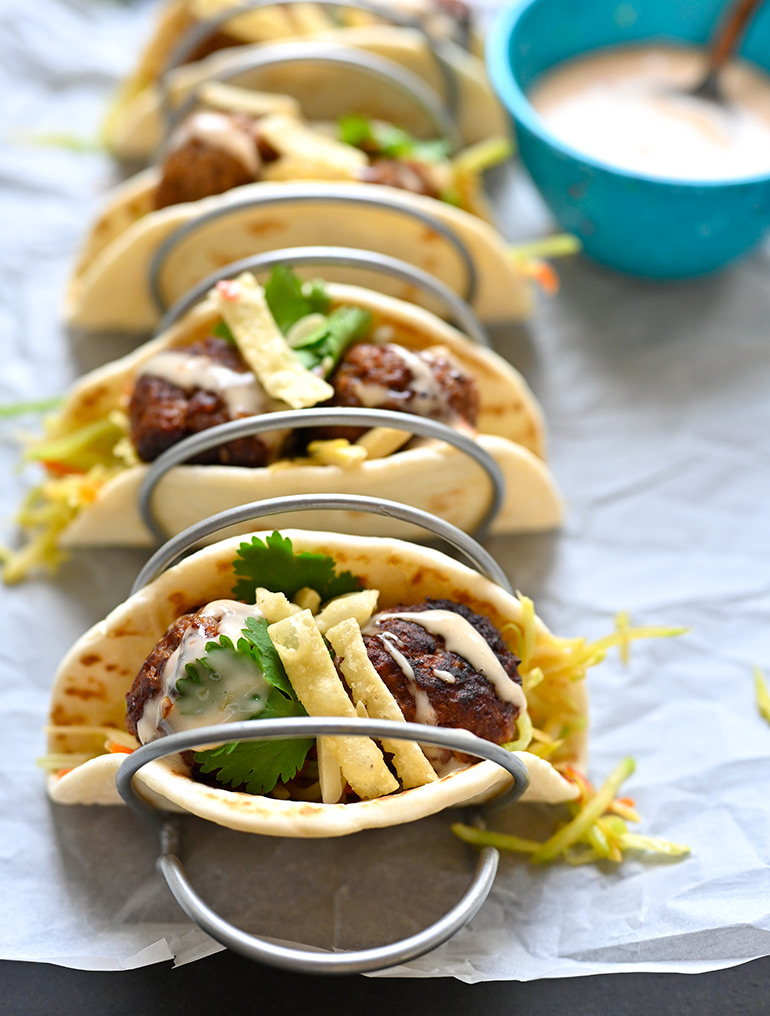 2) in sushi
The broccoli slaw can be eaten raw --- and adds a lot of crunch in the sushi rolls! My recipe hack for these rolls is to use a package of fully cooked, single serve O Organics' white rice. It's ready in 90 seconds and is a great way to reduce waste by not having to cook 4+ cups of rice in a rice cooker! Once the rice is cooked, stir in a tsp of seasoned rice vinegar, 1/2 a tsp of Signature Select toasted sesame oil, and 1/2 a tsp of coconut aminos (which is a soy-free version of soy sauce!)
Cover a little over half of the sheet of seaweed with the sticky rice, spreading it out evenly.
Then, add in:
THINLY SLICE MINI CUCUMBERS
DICED BELL PEPPERS (I FIND THEY'RE EASIER TO CUT THROUGH / BITE WHEN THEY'RE PRE-DICED IN THE SUSHI ROLLS)
RAINBOW CARROT RIBBONS (PEEL THE CARROT TO REMOVE THE OUTER SKIN, AND THEN KEEP PEELING TO MAKE THIN CARROT RIBBONS)
BROCCOLI SLAW
SLICED AVOCADO
These are vegetarian/vegan rolls, but you could add in baked eggs, salmon, imitation crab, or other proteins... depending on your preference.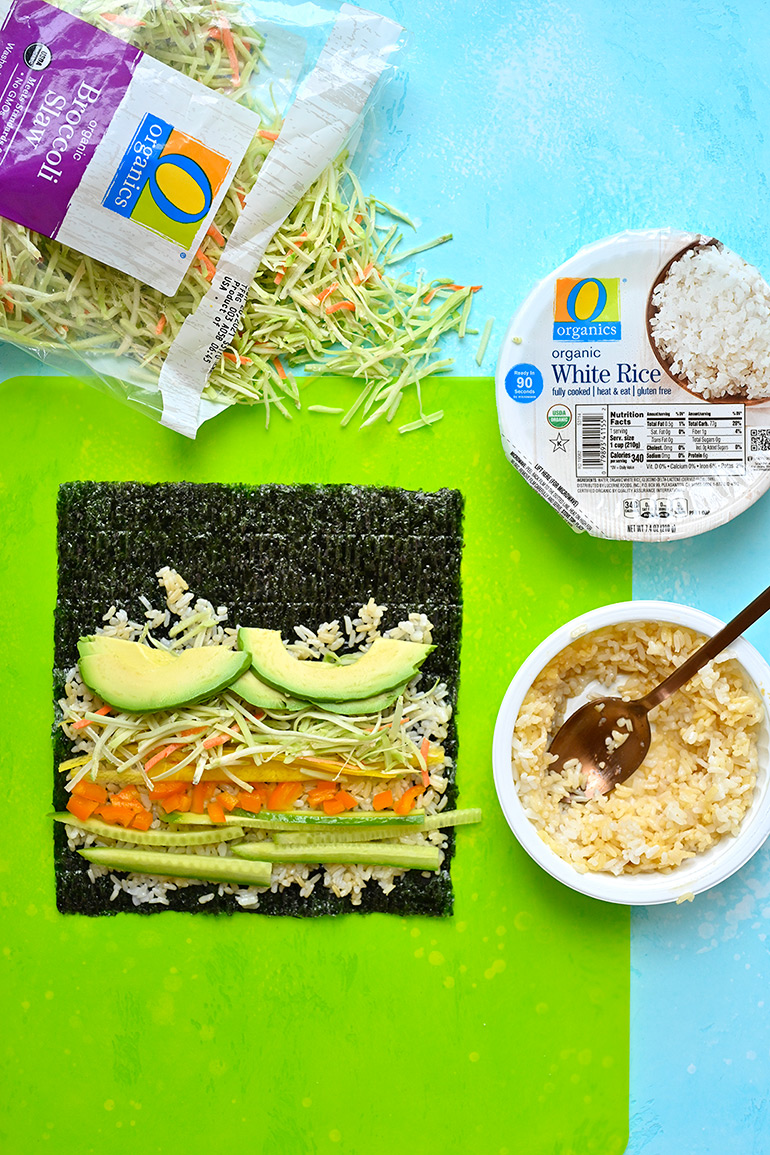 Rub water along the top edge of the seaweed, then roll and slice. Serve with a dipping sauce mixture of coconut aminos, rice vinegar, and a pinch of sugar.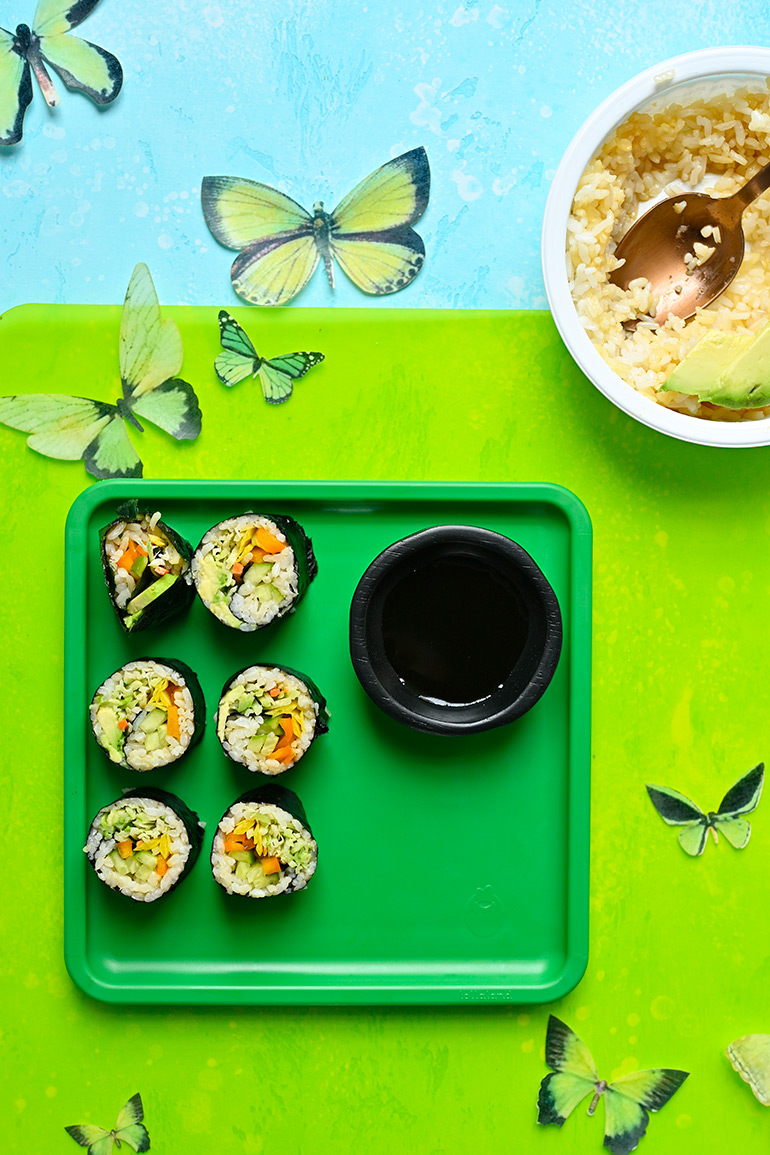 3) in grilled cheese
Saute some of the broccoli slaw with a bit of olive oil and salt and pepper. Then layer it between sandwich bread and cheddar cheese shreds. I show it below as wafflewich sticks for younger kiddos and then regular grilled cheese for older kiddos and adults.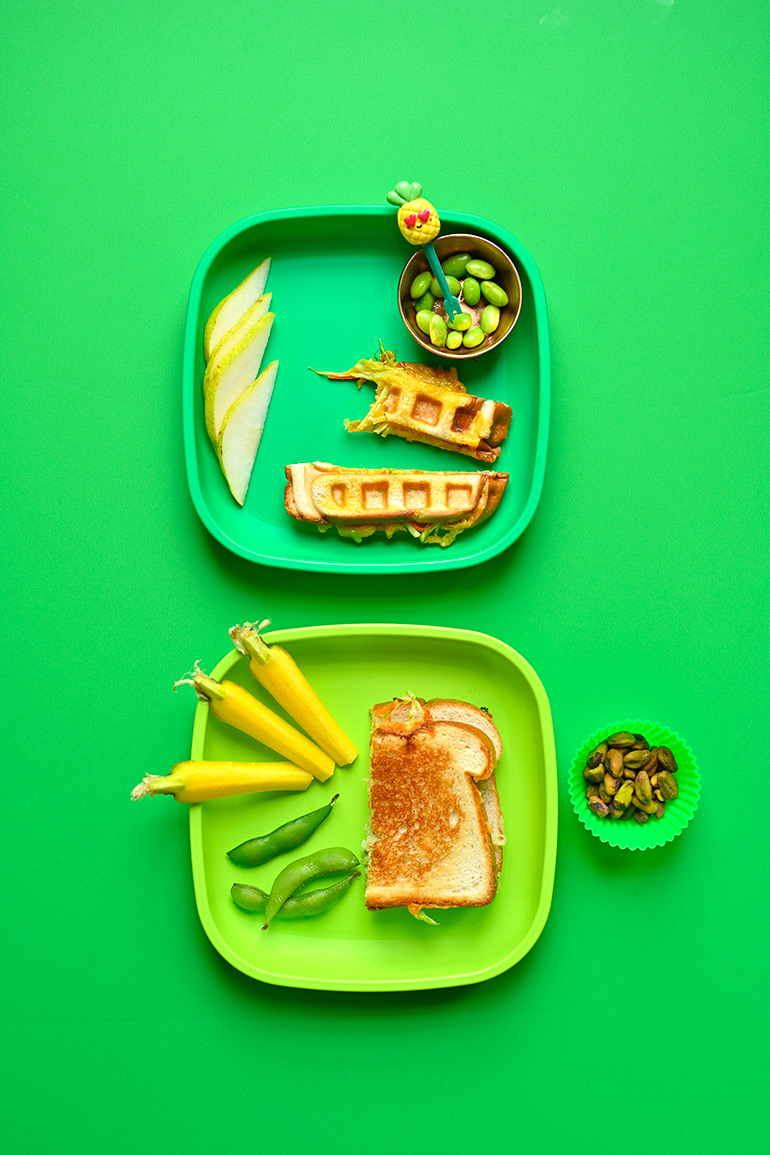 I shopped at Safeway, but you can also find these exclusive brands at the Albertsons Companies family of stores, including Albertsons, Safeway, ACME Markets, Jewel-Osco, Randalls, Shaw's Supermarket, Star Market, Tom Thumb and Vons. I went into the store (masked), but Safeway also offers Grocery Delivery and DriveUp & Go™ for other convenient ways to shop!
Want other broccoli recipes? Try my:
Or try adding a cup of the broccoli slaw into my Spring Greens Soup:
Thai Meatball Tacos with Broccoli Slaw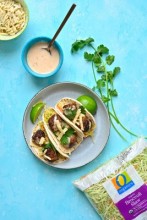 Description
Thai Meatball Tacos with Broccoli Slaw
Ingredients
6 ounces Impossible plant-based ground meat
1⁄4 cup plain breadcrumbs (unseasoned)
1 tablespoon oat milk (or sub milk of choice)
1 tablespoon Thai chile sauce
1 teaspoon O Organics coconut aminos (or sub soy sauce)
1⁄4 teaspoon Ground Ginger
1⁄2 teaspoon coarse sea salt
2 tablespoons O Organics olive oil
1 tablespoon toasted sesame oil
1⁄2 cup veganaise (or sub mayo)
2 tablespoons Thai chile sauce
3 cups O Organics' broccoli slaw
2 tablespoons Thai chile sauce
1⁄2 cup crispy Wonton strips
Notes
*1 flax egg = 1 Tbsp flax + 3 Tbsp warm water. Mix, then refrigerate for 10 minutes.
**NOTE - you can cook the meat mixture as crumbled ground instead of meatballs, and it will taste just as delicious! So if meatballs seem too finicky or time-consuming, just brown the meat mixture all at once!
Instructions
Prepare your flax egg and refrigerate for 10 minutes, while you prepare the rest of the ingredients. 
Combine the meatball ingredients in a large mixing bowl: Impossible ground, breadcrumbs, garlic, oat milk, rice vinegar, 1 Tbsp Thai chile sauce, coconut aminos, ginger, sea salt, and refrigerated flax egg.
Mix thoroughly with hands.
Form into 1.5" meatballs.
In a large saute pan, add 2 Tbsp of olive oil + 1 Tbsp of sesame oil and heat to medium high. 
Add meatballs, 6 at a time. Let them brown on each side, rotating them into the oil with tongs so that every side gets evenly browned. Repeat 3 times, for a total of 18 - 20 meatballs.
Set meatballs aside.
In a new (or clean out the original pan) pan, saute the broccoli slaw for approximately 3 - 4 minutes with 2 Tbsp of Thai chile sauce, just long enough to soften the broccoli slaw a bit.
Combine the sauce ingredients in a small bowl (veganaise, chile sauce, and lime juice). Whisk to emulsify.
Assemble your tacos: tortilla, sauteed broccoli slaw, 2 - 3 meatballs, vegan crema, wonton strips, cilantro and slivered almonds.
Yields 6 Servings