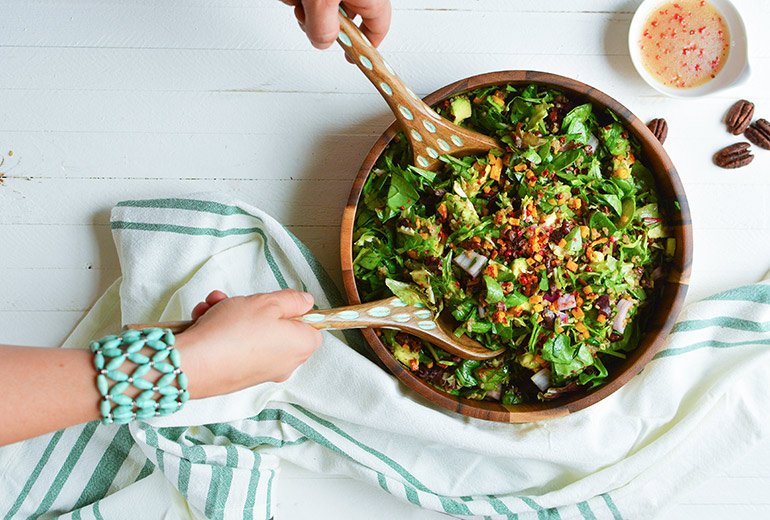 This Autumn Harvest Chopped Salad has all the flavors of fall and is perfect for your next holiday gathering! You and your guests will absolutely LOVE the maple bourbon dressing!!
Are you guys ready?!?!! 
For the big day?
T minus 6 days 'til Thanksgiving. 
The funny thing for food bloggers is that by the time the actual holiday rolls around, I'm often "Thanksgiving-ed out." I've already brined and cooked a turkey. Made all the side dishes (twice). Made videos. Eaten pie... for breakfast. Transformed leftovers. And eaten more leftovers. But I do it for you!! So that you'll be ready. And have so many delicious options to choose from! And luckily, I have a lot of family around, so I get out of cooking the whole big meal on the real day and can just bring an appetizer or dessert. 
If you need a pop of color at your table next week, this salad would be perfect.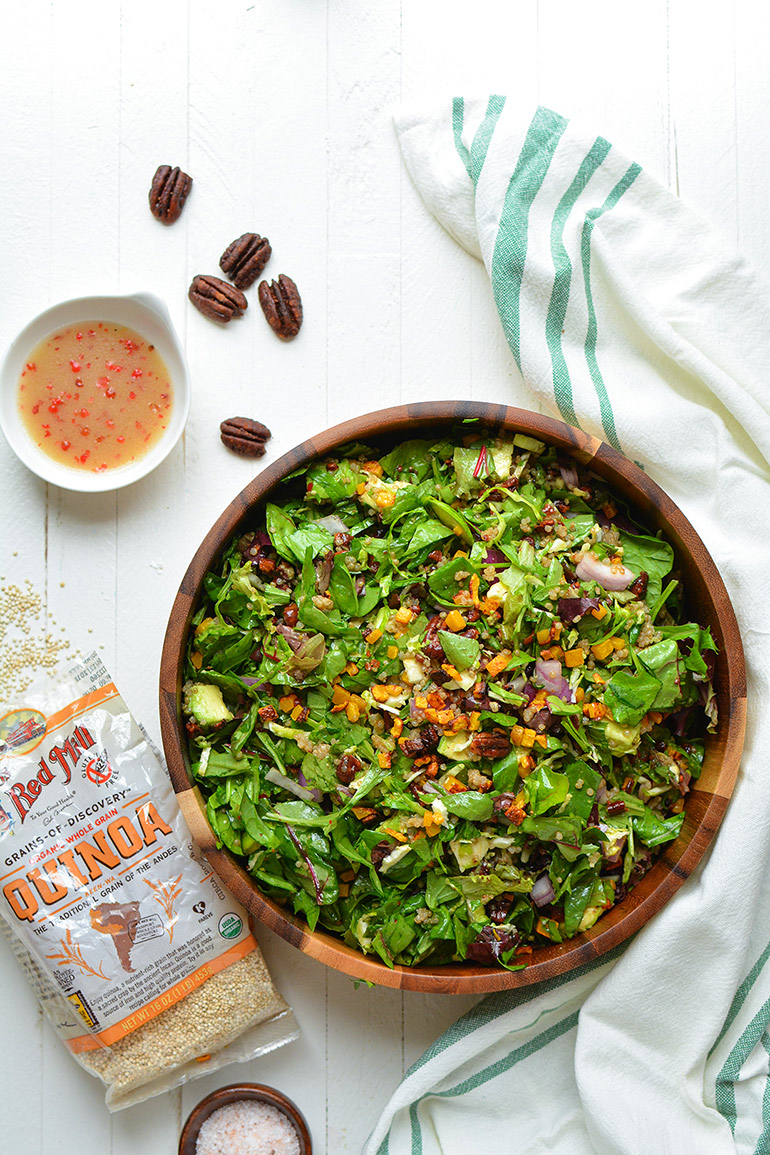 This salad is...
Vegan-friendly.  (ie. basically vegan, except for the honey roasted pecans. You could use plain pecans or make a maple version instead to keep it totally vegan). 
Colorful. 
Packed with protein, thanks to Bob's Red Mill quinoa.
Full of healthy fat, thanks to avocado oil and avocado.
DELISH.
Veggie-packed. Helllllllllllllo crispy butternut squash, brussels, + spring greens.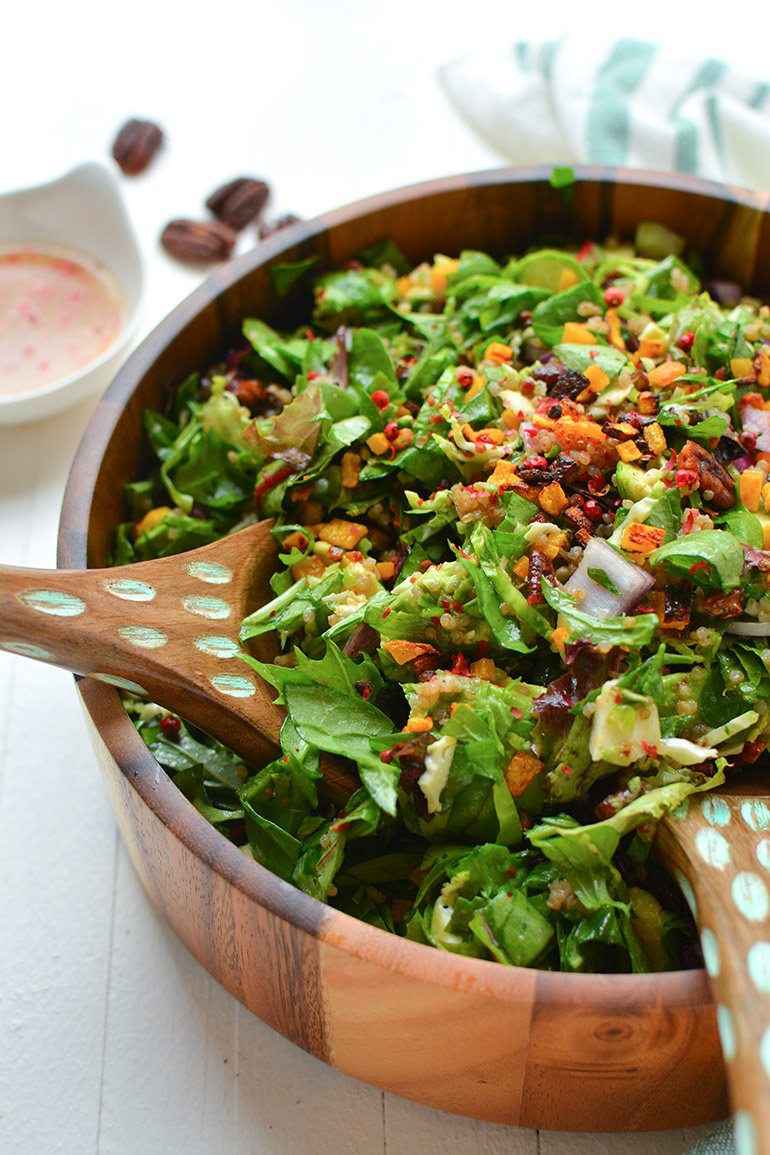 I like chopping the butternut squash into tiny cubes, so that when it roasts, the pieces get nice and crispy!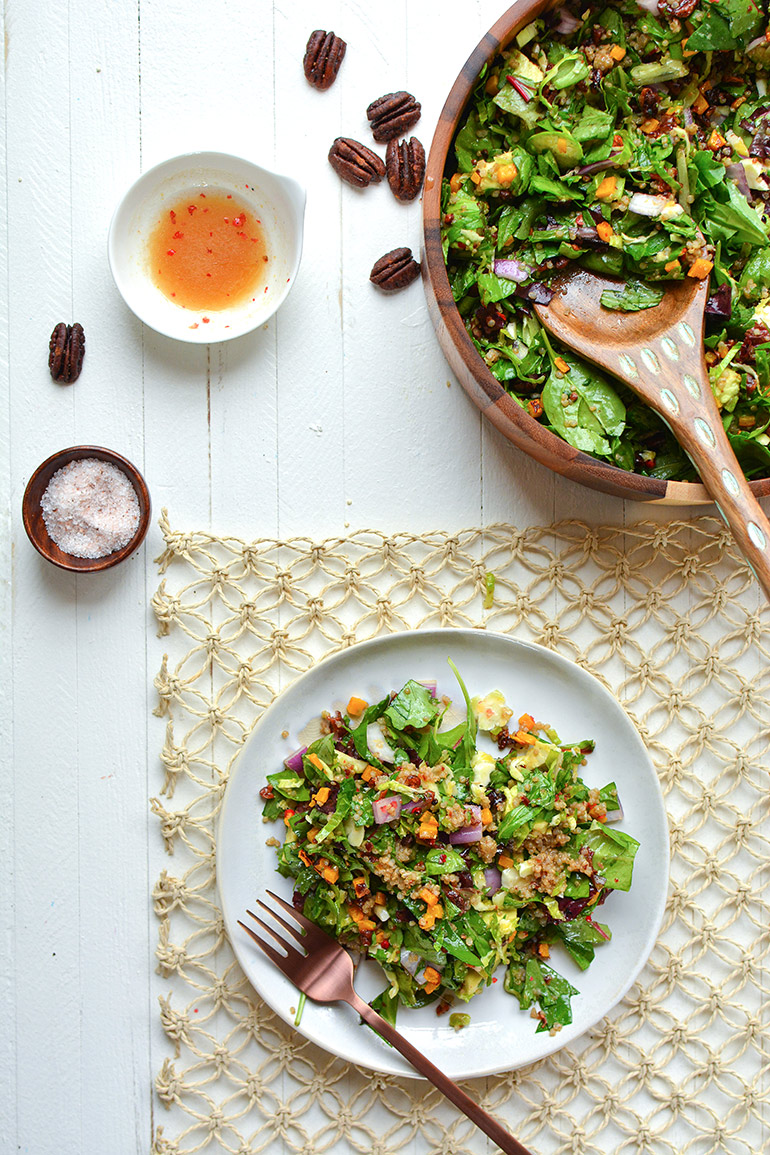 Optional add-ins:
honey goat cheese, pomegranate arils (so colorful!), or diced apples.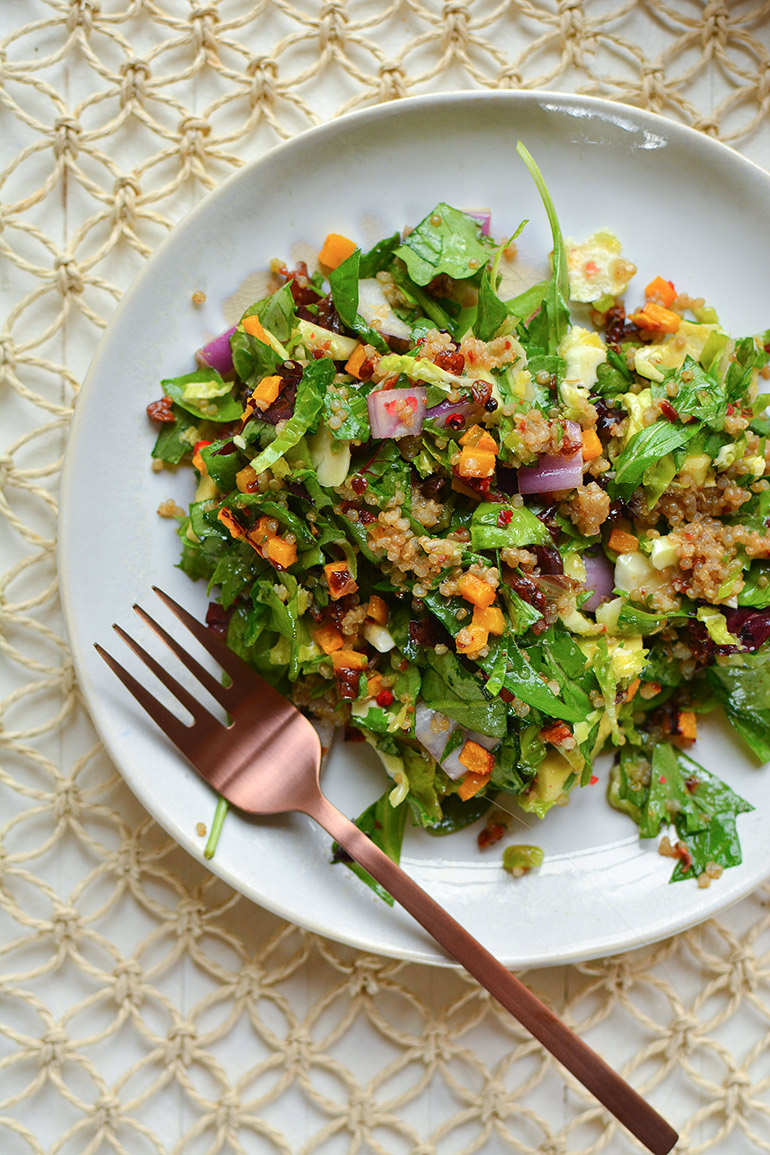 Question:
Which dish(es) are you making for the big day?
////////////////////////////////////////////////////////////////////////////////////////////////////////////////////////////////////////////////////////////// Disclaimer: this is a sponsored post written by me on behalf of Bob's Red Mill. The opinions, text, recipe, and beautiful photos are all mine. Thank you for supporting brands that support Nosh and Nourish!! I choose them based on what I already cook/create with and feel 100% confident in recommending to you.
Autumn Harvest Chopped Salad
Description
Autumn Harvest Chopped Salad with Maple Bourbon Dressing
Ingredients
1 cup diced butternut squash
1⁄2 tablespoon avocado oil
pinch garlic powder & cayenne
8 cups spring greens (coarsely chopped)
1⁄2 cup coarsely chopped honey roasted pecans (or sub plain pecans to keep vegan)
1 Avocado (pitted and diced)
1 cup chopped brussels sprouts (raw --- approximately 4 brussels sprouts)
1⁄4 cup diced red onion (optional)
1⁄3 cup maple bourbon dressing* (recipe below)
Notes
*other optional add-ins include: honey goat cheese, pomegranate arils, and/or diced apples.
Instructions
Preheat oven to 425 degrees.
In a small mixing bowl, stir cubed butternut squash, 1/2 tbsp avocado oil and cayenne + garlic powder to evenly coat. 
Lay in a single layer on a baking sheet. 
Bake for 15 minutes (checking at 10 and 12 min). Butternut cubes should get crispy and lightly browned, but not burned. 
In a large salad bowl, combine all salad ingredients. 
Pour dressing when ready to serve.
Toss with salad tongs to thoroughly combine. 
Enjoy!
Yields 8 Servings
Maple Bourbon Vinaigrette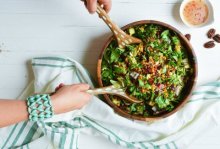 Description
Maple Bourbon Dressing for Autumn Harvest Chopped Salad
Ingredients
1 tablespoon Dark Amber Maple Syrup
1 tablespoon Bourbon (optional, but recommended)
1⁄2 tablespoon Apple Cider Vinegar
1⁄4 teaspoon crushed pink peppercorn (or sub regular black pepper)
1 tablespoon unsweetened cashewmilk
Instructions
Combine all dressing ingredients in a mason jar. Cover with lid. 
Shake until thoroughly combined. 
Serve over Autumn Harvest Chopped Salad (recipe above).
Yields 8 Servings