Thanksgiving Leftovers + {Cranberry Pumpkin Relish}
Posted: November 12, 2012
Since  I prepared a trial-run Thanksgiving feast this past weekend, creating a full menu of healthier items, Dear Hubby and I are in full-on Thanksgiving leftover mode right now...which you have to admit is one of the best parts of the entire process!!  All of the flavors meld together so nicely, and it's fun spinning off other meals from the original items.  Case in point, today's lunch: Buffalo Cranberry Grilled Cheese using the leftover cranberry relish. Oh.My.YUMMMMMM folks!! If the suspense is killing you, just scroll to the bottom to take a look at the aforementioned awesomeness.  But first...
Introducing Healthier Cranberry Pumpkin Relish: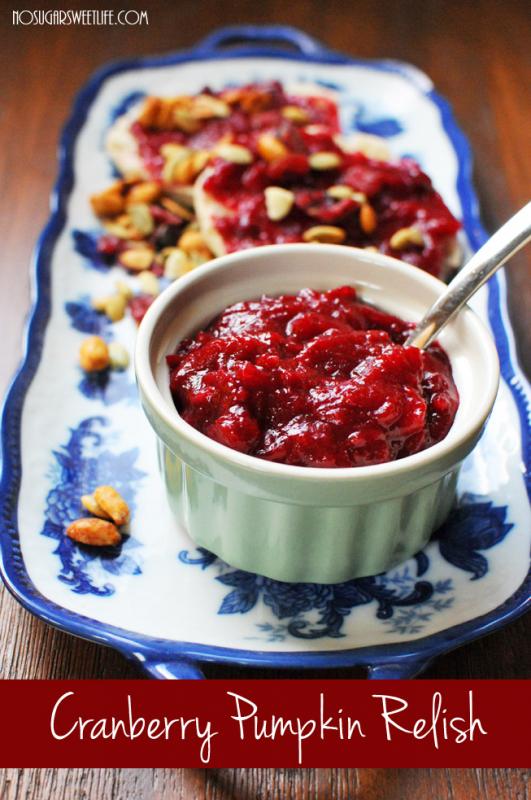 Honestly, out of all the items I've created for this menu, this was by far our absolute favorite.  It's really easy too.  Put everything in a saucepan. Stir. Simmer. Enjoy!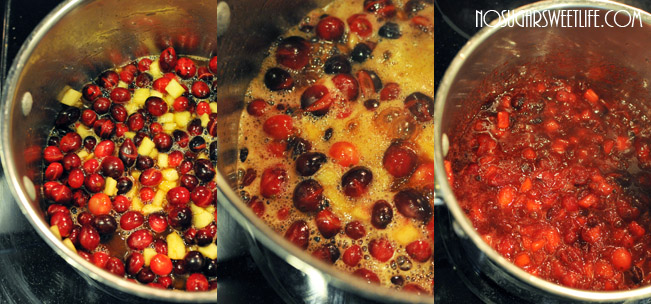 And once everything has cooked, if you like a bit more consistent texture (like I do), use an immersion blender for a minute or two to break up the larger pieces of cranberry.  Then, mix in the secret ingredient: Peter Rabbit Organics' Pumpkin, Carrot, Apple puree!!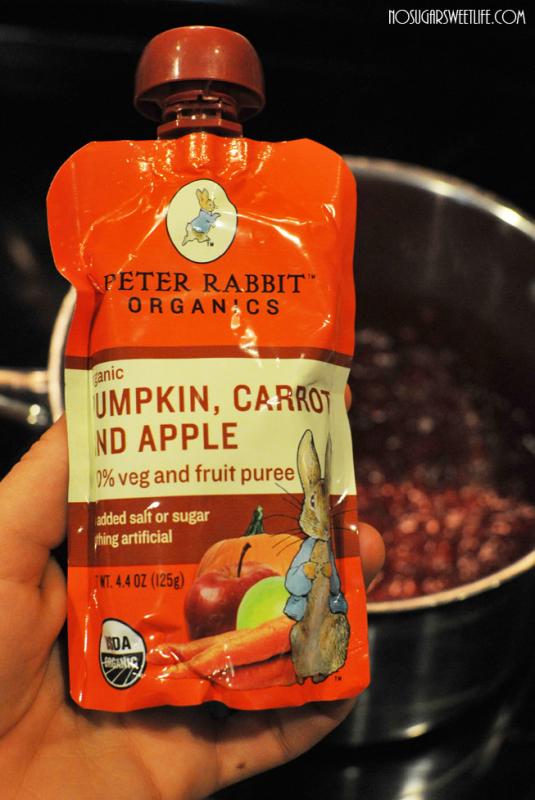 It tones down the tartness of the cranberries and adds even more vitamins with the addition of pumpkin and carrots.  Picture-perfect and soooooooooo delicious!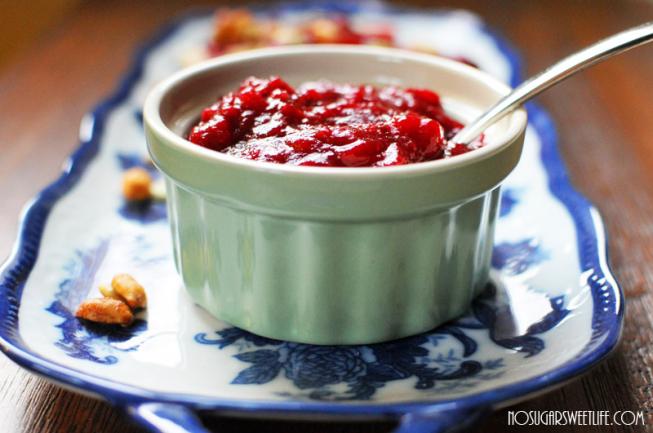 And then, after you've enjoyed this atop your turkey on Thanksgiving day, use the leftover relish to create the most wonderful, mouth-watering grilled cheese you've ever let your lips taste.
Introducing the Buffalo Cranberry Grilled Cheese: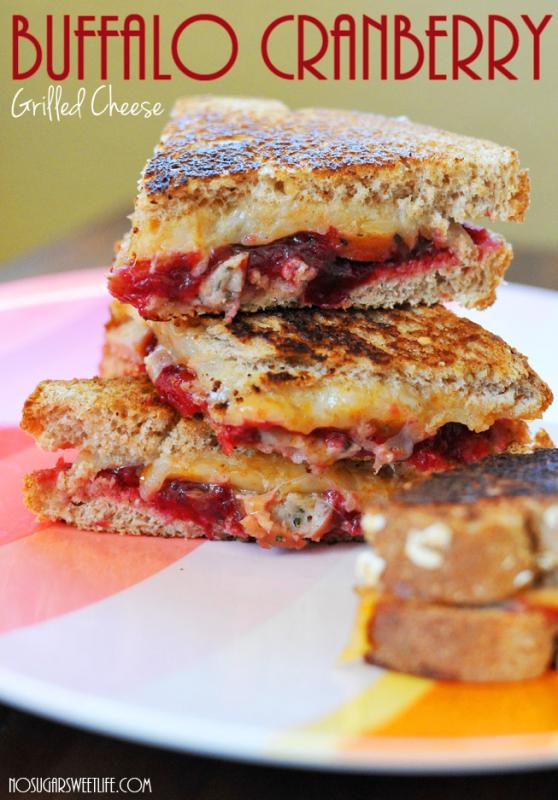 Layer 2 slices of Buffalo Jack Cheese (this was a new discovery at my local grocery store last week...it's a combination of monterey jack and buffalo flavors), one sliced chicken sausage (I used a chicken/apple variety - leftover from the stuffing recipe I'm sharing with you tomorrow), and a generous spoonful of the cranberry pumpkin relish).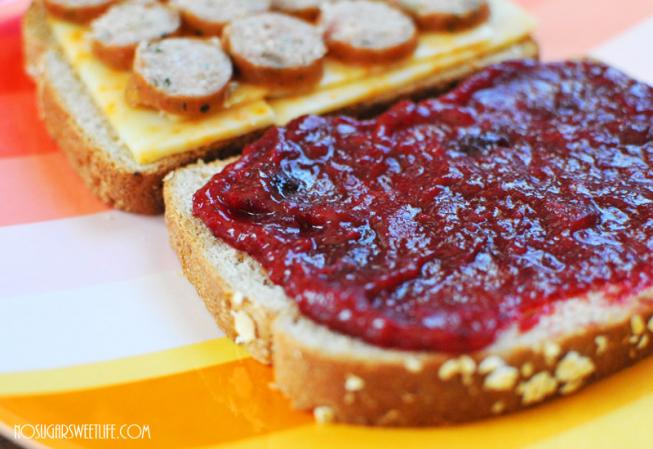 Grill on the stoptop for a few minutes until each side is browned and the cheese is melted.  Really, words can't describe the yumminess adequately. So here's another picture.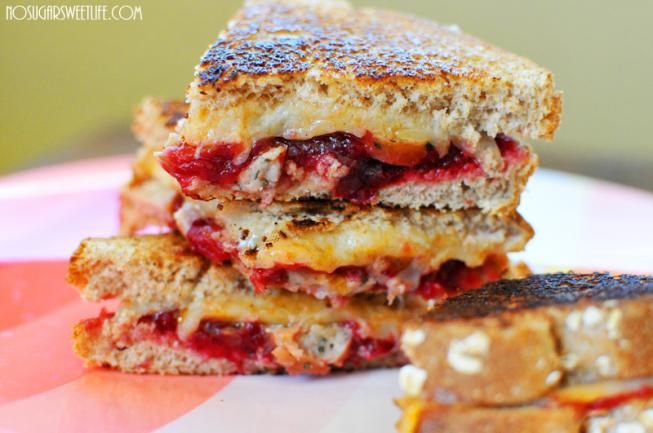 Have you bought your cranberries yet?!
Cranberry Pumpkin Relish
Description
Cranberry Pumpkin Relish || No Sugar Sweet Life
Ingredients
12 ounces
Fresh Cranberries
1
Pink Lady Apple (peeled and diced)
1⁄2 teaspoon
Ginger (I used ground)
1 cup
Orange Juice (fresh or bottled)
1⁄2 cup
Agave Nectar or Honey (could sub brown sugar)
4 2⁄5 ounces
Pouch of Pumpkin, Carrot, Apple blend (I used Peter Organic's brand)
Instructions
Combine orange juice and agave/honey in a large saucepan.  Bring to a boil, stirring frequently.
Stir in cranberries, apple, ginger, and cinnamon and bring to a slow boil.  Reduce heat and simmer for 30 minutes.
Once sauce is thickened, remove from heat and cool. 
If you like a more consistent texture, like I do, you can take an immersion blender to the mix for a minute or two to break up the large chunks/berries.
Stir in the pumpkin/carrot/apple pouch.
Refrigerate until ready to serve alongside turkey.
Yields 16 Servings

You might also like...