About Me
Posted: August 2, 2013
At the end of the summer of 2011, after celebrating my daughter's first birthday, I found myself 75 pounds heavier than my wedding day, cringing at all photos taken of me, and completely at a loss for how to teach my daughter how to live a happy, healthy life.
My weight-loss journey started with a 15 day juice "Reboot" after watching the juicing documentary: "Fat, Sick, and Nearly Dead." I only lost 8 pounds, but that was the most movement I'd seen on the scale (in the proper direction!!) in almost 5 years. It gave me the hope that my weight (and life) could actually change.
I redefined "normal" for my family, and started eating and preparing healthier meals -- full of fresh vegetables, fruits, and lean meats. It wasn't about "dieting" for me, but relearning how to eat nourishing foods that would fuel our everyday activities.
I wanted her to grow to love her body and KNOW 100% that she is strong, beautiful, and loved.
Fast forward a year later, and I was 55 pounds lighter, the author of this new cooking blog, writing regularly for the "Reboot with Joe" website, and being included in a follow-up juicing film. I've had the opportuinty to work with fabulous brands like Chobani, Pillsbury, and Driscoll's.
But more than any outside successes of my own, I am most proud of the little girl Babycakes is becoming.  Most of you have never met her, but if you did, you would:

    a) be enamoured by her sweetness and genuine concern for others

    b) be impressed by the variety of foods she'll put into her mouth and actually swallow (and dare I say, enjoy)

    c) wonder where in the world she gets all that energy!!!!

She is a great help to me in the kitchen, loving to stir brownie mix, "paint" basil on to pizza dough, and feed veggies through the juicer chute. She adores being part of the process!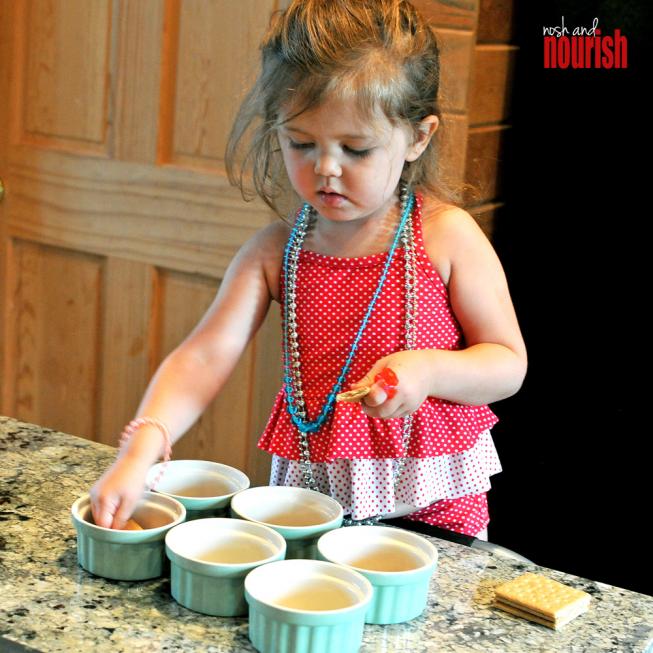 My Cooking Philosophy:
It has definitely evolved over the time I've had this blog, but I am thankful about who I really have become --- as a cook, and as a blogger.  My cooking philosophy is to add in nourishing ingredients that might not typically be included-- in order to boost vitamins and antioxidants, whilst maintaining delicious flavor.



Some posts you might want to check out first:
1) Before and After: From Obese to Healthy
2) How I lost the Weight: Without Counting Calories or Points
3) Tips for Reducing your Sugar Intake: 7 Low-Sugar Tips Anyone Can Adopt
4) What I Eat/Cook: Nosh And Nourish Recipe List
5) MORE About Me: Important things in my life
Please feel free to email me with any questions, encouragment, etc...

Here's to all of us living the happy, healthy life!

You might also like...