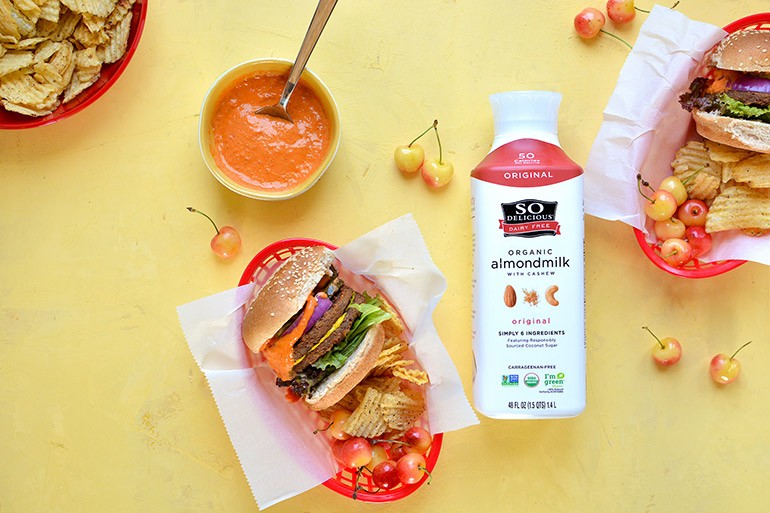 Nourish your body and the planet this summer by choosing more plant-based options... like these veggie burgers topped with a dairy-free roasted tomato aioli, lettuce, onion, and pickles. 
Summertime is allllllllll about grilling and outdoor parties and soaking up the sunshine.
But, let's be honest, summer barbecues are usually centered around the grilled meat. Grilled burgers. Grilled hot dogs. Grilled brats. Grilled chicken. And then you throw in a few sides, often laden with more meat (ie. bacon) and a bit of fruit. And you call it good. But, summer barbecues can be just as good, if not BETTER, sans meat and dairy.
The key to these delicious veggie burgers is the sauce: roasted tomato aioli.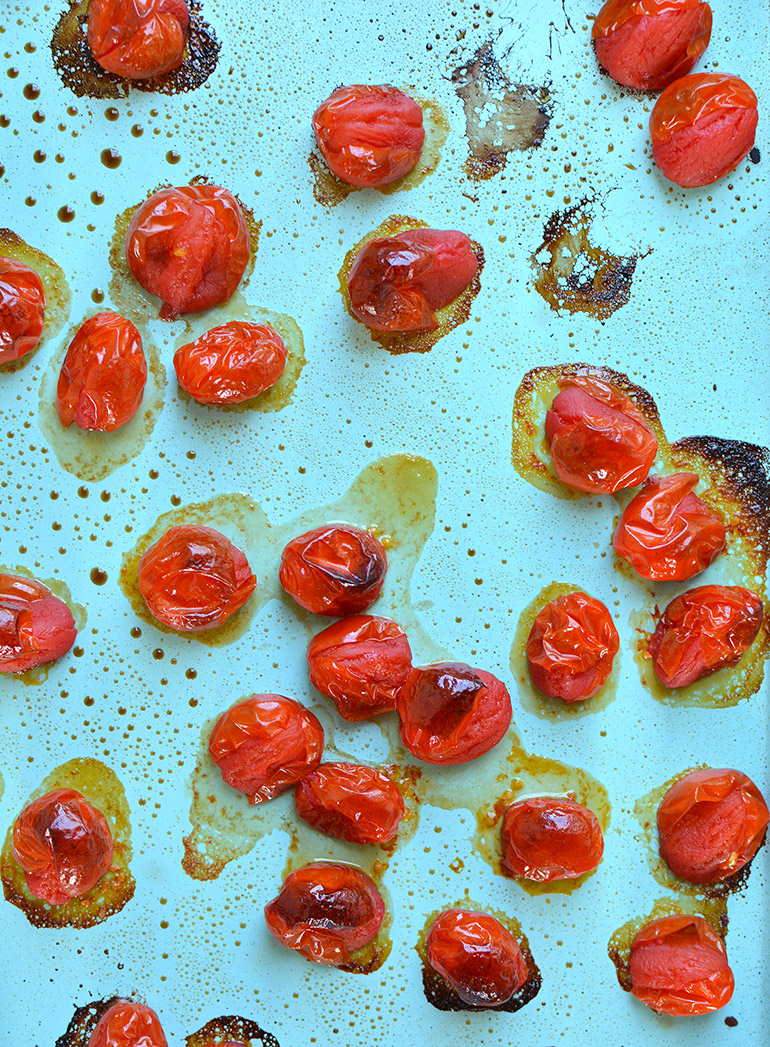 It's made with... you guessed it, roasted tomatoes... plus:
So Delicious Dairy Free Original organic almondmilk
Garlic
Flaxseed
Olive Oil
a bit of sweetener (monkfruit or coconut sugar will work)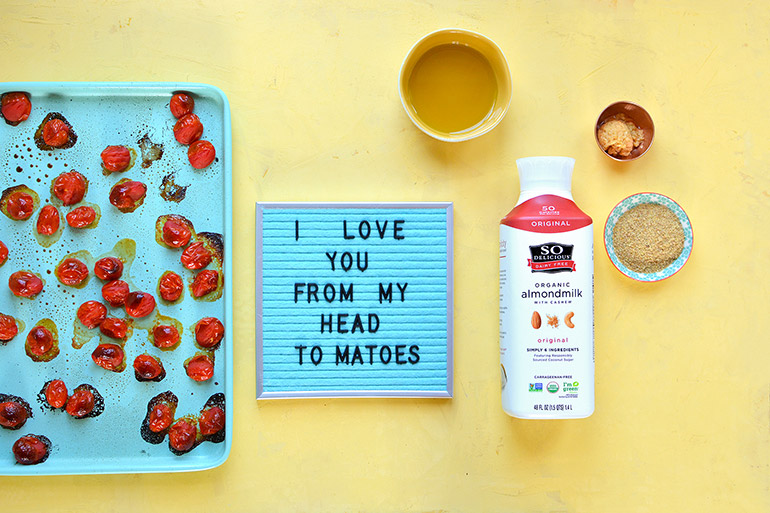 For this recipe, I used the Morningstar Farms' Grillers Prime veggie burgers, but you can use whatever type you'd like. Please note: these are vegetarian, but not entirely vegan (they contain egg whites). If you want something totally vegan, the Beyond Meat burgers are delicious, or you could make one at home like this.
Build your burger to your liking. 
Double stack or single? You choose. 
Red onions?
Dill pickles?
Lettuce?
Roasted Tomato Aioli AND mustard?
All of the above?! I'm an all-of-the-above type gal, myself.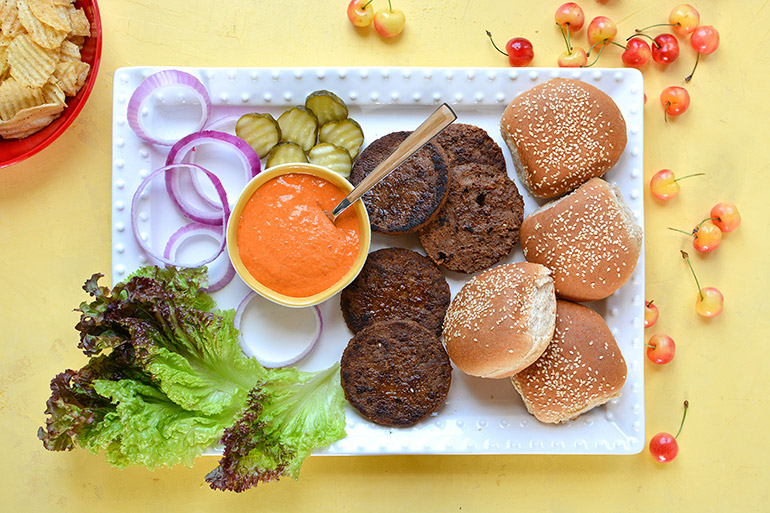 And no summer bbq / veggie burger would be complete without a side of salt & pepper chips and fresh cherries. Am I right? Speaking of cherries, I'm celebrating #CherryWeek on Instagram right now ---- so be sure to check out this post and this one and this one.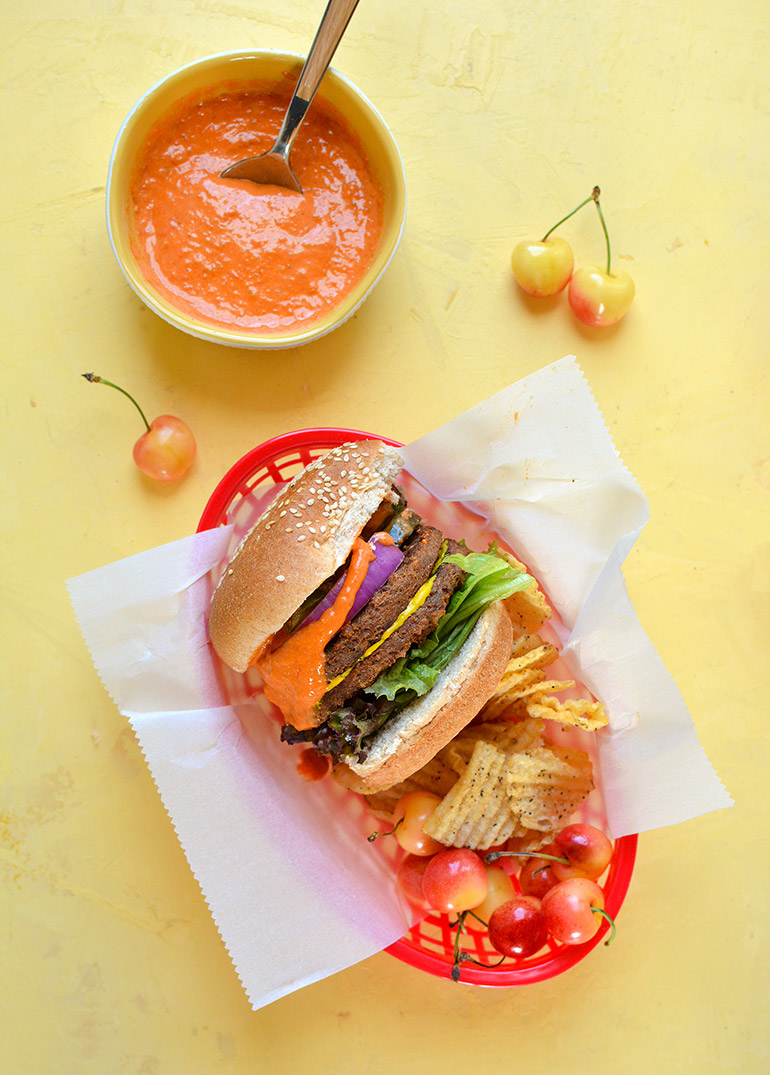 For those of you in the Midwest, be sure to check out Meijer grocery stores (you can find the one nearest you using this store locator) to get discounts on So Delicious Dairy Free products this summer!
//////////////////////////////////////////////////////////////////////////////////////////////////////////////////////////////////////////////////////////////
Disclaimer: this is a sponsored post written by me on behalf of So Delicious Dairy Free. The opinions, text, recipe, and beautiful photos are all mine. Thank you for supporting brands that support Nosh and Nourish!! I choose them based on what I already cook/create with and feel 100% confident in recommending to you.
Veggie Burgers with Roasted Tomato Aioli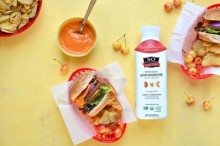 Description
Veggie Burgers with Roasted Tomato Aioli
Ingredients
2 tablespoons ground flaxseed
4 tablespoons So Delicious Dairy Free Original Organic Almondmilk (warmed)
1⁄2 tablespoon Minced Garlic
1⁄8 teaspoon ground pepper
1 teaspoon powdered monkfruit (or sub regular cane sugar)
-----FOR THE BURGERS-----
8 veggie burgers of choice (I used Morningstar Grillers Prime*)
2 large dill pickles (sliced into rounds)
1⁄2 cup roasted tomato aioli (recipe above!)
2 tablespoons Yellow Mustard (optional)
Notes
*Please note that the veggie burgers I used are NOT fully vegan. They contain egg whites. So, if you're vegan, make sure to choose a veggie burger that is labeled vegan, or make your own at home!
Instructions
Preheat the oven to 425 degrees. Lay the grape tomatoes in a single layer on a prepared baking sheet (with non-stick spray or coconut oil). Roast for 15 minutes. Tomatoes should be softened and blistery. Remove them from the oven and place in a large mason jar or bowl. Refrigerate for 15 min to cool.
In a small bowl, combine the ground flax and warmed almondmilk (use a pan on the stovetop or microwave it in a mug to warm it). Stir and then refrigerate for 15 minutes.
Once the tomatoes have cooled and the flax mixture has solidified, combine all the aioli ingredients in the large mason jar or bowl. Use an immersion hand blender (or a full-size blender will work). Blend until smooth/thick.
Cook your veggie burgers according to the directions on the package. I like to pan-fry mine the best. Then, assemble your burgers: Bun, lettuce, burger, onion, pickles, and a large dollop of roasted tomato aioli!
*Note: you can store the aioli in the fridge for up to a week.
Yields 8 Servings