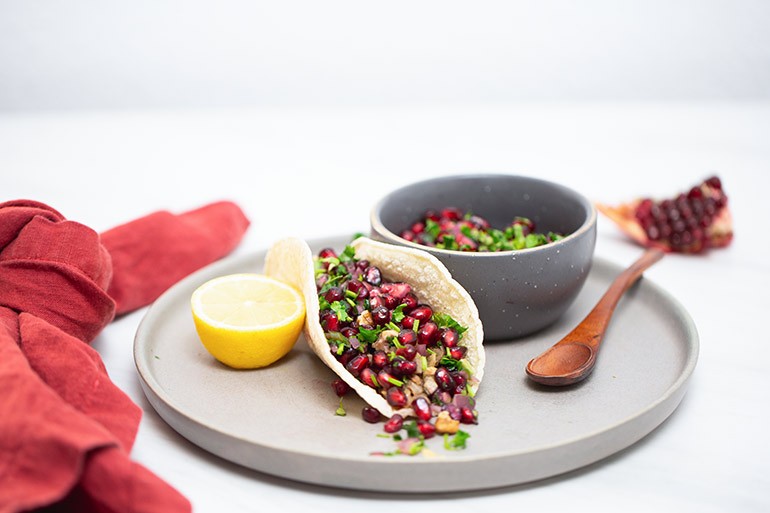 These vegan tacos with pomegranate salsa look super Christmassy, but they are perfect all year round.
Hi! Ale from Piloncilloyvainilla  here! I'm pretty sure that when you try them, you'll love them immediately and the salsa will be on your favorite Mexican food list forever. The salsa inspiration comes from Kelly! She loves mixing interesting flavors together in tacos, like her roasted carrot tacos with apple slaw, and her honey sesame fish tacos, and her pepper jelly breakfast tacos!
I'm Mexican you know, and I cook the traditional Mexican dishes, always vegan, but how my mom used to make them. For example, if I'm making "pico de gallo," I'll do it the traditional way with tomatoes, cilantro, onion, and serrano chiles. And it is funny because I love to explore food from all over the world, but with Mexican food, I play it safe. Kelly asked me for this month's recipe to be some tacos with a festive pomegranate salsa. I liked the idea of the salsa, but I also loved the idea of being pushed a bit out of my comfort zone.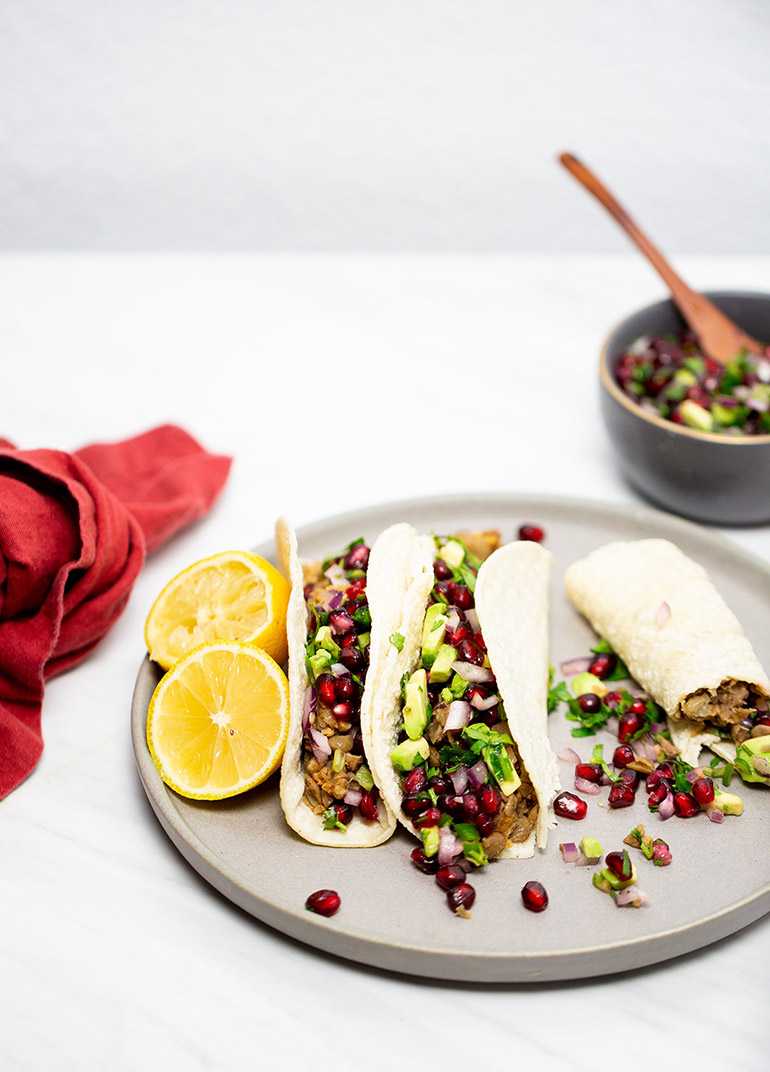 I decided to prepare the vegan tacos with a lentil-walnut filling and a pomegranate "pico de gallo." I made it with diced avocado, red onion, cilantro, and chile serrano. It turned out delicious!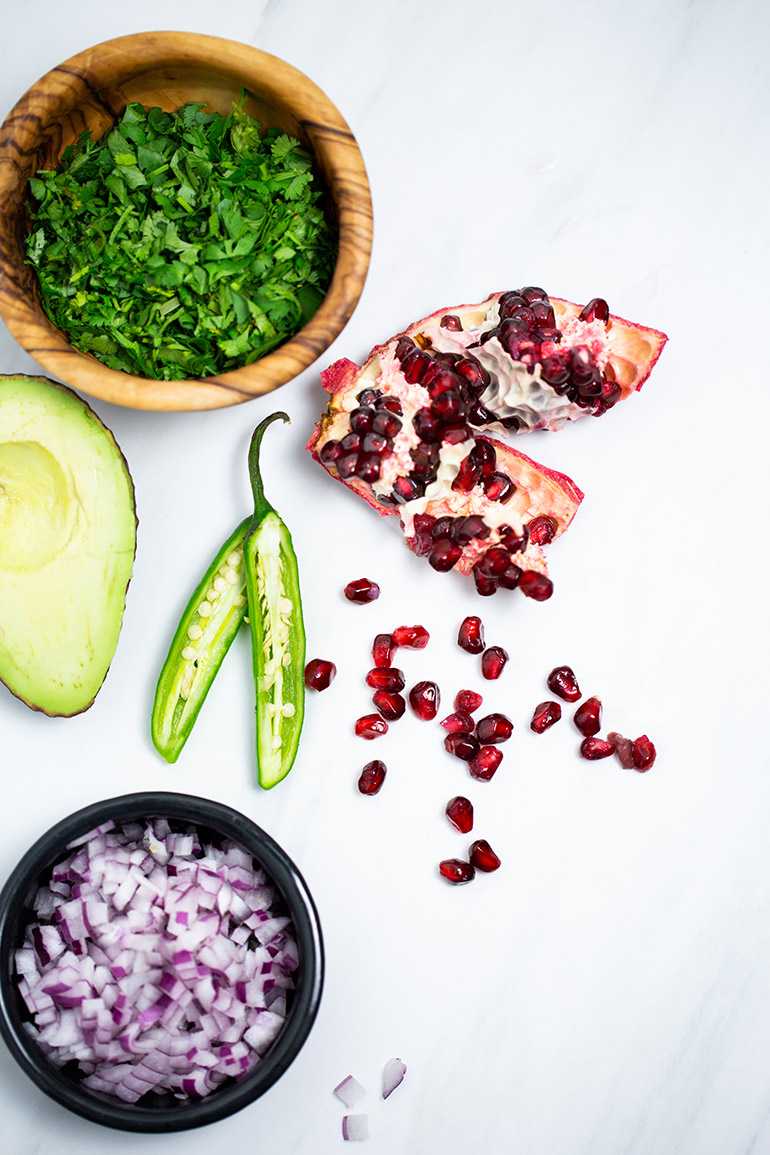 I served the vegan tacos with corn tortillas, and they worked like magic. My kids and husband were super excited when they tried them. They said the tacos tasted like Mexico. And they are right! The combination of the lentils with the acidity and crunchiness of the pomegranate seeds goes exceptionally well. So if you want the recipe for these vegan tacos, just look below!
Ale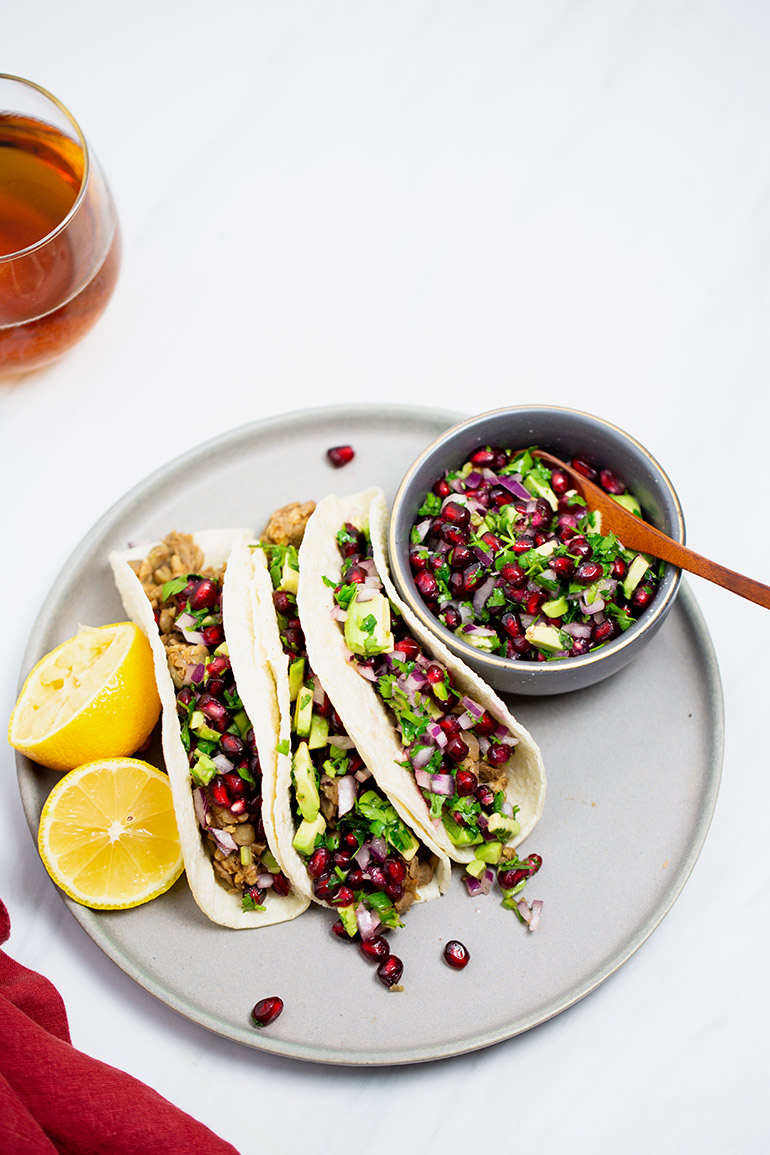 PS. If you want some other fabulous pomegranate recipes, check out:
1) this gorgeous vegan holiday cake
Vegan Tacos with Pomegranate Salsa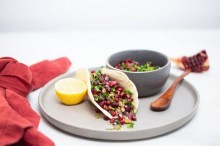 Description
Vegan Tacos with Pomegranate Salsa
Ingredients
1 tablespoon vegetable oil
3⁄4 cups minced white or yellow onion
2 cups cooked green lentils (store bought or home cooked)
1 teaspoon dried chili ancho (or taco seasoning)
3⁄4 cups Coarsely Chopped Walnuts
1⁄2 cup chopped red onion
3⁄4 cups fresh chopped cilantro
1 serrano pepper (seeded and chopped)
1⁄2 Avocado (pitted, peeled, and diced)
2 tablespoons Lemon juice (or sub lime juice)
Notes
*You will also need corn tortillas to serve the tacos.
Instructions
Heat a skillet over medium heat, add the oil and onion. Saute for five minutes or until fragrant. Add the garlic and cook for three more minutes. Add the lentils, cumin, salt, dried chile ancho or taco seasoning and leave for five more minutes, add the walnuts and turn off the heat.
For the salsa, in a big bowl mix carefully all the ingredients but the avocado. Try for seasoning and adjust if necessary. Add the avocado and mix very carefully.
To assemble the tacos, heat the corn tortillas and add a large spoonful of the lentil/walnut filling. Top with a tablespoon of pomegranate salsa.
Yields 6 Servings