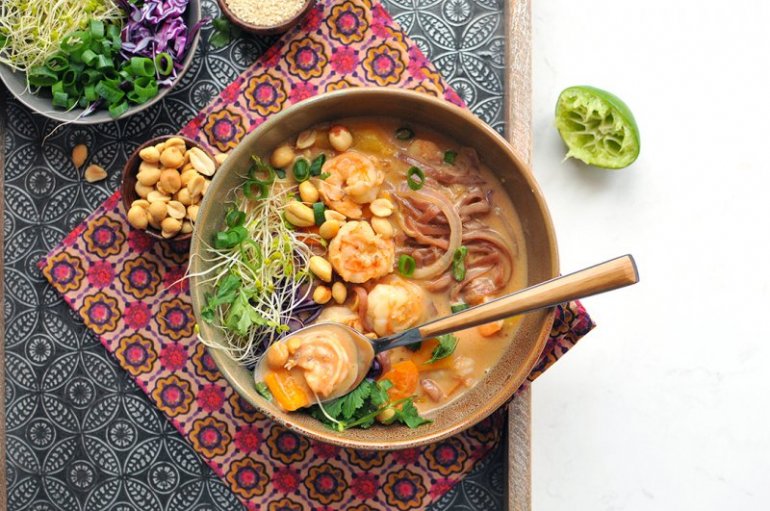 This Thai Panang Curry Bowl with Shrimp is a homemade version of my favorite restaurant meal. This delicious, uber creamy, nourishing bowl is gluten-free and packed with healthy fats and protein thanks to the coconut milk, peanuts, and colossal shrimp from Sprouts.
I don't know if I'm the only one, or just a weirdo, or what... (<--- totally plausible)
but... I often find something that I like at a restaurant and then I order it every.single.time. 
I know what I like, people!!
Examples:
Shrimp Panang Curry at our local Thai restaurant (the inspiration for this recipe!)
Greek chop salad at our local tavern
Basil veggie melt at our local deli
green chile bowl with eggs at our local diner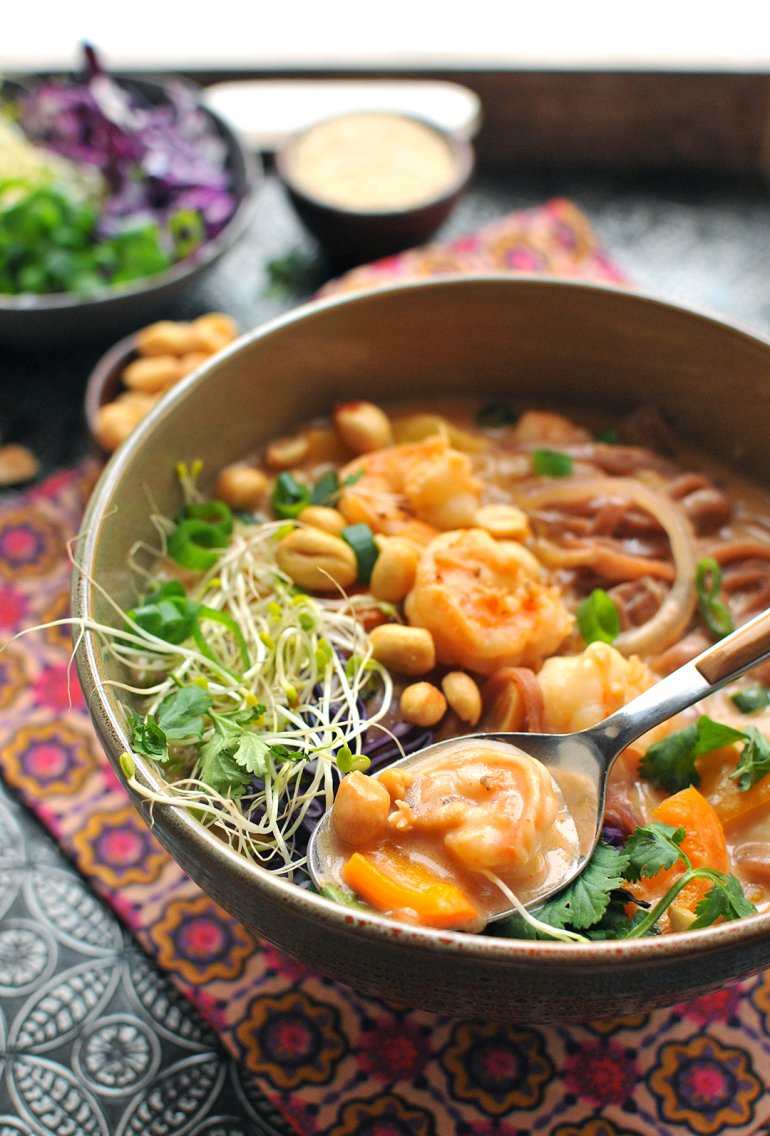 One of the things I love most about the panang curry at the restaurant is how gigantic the shrimp are. That's where these colossal wild-caught shrimp from Sprouts come in.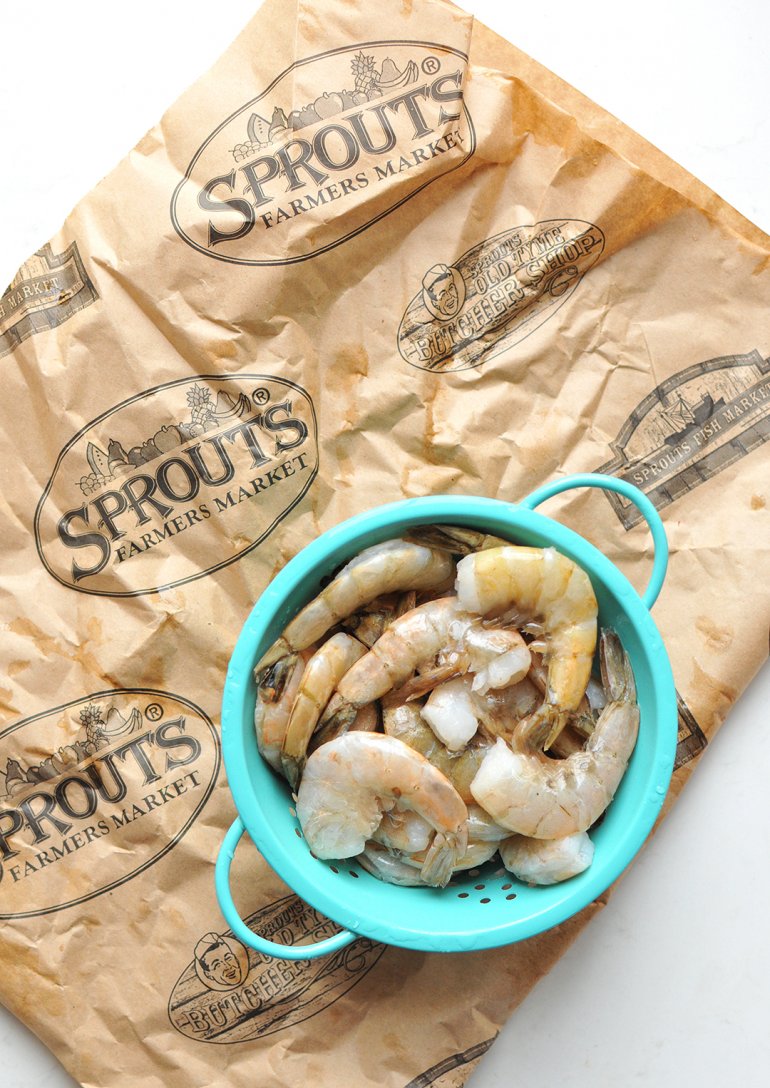 Panang (or phanaeng) curry is a special variation of Thai red curry paste that has a sweet and salty, nutty flavor. It is actually fairly difficult to find in regular stores, so I just made my own version using regular red curry paste plus powdered peanut butter (one of my favorite things) and other flavors. And it was perfection.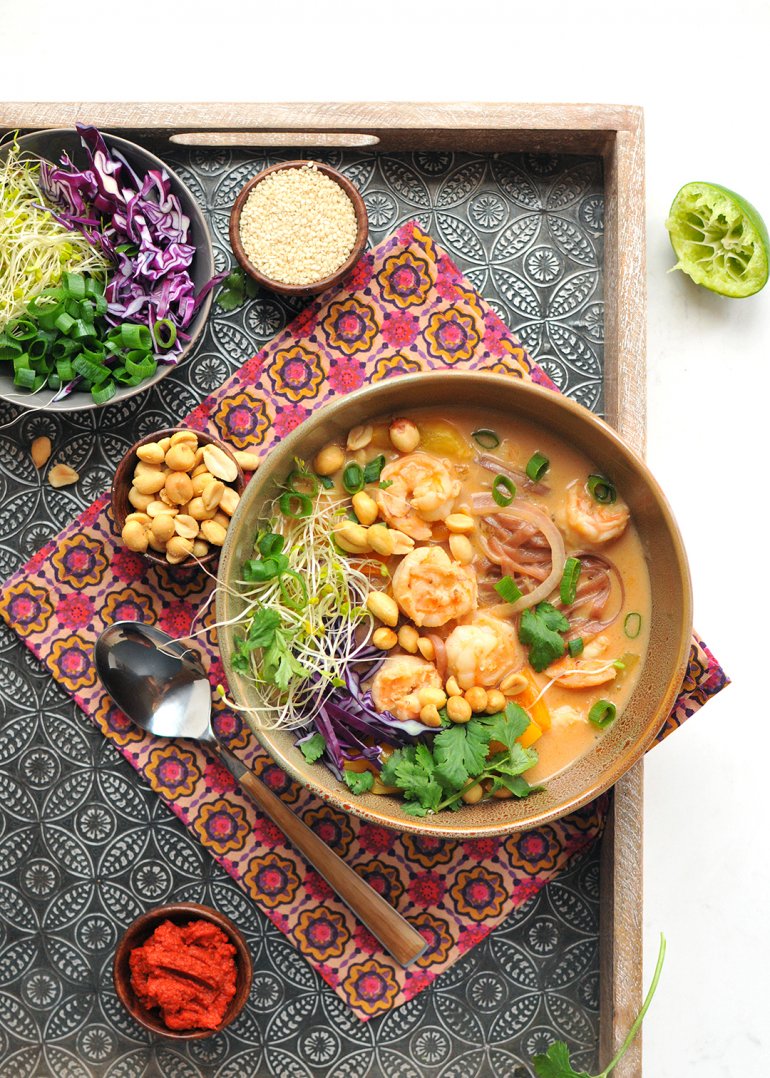 And the fun part? Topping it with alllllllllllllll the good things: red cabbage, broccoli sprouts, cilantro, sesame seeds, green onions, and peanuts!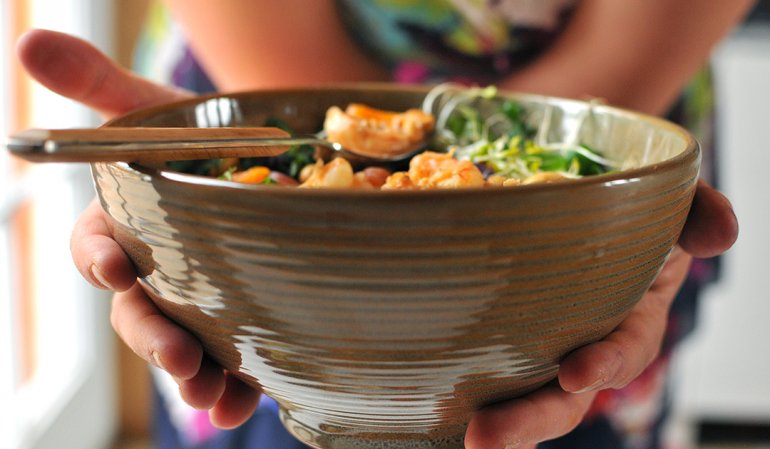 Disclaimer: this is a sponsored post written by me on behalf of Sprouts. The opinions, text, recipe, and beautiful food photos are all mine. Thank you for supporting brands that support Nosh and Nourish!! I choose them based on what I already cook/create with and feel 100% confident in recommending to you.
Thai Panang Curry Bowl with Shrimp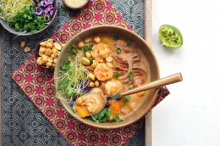 Description
easy shrimp recipes | panang curry | noodle bowls | seafood lent recipes
Ingredients
1 pound colossal shrimp from Sprouts Fish Market
2 tablespoons Sprouts' Extra Virgin Olive Oil (divided)
1 tablespoon Minced Garlic
1 tablespoon Minced Ginger
2 organic bell peppers (diced)
27 ounces Sprouts' coconut milk (~two, 13.5oz cans)
1⁄4 cup powdered peanut butter (or sub regular)
2 tablespoons Oyster Sauce (or sub fish sauce)
1 tablespoon Thai red curry paste
1 tablespoon Coconut Sugar
1⁄2 tablespoon Sprouts' soy sauce (or sub coconut aminos)
4 ounces red rice noodles
for garnish: (green onion, cilantro, broccoli sprouts, red cabbage, peanuts)
Instructions
Rinse, peel, and de-vein all of the shrimp. Then, put them in a medium mixing bowl. Stir in 1 Tbsp. olive oil and the minced garlic and ginger. Let marinate for 10 minutes.
Meanwhile, in a large deep skillet /pan, heat up the remaining 1 Tbsp. olive oil over medium heat. Then, saute the bell peppers and red onion for approximately five minutes until softened and lightly browned.
Add in the sauce ingredients: lime, water, coconut milk, powdered peanut butter, oyster sauce, curry paste, coconut sugar and soy sauce. Bring back to a boil.
Once the sauce is boiling, stir in the shrimp and rice noodles. Stir frequently while the shrimp cooks and the noodles soften, for approximately five minutes. Shrimp should be opaque and noodles should be soft.
Serve in a large noodle bowl and add the garnishes: green onion, cilantro, clover sprouts, red cabbage and peanuts.
Yields 4 Servings