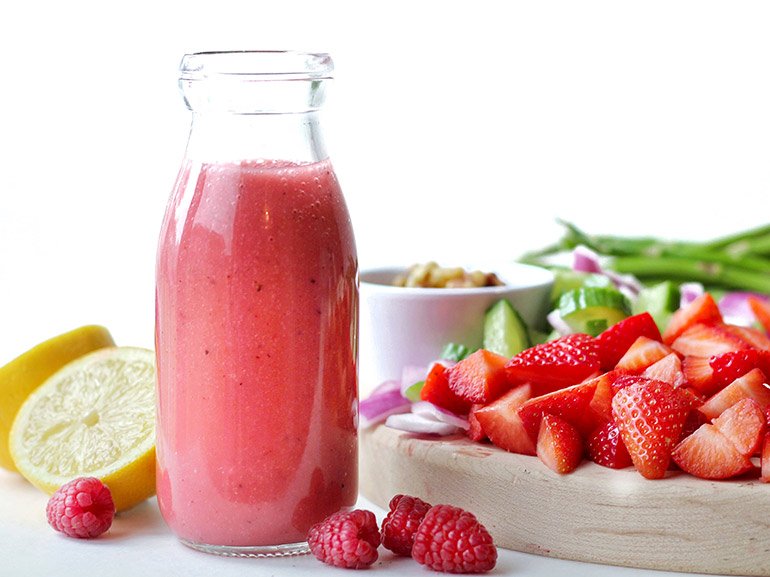 What's better than a salad? How about a salad in a jar!
Joy from Lunches and Littles here again. I just love a good salad...especially if it is in a jar. Mason jar salads aren't just convenient, they're also beautiful and I love that you can adapt each one to your own tastes and control the amounts of all of the ingredients you add in when you prep them individually (perfect for little ones). You may have seen these jars popping up on my feed here and there lately, and I promise – that was just the beginning!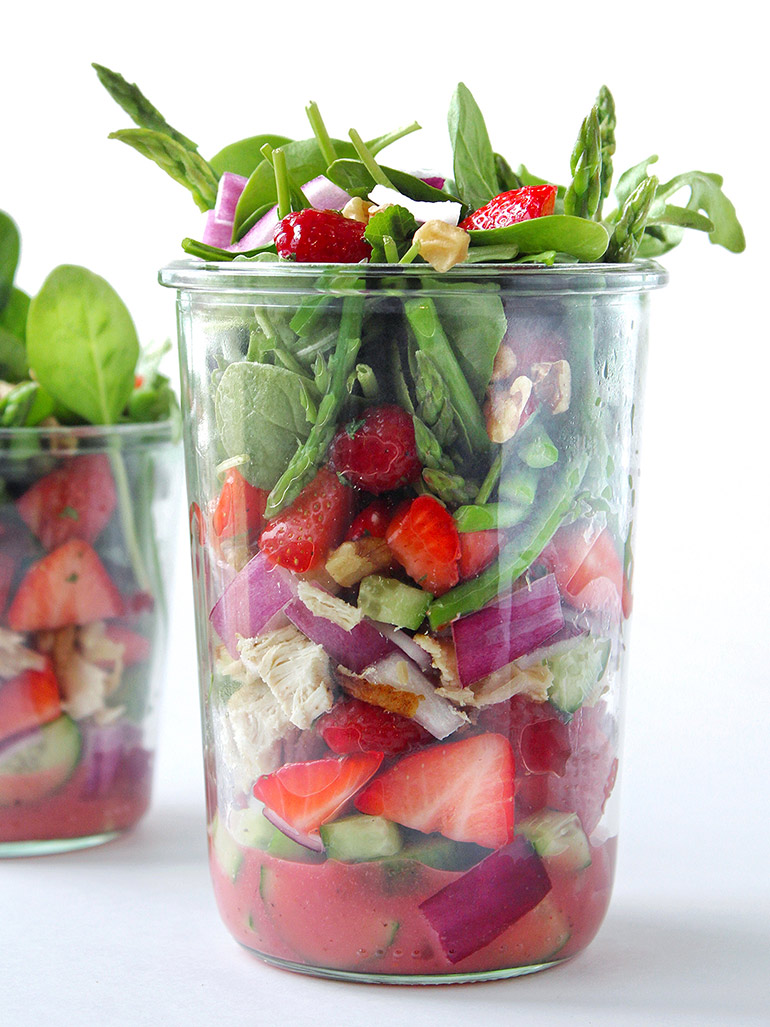 Now that Spring has sprung, I'm so excited for what the change in weather and produce will bring to our plates (and jars)! Today I am sharing my latest jar salad recipe and it's not only beautiful to look at, it's also so fresh, colorful and oh so tasty. This Sweet Spring Jar Salad combines juicy chicken (I pick up a rotisserie chicken locally to use for this recipe – a great shortcut!), sweet red strawberries, bright green asparagus spears and more. And it's all served up with a Homemade Berry Vinaigrette, with hints of lemon, that just screams Spring!
And don't worry... if you – or a little one – don't like onions, simply omit them. If you're vegan, skip the chicken and add in some couscous or quinoa in its place. It is so easy to make adjustments to recipes like this one!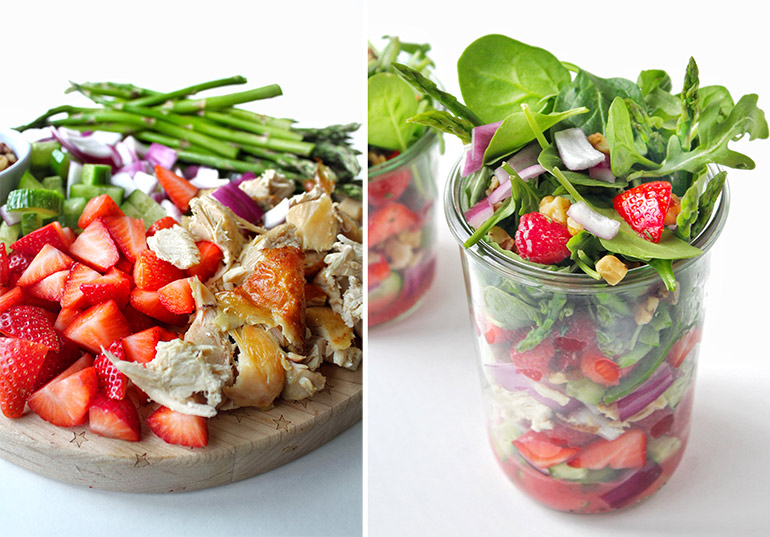 I love a homemade dressing, and almost never purchase store bought options anymore. This dressing is made with just a handful of ingredients – most of which you probably already have in your kitchen or pantry. It also is free from artificial flavors and colors, and just tastes so much better than those dressings that have been sitting on the store shelves for weeks or months.
Here's a few other dressings you might like:
Creamy Lemon Dressing (coming soon!)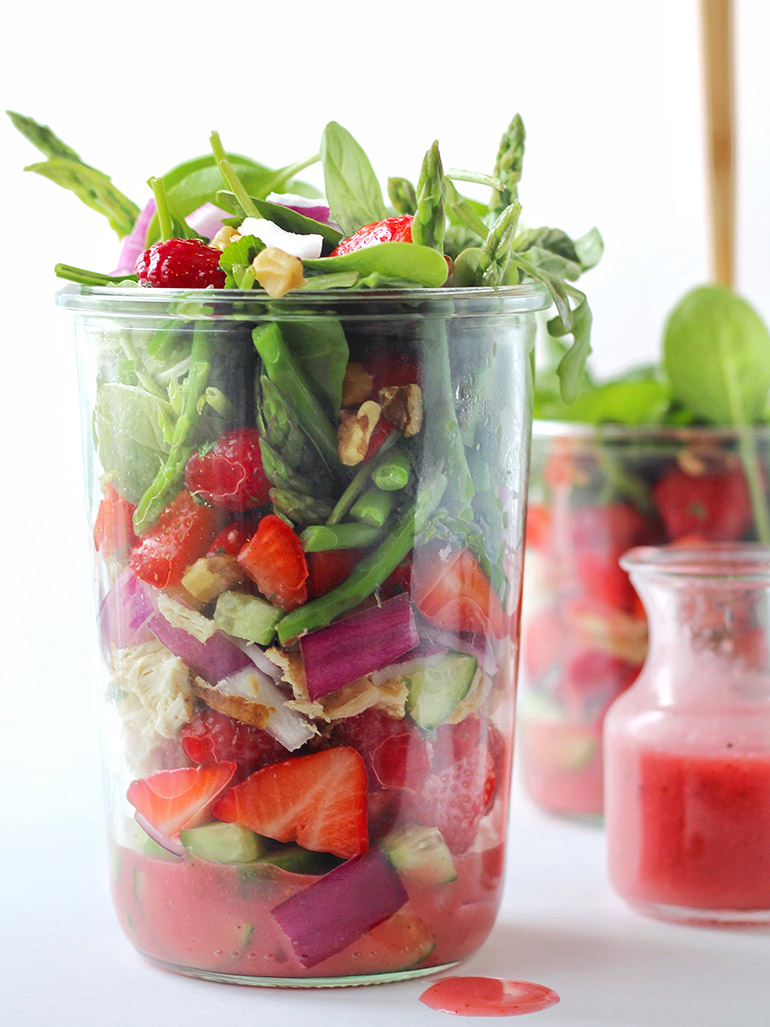 KID VERSION
You may have seen over on Instagram, Kelly has started something with the blog called #NourishedLikeMom --- basically making a kid version of each of her recipes to show you how easy it is to transform my family-friendly recipes into actual kid's lunches (or breakfasts!). You can see more here, here, and here.
On this plate:
Deconstructed Spring Salad --- all the things to dip in the dressing!
HarvestSnaps 
Berries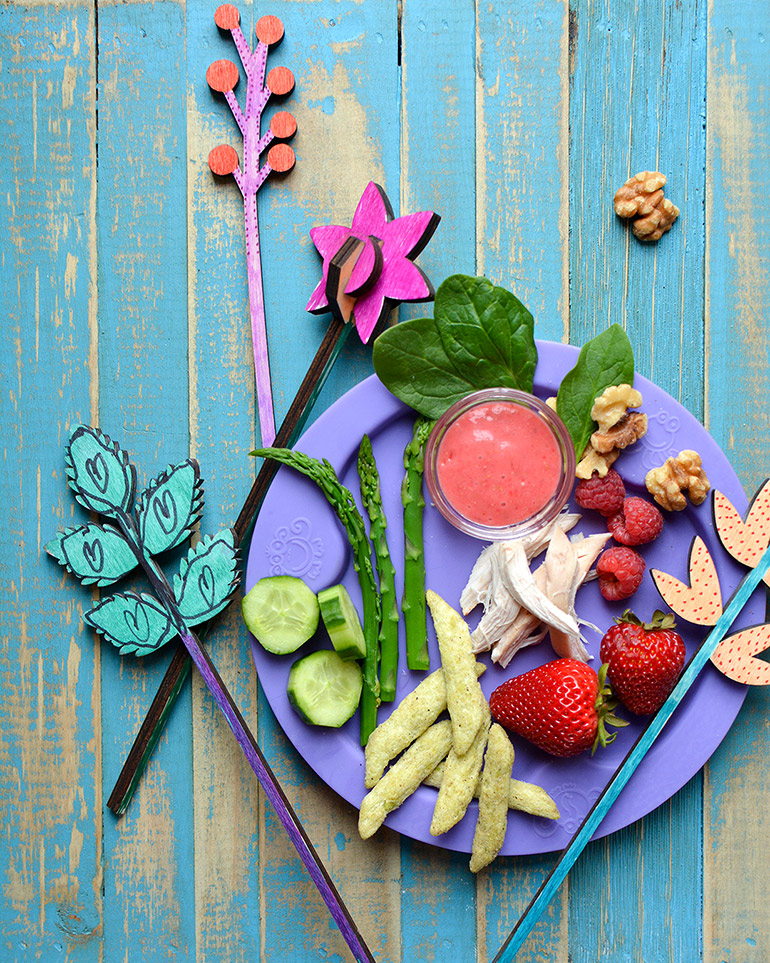 For more delicious recipes that are as colorful as they are easy to make, check out @lunchesandlittles. I am serving up all sorts of colorful, easy and kid-friendly dishes all the time over on my feed and would love to connect with you there!
-Joy
Sweet Spring Mason Jar Salad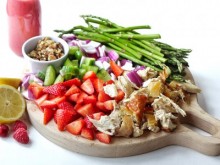 Ingredients
1⁄2 cup red onion slices (cut into bite sized pieces)
1⁄2 bunch asparagus spears (trimmed and blanched)
3⁄4 cups Strawberries (quartered, or a mix of strawberries & raspberries)
1⁄4 cup Coarsely Chopped Walnuts
2 cups rotisserie chicken (or sub grilled or baked)
3 mini cucumbers (thinly sliced and cut in half)
4 cups Spinach (or use whatever greens you have on hand)
4 tablespoons raspberry vinaigrette* (recipe below)
Instructions
Place a couple tbsp of the vinaigrette in the bottom of your mason jars.
Next, place any veggies etc. that will respond to marinating well – think onions, cucumbers, etc.
Then, place chicken, additional veggies, such as your asparagus, next. • Add your greens on top – spinach, arugula, etc.
Finish off with your chopped walnuts, and a few more berries and onion slices if desired.
Cover jars and keep in refrigerator until you are ready to eat up! *I usually make these kinds of salads the morning my hubby and I (or our kiddos) will be eating them, but most salads like this will keep for about 1-3 days.
When ready to eat simply shake your salad jar (make sure your lid is on tight!) to distribute dressing. Then, enjoy straight from the jar, or pour salad onto a big plate or bowl and enjoy!
Yields 2 Salads
Homemade Raspberry Vinaigrette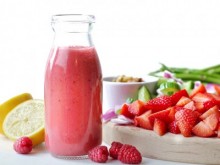 Description
Homemade Raspberry Vinaigrette
Ingredients
1 cup fresh raspberries (use organic if possible)
1 tablespoon fresh squeezed lemon juice
1⁄2 tablespoon honey* (or sub sweetener of choice - monkfruit, coconut sugar, etc.)
2 tablespoons red wine vinegar
1⁄8 teaspoon black pepper
1⁄2 tablespoon Dijon Mustard
Notes
*could use 1 tbsp of honey if you want it a little sweeter / depending on the sweetness vs. tartness of your raspberries
Instructions
To make vinaigrette, simply place all ingredients into a high-powered blender, and blend on a high speed until smooth and all ingredients are combined. *Please note: this dressing can be stored in an airtight container for 5-7 days.
Yields 8 Servings