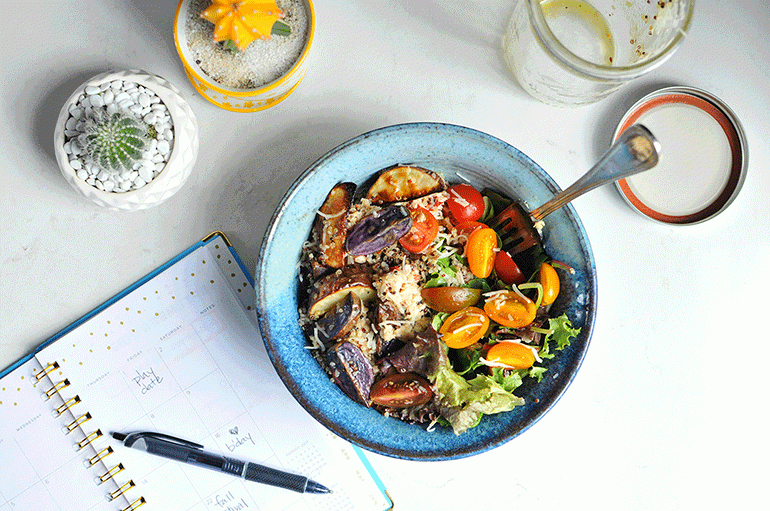 This Rainbow Mason Jar Salmon Salad is super colorful, super nourishing, and super easy to make ahead of time and bring to work throughout the week. With cooked quinoa, Alaska Gold canned wild ivory king salmon, heirloom tomatoes, roasted rainbow potatoes, and a homemade olive oil dressing eating the rainbow never tasted so good!
I lovvvvvvvvvvvvve mason jar salads.
Like this one and this one and this one. 
But this rainbow one is my absolute favorite.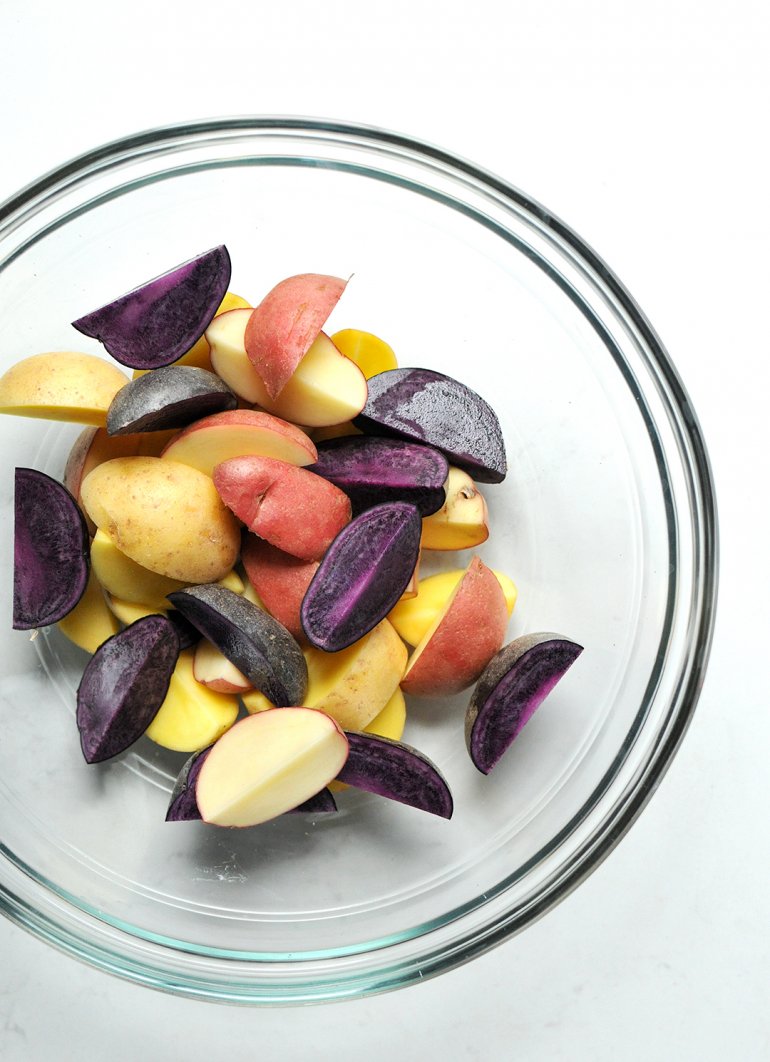 It starts with these gorgeous, colorful potatoes. Why use just plain ol' white potatoes when you can add all this color and flair and additional phytonutrients?!? Let's celebrate colorful, delicious food!!  (<------ that's my new tagline!) The potatoes are sliced then roasted to perfection --- with a crispy edge and a hint of lemon.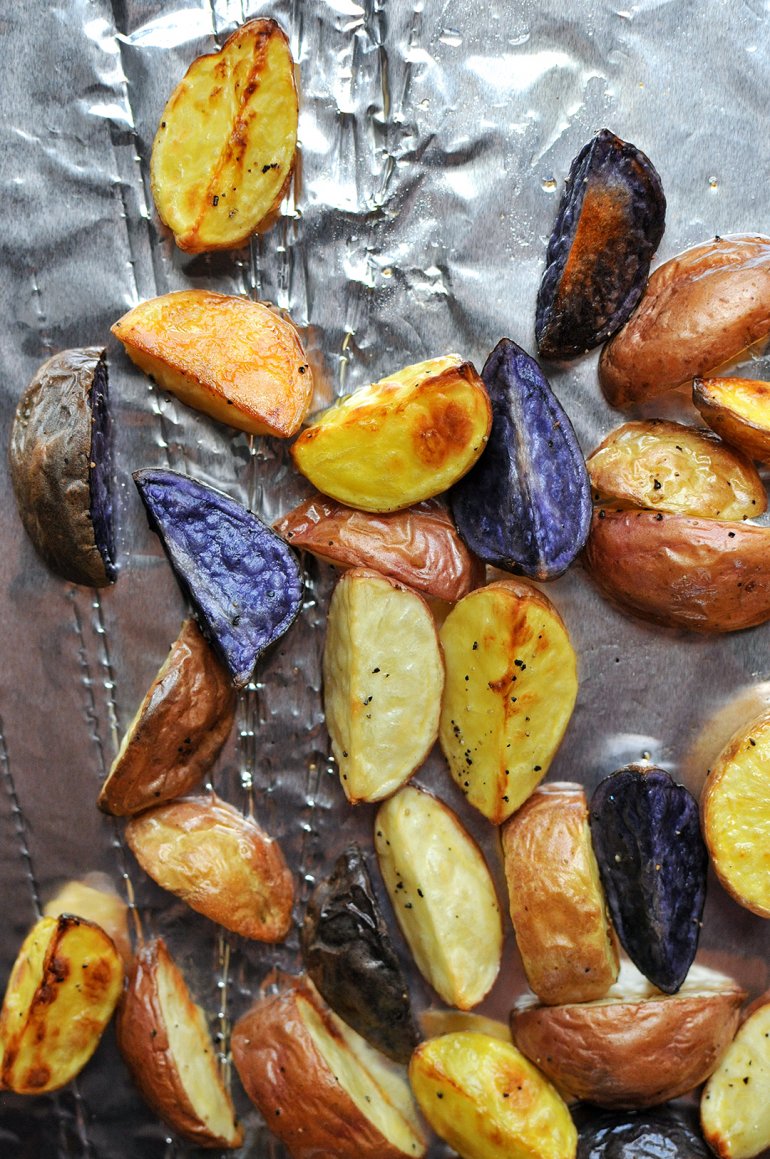 Wild salmon has always been one of Babycakes' favorite foods... which I love. I even put it in her lunchbox! It is FULL of healthy omega-3 fatty acids, B vitamins, protein, vitamin D, and more. And it's even better when you know the source. That's why I love Alaska Gold Seafood --- they use a sustainable fishing method that is better for the ocean and produces the highest quality seafood. You can even see bios of each of their fishermen!
Everything is shipped directly to your house, quickly, and on dry ice. 
Ready for your freezer (or pantry). 
And then your table.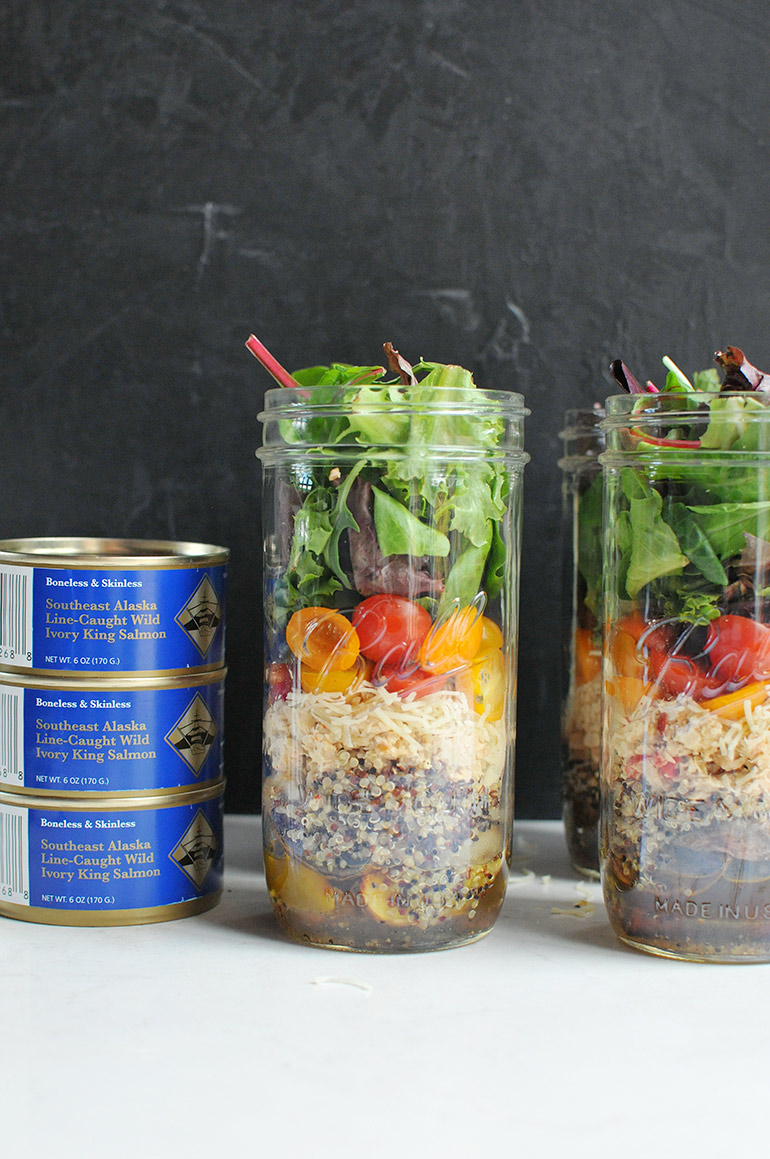 These cans of wild ivory king salmon are similar-ish to cans of tuna (with a mild flavor), but have waaaaaaaaaay more protein, healthy fats, and nutrients! Mason jars are a fantastic way to transport healthy, nutrient-packed salads to work without getting soggy!! The strategic layering keeps everything perfectly fresh and crisp.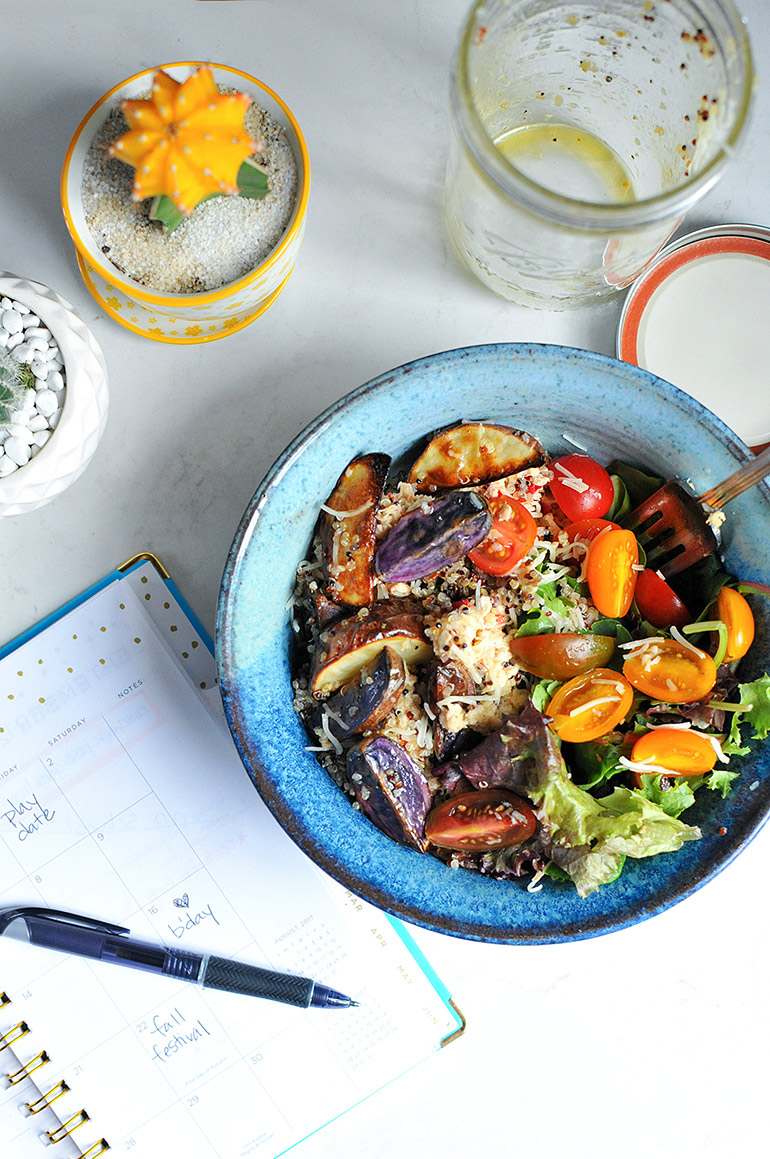 //////////////////////////////////////////////////////////////////////////////////////////////////////////////////////////////////////////////////////////////
Disclaimer: this is a sponsored post written by me on behalf of Alaska Gold Seafood. The opinions, text, recipe, and beautiful photos are all mine. Thank you for supporting brands that support Nosh and Nourish!! I choose them based on what I already cook/create with and feel 100% confident in recommending to you.
Rainbow Mason Jar Salmon Salad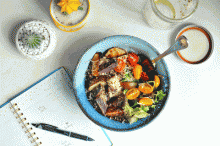 Description
mason jar salads | salmon salad | tuna alternative | wild king salmon | easy work lunch
Ingredients
1⁄2 cup Olive Oil (for the dressing)
2 tablespoons golden balsamic vinegar (for the dressing)
1 teaspoon Coconut Sugar (for the dressing)
juice from 1/2 a lime (for the dressing)
1 teaspoon Montreal Steak Seasoning (for the dressing)
1 pinch Sea Salt (for the dressing)
9 small medley potatoes (some are purple, some are yukon gold, some are red)
16 heirloom grape tomatoes (sliced into fourths)
1 cup organic cheddar cheese
2 cans Alaska Gold Canned Wild Ivory King Salmon (~6oz each (12oz total))
2 tablespoons avocado mayo (or sub your favorite mayo or greek yogurt)
2 peppadew peppers (diced)
5 ounces greens (I love the spinach / baby butter lettuce mix)
Notes
*Requires four 20oz wide mouth mason jars, or just make in a large salad bowl.
Instructions
Preheat the oven to 450 degrees. 
Slice the potatoes into fourths, long-wise... then place them in a large mixing bowl. 
Add 1 tsp olive oil and 1 tsp lemon juice, then stir to coat the potatoes evenly. 
On a foil lined cookie sheet, lay the potatoes in a single layer. Bake for 20 minutes... until golden brown and crispy on the outside. 
Meanwhile, combine all of the dressing ingredients in a small jar (olive oil, balsamic, sugar, lime juice, Montreal steak seasoning, and sea salt). Use a whisk to mix it. 
In a small bowl, flake the canned salmon with a fork, then stir in the avocado mayo and diced peppadews. Set aside. 
To assemble jars: First comes the dresssing. Divide it evenly between the four jars (approximately 2 tbsp per mason jar). Then top with a handful of roasted potatoes. Then add 1/4 cup quinoa to each jar. Then, add about 1/4 cup of the salmon mixture, flattening it in the jar with the backside of a spoon. Then add 1/4 cup cheese to each jar. Then add 1/4 of the sliced tomatoes. Then, add a handful of greens all the way to the top of each jar. You can press them down a bit and add a little more. You want the jars to be completely full so that there's no movement. Then, top with the mason jar lids. 
Keep refrigerated, and bring to work with you in an insulated bag, being mindful to keep the jars upright during travel. 
When you're ready to eat, pour into a large salad bowl. Stir, then devour!
PS. (They will keep in the fridge for 3 -4 days). 
Yields 4 Jars