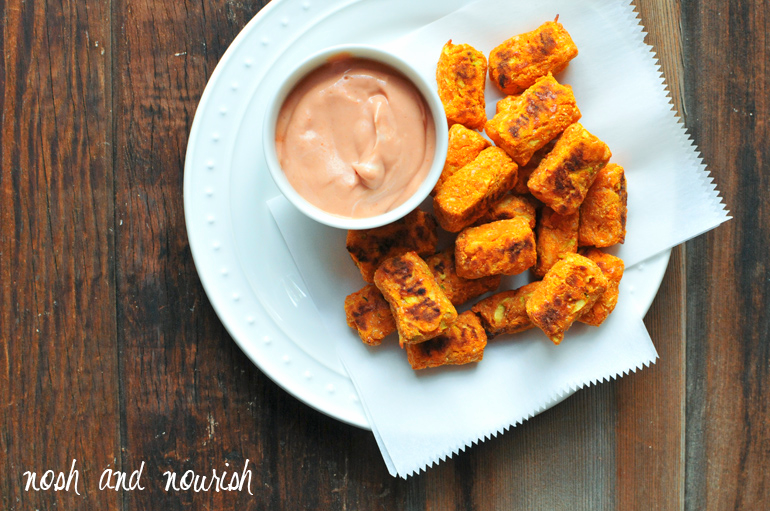 A nourishing after school snack or the perfect side to burger night, these baked sweet potato zucchini tots are happily devoured by even the pickiest eaters. And the creamy ketchup... oh my starzies, so good!
Initially the idea of making my own tots seemed daunting.
Too hard.
Too time consuming.
But they're actually really easy, and I love knowing exactly what's in them, the fact that I can pronounce everything, and that I don't have to include any preservatives… why? because every bite is devoured instantly!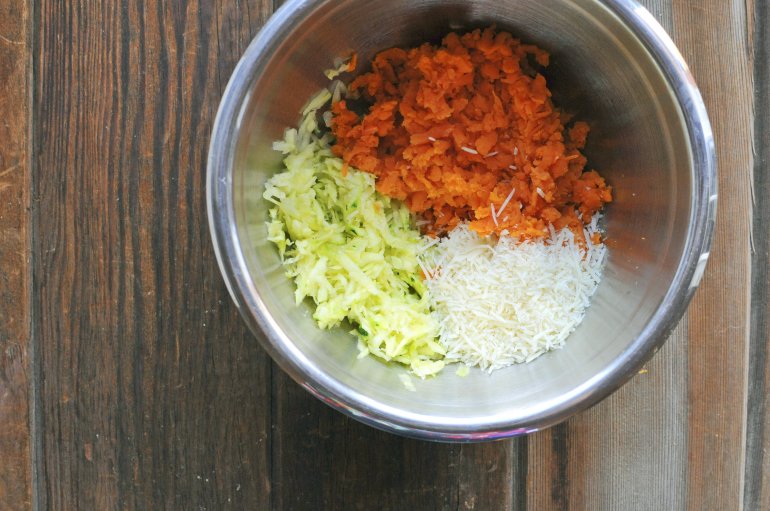 I peel and then microwave my sweet potato to save time; but you can bake yours for 45 minutes if you prefer. The trick is to get it mostly cooked, but not too soft. Because after cooking, you need to grate the sweet potato. And if it's too mushy it won't work.
You also grate the zucchini and then squeeze out the extra "juice"/water so that the tots will hold together better. A tablespoon of coconut flour helps bind everything. Once all the ingredients are combined, use your fingers to shape them into little cylinders. They don't have to be perfect, but getting a consistent shape is nice and helps them cook evenly.
Aren't these little tots all lined up the cutest?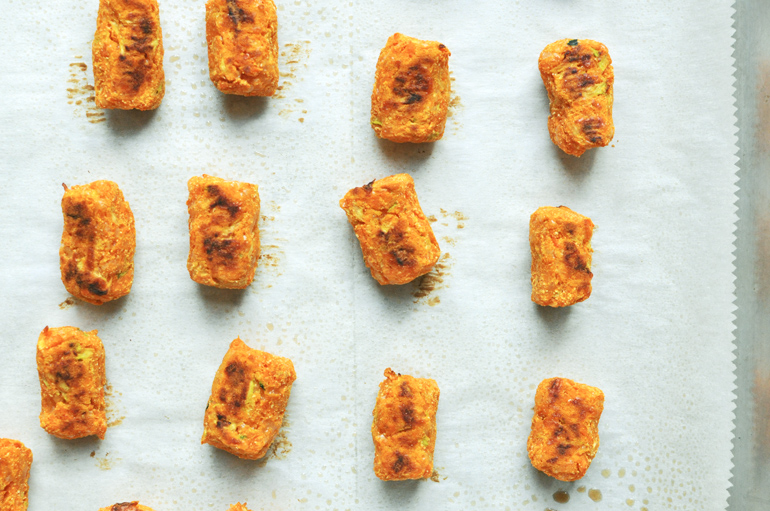 Evidently I'm on an orange colored kick these days... because all of my recent recipes have been orange! Maybe my body is trying to tell me something!!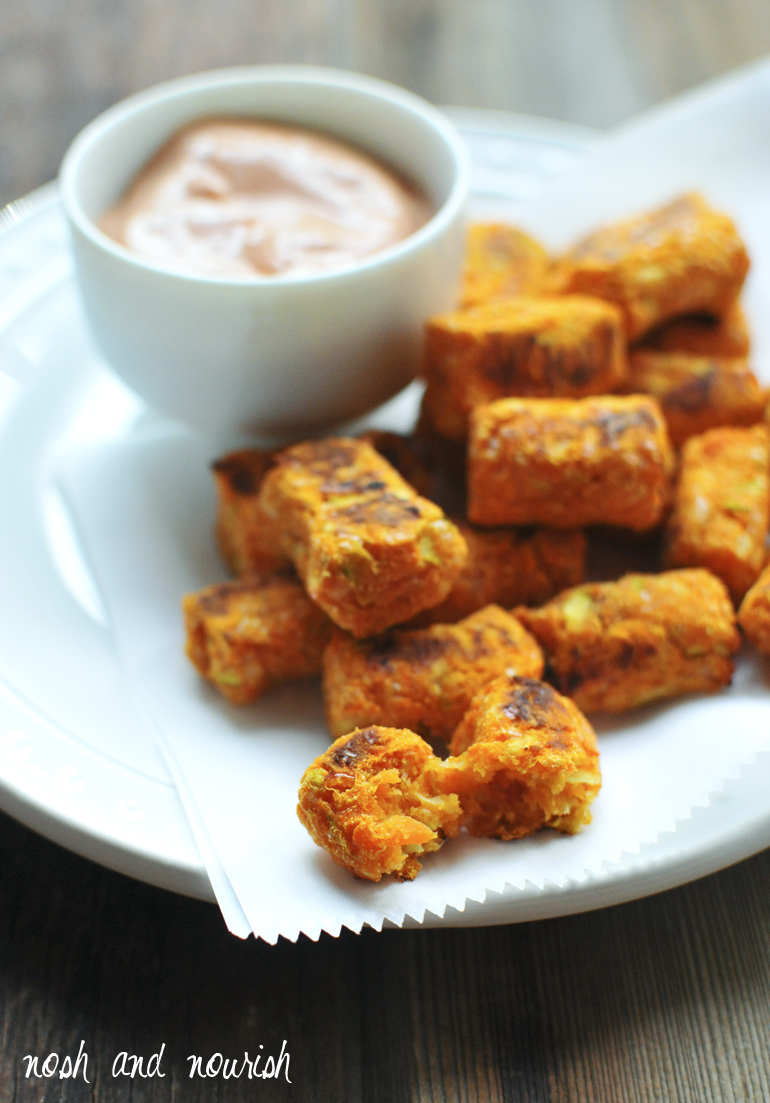 And before we go, let's chat about that creamy ketchup... oh my starzies, so easy and soooooo dang good. Just combine 2T organic ketchup + 2T plain Greek yogurt! It's my new favorite sauce for all things potato -- fries, tots, hash browns, etc...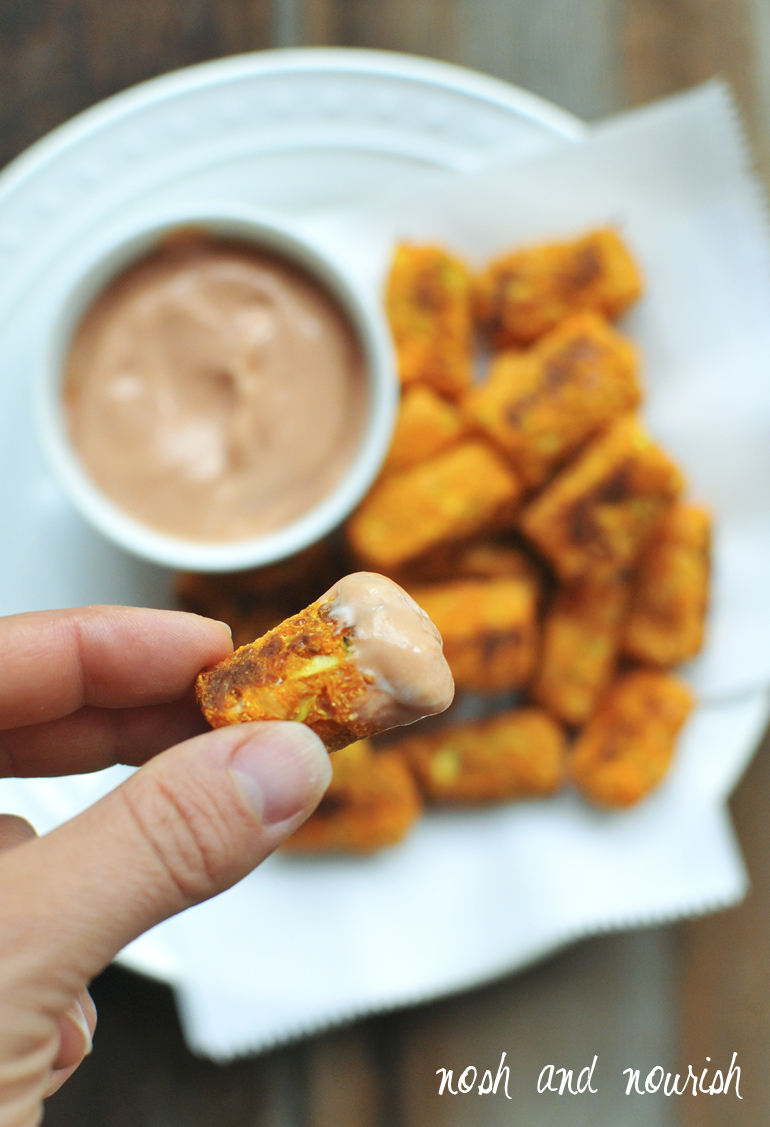 Sweet Potato Zucchini Tots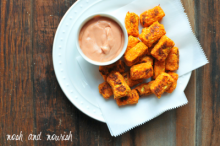 Description
Easy (Baked) Sweet Potato Zucchini Tots // via Nosh and Nourish
Ingredients
1⁄8 teaspoon Garlic Powder
1 tablespoon coconut flour (or sub your favorite flour)
2 tablespoons Plain greek yogurt (for the sauce)
2 tablespoons organic ketchup (for the sauce)
Instructions
Preheat oven to 375 degrees.
Peel sweet potato and microwave on high for 3.5 - 4 minutes. (alternatively, you can bake a peeled sweet potato for 45 minutes instead). Let sweet potato cool for a few minutes so that you can safely handle it.
Using a medium to large grater, grate the sweet potato... adding it to a medium mixing bowl.
Then peel and grate the zucchini either over a thick paper towel or a tea towel. Once grated, squeeze out the excess "juice"/water from the zucchini.
Then add the remaining ingredients into the mixing bowl with the sweet potato: grated zucchini, parmesan cheese, sea salt, paprika, garlic powder, and flour. Mix well, even using your hands to press and squeeze and make sure everything is thoroughly combined.
Form the mixture into small cylinders with your fingers, making them about an inch and a half long. Set them on a lined baking sheet in rows so that they are not touching each other.
Bake for 20 minutes. Then, flip them over. Then bake for another 15 - 20 minutes, until lightly browned.
Combine the Greek yogurt and ketchup to make the dipping sauce.
Serve tots hot / immediately with the sauce.
Yields 24 Tots