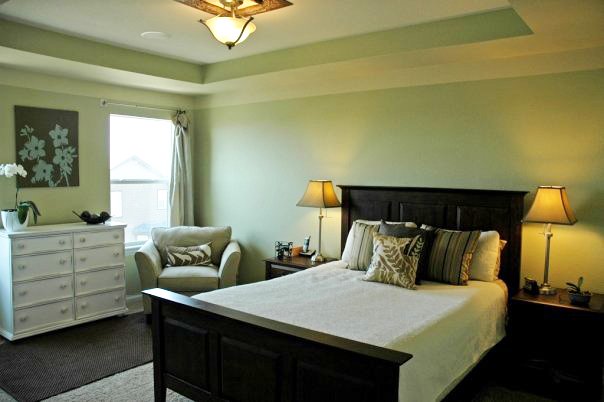 If you missed yesterday's post, I explained why I've recently been a lot quieter, posted a lot less updates on Facebook, and have felt like a cross between Superwoman and a psychotic. We are planning a big move to the mountains.  The official photographer is coming Thursday, which means everything has to be perfect by then.  Our realtor paid me the ultimate compliment by telling me she would not be sending her stager to my house.  She felt my sense of style, design, and stage-sense would win people over.  I know I'm biased, but I think you'd love to live in my house :) 
The key is simplifying:
...making every room feel airy and spacious, highlighting the advantages, de-emphasizing any flaws, and leaving room for the imagination. Potential buyers should think, "my stuff would look really great in here!" 
A few other staging tips:
Remove all "people" pictures from the house. Nature/scenery pics are ok, but you want the buyer to focus on the house, NOT imagining what your family is like, how long you've lived there, etc. 
Add some fresh flowers, both inside on a breakfast nook or dining table, AND some newer updated potted plants outside.
Don't have something on EVERY wall.  It may look "empty" to you, but it will feel breathable and full of potential to them.
When you think you've reduced/simplified/removed enough stuff, remove another 50%!
Speaking of simplifying, sometimes you need to simplify your meal prep...by way of slow-cooker.  Perfect for those fall nights when you're running out the door to a football game.
Introducing Slow-Cooker Chicken Chili: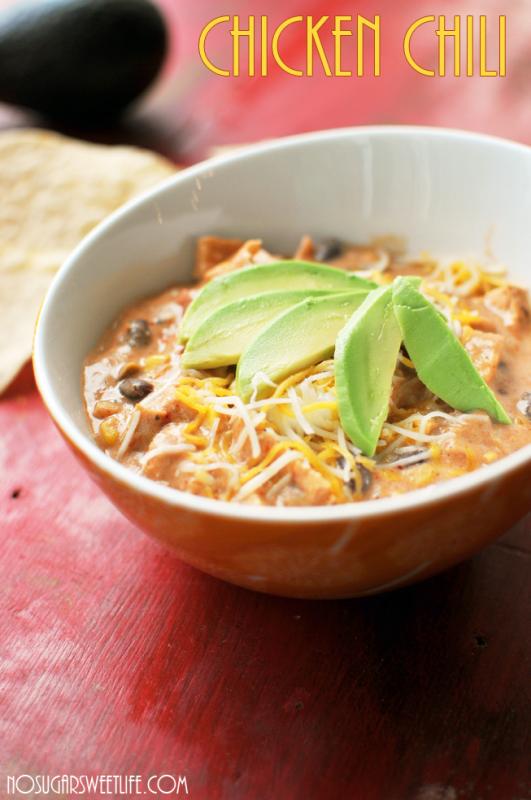 This is a hearty, filling soup with a wonderful combination of flavors.  Dear Hubby LOVED it.  I'm sure the block of cream cheese helped persuade him :)  That and the side of tortilla chips for adequate dipping!  Because of this, you won't want to eat bowl upon bowl of it, as it is a bit higher in calories than most meals I create.  BUT, having a small bowl with one of my mexican Reboot spinach salads would be perfectly filling and hit the spot!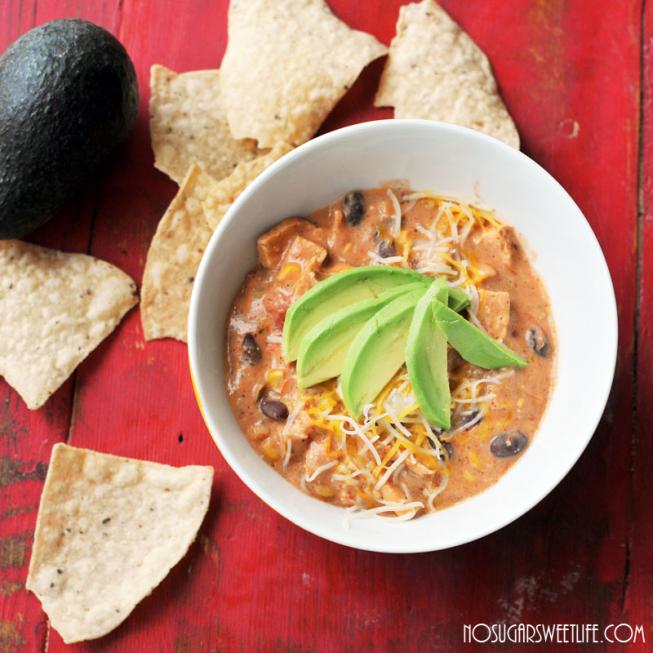 What I loved most is how easy it was to prepare and that I could just let it "do its thang" all day while I was busy with other stuff.  4 hours later, a wonderful meal was ready for us!  And that 5PM - 6PM usual dinner prep-time was blissfully quiet and restful.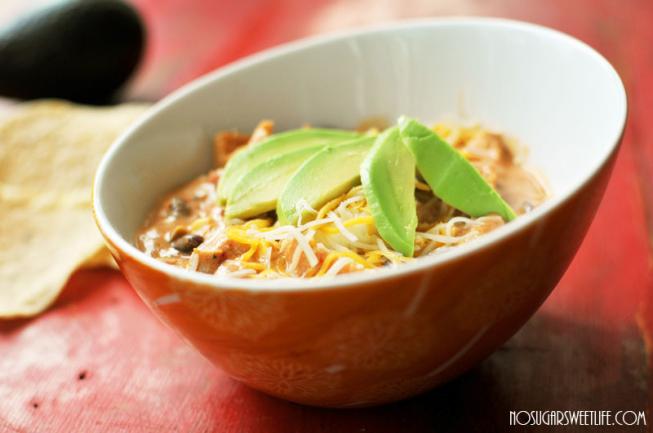 Or try my other Slow-Cooker Soup, Olive Garden inspired Zuppa Toscana!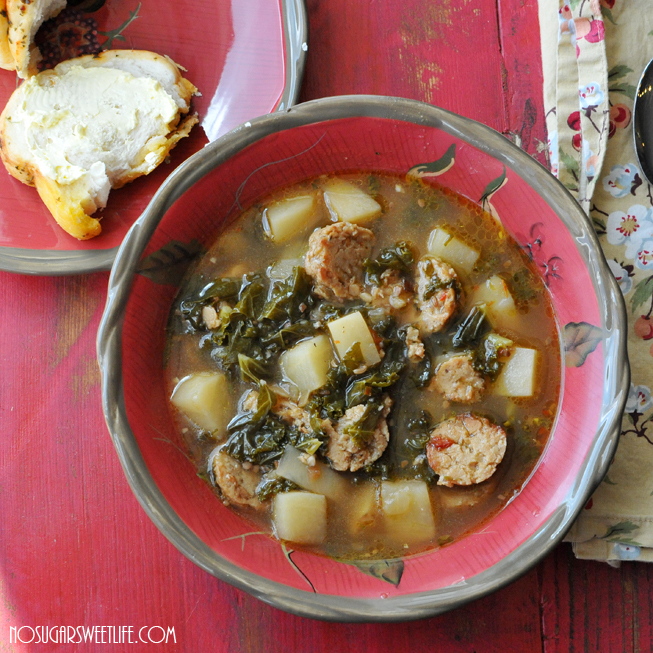 I envision myself making a LOT of these warm hearty soups once we move up to the mountains!
{Chicken Chili}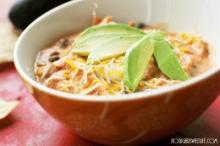 Description
Slow-Cooker Chicken Chili | No Sugar Sweet Life
Ingredients
1 can Stokes Green Chili w/pork
1 can Sweet Kernel Corn (undrained)
1 can Black Beans (drained)
1 package Dry Guacamole Seasonings (I used the "Simply Organic" brand)
4 Tomatoes (from garden, if possible!)
1 package Cream Cheese 1/3 Fat
Instructions
Mix all ingredients together in a slow-cooker.
Cook on high for 4 hours, or low for 8.
Shred chicken before serving.
Top with sour cream, shredded cheese, and sliced avocado (optional)
Yields 6 Servings