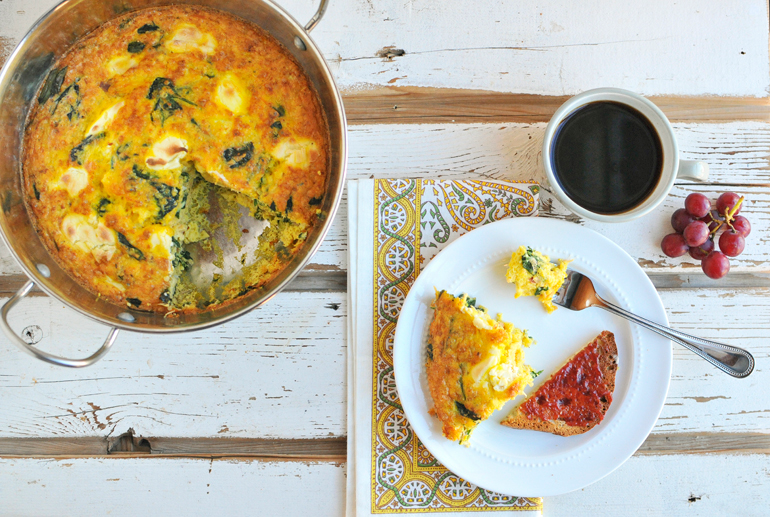 This smoked salmon frittata is naturally gluten-free and includes nourishing add-ins like spinach, cauliflower, and cooked quinoa. But don't let that fool you. This frittata is plenty flavorful and decadent with the addition of smoked salmon and cream cheese! It's perfect alongside a slice of Udi's Gluten Free toast with jam.
I adore breakfast. Maybe because it's the first meal of the day and when I'm actually the most hungry. Or maybe it's because it accompanies my glorious cup o' joe. Or maybe it's because I love eggs. Whatever the reason, breakfast (especially on the weekends) is to celebrated, enjoyed, and savored.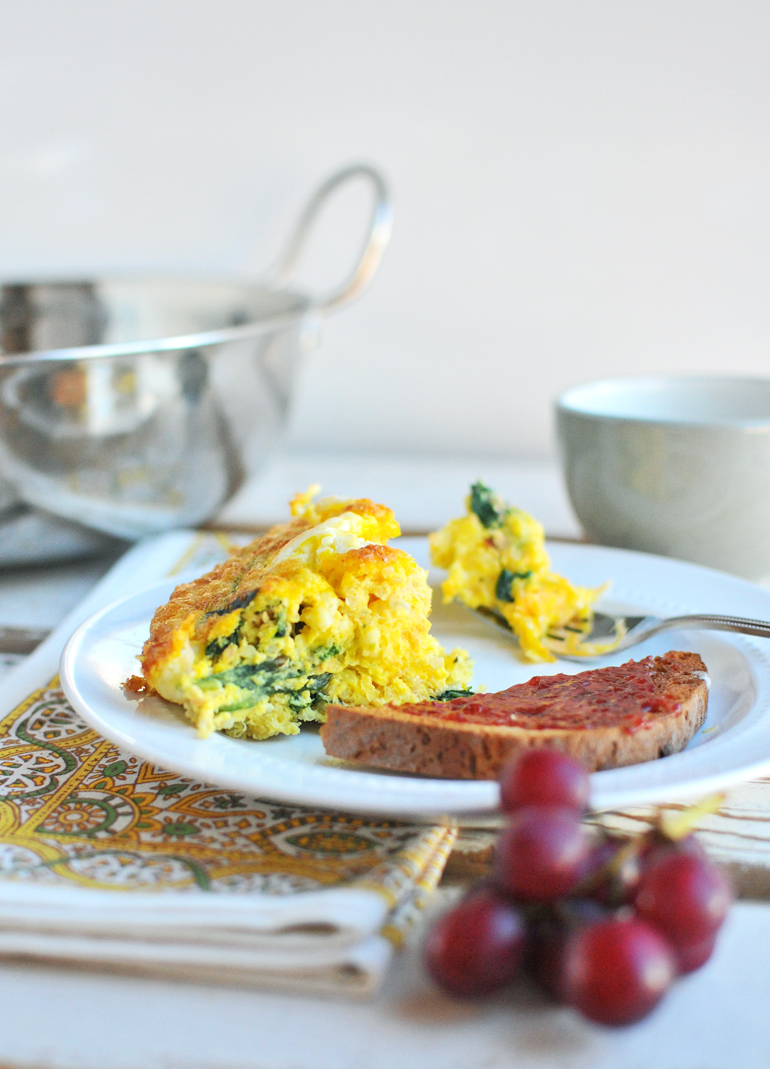 What is a frittata? Basically another name for crustless quiche... though a true frittata starts on the stovetop initially in an oven-safe skillet or stainless pan and then heads into the oven to finish baking.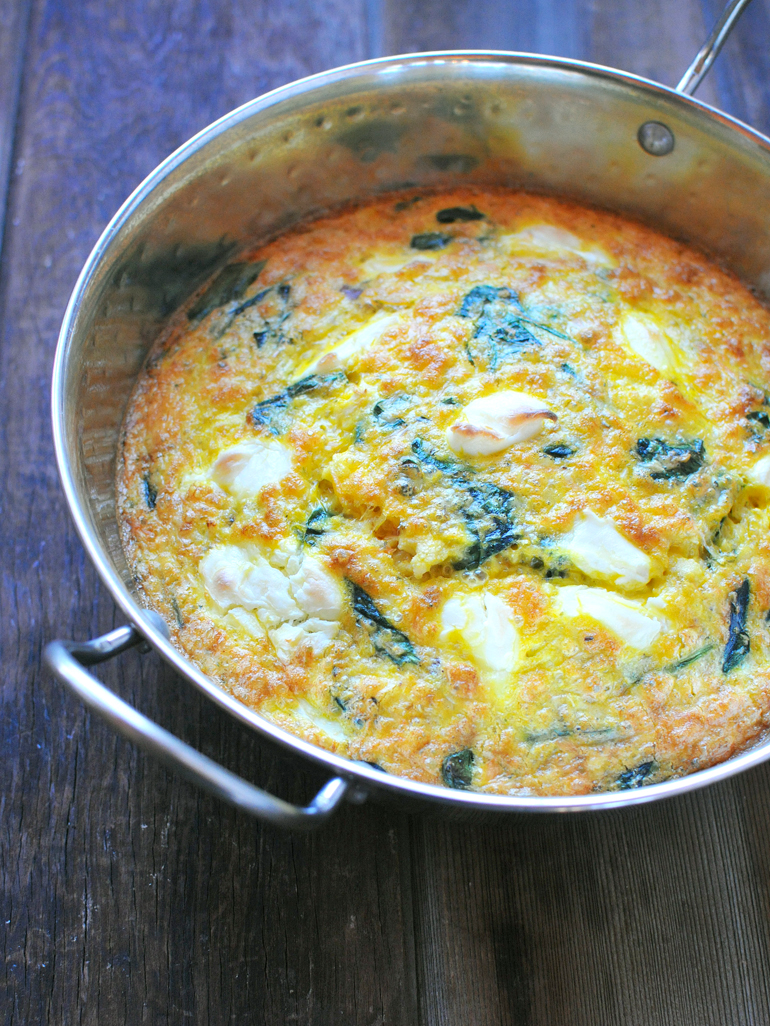 You might think smoked salmon for breakfast is a little much... but, quite the contrary. It's absolutely delightful. And its strong flavor is balanced out by the eggs and cream cheese.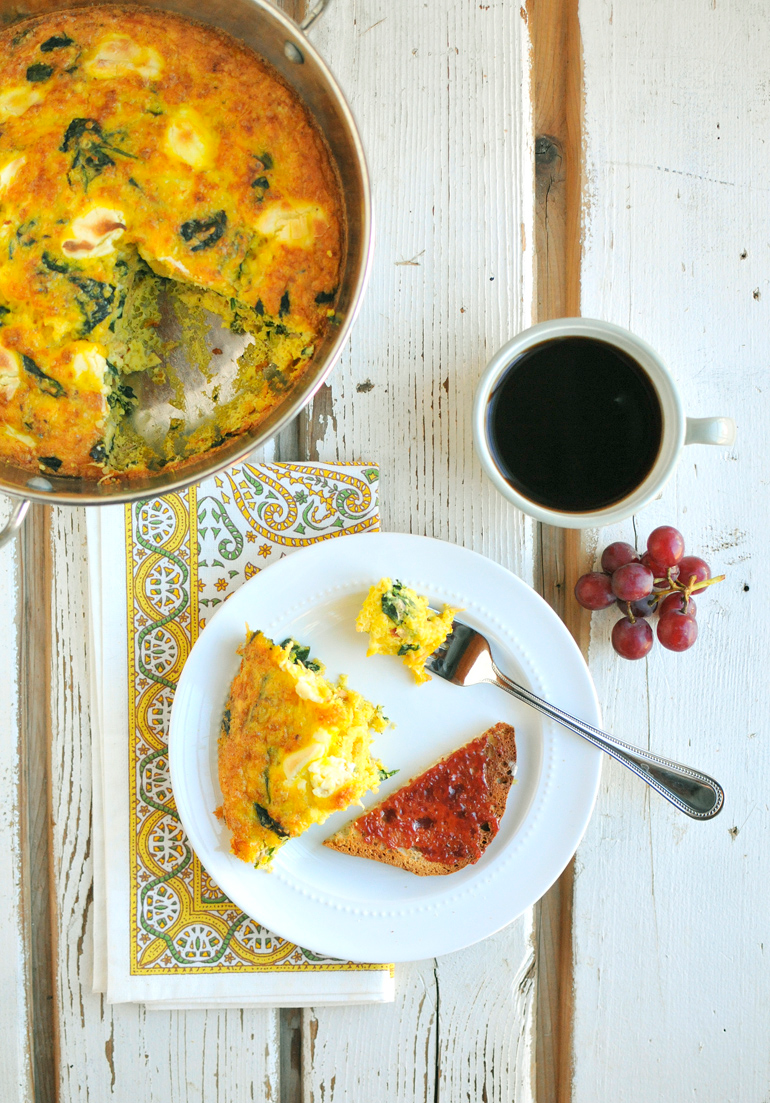 Other gluten-free breakfasts you might like:
Learn more about living gluten free! Visit http://udisglutenfree.com/community 
This is a sponsored conversation written by me on behalf of Udi's Gluten Free. The opinions, recipe, beautiful food photography and text are all mine.
Smoked Salmon Frittata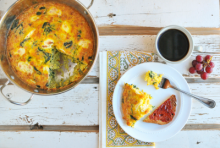 Description
Smoked Salmon Frittata // via Nosh and Nourish
Ingredients
2⁄3 cups diced cauliflower
1 cup white cheddar cheese
1 teaspoon Montreal Chicken Seasoning (or sub just salt and pepper)
1⁄4 cup Cream Cheese (dollops on top)
Notes
You can also cook this in a muffin tin, but the cook time would be reduced significantly... probably down to 25 - 30 min total.
Instructions
Preheat oven to 375 degrees.
In a large skillet or other oven-safe pan over medium-high heat, saute the spinach in olive oil and garlic for approximately 4 minutes, until softened.
Then, stir in all ingredients except for the cream cheese. Cook for 5 minutes, stirring frequently. 
Use a small spoon and place a few dollops of cream cheese on the top, evenly spaced and then transfer the pan to the oven. Bake for 45 - 55 minutes, or until the middle is "set" and the top is lightly browned. Enjoy!
Serve with Udi's Gluten Free whole grain bread and fresh fruit. (optional)
Yields 6 Servings