These adorable lil' colorful potatoes are roasted, smashed with a fork, and then topped with a creamy lemon basil (vegan) aioli --- the key is making a "flax egg" with Silk almondmilk and golden flaxseed. 
Sometimes we see we have sooooooo much farther to go, that we forget to take a moment to look back and see how far we've already come. Am I right?! I thought I'd share a few tidbits about my blogging journey. My first sponsored post was with Silk -- back in 2014! Since then I've:
written two cookbooks
quit my 10 year accounting career
created 1000+ recipes
photographed for Target
filmed 21 videos (since Sept!)
hired two (three!) amazing gals to work with me
Do I still have more I want to do? Of course. But sometimes you just gotta celebrate how far you've come.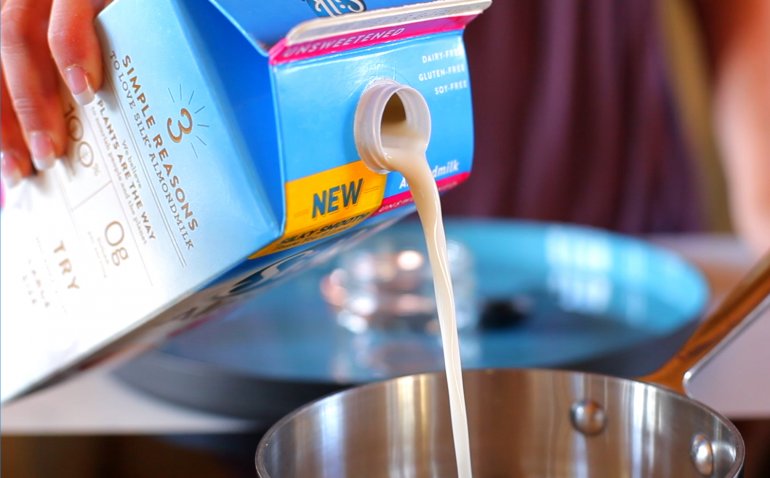 The progress itself is perfection. That feeling of wanting to do your best... BE your best self.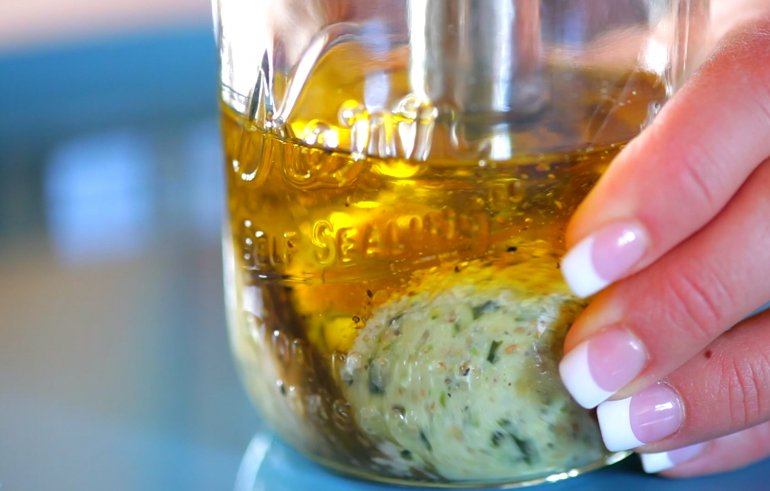 Sometimes it's a choice to go on that hike or run on the treadmill when you'd rather not. Or closing out your rings for the night, walking up and down the stairs to the basement a few more times. Or eating more plant-based meals. Or having tea with a friend. Or parking farther away to get a few more steps in. Or buying colorful potatoes instead of fries. Or finding a new veggie you've never tried (helllllllllllllllo, watermelon radishes!). You are doing small things that add up to change... so let's celebrate that!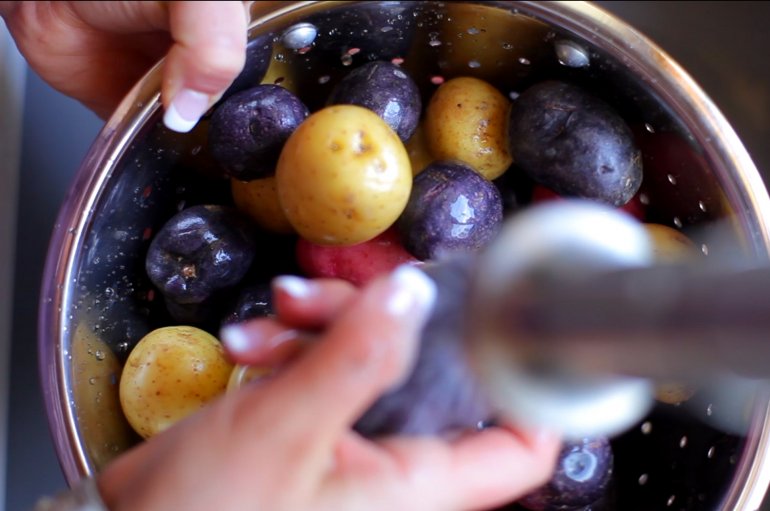 Roasted potatoes are just about the best thing ever... and super easy. See the video below!
Just brush with olive oil, sprinkle with a bit of sea salt, and bake. Then, smash with a fork (SO satisfying!).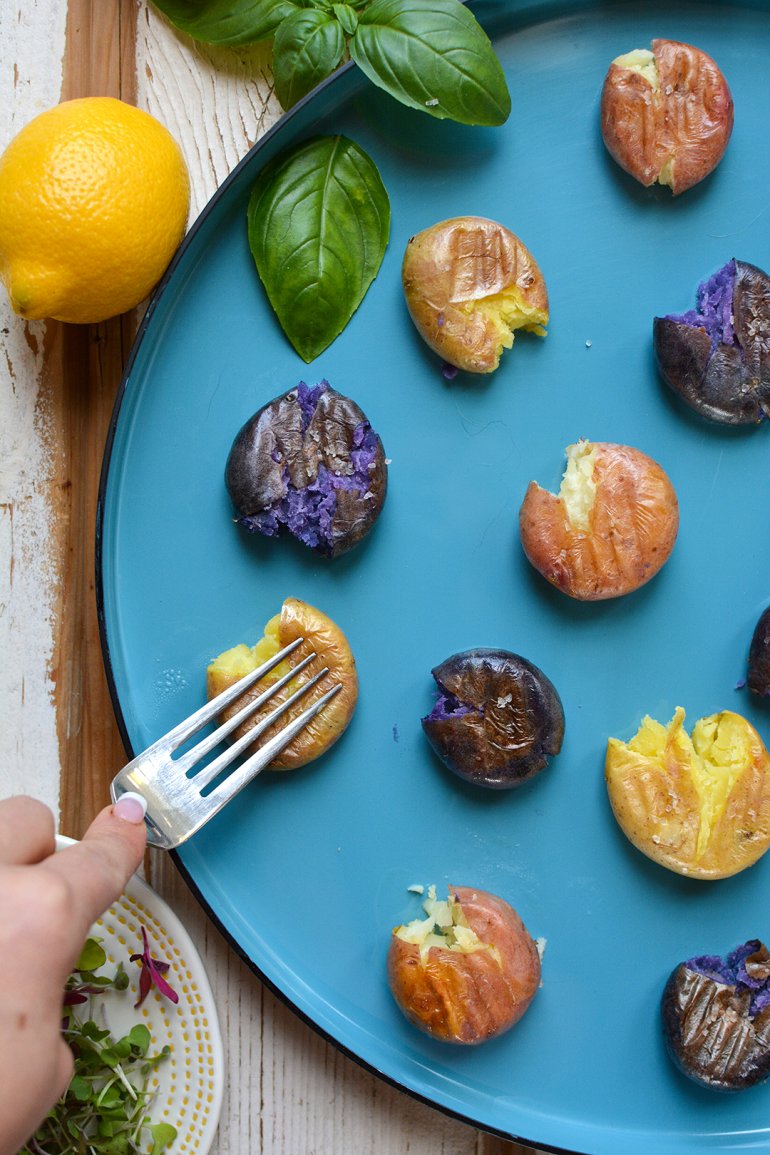 They're perfect as a hearty party appetizer... or as a side dish to fabulous grilled rainbow skewers.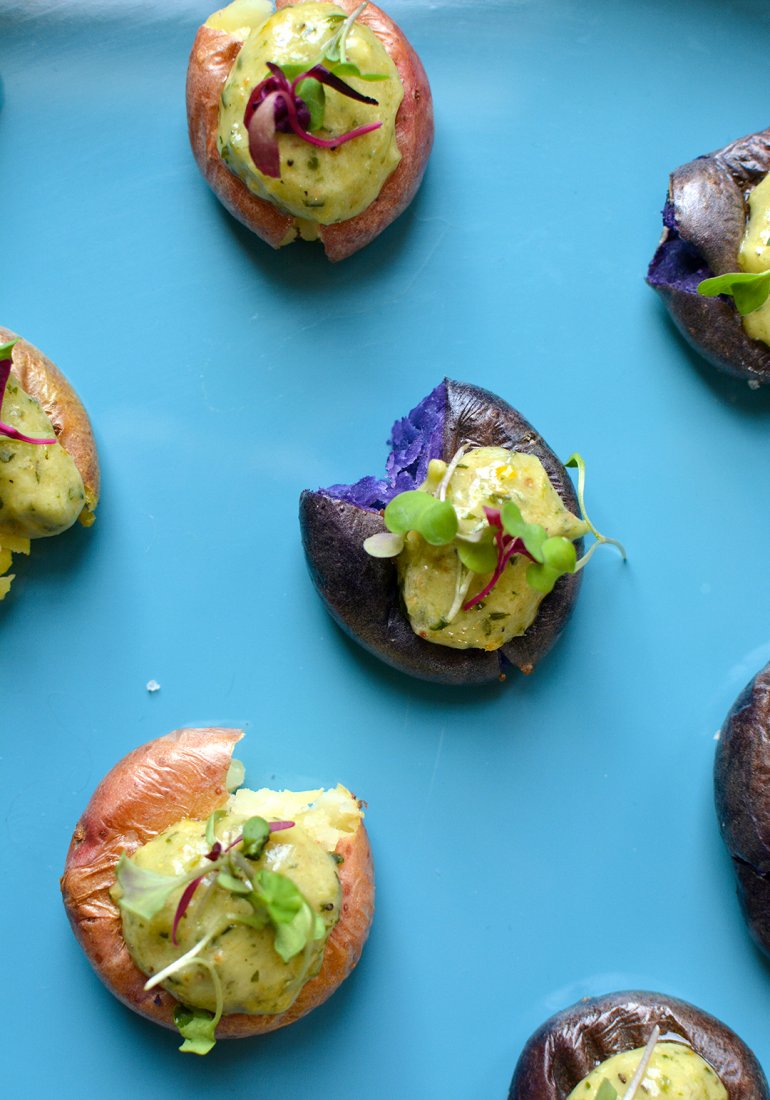 KID VERSION
You may have seen over on Instagram, I've started something new with the blog called #NourishedLikeMom --- basically making a kid version of each of my recipes to show you how easy it is to transform my family-friendly recipes into actual kid's lunches (or breakfasts!). You can see more here, here, and here.
On this plate:
Smashed Potatoes with Lemon Basil Aioli
Heirloom Grape Tomatoes
Half a Banana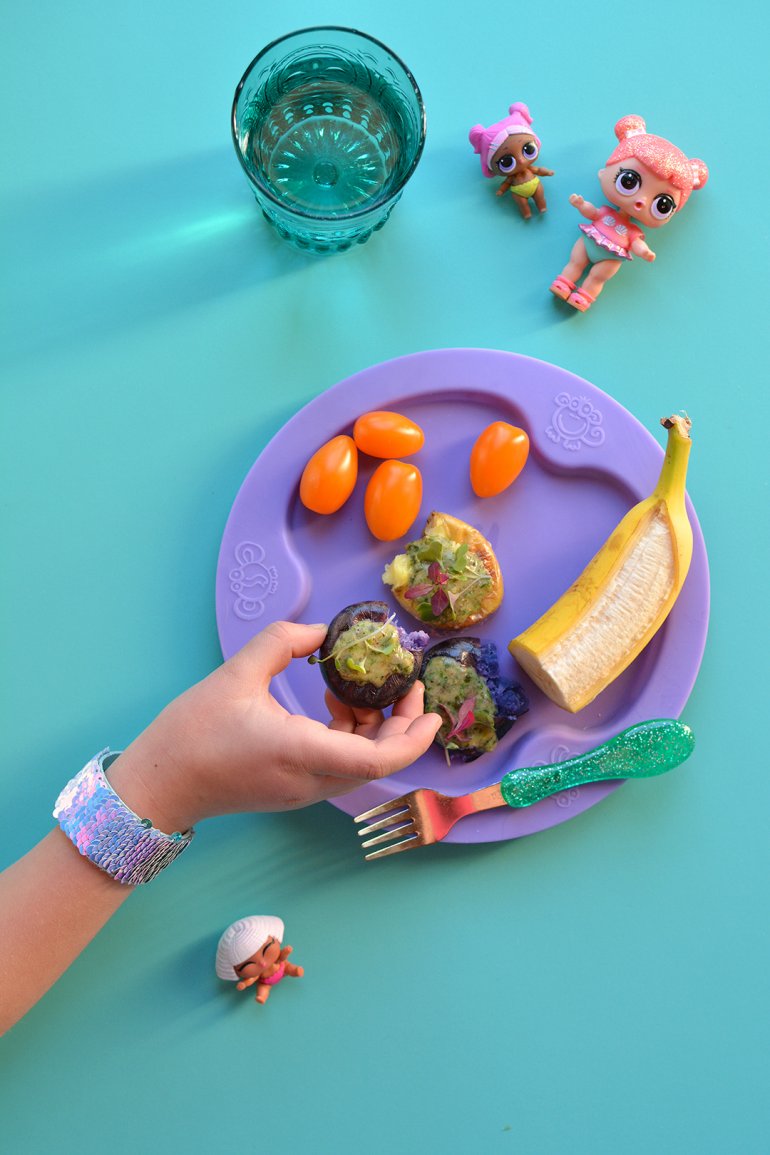 Be sure to sign up for Silk's email newsletter to get coupons and more delicious recipe ideas!
---------------------------------------------------------------------------------------------------------------------------------------
This is a sponsored conversation written by me on behalf of Silk. The opinions, recipe, beautiful food photography and text are all mine. Thank you for supporting brands that support Nosh and Nourish!! I choose them based on what I already cook/create with and feel 100% confident in recommending to you.
Smashed Potatoes with Lemon Basil Aioli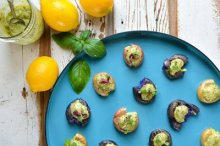 Description
Smashed Potatoes with Lemon Basil Aioli || vegan aioli
Ingredients
1 1⁄2 pound petite medley potatoes (about the size of golf balls)
2 tablespoons Silk unsweetened almondmilk (warmed)
2 tablespoons Vegan Pesto* (recipe below)
1 teaspoon organic lemon pepper
1⁄4 cup micro greens (optional)
Instructions
Preheat the oven to 425 degrees. On a parchment lined baking sheet, lay out the potatoes in a single layer. Brush them with olive oil and sprinkle on some sea salt. Bake for 25 -30 minutes, until lightly browned and softened. 
Meanwhile, combine the flax and warmed almondmilk in a large measuring cup. Stir, then put in the fridge for 15 minutes to chill. 
Then, add in the other aioli ingredients on top of the chilled flax mixture (olive oil, garlic, basil paste, lemon pepper, and lemon zest). 
Use an immersion hand blender to emulsify / puree. 
When the potatoes are done roasting, smash them with a large fork. Then add a dollop of aioli and a few micro greens to serve. 
Yields 6 Servings
Carrot Top Pesto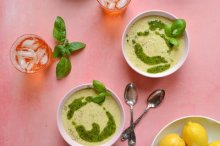 Ingredients
1 cup carrot top greenery
1 tablespoon Minced Garlic
3⁄4 cups Olive Oil (can add extra to thin out if you so choose)
1 1⁄2 teaspoon Coconut Sugar
1⁄8 teaspoon black pepper
Instructions
Prepare carrot tops, by removing largest main stem --- using only the fine / softer greenery.
Combine all ingredients in a food processor. 
Blend on high until smooth. 
Serve in soup, nn pizza, or by the spoonful!
Yields 2 Cups