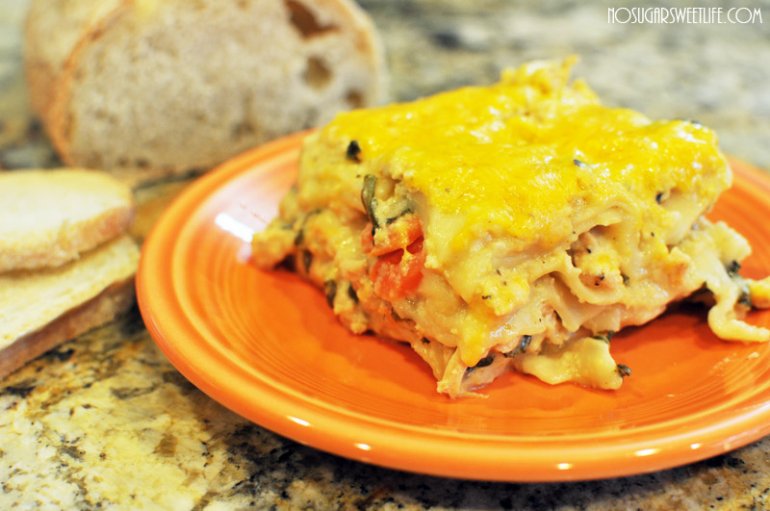 Let me just tell you, I have been (and am still) on a roller coaster ride of emotions with this whole house-selling/buying process.  You know I was super excited about my mountain dream home, until it turned into a nightmare.  Well, I've been excited about probably 4 other possibilities since then only to have my hopes smashed...again and again - noisy neighbors, too expensive afterall, another better offer, permitting issues... I honestly didn't think house buying/selling would bring me to tears!! 
As for our current location, Babycakes and I settled in a bit more to our new digs - the inlaws' house.  We went grocery shopping, unpacked some boxes, and did about 4 loads of laundry.  And I made a new meal in the slow cooker.  It felt like the most "normal" day I've had in at least a month :)
Introducing Slow Cooker White Sauce Lasagna:
It features lots of yummy veggies like spinach, carrots, and mushrooms.  And is a bit lighter than a store-bought version, as it uses ground turkey and "light" Alfredo sauce.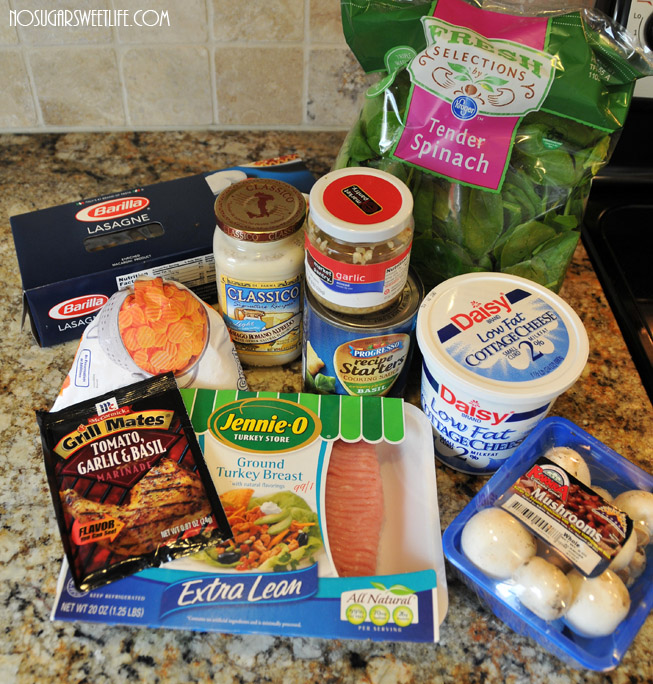 Ever since I made my first slow cooker lasagna, I knew I wanted to make a white sauce version.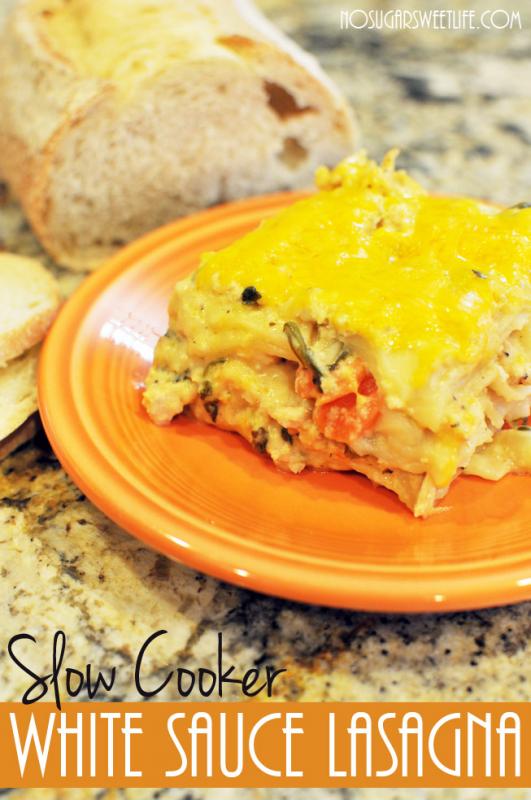 A wonderful blend of flavors. Hidden mushrooms (Dear Hubby hates them, but didn't know they were in there...until he reads this post!!).  Perfect consistency and structure.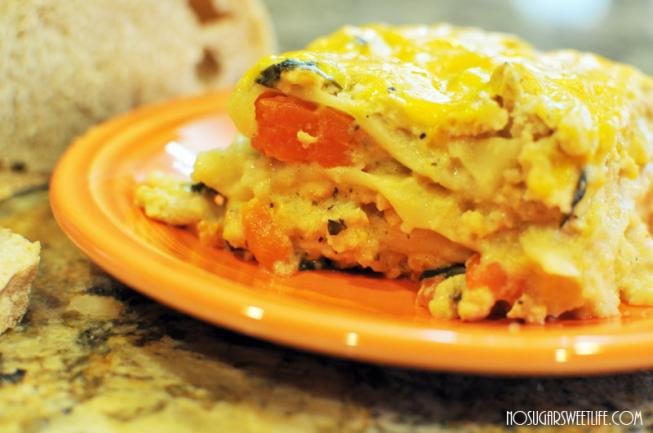 Sorry, Stouffers', this was so much better!!!
Slow Cooker White Sauce Lasagna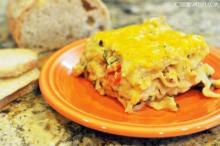 Description
Slow Cooker White Sauce Lasagna | No Sugar Sweet Life
Ingredients
1 tablespoon Minced Garlic
24 ounces Cottage Cheese (I used 2% reduced fat)
1 pound Ground Turkey (You could substitute ground beef)
1 package Grillmates Tomato, Garlic, Basil Seasoning (Any "Italian" seasoning would work)
2 cups Frozen sliced Carrots (Or fresh)
1 Jar of Alfredo (I used Asiago Romana Light Alfredo)
1 can Recipe Starter Creamy Parmesan Basil (Could substitute additional alfredo)
1⁄2 pound Lasagna Noodles (Regular, not cooked)
Instructions
Saute/brown diced mushrooms, 1 Tbsp minced garlic, and olive oil.
Once browned, in a separate bowl mix together with cottage cheese.  I further pureed mine with my immersion blender because Dear Hubby doesn't care for mushrooms (he didn't even know they were in there!!)
Saute the ground turkey with the seasoning packet.  Set aside in a large bowl.
Saute the spinach with 1 tsp garlic. I "cut" mine with a knife afterwards to make the pieces smaller to mix in.
Mix turkey, spinach, carrots, and sauces in the large bowl.
In the slow cooker, layer the turkey mixture, followed by a layer of noodles, followed by the cottage cheese mixture. Then repeat 3 times ending with the turkey mixture.
Cook on high in the slow cooker for 4 hours.
Sprinkle with cheddar cheese for the last 10 minutes before eating.
Diggeth Inneth!!
Yields 8 Servings