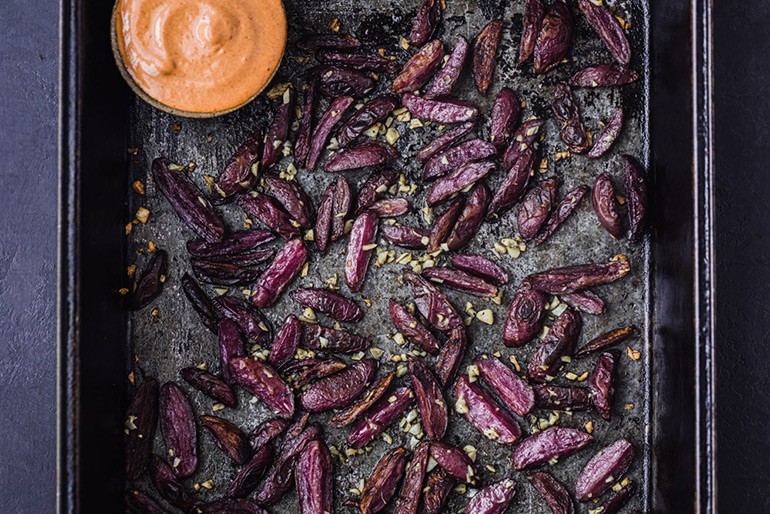 Hi Nosh and Nourish readers! Daniela here from Waves in the Kitchen and I'm sharing some deliciously easy roasted potatoes that are bursting with flavor and dunked in a smoky chipotle aioli! As we're sheltering in place, potatoes are incredibly useful to have around since their shelf life, when properly stored, can be up to 2-3 months.
Proper storage for potatoes is in a cool, dark place. Ideally something like a cellar, colder than room temperature but warmer than the refrigerator. Alternatively, they'll keep for about 2-3 weeks when simply left on the kitchen counter. And they're so wonderfully versatile! They can be mashed, boiled, baked, roasted, steamed, grilled, pan-fried, sautéed, pureed and more!
Here we're cutting the potatoes into wedges and roasting them with olive oil, salt, pepper and garlic. My biggest piece of advice for perfectly roasted potatoes is to make sure not to crowd the pan. Use two pans if you must. When the potatoes are crowded, they steam instead of roast, and we don't achieve that tender on the inside and perfectly crispy and golden brown on the outside that we want.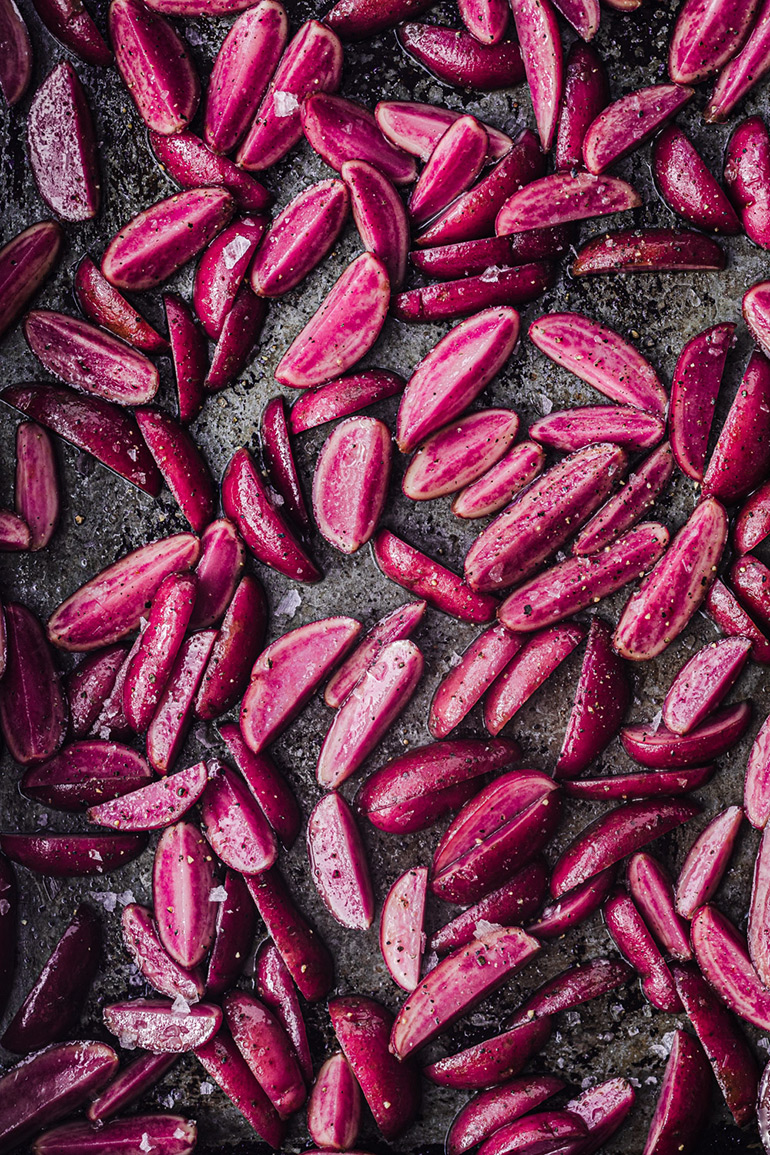 The secret to getting that creamy and umami garlic flavor that doesn't end up burnt is to add the minced garlic for the last 8-10 minutes of roasting the potatoes. If you add the garlic to the potatoes and put them in together, the garlic will be burnt by the time the potatoes are done. And roasted garlic is delicious but burnt garlic sure is not. By adding the minced garlic in at the end at a lower temperature, the garlic ends up superbly caramelized.
I kept the seasonings as simple as can be – using only salt and pepper. That's because the garlic and the chipotle aioli are so full of flavor! But if you have a spice you love or just want to experiment with, toss it on there as well I say! And if you have any lingering fresh herbs in your fridge that are close to spoiling, just mince 'em up and toss them with the wedges as soon as they come out of the oven.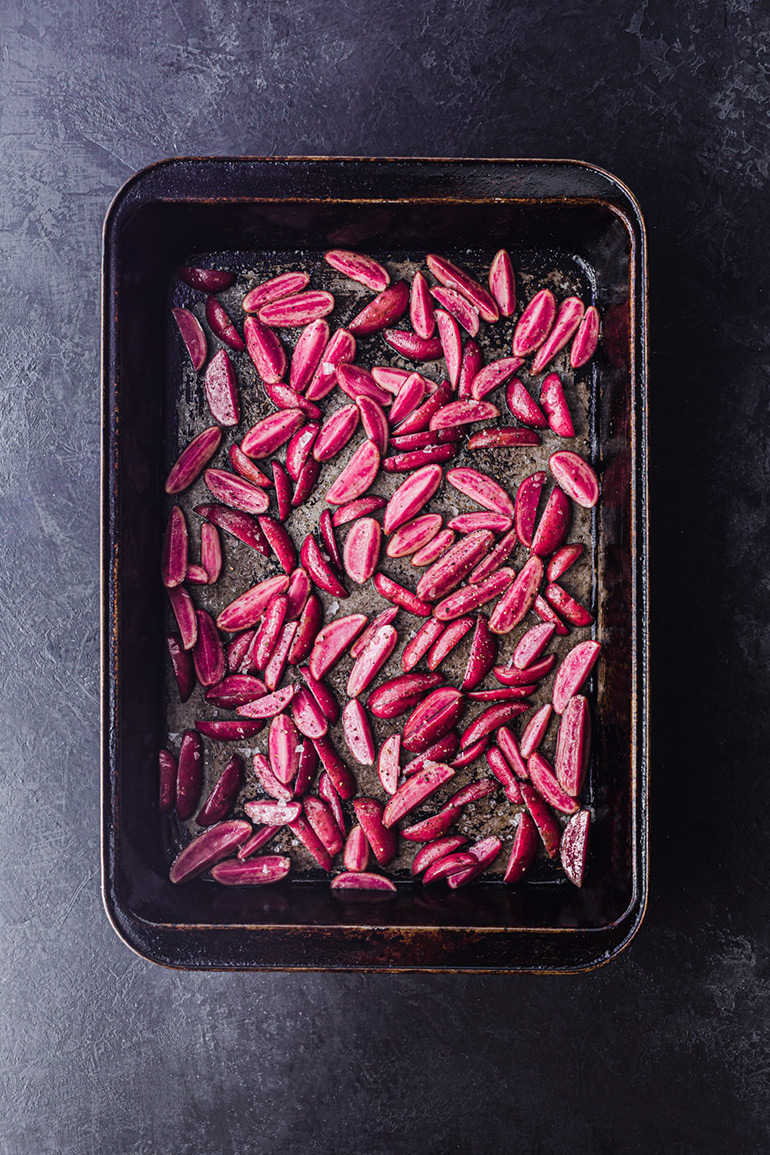 You're in for a really smoky n'spicy kick with this chipotle aioli! Aioli is a creamy emulsion, just like mayonnaise. But aioli is made from garlic and olive oil while mayo is made from eggs and canola oil (though our aioli also has egg).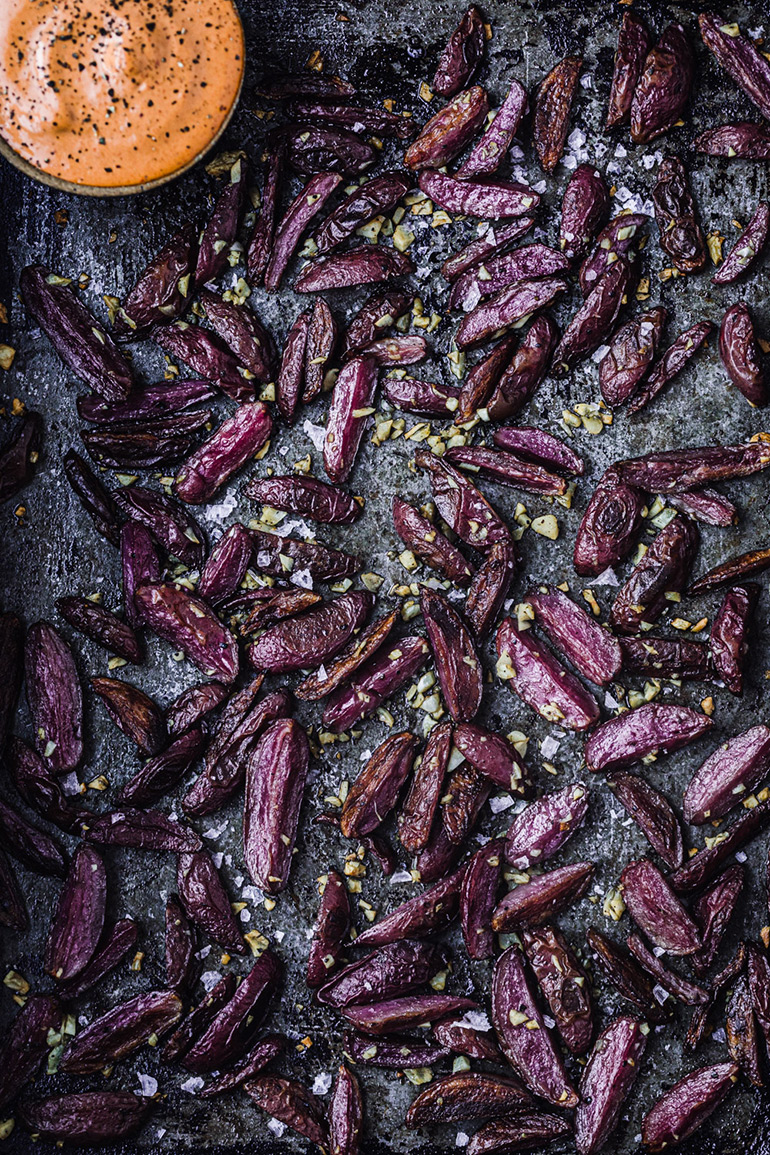 Our aioli quickly and easily all comes together in blender. You can make the aioli as mild or spicy as you'd like by adjusting the amount of chilies you add to it. Just be sure to add the chipotle chilis in incremental amounts and keep tasting it until your desired spiciness is reached (it's always easier to add more chilies and make it spicier than try and do the opposite!). And if you have some leftover use it as a spread on sandwiches, burgers or in tacos like these Shrimp Pineapple Sheet Pan Tacos.
-Daniela
Want more potato goodness? Check out Kelly's Roasted Potato + Cauliflower Soup:
Roasted Garlic Potato Wedges with Chipotle Aioli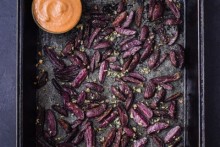 Description
Roasted Garlic Potato Wedges with Chipotle Aioli
Ingredients
2 1⁄2 pounds potatoes (any variety, cut into wedges)
4 cloves Garlic (finely minced)
1 whole egg (*sub in flax egg to keep vegan)
1 tablespoon smoked paprika
3 chipotle chilis in adobo sauce (add more to increase spiciness)
Instructions
Preheat oven to 450 degrees.
Toss the potatoes wedges, 5 tablespoons of olive oil, salt and pepper in a large bowl or directly onto a rimmed baking sheet. Spread the potatoes out on a single layer. Use two pans if necessary, so that none of the wedges are touching each other. Transfer to the oven and roast for 30-35 minutes, flipping once, until evenly baked and golden brown.
Remove pan from oven, lower heat to 350 and drizzle with the last tablespoon of olive oil and minced garlic. Stir to coat the fries evenly and place back in the oven for 5-10 minutes, until very fragrant.
While the potatoes roast, make the chipotle aioli.
When the potatoes are done, taste and season with flakey seat salt and freshly ground black pepper as needed.
Serve with the chipotle aioli.
Yields 6 Servings