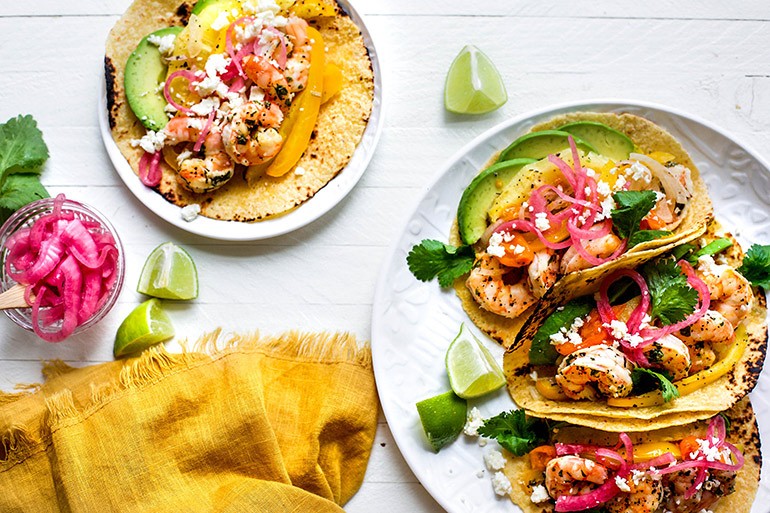 Hey guys! It's Leigh Ann here from My Diary of Us, and man, do I have the best meal ever to share with you! I think we all know by now that if you are here on Nosh and Nourish, you share the same love of tacos that Kelly does. Am I right?
IF…you happen to be one of those people who could take or leave a taco, let me change your mind right now. Not only are these Shrimp and Pineapple Sheet Pan tacos delicious, but they are family friendly and couldn't be any easier to whip up any night of the week.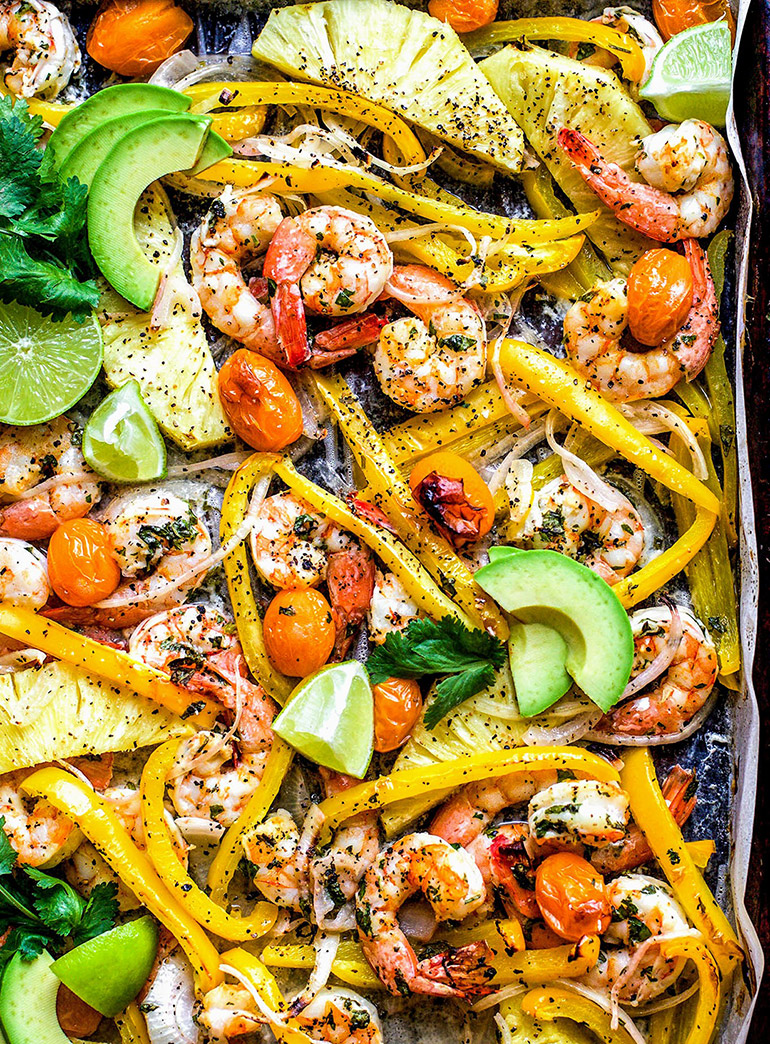 These tacos are the perfect meal to make if you are currently finding yourself somewhere in between summer and fall, not sure where to turn in the kitchen! I feel you; like I want to make all the pumpkin recipes, but it's still 90+ degrees outside, so my mind and body are confused. That's where these Shrimp and Pineapple Sheet Pan tacos come into play because they are light enough for those lingering warm weather days but can be enjoyed all year long!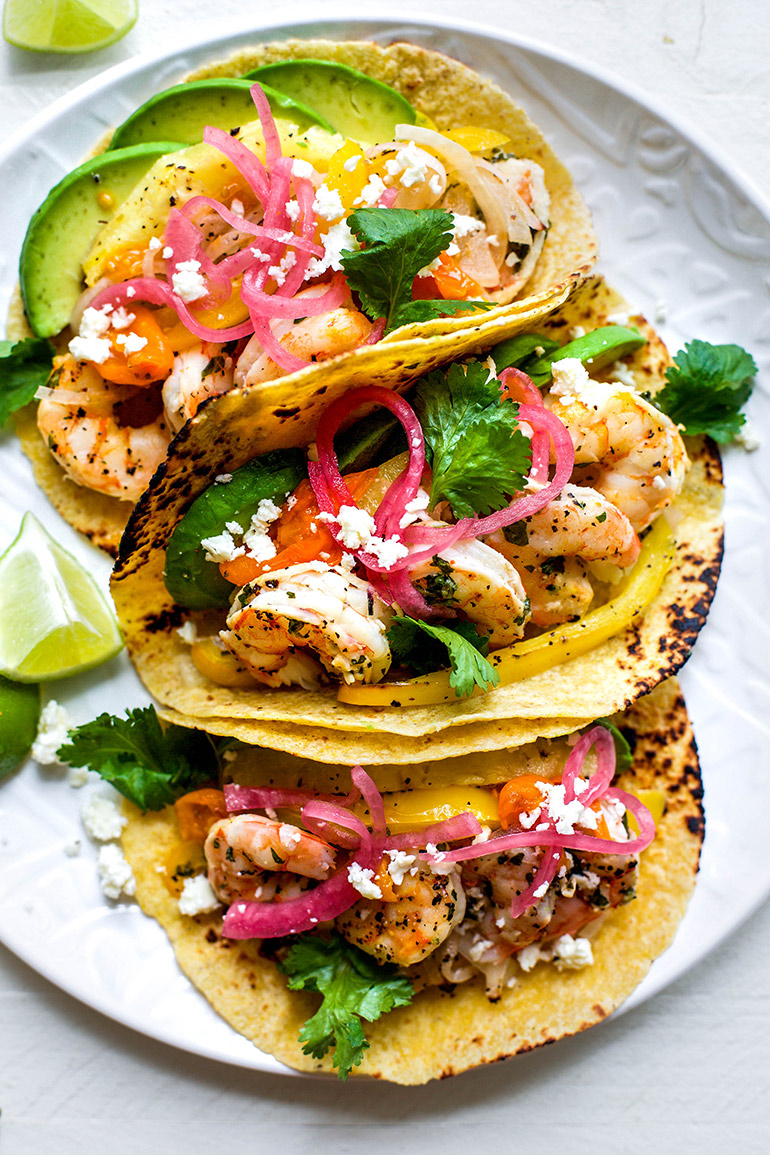 If you know a little bit about me already, then you know that family friendly meals are my passion. One meal that the whole family can enjoy is what I am all about! However, sometimes it's easier said than done. One of the things I always think about when creating recipes is, "how can I get my son to enjoy this dish with me?" And while most of the time, he will eat just about anything we put in front of him, there are definitely times where I have to get creative with it. We have all been there (or are there) at least a few times a week.
Raise your hand if you feel me. (I'm raising mine, by the way!)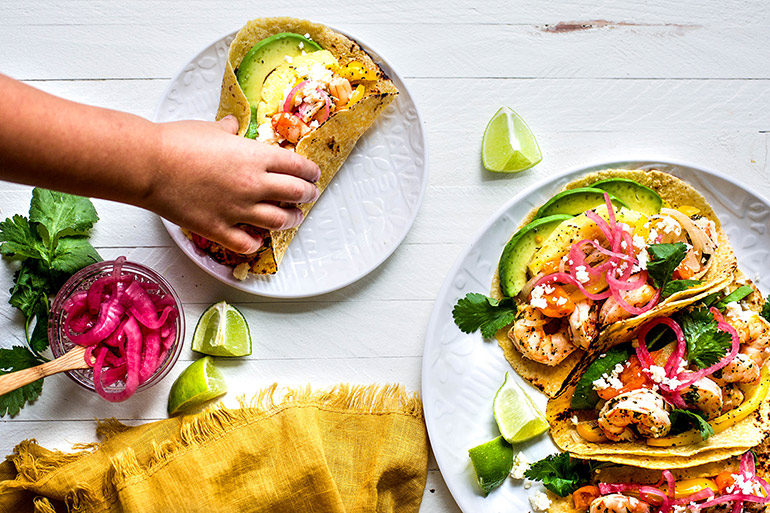 Here is one of my favorite tips! Fruit can be your secret weapon when feeding kiddos and cooking with it happens to be one of my favorite tricks. By adding some pineapple to this dish, it adds just a bit of sweetness that kids and adults alike can't resist, and shrimp and pineapple just so happen to be a match made in heaven!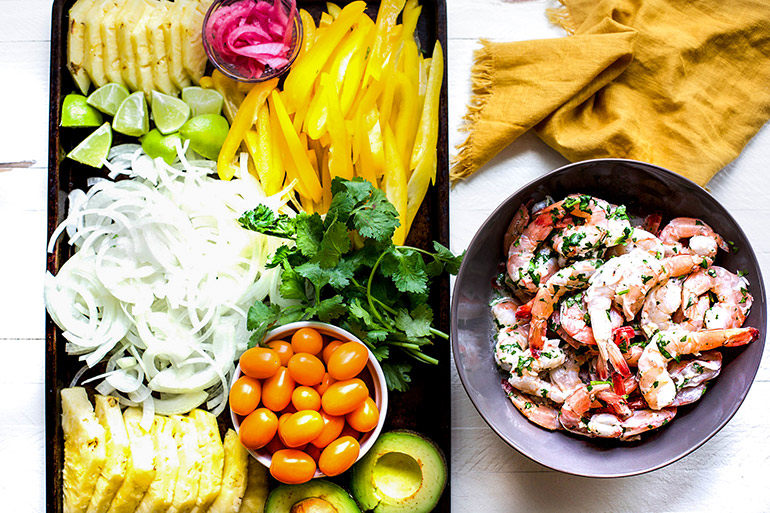 I roast the pineapple and shrimp on a baking sheet alongside some gorgeous peppers, tomatoes, and onions and then wrap it all up in a tortilla. The result is tasty, healthy, and a crowd pleaser all the way around!
These Shrimp and Pineapple Tacos not only make a great weeknight meal, but they are a fabulous idea for any game day spread this season! Make a taco bar with all of the toppings and let your guest feast away! It's easy on you, and everyone's bellies are happy. I can't wait for you to give these tacos a try for yourself. Take the stress out of dinner time and make my Shrimp Pineapple tacos asap!
xoxo,
Leigh Ann
Want more easy weeknight meals? Try Kelly's Honey Sesame Fish Tacos:
Shrimp Pineapple Sheet Pan Tacos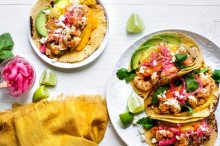 Description
Easy Shrimp and Pineapple Sheet Pan Tacos
Ingredients
2 tablespoons avocado oil
1⁄4 cup chopped fresh cilantro (plus more for serving)
2 pounds shrimp (peeled and deveined)
2 yellow bell peppers (sliced into strips)
1 cup yellow grape tomatoes
pickled onions (optional)
Instructions
Preheat oven to 425 degrees.
Mix together oil, lime juice, garlic, cilantro, salt, and pepper in a bowl and whisk to combine.
Pour the marinade over the shrimp and let sit for 15 minutes.
While shrimp marinate slice peppers, pineapple, and onion.
Line a baking sheet with parchment paper.
Take shrimp out of marinade and place onto the baking sheet.
Layer veggies and pineapple around the shrimp and season and toss to coat the veggies with some of the marinade.
Spread into a single layer, sprinkle with a little more salt and pepper and bake for 15 minutes until shrimp are cooked through. Switch oven to broil for the last 2 minutes of cooking.
Layer ingredients into tacos and serve with desired toppings.
Yields 6 Servings